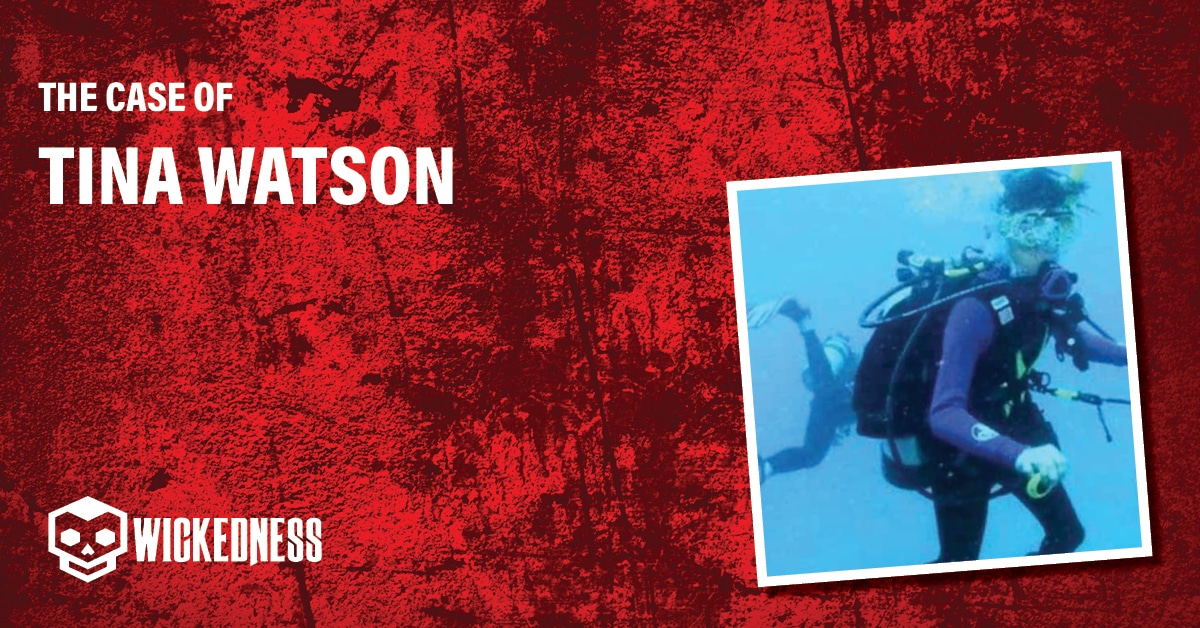 Victim Date of Birth
1977-02-13
Incident Location
Yongala Wreck, Great Barrier Reef
Body Location
Yongala Wreck, Great Barrier Reef
Date of Conviction
2009-06-05
Body Discovered Date
2003-10-22
Tina Watson and the honeymoon killer
Tina Watson drowned just hours into her 7-day diving trip on her honeymoon with her husband, Gabe Watson. Was it an accident, or was it foul play?
Tina Watson
Twenty-six-year-old Tina Watson was born on the 13th of February, 1977. She met her husband Gabe Watson while they were students at the University of Alabama at Birmingham. Tina took beginning diving lessons and earned her certification just before the two were married in October 2003.
The Crime Description
On October 22, 2003, twenty-six-year-old Tina Watson was on her honeymoon with her husband, Gabe Watson. The pair had been married for just 11 days at the time. Their wedding took place in Birmingham, Alabama, the United States, where they lived. Gabe worked as a bubblewrap salesman and took a few weeks off for his honeymoon.
Gabe and Tina Watson left for their honeymoon two days after their wedding. They flew to Sydney, Australia, and spent the first few days sightseeing. They then left Sydney to go to Townsville, Queensland, Australia, where they arrived on October 21, 2003.
Before the trip, Gabe had planned a diving trip for himself and Tina. The dive trip was to the historic shipwreck Yongala on the motor vessel Spoilsport. The Yongala is a shipwreck off the Great Barrier Reef that lies in 30 meters of water. It is a 350 steamer tank that sank in 1911.
Tina and Gabe boarded Spoilsport at 10 pm on October 21st. It departed an hour and a half later and arrived at the dive site at 2 am the following day.
At 9 am on October 22, the dive company briefed the divers on what was to happen during the dive and the route to take. Gabe and Tina brought their own diving equipment, and the company provided the air tanks. Then, Tina, Gabe, and four other divers entered the water to begin their dive.
Just a few minutes late, Tina and Gabe returned to Spoilsport. Gabe was saying that there was a problem with his dive computer. A dive computer is worn on the diver's wrist like a watch. He changed the position of the batteries, and he and Tina entered the water again to begin their dive again.
Just minutes later, Gabe returned to the surface. He needed help. But he wasn't in trouble. Tina was.
One of the dive organizers went down and found Tina Watson. He brought her to the surface and onto one of the boats. He then tried for 45 minutes to resuscitate her. But it was no good. Tina Watson was dead.
According to Gabe, the severity of the strong currents hit them as soon as they entered the water. Gabe stated that Tina indicated she wanted to return to the anchor line. He pointed to his inflator hose and motioned to Tina to put air in her buoyancy compensatory so that they could float up. But nothing happened, so Gabe grabbed hold of Tina by the strap and started to head back to the anchor rope.
Gabe then said that Tina accidentally knocked his mask off his face, and he let go of her so he could fix it. He said that in that short space of time, Tina was 10 feet down and sinking further. He swam to the surface to get help, and that was when the dive instructor entered the water and brought Tina back up to one of the boats.
Tina new to diving should have gone on an orientation dive before attempting the Yongala dive at the Great Barrier Reef. The Yongala dive at the Great Barrier reef is classified as a red-flagged dive.
Gabe Watson
What is troubling is Gabe Watson was an experienced diver who had also been certified "as an open water scuba diver, an advanced diver, rescue diver, and specialty diver." Yet he did not attempt to save or help his wife.
Gabe was Tina's dive buddy, yet he did not inflate her buoyancy control device or remove her weighted belt. Additionally, he did not share his alternative air supply.
Investigation Details
The day following Tina's death, an autopsy was performed by Professor David Williams, consultant forensic pathologist to the Queensland Coroner. Williams found florid evidence of air embolism but no degenerative disease. He gave the cause of death as drowning.
Divers who had been on the dive with Tina and Gabe reported seeing him bear hug her and her flailing before she began to sink.
When Tina Watson was brought to the surface, her regulator was still in her mouth, her tank still had air, and tests indicated no faults with her equipment.
It is believed that Gabe turned off Tina's regulator and held her until she was unconscious, then turned the air back on and let her sink before surfacing himself. This also matches the other diver's account of a bearhug.
Trial
During the trial, the evidence presented included the numerous different accounts by Gabe Watson of what had happened that day, the couple's diving experience or lack of it in Tina's case, and Tina Watson's life insurance. Gabe was charged with murder in Australia. He pleaded guilty to manslaughter. The judge sentenced him to four years in prison, to be suspended after he served twelve months in prison.
Gabe served a term in Australia and was deported from Australia to Alabama. Australian authorities did not return Gabe Watson to the United States until they had assurance that he would not be sentenced to the death penalty if found guilty of murder. He was then charged by Alabama authorities with Tina Watson's murder and was put on trial. On 23 February 2012, Alabama judge Tommy Nail dismissed the murder case due to lack of evidence.
What is truly shocking is that Gabe was found on videotape vandalizing and removing flowers and gifts left on Tina's grave. Tina's parents even tried attaching them with chains, but Gabe Watson used a bolt cutter to remove the flowers and gifts from the grave. The video also showed him throwing them in trash cans.
Frequently asked questions
Why wasn't Gabe Watson convicted of murder in the United States?
Gabe wasn't convicted of murder in the United States due to a lack of evidence. Alabama judge Tommy Nail dismissed the case.
Did Gabe Watson remarry?
Yes. Gabe remarried Kim Lewis on August 15, 2008.