The case of
Brianna Mariah Lopez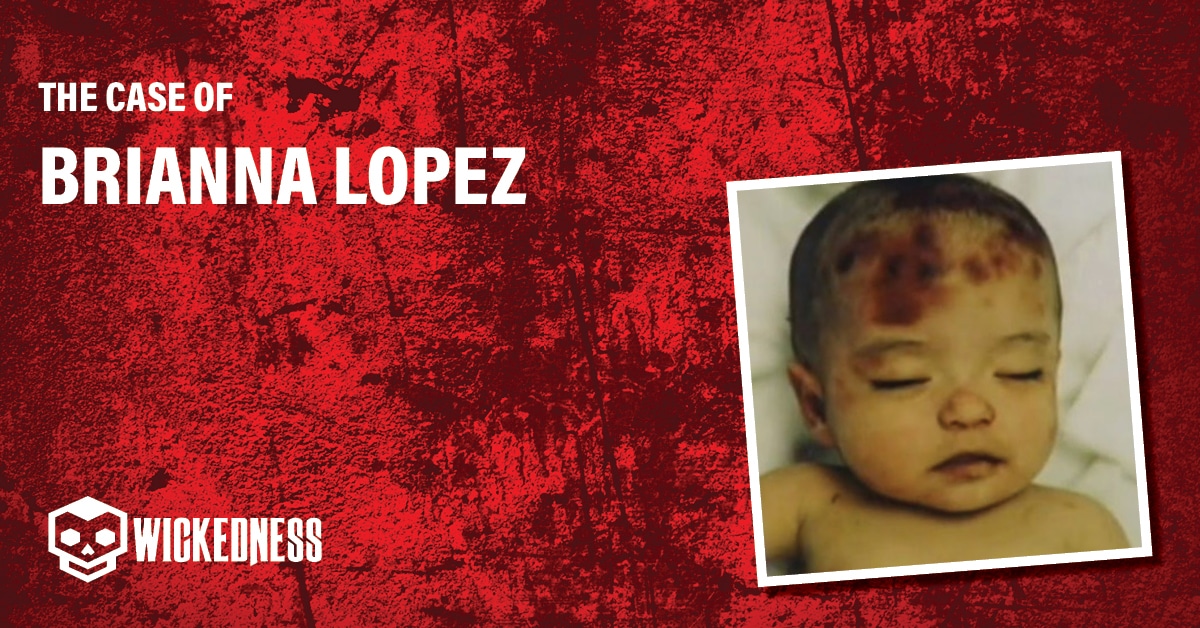 Victim
Brianna Mariah Lopez
Victim Date of Birth
2002-02-14
Incident Location
Las Cruces, New Mexico, USA
Body Location
Las Cruces, New Mexico, USA
Date of Conviction
September 2003
Body Discovered Date
2002-07-09
Who was Brianna Lopez?
Brianna Lopez, now remembered as Baby Brianna, was a 5-month-old baby who died due to domestic abuse, constant mistreatment and sexual abuse by her father, mother and also her uncle.
Ironically, Baby Brianna was born on February 14, 2002, in Las Cruces, New Mexico, USA. Being born on Valentine's Day may have seemed like the premise of an entire life of love from her family and loved ones, but the short story of this beautiful baby ended in a horrific death.
Baby Brianna was born into a Latino family that had been living in the United States for several years. After leaving the hospital, Brianna Lopez arrived at the mobile home where 5 adults lived, Brianna's parents, her uncle Andy, her grandmother Patricia Walters and her other uncle, Robert Walters.
Considering the type of housing and the number of people residing in it, it did not initially seem like an ideal environment to raise such a young baby, yet that was the home that awaited her.
Investigations following her death indicated that 19-Year-Old Stephanie Lopez, 21-Year-Old Andy Walters and 19-Year-Old Steven Lopez, Brianna Lopez's parents and uncle, beat, battered and sexually abused the child for months.
On the night of July 18, 2002, one day before her reported death and under the influence of alcohol by these three people, the physical abuse was worse than ever, to the point that her mother, the next day, had to report to 911 that Baby Brianna was having trouble breathing.
On July 19, she was taken to the hospital, where doctors reported to the police one of the most shocking cases of intentional child abuse.
The death of Brianna Lopez sensitized thousands of people around the world due to the brutality with which she was physically and sexually abused at only 5 months of age. It became the premium story of all the media in New Mexico and throughout the United States, due to the shock it provoked in the public opinion.
Until now this crime is a disturbing story that marked the hearts of many people who lamented the pain that the baby must have suffered and her fateful end.
The abusers, their own family members
The birth of a baby is always a cause for joy, however, this was not the case for Brianna Lopez. From the moment she left the hospital after her birth, she received no love or sympathy from her family.
Stephanie Lopez and Andy Walters, parents of the child, were a very young couple at the time, so the arrival of the child was not the most expected. Their financial situation was not ideal either, considering that they were 5 adults living in a mobile home.
The child was born completely healthy despite her mother's constant alcohol consumption. Even with this behavior, she had a normal pregnancy and delivery, so Baby Brianna was born in excellent condition and left the hospital in perfect health.
Investigations and testimonies after her death indicated that the baby lived 153 days in a hostile environment of constant mistreatment by her parents and uncle.
The child's crying made her relatives desperate, so they used to put clothes in her mouth so as not to hear her cry. It was later proven that although the level of abuse was fatal one day before her death, the girl had been beaten and mistreated by her relatives for days.
This entire horror story was occurring inside the family's mobile home, where all members witnessed the level of domestic violence the baby was being subjected to.
On July 18, while Stephanie had left for work, her father and uncle were left in charge of her, but after a few beers, the abuse and mistreatment got out of control.
Actions such as hitting her, biting her, throwing and dropping her, and even sexually abusing her were just some of the aggressions described by them, which brought the child to the verge of death at that moment. Not even her tiny size or her cries of desperation and pain stopped them.
Stephanie, the child's mother, arrived home from work that night and noticed the injuries, bruises and marks on the baby, but ignored the situation and went to sleep. On July 19, 2002, the next day, Stephanie had to report the baby's critical condition to the authorities, who transported her to the hospital and later reported her death.
The most horrifying child abuse crime
Andy Walters and Steven Lopez left for work early on July 18, 2002, and later that day left work at 6 p.m. to go to a bar and have a few beers.
Once they left the bar in a drunken state they returned to the mobile home where he lived. By this time, it was Stephanie Lopez, Brianna's mother, who was due for her shift at work, so it was up to them to take care of the girl in her absence.
Stephanie joined her partner and brother that night to continue drinking beers, who said he only had 1 to 2 beers before going to bed. Andy and Steven remained in the living room and continued drinking after Stephanie went to bed.
While they were drinking their beers, it occurred to them that it would be a great idea to play with Brianna for a while, so they started throwing her in the air by hitting her with the ceiling, only to see her fall to the ground. It is not known exactly how many times this happened, but it was more than 2 times according to their later statements.
Despite the baby's horrified cries, Stephanie claimed not to have heard anything, nor did the rest of the people who lived there. However, Stephanie's own family members testified that she had long ignored the baby's signs of abuse, and even pinched and bit her herself to vent her frustration when Baby Brianna cried and would not let her sleep.
That night of July 18, the beatings were constant, and the baby was even sexually abused by both men. The girl's father admitted that they tried several times to calm her down so that the screaming would stop and not wake the rest of the family who were sleeping that night.
Stephanie, awoke early the next morning, July 19, 2002, due to Brianna's incessant screaming and crying. When she went to look for her, she found her on the floor, bodily harm, bruised and battered. When she asked her partner and her brother what had happened to the baby, they both replied that "things had gotten a little rough last night."
She didn't ask any more questions, simply ignored Brianna's injuries and bumps and went back to bed to sleep. Later that morning, Stephanie awoke to find that Brianna was not breathing and was in critical condition.
She called 911 reporting that her daughter was not doing well and had fallen out of a chair. Immediately the medical team arrived on the scene, gave her first aid and she was immediately transported to the hospital.
Once she was received at the hospital at approximately 11:00 a.m., the doctors noticed that the baby had been subjected to horrific actions. They tried to save her, however, Baby Brianna could not survive the amount of bumps, bruises and fractures. Baby Brianna Lopez was pronounced dead hours after arriving at the hospital.
Doctors revealed that the baby had fractures in her ribs and skull, some of them more than 4 days old, human bite marks all over her entire body, bruises all over her head and one of them very strong in the forehead area. They also discovered that she had been shaken violently due to damage to the optic nerves.
They also indicated that she had received sexual penetration of her genitals, which had caused serious trauma and tearing.
Suspect or Convicted Killer Details
Little is known about Baby Brianna's relatives. In fact, there is no official information on websites such as Wikipedia.
Stephanie Lopez, 19 years old, was in a relationship with Andy Waters, 21 years old, and as a result of that union they had Brianna. By the time the baby was born, the couple had only recently moved to Las Cruces, New Mexico.
Both began their relationship at a very young age and the pregnancy was unplanned, so both had to start working. According to the investigations of this crime, it was evidenced that both Stephanie and Steven used to drink alcohol very often.
In fact, they revealed that Stephanie consumed alcohol during her pregnancy, however, that did not prevent the gestation from ending successfully, so they had a healthy baby girl.
Steven Lopez, 19 years old, is Stephanie's twin brother, although it is not known exactly what he did for a living, it was learned that he also held a job.
They all lived in a mobile home, along with Stephanie's mother, and her older brother.
Police investigations indicated that the place was too small for so many people, so there was no way a child could grow up happy and well cared for in such a place.
It was not revealed that any of them had a criminal record or criminal history, so this appeared to be the first crime they were involved in.
Patricia Walters, the baby's grandmother, and Robert Walters, the girl's uncle, were aware of everything that was going on, so they were also arrested as accomplices in the abuse.
After Brianna Lopez's death, no family member claimed her body, so the state was in charge of finding a place for her remains. So far, no other family members have come forward to inquire about her case.
The investigation of the Brianna Lopez Geschichite case served as a reference for child abuse crimes that were later known, such as the case of Victoria Martens, a 10-year-old girl who was brutally raped, abused and murdered by her parents and uncles.
The death of Victoria Martens occurred 14 years after Brianna's case, bringing back to the minds of the people of New Mexico one of the most heartbreaking cases of child violence in U.S. history.
Brianna Mariah Lopez's Murder Investigation Details
Brianna Lopez's case shocked the entire hospital staff, especially the doctors in charge of her care once she arrived. It was obvious that this was an outrageous and horrific case of child abuse.
Once the baby's death and condition were reported to the authorities, the police immediately took it upon themselves to round up the child's parents and uncle. All three were subjected to extensive questioning to find out what had happened and how Briana Lopez had arrived in that condition.
Officers who saw Brianna Lopez knew they had a lot of work ahead. Police searched the place where they lived, a mobile home in Las Cruces, New Mexico. There was not a single photo of the girl with her family, any toys, or evidence that the little baby girl had been happy there.
Interviews with the other family members, the child's grandmother and her other uncle, evidenced that they were aware of everything that was going on and were aware of the marks on Baby Brianna's body, but said and did nothing.
Both the baby's parents and her paternal uncle were questioned. The father and uncle admitted to abusing her, throwing her in the air and dropping her, as well as sexually penetrating her. In fact, one of the blood stains on the child's body matched the one on her uncle's pants on the day of the interviews.
Although Stephanie wanted to absolve herself of responsibility by claiming that she did not know anything, the rest of the family who lived there blamed her for knowing what was going on and for pinching and hitting her on multiple occasions.
All three were arrested, as well as Andy's mother and older brother, who also lived in the same house.
Trial
The trial was held in Albuquerque, New Mexico, a few hours away from Las Cruces. The change of district was due to the commotion in the region because of what had happened and to protect the integrity of those involved.
Medical and forensic experts gave testimony during the trial, indicating that among all the injuries that were found on Brianna Lopez's body, they included bite marks, blows to the head and face. In addition, they found rib and skull fractures, and damage to the genital organs.
District Attorney Susana Martinez, who prosecuted the family, went to great lengths to prove the baby's injuries and bruises, alleging that it was brutal and they should spend the rest of their days in prison.
During the trial, photos, videos and as much evidence as possible were shown so that both the jury and the judge could witness the conditions in which Baby Brianna arrived at the hospital on July 19, 2002.
The prosecution was able to show that Brianna's critical condition was not the result of one night, but of months of mistreatment and child abuse by her parents and uncle, with complete indifference from the rest of the family even though they knew what was happening.
The trial was the most important topic of all the media in New Mexico and the most important in the United States, due to the level of cruelty caused to a 5 month old girl, never seen before in that country.
Verdict
In September 2003, Brianna's parents and uncle, Stephanie Lopez, Andy Walters and Steven Lopez were convicted at trial of their responsibility for negligent child abuse resulting in death.
Steven Lopez received a 57-year prison sentence for intentional child abuse, conspiracy and first-degree child molestation.
Andy Walters, the baby's father, was sentenced on the same charges to 63 years in prison.
In Stephanie's case, she received a 27-year prison sentence for permitting the abuse and for child abuse.
Although the exact charges are not known, Patricia Walters and Andy Walters, the baby's grandmother and uncle, were also found guilty with a 5-month sentence.
In 2021, the case made headlines again, as Stephanie Lopez was released for good behavior before serving even half of the sentence she received in 2003. Stephanie will have to perform community service for 2 years under supervised probation.
This news caused a major stir in the community, due to the brutal conditions in which Baby Brianna was raped, beaten and murdered under her knowledge.
Several groups of people and organizations have come together to reject this decision by the laws in New Mexico and have even asked to extend the time of conviction in cases of child abuse, especially in cases as alarming as Baby Brianna's.
Frequently asked questions
What happened to Brianna Lopez?
Brianna Lopez was raped, brutally abused and murdered by her parents and uncle.
Is Brianna's Lopez murder available on Wikipedia?
No, it is not possible to find information about your case on that page. Only blogs and news portals.
Where is Baby Brianna's mother now?
So far it is known that Brianna Lopez's mother is in New Mexico, serving probation.