The case of
David Glenn Lewis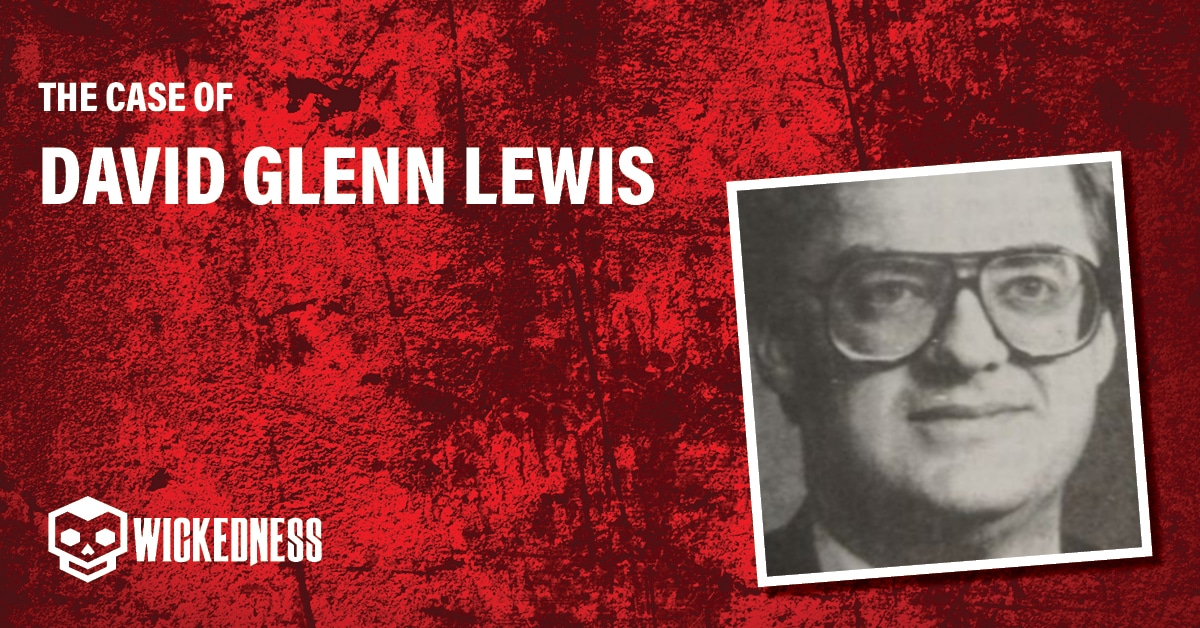 Victim Date of Birth
Info Box
Incident Location
Moxee, Washington
Date of Conviction
Info Box
Body Discovered Date
Info Box
David Glenn Lewis – A Mysterious Disappearance Solved After Almost 11 Years
Missing person cases are often covered in a veil of mystery, but some of them are especially bizarre. Such was the case of David Glenn Lewis, a family man that suddenly went missing from his family home in 1993. After 11 years, his fate was finally revealed, but the circumstances surrounding his disappearance continue to perplex his family and detectives…
Who Was David Glenn Lewis
David Glenn Lewis was born on December 11 in 1953, in Borger, Texas. In 1979, he graduated from Texas Tech University School of Law with a Doctor of Jurisprudence. He practiced law for several years, before being elected as a Court of Law judge in Moore County, Texas. He served in that position from 1986 to 1990. In 1990, he lost a bid for his re-election, so he continued practicing law in Amarillo, Texas.
Besides work, David was very active in his church and several charitable organizations. Also, he was a night instructor at Amarillo College. He was married to his wife Karen, and the two had a daughter Lauren, who was 9 at the time of David's disappearance.
David Glenn Lewis Suddenly Goes Missing
On the last weekend of January in 1993, Karen Lewis took her daughter Lauren to Dallas to go some shopping. Her husband, David Lewis stayed at home to watch the Dallas Cowboys play, as it was a Super Bowl weekend. Everything seemed normal and according to plan until Karen and Lauren returned home late on Sunday, January 31st. David was not at home.
However, David's wife wasn't concerned. After all, there were two freshly made turkey sandwiches in the fridge, and his wedding ring and watch were on the kitchen counter. The dryer was turned on right before she and Lauren came home. She thought that David either went to his workplace to finish something, or he went to watch the Super Bown somewhere else.
The next morning, there was still no trace of David. That's when his wife became worried. When she found out that he also missed 2 work appointments, she knew something was wrong. She called the Amarillo Police Department to report her husband was missing.
Investigation And The Timeline of David Lewis's Disappearance
The police started to investigate this bizarre case, and here is what they found after talking to David's friends and colleagues:
January 28 – Karen and Lauren Lewis traveled to Dallas. David left his work at the Buckner, Lara & Swindell law firm early because he didn't feel well. A few hours later, his credit card was used to buy gas. The same night, David held his class at Amarillo College. The class ended at 10 p.m.
January 29 – A person attending the same church as David reported seeing David rushing through the Southwest Airlines terminal at the Amarillo airport, without carrying any luggage.
January 30 – This was the day when David was last seen alive. Someone deposited $5000 on the joint bank account belonging to David and Karen Lewis. The neighbors saw David's red Ford Explorer parked at his house.
January 31 – Was the day when David went missing. However, someone taped the Super Bowl on VCR that day, which couldn't be done automatically. The recording started at 5:15 p.m.
February 1 – David missed two appointments at work and his wife alarmed the police about his disappearance. The investigation started. The same day, a sheriff's deputy saw a man similar to David taking pictures of a red Ford Explorer parked in front of the Potter County Courts Bldg.
The same day, a cab driver drove a man resembling David from a hotel to the Dallas/Fort Worth Airport. Reportedly, the man seemed nervous and paid in cash. He had a wad of $100 bills.
February 2 – The police found David's red Ford Explorer in front of the Potter County Courts Bldg. in downtown Amarillo. Underneath the floor mat, there were David's car and house keys. His driver's license, checkbook, and credit cards were also found in the car.
It was discovered during the investigation that David bought 2 plane tickets under his name. The first ticket was bought on January 31st and it was a ticket for a flight from Dallas to Amarillo. The second ticket was bought the next day, for a flight from LA to Dallas, with a stopover in Amarillo. Back in the 1990s, you didn't need to show an ID to buy a plane ticket, so it wasn't clear if David really bought these tickets, and if they were even used.
David's family was adamant that David would never voluntarily go missing like that because he was a responsible and devoted husband and father. His wife told that David often received death threats during his time as a judge. David was scheduled to fly to Dallas in the first week of February for a deposition in a $3 million conflict-of-interest lawsuit filed by a wealthy client against his old legal firm, Ham, Irwin, Graham & Cox. David's files concerning the deposition were also missing.
After 11 months of investigation that led them nowhere, Amarillo Special Crimes Unit stopped searching for David and declared him "missing voluntarily".
Shocking Break After More Than A Decade
In 2003, the Seattle Post Intelligencer published an investigative series named "Without a Trace". This series talked about adult missing person cases, and documented shortcomings of police investigations regarding these cases. It also revealed the problems with law enforcement missing person's data bank, namely the NCIC (National Crime Information Center), stating that many missing person cases slip through the cracks.
Washington State Police Detective Patrick Dutter read this article and got interested in this problem. Then, he got an idea. He did an extensive Google search on John and Jane Does that were never identified in his area. In his search, he included details such as height, weight, etc. His search took him to various missing person sites, and he managed to create a list of possible victims for each John or Jane Doe.
One of those non-identified male victims looked similar to David Glenn Lewis. The only difference is that Jon Doe didn't wear glasses, while David Glenn Lewis had a distinct pair of glasses. However, Detective Dutter did some additional digging and found that John Doe had in his pocket the same glasses that David Glenn Lewis wore. He contacted Amarillo Police Department and sent them a tissue sample of Jon Doe, that has been preserved and kept since 1993.
The tissue was compared with the DNA sample of David's mother, and it was a match. Finally, David Glenn Lewis was no longer missing. However, the Lewis family had more questions. How did David die?
A Death of David Glenn Lewis
David Glenn Lewis was murdered in a hit-and-run accident on a lonely two-lane highway near Moxee, Washington, just 10 miles from the Yakima Airport and 1600 miles from his home, at 10:24 p.m. on February 1st. It is unknown whether he accidentally stepped on the road and got hit by a car, or he did it on purpose. However, some witnesses claim that they saw David walking down the center line of the road, in a pitch dark. A Chevy Camaro was seen leaving the scene, but it was never discovered if that car actually hit David.
What makes his death even more strange, is the clothes he wore the day he died. He was found in worn military fatigues and work boots, something that he would never wear, according to his wife. Also, the fact that he didn't wear his glasses in the middle of the night, although he needed them badly, was also weird.
David's remains were brought home to Texas, where they were buried. However, his death and identification only opened a new box of questions.
Theories
The first theory about David's disappearance claims that he was afraid for his life and for the lives of his family. That's why he vanished and attempted to throw those pursuing him off track. Tired and disoriented, he accidentally started walking down the road and got killed.
The second theory suggests that, after trying to escape those who threatened him, David decided to commit suicide, and that could explain why he took off his glasses and walked down the middle of the road.
There is also a third theory, based on a comment made by one clinical psychologist after he read about David's case. This psychologist claimed that David's behavior in his last days was similar to a "dissociative fugue state". Sudden and unplanned departure away from home, inability to recall prior events or vital facts from the person's life, and confusion or loss of memory about one's identity are all indications of this condition.
Just like many other things related to this case, the true motive for David's disappearance remains a layered mystery.
Frequently asked questions
What Happened To David Glenn Lewis?
David Glenn Lewis disappeared from his home in 1993, and his fate remained unknown until 2003 when he was identified as a victim of a hit and run.
Why Did David Glenn Lewis Leave His Home?
The exact motive for David Glenn Lewis's disappearance is unknown, but most theories assume that he was running away from someone who might've threatened his life and the lives of his family.
Who Killed David Glenn Lewis?
On the night of David Glenn Lewis' death, a Chevy Camaro was spotted leaving the scene, but it remains unknown if this car actually killed him.