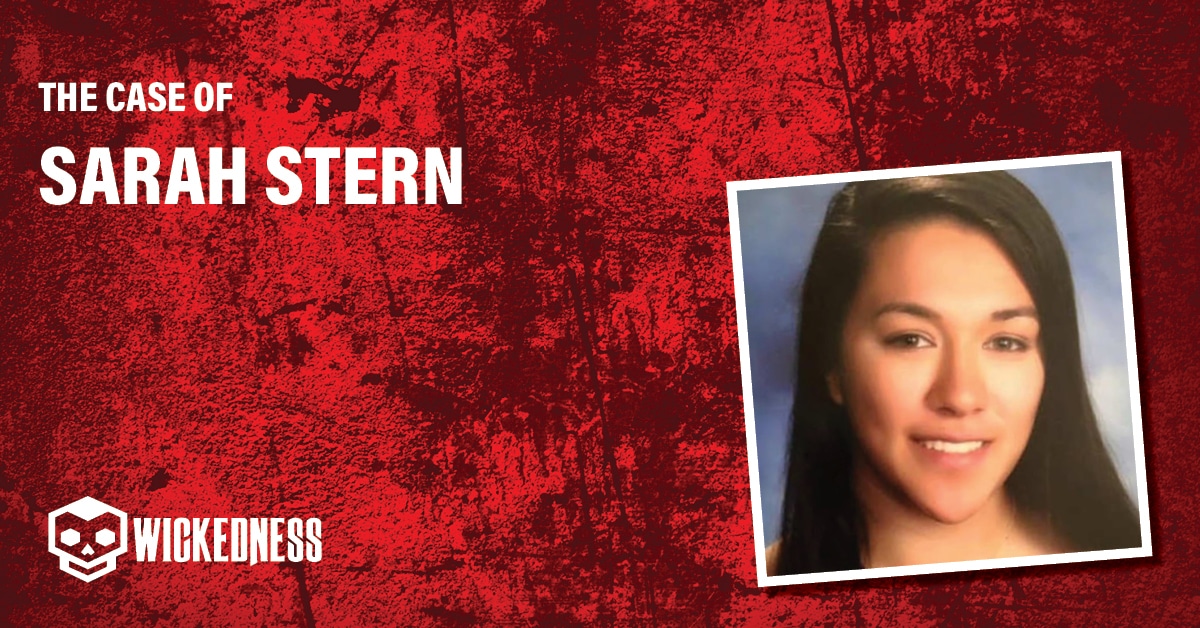 Victim Date of Birth
Info Box
Incident Location
Neptune City, New Jersey
Date of Conviction
Info Box
Body Discovered Date
Info Box
Sarah Stern Murdered by Liam McAtasney: The Real Story
Sarah Stern's childhood friend strangled her, tossed her body over a bridge, and then complained about it to a friend on a hidden camera.
In 2016, Sarah Stern was a 19-year-old budding artist who had attended high school in Neptune City, New Jersey. Though she was still grieving her mother's death from cancer in 2013, Sarah dreamed of becoming an Artist. Her high school teacher and Brookdale community college professors all recognized Sarah's love and aptitude for art.
Little did she know, Sarah had already met the person who would be responsible for snuffing out her young life and all her dreams. In fact, she had known her murderer since they were children and were friends who had attended the same school. Further, the accomplice that would help her murderer dispose of her body was well-known to her as a childhood friend, former roommate, and her prom date.
When Sarah Stern's mother died of cancer in 2013, it's believed that she had left Sarah with around $100,000 in cash, which Sarah kept at her apartment in a shoebox. This money would be the motivation for her murder.
December 2nd is the last day that anyone saw or heard from Sarah. Her car would later be found parked on the side of Route 35 bridge in Belmar with the keys in the ignition. Beneath the bridge was the shallow Shark River inlet, close to the Atlantic Ocean.
Due to how and where her car was found, the initial investigation into Sarah's disappearance was opened as a possible suicide. A massive search effort was launched, which covered air, water, and land. Hundreds of people organized in the frigid December conditions to help, and among these were two of Sarah Stern's childhood friends:
Liam McAtasney and Preston Taylor, both 19 years of age.
When McAtasney initially spoke to the police, he was cooperative and more than happy to go along with the suicide narrative. He described Stern as suicidal and claimed that she had even once threatened to kill herself. He also claimed that she had been fighting with her father and mentioned that Stern had wanted to move to Canada to get away from him.
Unfortunately, there was little in the way of evidence available to the police, who very well might not have been able to solve the case if not for McAtasney's friend, Anthony Curry, who was a classmate of the trio at Neptune High School.
Curry went to the police and revealed that McAtasney had come to him some months prior and discussed his plan to kill and rob Sarah Stern of what he believed to be a $50,000 to $100,000 inheritance. He would claim that he thought McAtasney was joking, but when he heard about Sarah Stern's disappearance, he knew what must have happened.
Curry agreed to secretly tape an interaction with McAtasney in the hopes of gathering evidence for the police. The plan succeeded, and he captured a chilling play-by-play account of the night Sarah Stern had been murdered.
The videotape takes place inside Curry's car. On it, McAtasney describes the murder and robbery of Sarah Stern as something that he and his friend, Preston Taylor, had planned to do for months. He explains how he went to Sarah's house as a friend, and when she turned away from him, he grabbed her from behind.
"I pretty much hung her, like, I just, I picked her up and I had her like dangling off the ground. She pissed herself, said my name, and then that was it. And It took me a half hour to kill her." McAtasney said, "I thought I was gonna be able to choke her out and have her out in like a couple minutes."
He explained how his main concern during the murder never came to be a problem: "Her dog laid there and watched as I killed her. Didn't do anything."
McAtasney continued to describe how Sarah Stern's death took much longer than he expected. Having been unable to strangle her death, McAtasney shoved a shirt down her throat "and held my finger over her nose and set a timer… And it took me a half hour after I hit start on the timer."
Sarah Stern's death had been long and extremely brutal. Her inexperienced killer described, "There's so much that you can't account for; you don't know before it happens."
After his childhood friend was dead, McAtasney placed her body in the bathroom and went to work as scheduled. While there, he communicated with his accomplice, Preston Taylor, lamenting of having lost his phone during the attack. Taylor went to the house after to make sure the crime scene wasn't disturbed and put her body in the bushes behind the home.
McAtasney continued on video to describe the disposal of Sarah's body. After work, he backed Sarah's car up to the house, loaded her body into the passenger seat, and drove to the Route 35 bridge in Belmar. "And I go up, open the door, unhook her, pull her out, start dragging her to throw her over and then cars start coming. I see, like, headlights coming."
McAtasney describes being unable to lift Sarah's body over the bridge rail and so throws the body back into the car as the headlights pass.
Realizing that McAtasney cannot do the task alone, Taylor, who had been waiting nearby as a getaway car, pulls around. Together, the two men are able to lift Sarah's body and throw her over the bridge and into the dark water below. As planned, they left her car on the bridge to make it appear that she had committed suicide—the two left in Taylor's car.
McAtasney described that he didn't feel any different after what he had done. In that same confession tape, he told Curry that the worst part of it all was, "I thought I was walking out [with] $50,000 to $100,000 in my pocket," but instead, he left with less than $10,000, of which he owed $3,000 to Taylor.
The videotaped confession gave police what they needed to arrest and charge McAtasney and Taylor. During questioning, Taylor gave up first and, not knowing of the taped confession, tried to minimize his role in the murder and robbery. He gave a complete account of McAtasney's actions, which matched the confession given on the videotape.
The defense would later attempt to argue on the basis of there being no body, which the police believed had been swept out to sea. This crucial lack of evidence, the defense said, left reasonable doubt about whether Sarah Stern was dead or not. The Jury disagreed.
They found McAtasney guilty of murder in the 1st degree, and he was sentenced to life in prison without the possibility of parole.
Meanwhile, Preston Taylor pleaded guilty to first-degree robbery, second-degree conspiracy to commit robbery, and second-degree disturbing or desecrating human remains. He was given a sentence of 18 years, of which 15 are mandatory.
Prosecutor Christopher Gramiccioni, standing outside of the courtroom with Sarah's father, said that McAtasney would, "go down in history as one of Monmouth County's most heinous killers."
Frequently Asked Questions
What really happened to Sarah Stern?
She was strangled at her home in Neptune City, New Jersey, and her body was thrown from the Route 35 bridge in Belmar. Her remains were never found.
Where did Sarah Stern die?
At her home in Neptune City, New Jersey.
Where was Sarah Stern found?
Her remains were never located.