The case of
Tricia Nordman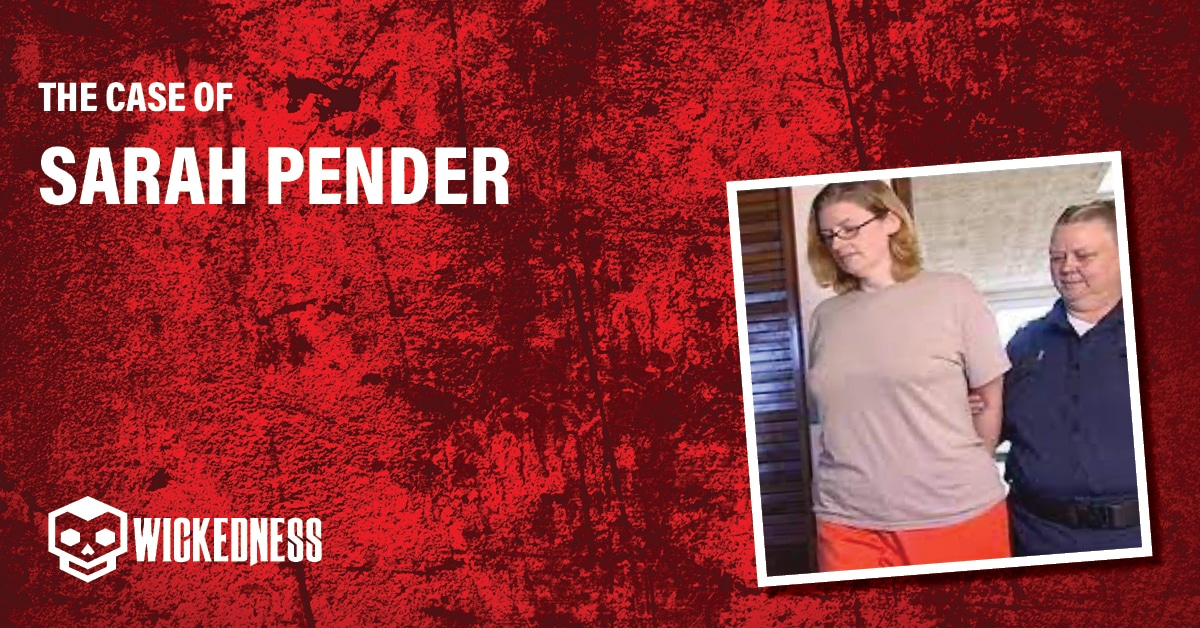 Incident Location
Indiana, USA
Body Location
Indiana, USA
Date of Conviction
December 2008
Body Discovered Date
2000-10-24
Life of "Female Charles Manson"
Sarah Jo Pender "Female Charles Manson" was born on May 29, 1979, in Indiana, USA. Her mother was Bonnie Prosser. In 1997 she graduated from Lawrence Central High School. At that time she was 21 years old. Sarah Pender was an attractive, sociable, intelligent woman with great potential. Later she studied at Purdue University but, unfortunately, was dropped out from Purdue University. After this failure, she started to find some jobs to make money for life. She became a secretary at Carl E. Most and Sons. There she met her boyfriend Richard Hull. He worked as a bouncer in a local bar. He had a criminal record, including six crimes, robbery convictions, two felony convictions, and misdemeanor charge. The first conviction was for stealing a car and the second for residential entry. He was also convicted of murder. During their acquaintance, he earned his living by selling drugs. Sarah had never had a law problem before she met Richard Hull. She started to live under the name Ashley Thompson.
What is the case?
It was October of 2000. Sarah and Richard lived in Indiana and had two roommates. Tricia Nordman, 25 and Andrew Cataldi, 24.They also had a dark criminal history. They were fugitives from a Nevada penal colony. Andrew Cataldi was convicted for drugs possession with intent and for distributing methamphetamine. Tricia Nordman was serving a term of forgery. Andrew Cataldi also sold drugs in his area. According to the testimony of neighbor Jana Frederick, tensions between the couples had risen for a few weeks. Richard Hull and Andrew Cataldi often quarreled. Richard Hull decided to kill his annoying neighbors. Richard Hull could not legally purchase a firearm because of his dangerous criminal experience and robbery conviction. Before the killings, he tried to buy it from Andrew Cataldi's son. When that did not work, he turned to his girlfriend Sarah Jo Pender. Richard Hull somehow persuaded her to buy him a weapon. On the morning of October 24, 2000, Richard Hull took a car and drove Sarah Jo Pender to a local Walmart store. They bought a 12-caliber rifle, which was used for the murder. According to the testimony of the store seller, Richard Hull choose the ammunition himself and brought it to the counter. Sarah Pender paid for it. Then they went to her parent's home. After the couple went for a walk with Pender's parents, they returned home around 23:00.
When they get home Sarah Pender left the room to walk around the area. As it was told by Richard Hall, when Sarah has gone, Andrew Cataldi came to him. A quarrel arose over the money that Hull's sister, Tabitha, owed to Cataldi. She did not give them back. Hall later told detectives that the discussion came to a standstill. Cataldi knew about the newly purchased rifle. He knew that Richard Hull saves it in his room. Cataldi went into Hall's room and tried to grab a weapon. According to Richard's statements , Cataldi was going to kill his family. Then the struggle began. Hull then shot Cataldi in the chest. When Nordman came into the room Hull shot her in the chest and head. When Sarah Pender heard loud noises, she came back. At that time both neighbors were dead. After shooting victims Hull had already loaded one of the bodies into the back of a truck. This truck he borrowed from his friend Ronnie Herron on October 23, 2000. A few months later they planned to make methamphetamine in the basement of their house. That is why they had a truck. They sit in the vehicle and drove a few blocks away. Then they decided to put dead bodies in a dumpster. The next day, October 25, Sarah was working, and she was gone again. Richard started to remove blood stains from their home. Richard also borrowed a plug adapter from a neighbor, Jana Frederick. He decided to clean the blood in the house. In addition, he burned bloody clothes at their house. On October 26, Sarah and Richard returned the borrowed truck to their friend Ronnie Gerron. The bodies were found in a dumpster by a man named Steve Stultz. Police were able to identify the dead bodies on October 26. Detective Ken Martinez went to search the house where they lived. Police found evidence and traces of blood. Also, Detective Ken Martinez noticed that someone was trying to conceal the evidence.
Detective Martinez arrested Richard Hull in Noblesville on October 27, 2000. Sarah Pender and Richard Hull were accused of committing murder. Hull admitted to committing both murders. At the next day of investigation, Sarah Pender brought to the police office a pair of bloody pants belonging to Richard Hull. Forensic experts were involved. They removed a blood sample from the victims' clothing and compared it. A DNA test showed that the blood belonged to Trisi Nordman and Andrew Cataldi. But no DNA evidence could be linked Sarah Pender to the murders. Sarah is still accused of murder.
The trial
This case was called "Richard Hull Vs State of Indiana". In July 2002, Sarah Jo Pender was delivered in the Supreme Court of Marion. "Female Charles Manson" was represented by attorney James Nave. The judge was criminal law professor Jane Magnus-Stinson. The deputy prosecutor was Larry Sells. He proposed advisory sentence. The deputy prosecutor Larry Sells said he had evidence against Sarah. Another piece of evidence presented to the jury was the testimony of fellow inmate Floyd Pennington. Witness Floyd Pennington testified that he and Sarah were friends by correspondence. James Nave told the Marion Superior Court that Sarah wrote to him a letter and confessed to the murders. Richard Hull wrote her a letter thanking her for taking the blame. This document became an important piece of evidence and not the only exculpatory evidence. After viewing video surveillance tapes and consulting the guard shack log, investigators identified Spitler as Pender's accomplice. Video surveillance tapes became an important evidence.
A few days later Richard denied his testimony about the letter. He said it was a forged letter. He asked another convicted Steve Logan to write a letter for him in defense. Richard's goal was to get a shorter sentence, not for maximum prison sentence. But there were indisputable facts. Sarah Pender bought the murder weapon the morning before the murder. Also, Sarah Jo Pender helped Richard Hull dispose of the bodies. Her attorney Larry Sells told the jury that she just planned the killings and manipulated Richard Hull to commit the dangerous criminal act.
On August 22, 2002, 2002US District court found Sarah guilty. Sarah hopped for a reduced sentence or at least 8-year sentence. She was sentenced to maximum and not reduced prison sentence 110 years in prison (advisory sentence of two life sentence) in Rockville Correctional Facility and became a female inmate. Richard Hull pleaded guilty, too. He claimed that Sarah told him to kill Andrew and Tricia. Richard Hull was sentenced to maximum sentence of 45 years in prison. There Sarah met her love Jamie Long and they had sexual relationship. Jamie Long was an older married woman with experience of intimate relationship with female inmates. Jamie Long had a criminal history of two felonies and 12 to 15 other convictions, including a robbery conviction. On August 4, 2008, Sarah Joe Pender escaped from the Rockville Correctional Facility.On December 22, 2008, Sarah's neighbor called the law enforcement after seeing "America's Most Wanted." "Female Charles Manson" was arrested by corrections officer Scott Spitler Sr. in her apartment. Scott Spitler Sr. was worked in Rockville Correctional Center as a Prison guard for five years. One day he had been placed in a pre-trial diversion program for a misdemeanor charge of battery. On February 17, 2014, the Indiana Court of Appeals denied her request. Pender was held in solitary confinement at the Indiana Women's Prison in Indianapolis from December 2008 to January 30, 2014. An inmate count revealed that Pender was missing. Sarah Jo Pender is now back in the Rockville Correctional Center in solitary confinement, from where she escaped. After an inmate count revealed, one fellow inmate was unaccounted for, the prison was put on lockdown. After being released, Jamie Long frequently visited Pender. Now Sarah claims that she is a victim of a wrongful conviction. Steve Miller connected with her mother Bonnie Prosser and wrote a book about Sarah Jo Pender. On September 22, 2013, the case was featured on the Investigation Discovery show where she was called a dangerous criminal in return. Mail Art project far Sarah was organaized by Sarah Jo Pender. Her current release date from prison is April 4, 2054 without chance to release from prison. 
FAQ:
Will Sarah Pender ever be released?
Pender was held in solitary confinement at the Indiana Women's Prison in Indianapolis from December 2008 to January 30, 2014, for a total of 1,870 days, or slightly over 5 years. Her current release date from prison is April 4, 2054, when she will be eligible for parole. At that time she will be 75.
Where is Sarah Jo Pender now?
Despite these revelations, Pender remains at the Rockville Correctional Facility, Indiana's largest women's prison. She is now forty-two, having spent two decades behind bars; if she isn't pardoned or exonerated, it's where she will die.