The case of
Ronald Edward Poppo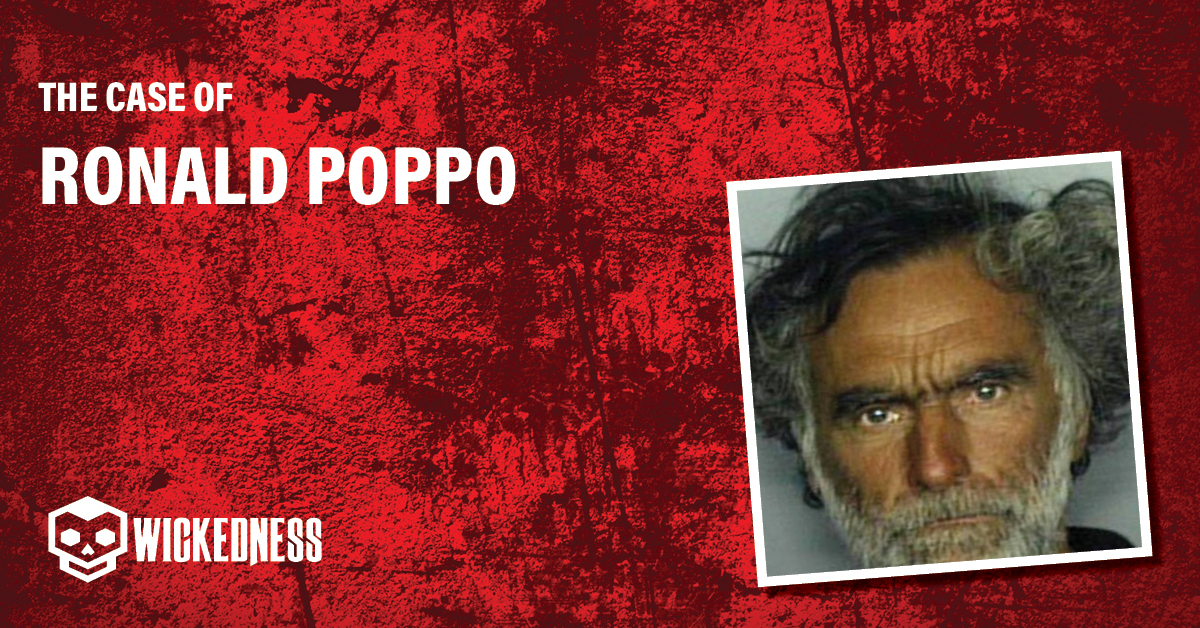 Victim
Ronald Edward Poppo
Victim Date of Birth
Info Box
Incident Location
MacArthur Causeway, Miami, Florida
Date of Conviction
Info Box
Body Discovered Date
Info Box
Who was Ronald Poppo?
Ronald Edward Poppo was born May 17th 1947 in Brooklyn, New York and he had a sister called Antoinette Poppo. He lived here for most of his childhood and attended the prestigious Stuyvesant High School in Manhattan where he was a member of the guidance office and the Latin Club. It's been reported that he enrolled at the nearby City College when he finished high school but he dropped out in 1966.
Poppo became a homeless person in 1976. It's not known exactly why or how he came to live on the streets but he lost touch with his family. At the time of the attack, Poppo's family hadn't heard from him in 30 years and presumed he was dead.
His records show that he spent time in New York and New Orleans but most of those 30 years were spent in the Miama area. He was arrested for a string of petty crimes on and off from as early as 1978, two years after he became homeless.
He had various court appearances for crimes related to being homeless, such as trespassing and burglary. Poppo was also arrested several times for drinking in public but police would release him onto the streets again after he appeared in court. His last police mugshot shows a man with a greying beard and wild hair.
On May 24th 2012, the Miami Homeless Assistance Program found Ronald and offered him the services that they provided. Poppo declined and he carried on hanging out underneath the bridge on the MacArthur Causeway which was in the Arts and Entertainment District of downtown Miami, near the headquarters of The Miami Herald
Ronald Popp0's attack
A passing cyclist witnessed the bizarre attack and called 911 when a police officer, named Jose Ramirez, from the Miami Police Department arrived on scene. Rudy Eugene allegedly growled when the officer tried to stop the attack. Ramirez had no choice but to fire his gun until Eugene stopped attacking Poppo.
On May 26th 2012, Rudy Eugene drove to Miami Beach, Florida. Along the way, his car broke down and Eugene spent around half an hour trying to fix it. He eventually gave up at around noon and walked along the MacArthur Causeway. On his way, he began discarding his clothes and disposed of his driver's licence.
At around 1.55pm, Rudy Eugene came across 65-year-old Ronald Poppo who was in his usual place under the bridge, near the headquarters of the Miami Herald. Eugene was completely naked at this point, he'd discarded his shoes and a Bible at the crime scene.
Rudy then accused Ronald of stealing his Bible. Ronald denied this but Rudy wouldn't accept this and he started beating Ronald. Poppo was stripped from the waist down and then Rudy started biting Poppo's face. Rudy caused facial injuries by ripping off strips of flesh from Poppo's face, including his nose and then gouged out his eyes.
A passing cyclist named Larry Vega came across the horrific attack and he called 911. Officer Ramirez was the first on scene and he tried to stop Eugene from carrying on with his flesh-eating attack. Rudy wouldn't stop, allegedly growling at Ramirez. He had no choice but to fire his gun until Eugene stopped.
Rudy Eugene stopped attacking Ronald Poppo at 2.13pm when he was shot dead by Officer Ramirez. Ramirez had fired his gun a total of five times.
The face-eating attack lasted a total of 18 minutes and it was captured in its entirety by a nearby security camera.
Ronald Popp0's Investigation
Rudy Eugene was born February 4th 1981 at the Jackson Memorial Hospital in Miami, Florida. His parents were immigrants from Haiti but they divorced not long after his birth. Eugene's father wasn't involved in his life and passed away when Rudy was six.
He attended church regularly with his family when he was a child and he attended the North Miami Beach High School in the 10th and 11th grades. Rudy also played for the school football team until the late 1990's.
After graduating, Rudy had several jobs such as selling CD's and working in McDonalds but he also expressed interest in starting up his own mobile car wash business.
Rudy met a woman called Jenny Ductant and they got married in 2005. The couple had no children and they divorced in 2008, with Jenny claiming that there had been domestic violence. Rudy didn't speak to Jenny again and during his divorce proceedings, he met a woman named Rikkia Cross who he was with at the time of his death.
Eugene was first arrested when he was 16 which was in 1997 for assault. He was arrested again for assault in 2004 when he smashed items in his mom's house and pushed her around the kitchen. She reported later that he'd threatened to put a gun to her head and kill her. The other arrests were related to recreational drugs, such as marijuana, with his final arrest in September 2009.
Since the horrific attack, Eugene has been named as the "Miami Zombie", the "Miami Cannibal" and the "Causeway Cannibal".
Investigation Details
After Larry Vega had contacted 911, officers were dispatched to the scene. The first to witness the attack was Jose Ramirez. He was shocked at the scene he was confronted with but he warned Eugene to stop attacking Poppo. Rudy refused, growled at Ramirez and continued biting Poppo's face. Jose knew he had no choice but to draw his weapon. He shot Rudy first in the shoulder which did nothing so Jose fired a further four times and the brutal attack ended at 2.13pm when Rudy Eugene was killed.
When paramedics arrived on scene, they assumed Ronald Poppo was dead. They didn't think anyone could survive as a face-eating victim but when they saw him moving, they realized he was in a critical condition and indeed, still alive.
Poppo was taken to Ryder Trauma Center at Jackson Memorial Hospital where he received medical care. It was discovered that he had lost 75-80% of his face above the beard including his eyebrows, nose, left eye and parts of his forehead and cheeks. He had several reconstructive facial surgeries which took months to complete but he was completely blind following the attack.
No human flesh was discovered in Rudy's stomach but there was a number of undigested pills present. Police sources say that they initially thought that the street drug, bath salts, could be to blame but toxicology reports only showed marijuana present in his system. Toxicologists didn't rule anything out though as they didn't test for everything.
Rudy Eugene Trial
As Rudy was killed during the savage attack, there was no trial. But there was an outpouring of people's sympathy when the attack made the news.
Verdict
There was no verdict but as Rudy Eugene was filmed attacking Ronald Poppo, he is the one who is known for the attack.
Frequently asked questions
Where is Ronald Poppo now?
Since the cannibal attack, Ronald Poppo has learned how to shave, dress himself and feed himself. He was granted permission to stay at the long-term care facility indefinitely and since completing rehabilitation, he has put on 50kg and taken up guitar.
Does Ronald Poppo have any family?
Ronald Poppo has a sister called Antoinette Poppo as well as a daughter. They thought Ronald was dead but since the attack, they spend time together regularly.