The case of
Terri "Missy" Leann Bevers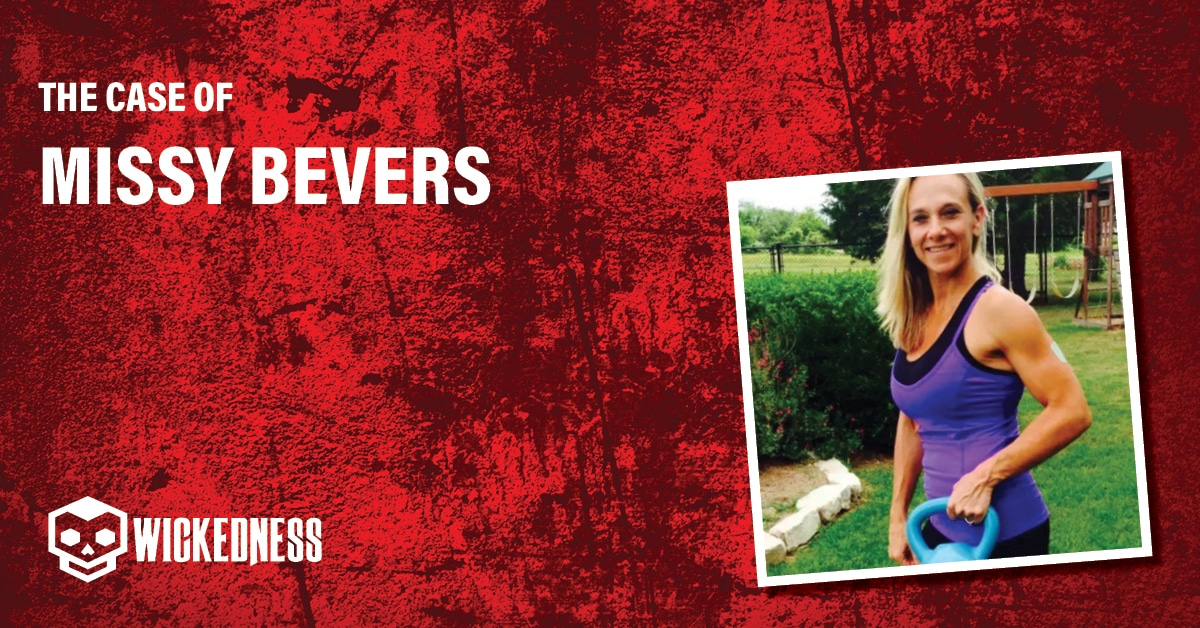 Victim
Terri "Missy" Leann Bevers
Victim Date of Birth
Info Box
Incident Location
Midlothian, Texas, USA
Date of Conviction
Info Box
Body Discovered Date
Info Box
Who Was Missy Bevers?
Terri Leann Strickland was born August 9, 1970 in Graham, Texas to her parents, James and Norma Strickland. She was the middle child of three, with an older brother called Clifford and a younger brother called Clint. The family grew up in Jacksboro, Texas and Missy attended the local high school, Jacksboro High.
As a child, Missy began to show her natural talent at making friends. Anyone she met would become her friend and she rarely met strangers. After she graduated school in 1988, she attended Tarleton State University where she graduated with a Bachelor of Science degree in 1995. She went on to work in several retail postions and it was during this time that she met her husband, Brandon Bevers. The couple got married on June 20, 1998.
Missy went back to school and gained a teaching certificate in higher education. Missy taught for a few years before she gave birth to their first daughter, Hannah, in March 2001. She decided she wanted to be a stay at home mom and care for her family, although she did speak about returning to teaching one day. The couple welcomed a second daughter, Allie, in March 2003 and a third daughter, Sarah, in November 2007.
In the years before her murder, Missy had found a new passion and that was fitness. She had become physically fitter than she ever had before and she decided to become a fitness trainer, teaching Camp Gladiator classes at Midlothian's Creekside Church of Christ which was only 20 minutes from her home. Her friends have also said that she volunteered at for The Salvation Army.
Missy Bevers Found Dead
At 5am on April 18, 2016, a couple of Missy's students arrived at Creekside Church of Christ and discovered Missy's body. She had a head wound and several puncture wounds to the chest and head. It was obvious that she was dead, she was lying in a pool of blood. The students dialed 911 and reported what they had found.
What Happened to Missy Bevers?
The night before her murder, Missy had written on her fitness Facebook page that the boot camp the next day would be held inside the church. This was due to a heavy rainstorm that hit the area shortly before dawn on the 18th.
At around 4am, surveillance footage showed someone entering the Midlothian church. It's believed that this person entered through the back door, showing signs of forced entry. The gender of this person is unknown because they were dressed in what appears to be full police SWAT gear, complete with a helmet, shin pads, and a police vest with "POLICE" written across the back.
For around an hour, this person wandered the hallways of the church, holding a hammer. They broke several windows and tried to enter every door they encountered. The footage has been released to the public and it is chilling.
It's not known whether or not the murder was caught on surveillance video but the suspect is seen heading towards the front entrance of the church minutes before Missy Bevers arrived. It's thought that this is when Missy was attacked with the hammer the suspect was wielding.
Suspect or Convicted Killer Details
Anyone who was a suspect in Missy Bevers' murder was cleared eventually. This included Brandon Bevers and his dad, Randy.
The only information the Midlothian Police Department have been able to gather from the surveillance video was that the killer was between 5'2 and 5'8. The suspect also had a slight limp. At first, police thought this person was male but they retracted that so the gender remains unknown.
Investigation Details
Shortly after her students reported her body, the police turned up. They were met with Missy, who was lying in a pool of her own blood with puncture wounds to her head and chest. Next to her body was a pile of tools, amongst which there was a hammer. This hasn't been confirmed as the murder weapon.
Police look at any surveillance footage they can find. While outside cameras weren't working, the internal ones were and this is where the chilling footage of the suspect wandering the hallways was discovered. At first, police thought that Missy was a victim of a burglary but they ruled this out when they discovered the tapes. The suspect isn't in a rush and doesn't appear to take anything from the church. Besides, Missy was still wearing her wedding ring and her purse and iPad were still nearby. Police now believe that Missy was targeted and her killer wanted it to look like a burglary gone wrong.
Midlothian Police Department first suspected that this suspect was a male. However, upon further investigation, they couldn't be sure on the gender so they retracted that. The height of the suspect is estimated at between 5'2 and 5'8 which is quite short for a man.
Missy's social media and texts were examined next. While they didn't find anything untoward, they did discover flirtatious messages between her and another man on LinkedIn. They had been in contact since January 2016 and he admitted to an online friendship with Missy. But he was never named or identified as a suspect. But in the days before her muder, Missy told friends that she had received a creepy message from a man on LinkedIn. It's not known if this man was ever identified or if the police spoke to him.
Brandon Bevers was questioned but he had an alibi. Police hoped that he would be able to offer some insight into Missy's murder but he didn't have much to tell police, Brandon didn't know who would want to hurt his wife. He told law enforcement that they'd had a happy marriage but upone further investigation, this wasn't true. Financial issues were causing a strain, as well as infidelity. Despite this, police cleared Brandon as a suspect.
People started to question Brandon's father, Randy Bevers. He was a similar build and height as the suspect in the footage and he had a slight limp. It was also discovered that in the weeks following Missy's murder, Randy took a blood soaked shirt to a dry cleaners and claimed he'd broken up a dog fight. The dry cleaners gave the shirt to police for evidence and Randy was brought in for questioning. However, blood analysis said the blood wasn't human and Randy Bevers was in California on the morning of Missy's murder. He was also cleared as a suspect.
A few weeks after Missy was killed, a local sports store called the police with some footage that had been captured from their car park on the morning of Missy's murder. A Nissan Altima was seen entering the car park and sitting with the lights off for a couple of minutes. The sports good store is close to the church so police believe this is the killer's car and the killer was scoping out the area. But police still don't know who that car belongs to.
In the fall of 2019, police realised that a tip had been phoned in multiple times since Missy died. Bobby Wayne Henry, a former Lancaster police officer, raised suspicion. He admitted that he still had his police tactical gear but it didn't fit him any more. He was a licensed security guard who worked Missy's funeral and mass gathering at the church and he walked with a limp. However, he was 6'1 which didn't match the height of the suspect in the footage. Because of this, he was cleared of suspicion.
After those three men were cleared, police didn't have any other leads. Missy's murder is still unsolved.
Trial
N/A
Verdict
N/A
Frequently Asked Questions
Has Missy Bever's murder been solved?
No, the murder of Missy hasn't been solved. Anyone with information can share tips with police by texting MIDL and a tip to 847411 or calling Ellis County Crime Stoppers at 972–937–7297.
Is Brandon Bevers still searching for his wife's killer?
No. In an email to CrimeStories podcast, Brandon said he was done with searching for her killer for the sake of his children. He wants to remember who Missy was and not focus on the end of her life.