The case of
Mickey Shunick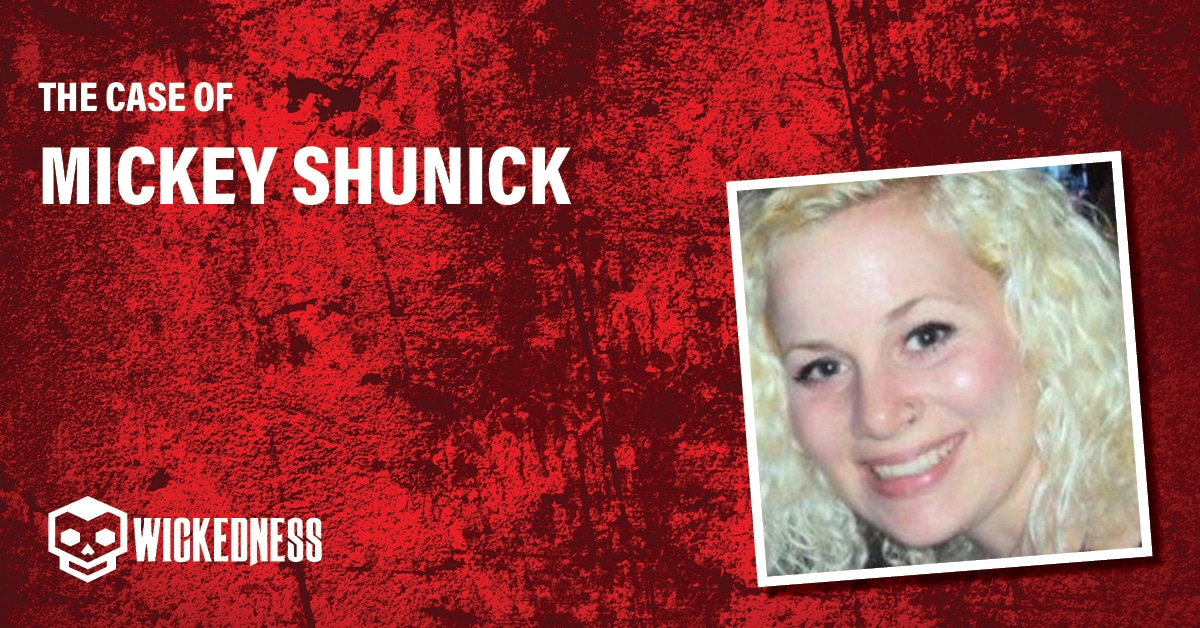 Victim Date of Birth
1990-05-21
Incident Location
Lafayette, Louisiana, USA
Body Location
Louisiana, USA
Date of Conviction
August, 2012
Body Discovered Date
2012-08-07
Mickey Shunick's Disappearance on Friday Night  
Michaela "Mickey" Shunick was born on May 21, 1990 in Lafayette city, USA. She lived with her family on Governor Miro Drive in Lafayette, Louisiana. In 2012, she studied at the University of Louisiana at Lafayette. As a college student she studied anthropology. On the day of her disappearance, she was due to attend her younger brother Zach's graduation party. All her family planned to be at this party. However, she went out with friends the night before. It was spring, it was on Friday. They knew that Mickey loved to walk and meet friends. She would be okay, they thought. Mickey was extremely close to her family and knew how to fulfill her obligations. It was unusual that she did not arrive in time to go to her brother's graduation. She fell asleep with an acquaintance and was just late, her family thought. Shunick's family went to graduation on Saturday morning without Mickey. They waited until the ceremony finished but Mickey didn't show up for the graduation ceremony at all. After her disappointment, the family went home to see if she was there. When they returned, she was not at home. They phoned her but she did not answer their calls. In a panic, Mickey's parents called all of her friends. As they thought, she went out with a few friends on Friday night. She and her friends were enjoying music at a local bar. They found out that she went to eat with her friend Brettly Wilson. Brettly lived about four miles from Mickey. He lived on Ryan Street. Brettly said to her family that Mickey left his house around 1:45 A.M. She arrived at his house with a bicycle and after all, told him she was going home. Mickey took her bicycle and drove home. That was the last time he saw her. Mickey's family reported their daughter's disappearance to the police.
Arrest
Mickey's case was quickly handed over to detectives at the Lafayette Police Department. Investigators began looking for evidence. They searched the area where the blonde woman had gone. CCTV cameras found her in a city bar. It was seen that she had gone into the bar with her friends. Bretley was immediately under suspicion and questioned by police. He was the last person that saw Mickey on Friday night. He claimed that she left his house. He told the police she wanted to go home and ride her bicycle as she usually did. When he saw her last time, she was safe and healthy. Collecting CCTV videos, police established that she was riding a bicycle on Versailles Boulevard and St. Landry Street in the direction of St. John Street. On the surveillance video Mickey Shunick was crossing University Avenue before her last image was recorded on St. Landry Street at 1:48 p.m. At the Blackham Coliseum near a gas station, blond-haired Shunick and her bike were gone. When detectives checked the next camera, they found something else. It was late but Mickey was not alone on the way home. They saw a white pickup truck. It seemed the truck was following her. White Chevrolet's Z-71 appeared in several of the same CCTV cameras as Mickey's bike. Lafayette police looked closely at the surveillance footage. They saw that the car did what looked like a deliberate turn to make sure it stayed on the same route as Mickey. A few days later, investigators received a call from a woman. She told the police that her fiancé owned a white Z-71 truck. She also said that her man returned at Evangeline Parish house wounded on May 19. He told her that he was in another city, where he received stub injuries. Then she told the Lafayette police that he threw away his bloodied shirt. He never used his pickup truck since. The man's name was Brandon Scott Lavergne. He was a registered sex offender. On June 14, 2012, Lafayette Police finally reported that Laverne's truck had been found burned in Texas. But the number of evidence increased. Despite growing evidence against him, it was not until July 5 when the police arrested Lavergne. He was convicted of murder and first-degree abduction. Mickey was still missing. The grand jury charged Lavergne with first-degree murder on July 18. Lavergne refused to cooperate. He claimed that he was innocent of the charges against him. In addition, he refused to show Mickey's whereabouts. The police decided to offer him a plea agreement. They gave him two variants. the first: to tell them what happened with Michaela Shunick on May 19. The second variant was the escape from the death penalty, instead of life sentence. A few days later, he agreed. The whole story was revealed in court documents.
Mickey Shunickhe fought for her life
The murderer told the investigators that he accidentally noticed Mickey. 22-year-old Shunick was riding a bicycle and Lavergne decided to follow her. Then he hit her bicycle with his pickup truck and knocked her down. When Mickey was shocked by a collision on the road, Lavergne put her bike into the car salon of his pickup truck and put her motionless body to sit on the passenger's side. He threatened her with a knife and a gun to prevent her from running away from passenger seat. Mickey tried to call for help over the phone but she could not. A 21-year-old girl sprayed her attacker with pepper spray and snatched a knife from him and hit him several times. She inflicted him with life-threatening injuries. She almost saved her life. However, Lavergne stabbed Mickey, when he was able to regain control. He said that it was a moment when he killed her. But she suddenly stabs Lavergne again in the chest. He shot her in the head, killing her instantly. Later he took her to the field to throw the body away. Lavergne was bleeding. He took Mickey's body to an old cemetery and tried to bury it. He could not do this because of his wounds. Instead, he covered body with branches along the nearby tree line and went to his Evangeline Parish home.
Lafayette police followed Lavergne's map instructions and found Mickey's body on August 7, 2012. Her bike was found under the bridge at Whiskey Bay. As part of a plea deal, Lavergne confessed to killing another woman named Lisa Ann Pate. Sex offender Brandon Lavergne pleaded guilty to the murders of Lisa Pate and Michaela "Mickey" Shunick. He was sentenced to life imprisonment.
FAQ:
What happened to Mickey Shunick?
The Defendant pulled his semi-automatic handgun, which he had armed himself with, and shot Micky in the head, killing her instantly. With his additional injuries, Lavergne did not leave Shunick's body and instead drove to his home to nurse his wounds, with her still in the passenger seat.
How long was Mickey Shunick missing?
Fishermen Found Shunick's Bike In A Swampy Area About 27 Miles From Where She Was Last Seen. Eight days after Shunick went missing, a pair of fishermen discovered her bike in Whiskey Bay, a muddy basin on the Atchafalaya River.