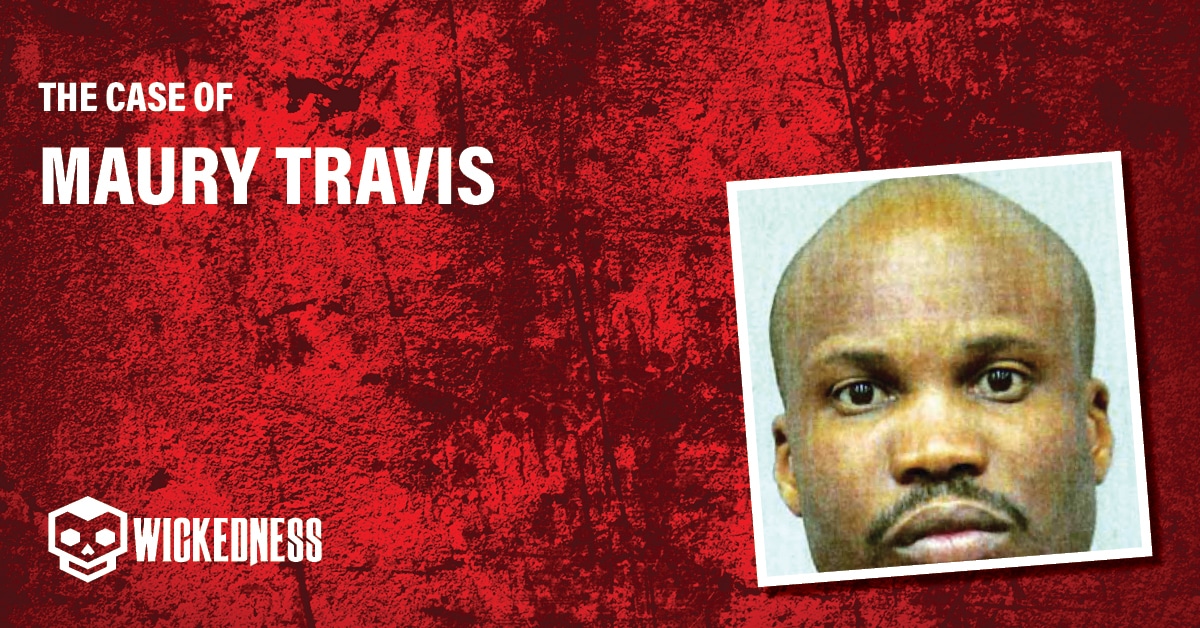 Victim Date of Birth
Info Box
Incident Location
Ferguson, Missouri, USA
Date of Conviction
Info Box
Body Discovered Date
Info Box
Maury Travis, Disturbed Man
Maury Troy Travis was born on October 25, 1965. He grows up with his mother in Ferguson, Missouri. From childhood time, he was a troubled and very disturbed kid. He had the traits of sadism and crazed mind. As a child, he killed insects, and when he became a teenager, he killed his neighbor's dog. From the age of 14, he fantasized about murder. When Maury Travis was young, he was able to keep these desires under control for years. He fantasized about torturing women and murdering them. After graduating high school, he went to college. There he got a crack and coke addiction. Every day he spent $300 on drugs. Of course, drugs started to control his life and confused his mind. He dropped out of college and began robbing shoe stores. He was convicted of several robbers and served a few months in prison. Maury was released on parole and moved into a home owned by his mother in Ferguson, Missouri. In a new place, he found a job as a server at a fining dining restaurant in Chesterfield, Missouri. He met his love there but his engagement was brief. His fiancée left him. That was the point when Maury could no longer control the dark side of him. He decided to commit a true crime. He began to pick up sex workers from an area called "The Stroll". He brought them to his house and they were smoking crack with him there. He even picked up six women at once.
Serial Murders on Videotapes 
All we know about Maury Travis's horrific crimes are from his statements and a bunch of videotapes. Trying to shed light on one of the victims of serial murder, reporter Bill Smith of the St. Louis Post-Dispatch wrote an article about not unidentified victim Teresa Wilson and her tragic end. The article was published in the ABC news newspaper on May 19, 2002. Less than a week later, Smith received an anonymous letter with a strange return address. The letter was stamped in St. Louis. It means that it was mailed locally. As it turned out, Maury Travis sent this letter. He started a game with investigators. A map of the West Alton area followed the letter. There was a mark "X" to indicate where the female body might be located. Police found a skeleton there. Federal investigators focused on the computer-generated map. The map seemed to be taken from an Internet service Expedia.com. The FBI has approached WorldCom Inc. to give an IP number that provides local telephone numbers for customers. WorldCom Inc. provides a temporary IP address for this map. An Illinois police cybercrime investigator has made a breakthrough in the case. He spent hours searching for all online services that offer interactive maps to the public. Reports indicate that the address belonged to an elderly woman.
The End of The Game
It was Friday morning, June 7. St. Louis Metropolitan Police Department escorted the FBI and other law enforcement officers drove to the Muray's house. He was arrested without resistance. St. Louis police searched the home of a suspect in serial murders. They discovered a secret torture chamber in the basement of Maury Travis's house. There was equipment for forced labor, an electric shocker, stun gun, bondage equipment, and clippings of his suspected murders. In his house, on his basement floor, he mocked these women to eventual death and filmed his cruelty on video. What was most shocking and "famous" the investigators found, were videotapes with footage of his crimes. They found the film, titled "Your Wedding Day". On one tape Travis ties up a woman, covered her eyes with duct tape, tortures and rapes her. In one scene, he was strangling one of his unidentified victims to death. The scenes on the tape were so irritating that some police officers asked for psychological counseling and help after his strangling victims to death. St. Louis police said he killed 12 to 20 women. At least two women have experienced brutal encounters with him but stayed alive. One of the victims had a head injury and another refused to be charged when police were called. Police identified 12 of Maury's victims as drug addicts. Their bodies were dumped on city streets and country roads. Some of them he buried in the St. Louis area from March 2001 to May 2002. Criminal excerpts published made a conclusion that Travis did not physically torture women. However, there were blood stains on the walls and floor. When the investigators checked the basement after Maury's arrest, police noticed that the walls were painted many times with layers of paint over the blood.
Maury Travis Escapes his Trial
Detectives compiled a chronology of the killings of the suspected man. They realized that his release from prison in late 2001 coincided with a pause in serial murders. Meanwhile, Mori Travis planned to take his own life. Travis was under 24-hour surveillance. The guards' officers had to check him every 15 minutes. However, they did not inspect him for two observation periods. This gave Travis enough time to rip the strip off the sheet. He even managed to keep his own hands behind his back to keep him from instinctive attempts to break free. After a few days after his arrest, Travis was found hanged on a makeshift noose in his cell in St. Louis County Jail. He was 36. It was on June 10, 2002. He wrote a suicide note. In his last letter to his mother, he expressed no pity or guilt. Twelve years after Travis committed suicide, his mother, Sandra, still owns the house where the torture took place. In 2014, a woman named Katrina McGhave moved to Travis' old place, which still belonged to his mother. Katrina McGhave claimed that no one had told her about the horrible history of the house. McGhave learned of the location's horrific history when a friend showed her a documentary about Travis' crimes. After she discovered that, she begged the killer's mother to release her from the lease, but she was told she was responsible for the entire lease term.
FAQ:
Who is Maury Travis?
Maury Troy Travis (October 25, 1965 – June 10, 2002) was an American serial killer. Travis was named in a federal criminal complaint for the murders of two women. At the time of the murders, he was a hotel waiter, and on parole for a 1989 robbery. While Travis claimed in a letter to have murdered 17 women, some authorities were doubtful; others thought he may have murdered up to 20 women. He committed suicide by hanging in custody in St. Louis County, Missouri, after being arrested for murder.
How old was Maury Travis?
He committed suicide when he was 36 years old.
Where are the Maury Travis Tapes?
The tapes are held with the local jurisdiction