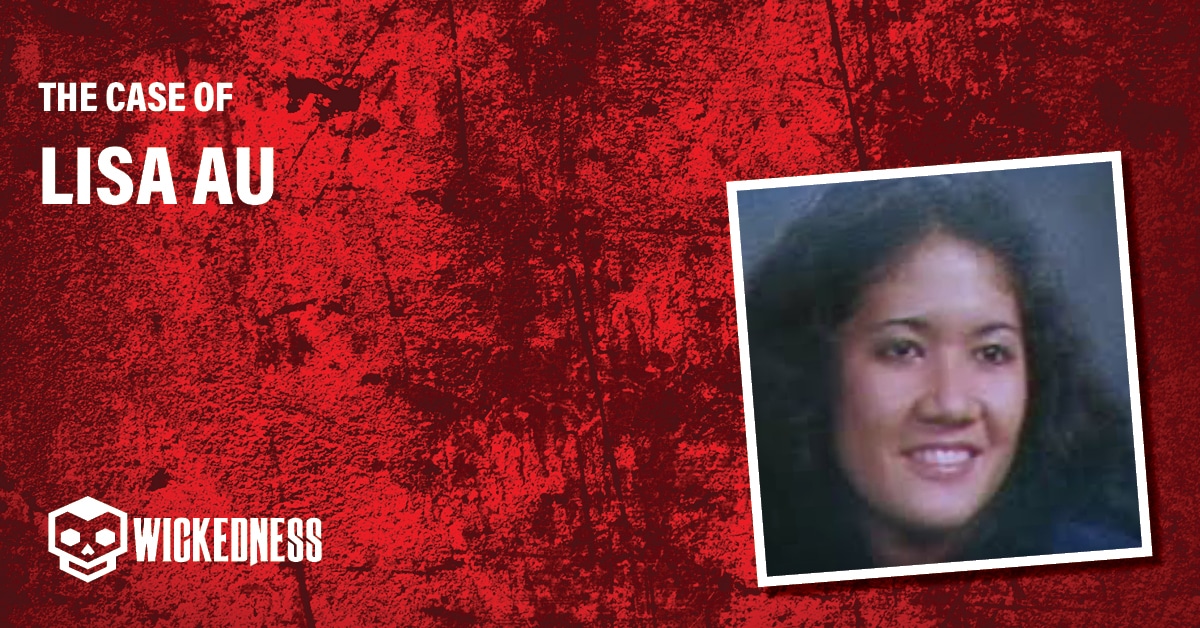 Victim Date of Birth
Info Box
Incident Location
Kailua, Hawaii
Date of Conviction
Info Box
Body Discovered Date
Info Box
Lisa Au
Lisa Au was born on the 25th of July, 1962, to parents Chester Au. Lisa had a rich cultural heritage from both parents; her father was Chinese, and her mother was Hawaiian. Family and friends described Lisa as a hardworking, responsible, conscientious and careful person. She had just gotten her driver's license on the 18th of January 1982. But then she vanished.
The disappearance of Lisa Au
January 21, 1982, in Kailua, Hawaii, was a cold, wet miserable day. At 12.45 am, Lisa Au called her roommate Candy to let her know she had just finished having dinner with her boyfriend Doug Holmes at his sister's place in Honolulu, and she was heading back to their apartment building now. The drive was around 30 minutes. Candy went to be expecting to see Lisa in the morning. However, when Candy wakes up the next morning, she is surprised to see that Lisa never made it home the previous night. Candy becomes concerned because Lisa had called her to say she was on her way home. Candy and Lisa work together at the Susan Beers hair Salon, so she figured she would see Lisa when she got to work. However, that was not the case. There was still no sign of Lisa. Candy starts to panic and calls Lisa's parents and her boyfriend Dough.
Right away, Dough begins to drive the same drive that Lisa would have taken on her way home that night. At 12.30 pm, Dough discovers Lisa Au's car on the side of the highway near the old Kailua drive-in. He pulls over and rushes to the vehicle however, the car is empty. He calls the Honolulu Police Department straight away.
Investigation Details
When the police arrived on the scene, they examined Lisa's car right away. The first thing they notice is that her car battery is dead. The lights and wipers were flipped on the on position, and the keys were still in the vehicle. There was nothing wrong with the car other than the flat battery. Lisa's driver-side window was rolled down a tiny bit. Lisa's personal items, including her purse and space change of clothes, were left in the vehicle. These are items that, if she had left on her own, she would have taken with her. Another thing police notice that they find odd is that Lisa's purse is completely dry even though her car interior is wet from the previous night's rain. Inside her purse, her driver's license is missing. They also discovered on further investigation that her car registration was missing. Lisa's car was stripped of all forensic evidence. There was nothing to be found.
There had been periodic complaints over the years of a man on that stretch of highway that pretends to be a police officer to get women to pull over. To do so, the man uses blue lights on his car.
The police now expect that Lisa was abducted by someone pretending to be a police officer.
Flyers were distributed around the island, and hundreds of volunteers began to help search for the missing teenager. The search continued for ten days until someone walking their dog in the area made the grisly discovery.
Finding Lisa Au
On the 31st of January 1982, after a 10-day search, 19-year-old Lisa Au's body was found naked in a ravine off of Tantalus Drive. She was lying face down in the tall grass. The body was badly decomposed. The medical examiner identified her through dental records and jewelry that she was still wearing. The case now switched from a missing person case to a homicide case. A time and cause of death were not able to be determined.
Verdict
No one was ever arrested for the murder of Lisa Au, and the lack of evidence made the case a nightmare for police officers. A man named Donald Santana was charged with impersonating a police officer and possession of a switchblade after he picked up a hitchhiker and pretended to be a detective. However, Donald was never linked to Lisa's case.
Despite no convictions, multiple theories were derived.
Theory 1
Doug Holmes. A theory was that Lisa's boyfriend had something to do with her death. Dough failed two lie detector tests. The police asked why he kept failing the tests. He told them that he felt guilty for Lisa Au's death because he let her drive alone that night, even though the weather was severe. Authorities believed his explanation and determined that he would not have had a motive to kill Lisa Au.
Theory 2
Another theory was the idea that someone posing as an officer was involved in the crime. According to police reports, one witness stated she saw a car with blue grill lights following Lisa's car.
Theory 3
Another theory was that it was one of their own who murdered Lisa Au. Police became suspicious of another police officer, and he was listed as a suspect in the case. However, the only evidence they had against him was a previous suspicious traffic stop and a sex harassment complaint against him from another young woman. He also lived close to Lisa's home. The officer was taken to trial but was not found guilty by a grand jury.
Unfortunately, despite an extensive investigation, the murder of Lisa Au remains unsolved to this day. Cold case detectives are still looking for anything that might have been overlooked.
Frequently Asked Questions
Who was Dough Holmes?
Dough Holmes was Lisa's boyfriend at the time of 19-year-old Lisa Au's murder.
Has Lisa Au's murder been solved?
Unfortunately, Lisa's murder remains unsolved; however, cold case investigators are still working on the case.