The case of
Kaylee Anne Sawyer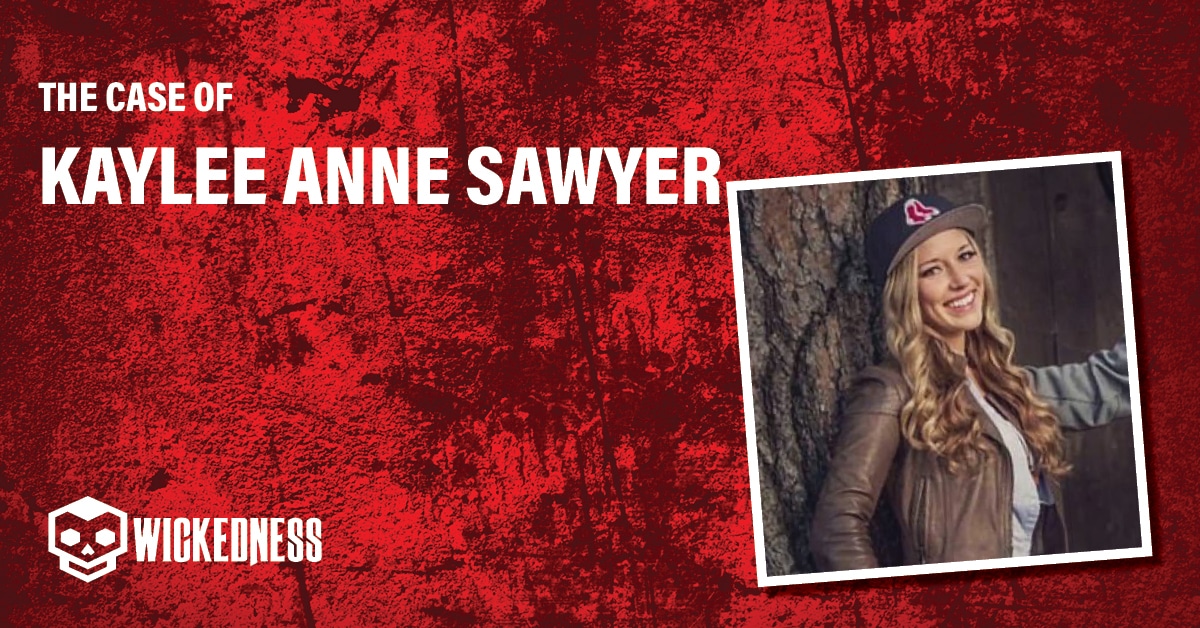 Victim Date of Birth
1993-03-02
Incident Location
Bend, Deschutes county, Oregon, USA
Body Location
126 Hw, Dry Creek, Redmond
Date of Conviction
January, 2018
Body Discovered Date
2016-07-26
Kaylee Sawyer, was kidnapped, choked, raped and her head was brutally smashed. Edwin Lara had an urge to kill and said killing Kaylee made him feel good.
Kaylee Sawyer
Kaylee Sawyer was born on March 2, 1993 in Bend, Oregon. Her parents were Jamie Sawyer and Juli Walden VanCleave, they got divorced when Kaylee was a kid, she had four younger brothers. 23 year old Kaylee sawyer was a student of Central Oregon Community College and she worked as a dental assistant. She loved her job and wanted to become a dentist herself.  Kayle lived in an apartment near to college campus with her boyfriend of two years, Camron Reimhofer.
On the night of Saturday July 23, 2016, Kaylee had been invited to a friend's bachelorrete party, her friends said Kelley was having a lot of fun and she was even flirting and dancing with a guy. When the party was dying, around midnight, Kaylee called Camron and asked him to pick her up. Once in the car, Kaylle and Camron had an argument.
When Kaylee Sawyer and Camron got home, he went into the apartment thinking Kaylee was coming right behind him but she stayed outside and sent him a message saying she needed to go for a walk to cool off, this wasn't really unusual for Kaylee, so Camron didn't make a big thing of it. They continued to argue through text messages and at some point Camron told her it was late and to please come home, but Kaylee sent one more message saying she was running out of battery and said bye. Camron drove around the neighborhood to see if he could find her but she was nowhere so he drove back home and went to bed thinking he would wake up to his girlfriend sleeping next to him but next morning Kaylee wasn't there. Camron called Kaylee's mom, Juli VanCleave, to see if maybe she was with her but no luck. Then he decided to call 911 and explain the situation to the police. Oregon police told them that maybe she had gone to a friend's house and she would probably be back to her job on Monday morning, everybody knew Kaylee was too responsible to miss work. But nobody saw her on Monday either. Kaylee was then oficcialy reported missing.
It couldn't be just an accident
The search for Kaylee began. Oregon police officers started looking first into Kaylee's boyfriend Camron because in this type of case it's usually the partner the guilty one. But after interrogating him, searching the couple's apartment, and interviewing Kaylee's family and friends about Camron, they found nothing that led to him being guilty of anything. The second person police took as a suspect was the guy Kaylee was dancing and flirting within the party but he assured the Bend police he only had contact with Kaylee in the party and that was it. After checking for his alibi it was clear he wasn't involved either. There were no other leads.
On Monday afternoon, at the police station in Redmond, a woman named Isabel Ponce-Lara requested a meeting. She was a police recruit from a nearby police station. Elizabeth told the police that her husband Edwin Lara had confessed to her that he had accidentally hit a girl with his car on Saturday night. After the incident, he freaked out, got rid of the body and put the woman's belonging inside their shed. After this confession, her husband packed up some of his things and grabbed her duty gun from her purse. Then he just left.
Police officers got a search warrant and went to Edward Lara's residence to see what they could find in the shed. They were very disturbed once they looked inside. A bag was found with Kaylee Sawyer's belongings, a green handbag Kaylee was wearing on Saturday night was completely soaking in blood, her passport and ID were also found there, so there was no doubt this was Kaylee's. In the bad they also found blond bloody hair and a rock. Edward became the main suspect, it was evident that Kaylee was a murder victim. Detectives changed the status of the case from a missing person to a murder investigation. Still, there were no traces of Kaylee's body and the search for Edwin Lara began.
Edwin Lara on the run
Edwin Enoc Lara was born in Honduras in 1985 and, as a child, was taken to the United States to have a better, brighter future.  He attended Madras High school and aside from maybe having a little problem with drugs which caused him to drop out of school, he had no prior criminal record.  At the time of the events, Edwin Lara worked a part-time security guard at the Central Oregon Community College.
On Monday 26th, while on the run, Edwin Lara had gone on his way to Salem to look for a woman to kidnap, he would soon find Andrea Maes when she was sitting in her car just scrolling down on her social media after a hard day's work. Andrea suddenly had a gun pointing to her face; It was Edwin, he told her to shut up and just drive. Andrea drove for hours, during this time Edwin confessed to Andrea that he had killed a woman and that his intentions were to get to California. When Edwin got tired they stopped in a motel where he would force Andrea to take sleeping pills. Next morning, they were back in the road but Andrea's car broke down so Edwin's solution was to steal another car. They pulled over at a motel and saw a man named Jack Levi loading stuff to his car. Edwin demanded Jack to give him the car keys but he denied so Edwin shot him in the stomach and run away dragging Andrea with him. They went to a gas station nearby and Edwin hijacked a car with a woman and her two teenager grandsons inside. He eventually lets the family go, but he keeps Andrea with him. Edwin then proceeds to use Andrea's phone to make a Facebook Live video saying he is sorry about ¨the girl¨ and what had happened. Soon after he finished transmitting the video, a police car started pursuing Edwin because he was driving up to 120 miles an hour. Edwin then called 911 and says he wants to turn himself in but he didn't want to suffer any harm for himself or Andrea, that she was just somebody he kidnapped.
Fake remorse and an urge for killing
During the interrogation Edwin would tell the police three different versions. The first one was what he had told his wife, that it was all an accident and he gave them the wrong location of the body. When police went to the place looking for Kaylee Sawyer's body and didn't find anything. They went back to the questioning room and asked Edwin to tell them the truth,  The second version was that he indeed run Kaylee over and tried to sexually abuse her right after but she was awake and resisted the rape so he killed her, he then gave the detectives another location for Kaylee's body but nothing would be found there either. Investigators were frustrated and mad and after six hours of questioning, Edwin finally told them the truth and also expressed how much pleasure he felt when he killed Kaylee. He felt so good, he had the urge to kill again and that's why he kidnaped Andrea, to kill her too. Detectives thought Lara was a potential serial killer.
The actual crime description
The night Kaylee Sawyer disappeared; she was walking down the road when a car pulled up beside her, a Central Oregon Community college security car – These cars looked a lot like police cars and a campus security guard' security uniform would look a lot like police officer's uniform wearing up to ballistic vests- Kaylee was a bit drunk and got in the campus security vehicle probably thinking it was a police officer so she most definitely expected to be safely driven back home, but instead, Edwin Lara asked her for sexual favors and when she refused, got scared and tried to escape, he strangled her until she was unconscious, He drove somewhere else close to the woods, dragged Kaylee's body out of the car and smashed a rock into her head. He thought she was dead and raped her but Kaylee woke up to realize she was being abused, she started screaming and Lara smashed an even bigger rock into her head many times. He left Kaylee's body there and drove back to campus. He would go back to the crime scene with his own vehicle, put Kaylee in the trunk to after dump her in the Redmond area.
Kaylee Sawyer's autopsy just confirmed what Edwin Lara had told them. The cause of death was blunt trauma to the head and she had signs of strangle and sexual abuse. The police advised Kaylee's family to not see her body as her face had been brutally smashed, they did NOT want to remember her daughter like that.
Trial
The trial was pushed back more than a year for two main reasons: One; even when Lara was a legal resident of the United States, he still had his Honduran nationality. Two; he was denied of an attorney when he asked for one before making his confession so his defence was trying to have it inadmissible for trial.
Trial finally started in January, 2018 and Edwin Lara pleaded guilty to avoid the death penalty. During court it would seem like Lara was constantly mocking Kaylee Sawyer's family and even when he never stopped saying he was sorry, it all looked too dishonest for everybody.
Verdict
Edwin Lara was found guilty for the First-degree murder of Kaylee Anne Sawyer and sentenced to life in prison without possibility of parole. He was also given federal life sentence for the kidnapping and carjacking crimes he committed in the days after Kaylee's death.
Frequently asked questions
What is the ¨Kaylee's Law¨? 
¨Kaylee's Law¨ or SB576 was approved and established in Oregon not long after Kaylee's horrific death. This law is intended to ensure that campus security vehicles, uniforms and equipment do not appear to be law enforcement. The vehicles cannot have roof-top lights or a push bumper in front. Vehicles cannot have a divider, known as a "cage," between the front and back seats. They must have GPS, an interior video camera or dispatch system that is recorded. Campus officers would be prohibited from making vehicle stops or "stop and frisk" individuals. Comprehensive national background checks and psychological testing would also be required before a security officer could be hired.