The case of
Ellen Rae Greenberg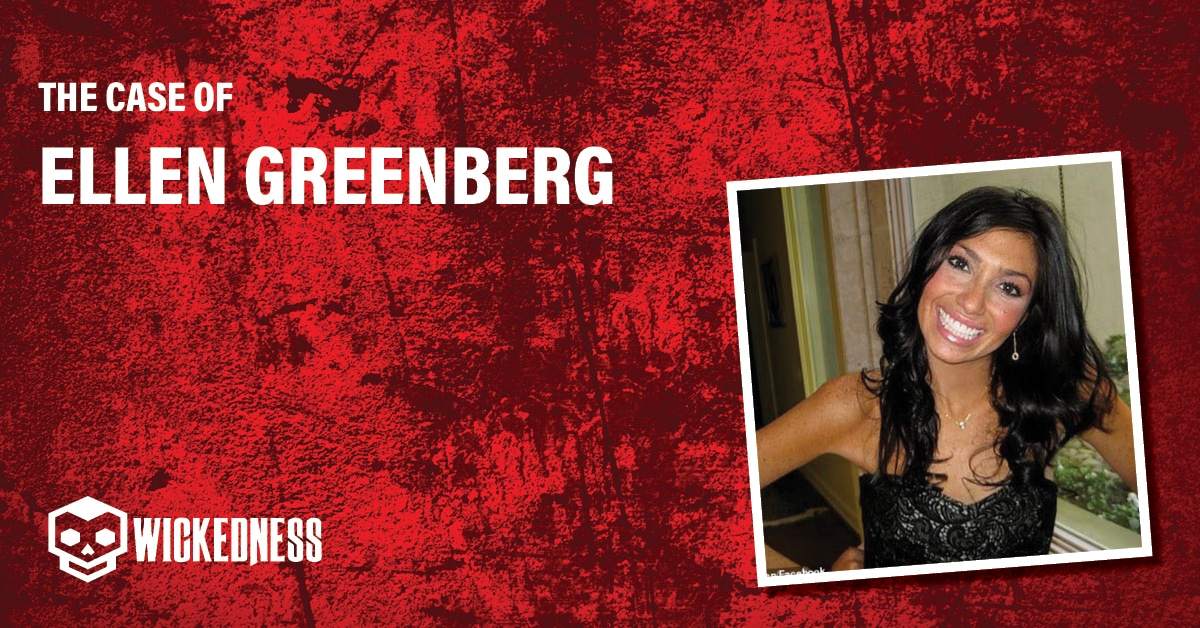 Victim
Ellen Rae Greenberg
Victim Date of Birth
1983-06-23
Incident Location
Manayunk, Philadelphia
Body Location
Manayunk, Philadelphia, Pennsylvania
Body Discovered Date
2011-01-26
Ellen Rae Greenberg
Ellen Rae Greenberg was born on June 23, 1983. She was the beloved daughter of Josh and Sandra Greenberg. Ellen was an elementary school teacher. She lived with her fiance Sam Goldberg in her Manayunk apartment, in Philadelphia, Pennsylvania.
Victim Was Found Dead/Start of The Crime
On Wednesday January 26, 2011, Sam Goldberg went back to his apartment after a trip to the gym. After a month a snow storms, Philadelphia people is in the middle of another terrible blizzard. Lucky for Sam he didn't need to leave his building to get some exercise because there is a fitness center in the Luxury condo building where he lives with his girlfriend Ellen Greenberg. When he's done, he went back to his apartment and tried to open the front door like normal. He was surprised when he couldn't open the door, it seemed like it was secured from the inside. He coulnd't get in. Sam started sending texts and calling Ellen, she was supposed to be inside but she wasn't answering or opening the door. He gets tired of waiting and after 30 minutes, Sam just forced the door open.
At about 6pm, Sam made a phone call to 911. He said he had found his fiancé on the floor with blood everywhere. He sounds agitated and after asking the dispatcher to send help, he tells them that Ellen had stabbed herself because she had a knife sticking out of her chest.
According to an investigation report from the Philadelphia Medical examiner's office, when first responders arrived to the scene they found Ellen in the kitchen, which is just inside the entrance of the apartment. Sam had told the 911 dispatcher that Ellen was lying on her back but paramedics found her more like sitting on the floor, kind of slumped against the lower kitchen cabinets. She was still holding a white towel on her left hand and her right hand was closed on a fist. There was a pair of eye glasses next to her. There were rips and tears on her shirt that matched multiple stab wounds on her chest and a knife was still lodged on the centre of her chest. She had blood on her neck, head, hands, clothes, even on her boots. It was clear for the paramedics that there was nothing they could do to save Ellen Greenberg. She was pronounced dead at the scene at 6:40pm.
Investigation
When looking around the apartment police noticed a knife set on the kitchen counter next to the scene. It was turned on its side and two knives had fallen into the sink. It seemed like Ellen had been making a fruit salad. There was a strainer on the counter filled with sliced fruit. There was no blood or sings of a struggle anywhere in the apartment and there was blood nowhere else but the corner of the kitchen. Police also noticed there was nothing missing from the apartment, all the goods that could or should have been stolen remained there including three laptops, Ellen's purse and her engagement ring. The door was the only thing that had been forced but that made sense because Sam told the police he forced himself in. The only other entrance to the apartment was through the balcony but when looking for fingerprints, footprints or else, examiners found nothing.
Something investigators noticed on the table next to Ellen's bed is three medications prescribed to her. They found Xanax, Klonopin, and Ambien, which they had been prescribed by a psychiatrist with the last name Bauman. Police also found a notebook in Ellen's purse where she had to track her estate of mind while taking the various medications. The last entry was from ten days ago.
An investigator from the Medical Examiners' office got to the apartment around 8pm, and looked at the scene. He asked again about what Ellen's schedule for the day was. Everything she did. He learned that she had gone home earlier than usual from the school she worked as a first-grade teacher because of the weather condition. That happened around noon. She went home and stayed there all day. Sam Goldberg told police she was in the apartment when he left for the gym. His routine took 40 minutes or so, then he went back to the apartment. Where he found the door locked from the inside. He then started texting and calling Ellen. Police had found Ellen's phone in the master bathroom so they decided to check her activity log to see if what Sam was telling them was true and yes, they found incoming missed calls and texts from Sam from 5:32 to 5:54 pm. His texts said:
– Hello?
– Open the door.
– What are you doing?
– I'm getting pissed…
– Hello?
– You better have an excuse…
– What the fx%K?
– Ahhhhhh
– You have no idea!
Police believed Sam's story but they still wanted to talk to the neighbors to see if maybe the couple had had an argument before the incident. But when asking the neighbours, everybody said they heard nothing. No arguments, no loud noises, nothing out of the ordinary. Nothing.
After collecting all the information possible from the scene and possible witnesses, investigators saw that Ellen had no defensive wounds, she was alone in the apartment with the door locked from the inside and there were no signs of struggle in the whole place plus no neighbor had heard any commotion. They took all of this into consideration and decided that Ellen had committed suicide. By this moment the autopsy hadn't been conducted.
Later that night, police took Sam Goldberg to the station to have a more formal declaration of events. He had his criminal defence attorney with him during this interview. It's this moment when Sam's dad called Ellen's parents, Josh and Sandy Greenberg to inform them of the horrible news.
Next morning, on January 7, Ellen's parents go to see the police investigators. Sandy told them she had talked to her daughter on the phone the day before around 7:00am and nothing seemed to be wrong with her. Sandy and Josh knew there was something bothering Ellen lately though. Something was causing her anxiety. Ellen had given his parents hints of wanting to go home with them. She told them it had nothing to do with her partner Sam, she was just very stressed with work, she loved the kids in school but she needed a break. Again she assured them her estate of mind had nothing to do with her romantic relationship. Josh and Sandy had no reasons to think anything was wrong with Ellen and Sam, they had always seen them as a stable couple.
At around 9am that day, doctor Marlon Osbourn starts conducting Ellen's body autopsy and what he found would change the course of the investigation. When looking into the stab wounds in detail he noticed they weren't just on Ellen's chest but also on the back of her neck. She had ten stab wounds on the back of her neck, another in her abdomen and a big gash on the back of her head. Dr Osbourn also found a lot of bruises all over Ellen's body. It was clear for him that she was murdered. Ellen's case was changed to a homicide.
Since the night before police have determined that Ellen's death was a suicide, they had allowed the scene to be compromised beyond repair. The same day the autopsy was performed, Sam's family wanted to go to his apartment to pick up some stuff for Sam like clothes, pictures, etc. The property manager called the police to ask them if it was alright for people to get in the place and they answered that it wasn't a crime scene so they could do whatever. She even reminded them that the place still had blood there but they said to call somebody on her own to clean it and period. The property manager then called the crime scene cleaners and after they were done, she called Sam's family to let them in. Sam's relatives then got in and picked up some of Sam's clothes for him to wear to the funeral but they also removed Ellen's engagement ring, her handbag, her car keys, her computer and cell phone. They claimed it was to protect the goods but didn't really tell anybody they had taken the objects with them.
So on Friday, January 28, when police realized they were dealing with a homicide investigation, they got a search warrant and went back to Ellen's apartment to find a cleaned-up place. That same day Ellen's funeral was taking place. During the ceremony, Ellen's dad Josh told everybody that police had ruled Ellen's death a homicide. This conclusion wouldn't last long though…
The day after the funeral, a lieutenant told the Philadelphia inquirer that new evidence had surfaced and that again suicide was a more likely scenario. He mentioned that detectives were looking into some mental issues that Ellen may have had. They found Ellen's psychiatrist Dr. Baumman and filed a subpoena to have all of Ellen's information from their sessions. The psychiatrist said Ellen was a new client and they had only sustained three sessions. She told them Ellen had been dealing with anxiety for the last couple of months. Ellen had told her that she was feeling overwhelmed about work but she was nowhere near talking about suicide. Ellen had also told her psychiatrist that none of that stress had to do with Sam. Dr. Baumman then prescript anxiety medication which Ellen wasn't super excited about taking but she did in the end.
Police said they have now invested in the idea of suicide also because Sam's uncle, who was a prominent attorney at the time, had taken Ellen's laptop to them to examine it. Investigators looked at Ellen's search history and they found searches related to suicide methods and suffocation. After going through this, it was official. Ellen's death has finally been ruled a suicide. Her death certificate said ¨Cause of death: Suicide.¨
Joshua and Sandy Greenberg Start Their Own Investigation
Ellen's parents disagreed, they didn't for one second believe their daughter had killer herself. So they hired an attorney named Joseph Pedraza to help them answer some of their questuons. The first thing Pedraza found together with a technology expert is that the searches in Ellen's laptop were not performed by Ellen at all. They were phantom searches which appeared due to analytics there was no evidence that Ellen had ever accessed these results at all. When the true results of the history searched appeared it was clear that Ellen had been looking for information related to her medication. She was trying to find out about the drug's side effects like weight gain and sleepiness. She had no such obsession with suicide as the first ¨investigation¨ had made believe.  The Greenbergs also hired a Tom Brennan, a retired detective with lots of experience. After looking into the case details, Tom rushed to say that the absence of defence wounds doesn't necessarily mean that the death was a suicide. He said it could be a blitz attack; this is when the attack takes place so quickly that the victim is unable to even react. Tom also had an issue with the way Ellen was found.  There were inconsistencies in the blood patterns. Ellen was found with dry blood running horizontally across her cheek from the side of her nose towards her left ear. The police had said before that Ellen had harmed herself standing up and after had slid to the floor but that didn't make sense for the horizontal string of blood. Bleeding experts then confirmed that blood patterns describe gravity so either Ellen moved herself or somebody else moved her.
The next thing in the list to look up was Ellen's stab wound to the brain. During the first investigation in 2011, the original medical report stated that neuropathologist Dr. Lucy Rorke-Adams determined there was no such wound. However, when interviewed by The Philadelphia Inquirer, Dr. Rorke revealed she did not observe Greenberg's body and confirmed she has no records (bill, invoice, or report) of the examination. She admitted there was a slight possibility that she had observed Ellen's body but she couldn't recall any of it. In 2017, Dr. Wayne K. Ross wrote that the stab wounds to the brain and spinal cord would have caused severe pain, cranial nerve dysfunction, and traumatic brain injuries not allowing Ellen to continue stabbing herself as police had concluded in the first investigation.  They even had a company named Biomax perform a new technology called photogrammetry, unavailable at the time of Ellen's death, creating a 3D anatomical recreation of the depth and angle of her wounds. Same results turned out, not all 20 wounds could have been self-inflicted.
Another interesting thing to look up was Ellen's apartment door lock. According to some simple Google and YouTube searches, former detective Tom Brennan had found that it was very easy to manipulate that particular kind of lock to close the inside from the outside.
In addition, there were reasons to believe that Ellen and Sam's relationship wasn't as perfect as they portrayed it. She had a lot of bruises in her body when the autopsy was performed and they weren't inflicted that same day. They were bruises inflicted in different dates which could point to domestic abuse. When interviewing some of Ellen's friends they told the investigator that even though she never said anything about having problems with Sam, everytime they asked her out or invited her places, she would only reply with ¨I have to talk to Sam first¨, like she wasn't allowed to make any decisions of her own.
And finally, there have also been speculation of Sam's family being able to sway the police Investigation due to their connections. Sam's uncle, a prominent lawyer at the time, now a judge, grabbed Ellen's things from her apartment without letting anybody else know about it. He kept them for a day and took them to the police after. He spoiled the chain of evidence.
Trial
In October 2019, Ellen Greenberg's parents filed a civil suit against the Philadelphia Medical Examiner's Office and Dr. Marlon Osbourne, the pathologist who conducted the autopsy, in the Philadelphia Court of Common Pleas. The suit seeks to change the manner of death to "homicide" or "undetermined" citing new information and the fact that Dr. Osbourne admitted to changing the manner of death at the insistence of the police.  In a response to the lawsuit the city of Philadelphia says that the Greenbergs had no legal standing for the case, the medical examiner can't be forced to change their opinion which the law protects.  There's no requirement that a medical examiner must convince the public that their findings are accurate and there's no requirement for them to change their decision just because other forensic professionals don't agree with them.
Josh and Sandra Greenberg had a lot of people in their corner who agreed with them. There was a ¨Justice for Ellen¨ Facebook page that has more than 26000 followers. There's also a petition on Change.org to have the attorney general reopen her case.
Ellen Greenberg's parents scored a significant legal victory in January 2020, when the Philadelphia Court of Common Pleas allowed the case to proceed past the motion to dismiss stage. The trial was set to begin in 2021.
Police had never found Sam Goldberg as a suspect. He got married in 2014 and he's now a father.
Verdict
Josh and Sandy Greenberg's current lawyer Joseph Podraza presented new evidence to the Attorney General office at the end of 2021 for the case to be considered a murder. Today, after eleven years of their daughter's death, Josh and Sandy continue to appeal to have a new hearing for her case. They still don't understand who the police is protecting and why but they are sure they will soon find out.