The case of
Anni Ninna Dewani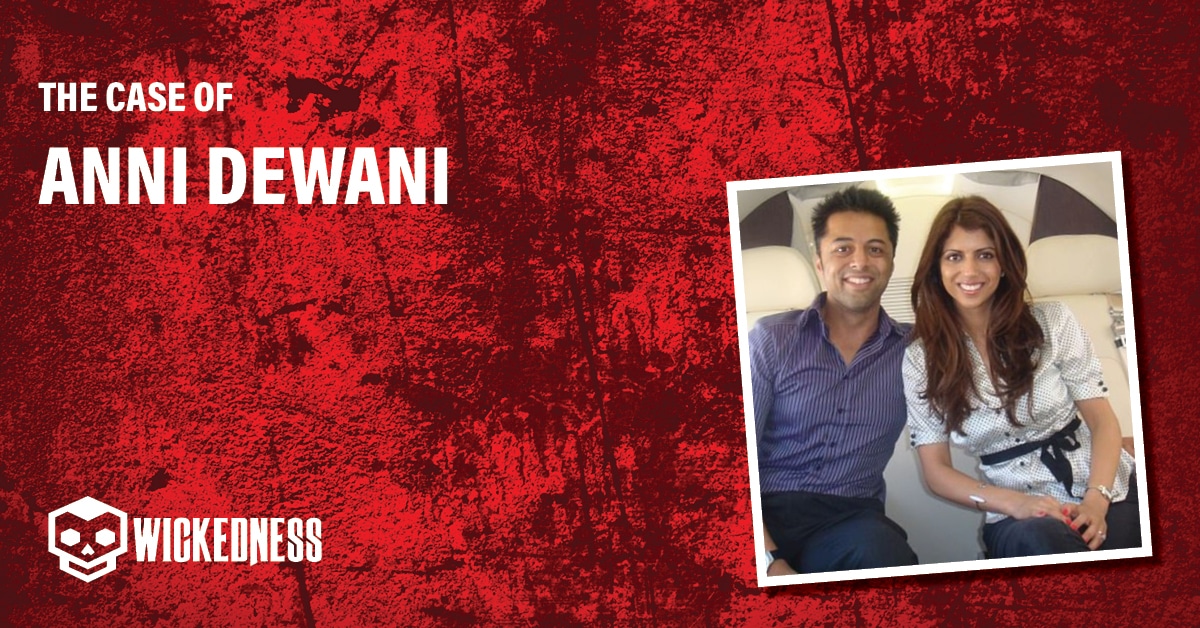 Victim Race
Swedish with Indian origin
Victim Date of Birth
1982-03-12
Incident Location
Gugulethu, South Afria
Body Location
Lingelethu West, South Africa
Date of Conviction
December 2010
Body Discovered Date
2010-11-14
Who was Anni Dewani?
Anni Ninna Hindocha was born to her parents, Vinod Hindocha and Nilam Hindocha in Mariestad, Sweden. Her family had been forced to flee their home in Uganda in the early 1970's after the country's president at the time stopped anyone with South Asian descent living there. They were given 90 days to leave. Eventually, they were granted residence in Sweden and the Hindocha family settled in Mariestad. Anni also had two older siblings, a sister called Ami and a brother called Anish Hindocha.
Growing up, Anni was described as a happy person and the heart of the family. She was known to make people laugh in any way she could and her family was everything to her. Her entire family loved her to pieces and her parents described her as a beautiful daughter. Anni's sister had two children and Anni adored them. Having a niece and a nephew made Anni excited to start her own family one day.
Anni left university with a degree in engineering and she moved to Stockholm where she worked in marketing for a phone company.
in 2009, Anni went on a trip to London and this is where she met 30-year-old Shrien Dewani. It was actually one of Anni's aunts who introduced the pair and after dating for a little while, Anni took Shrien back home to Sweden where he met her family. They all loved him and they were happy for Anni, they could tell that this was something special. However, because Anni lived in Sweden and Shrien in London, they had to keep up a long distance relationship for a while.
In February 2010, Anni moved to London to make her relationship with Shrien a success. It seemed to work because in May 2010, the couple got engaged. Five months later on October 29 2010, Anni Hindocha married Shrien Diwani in a lavish three-day wedding at Lake Powai near Mumbai in India. The couple had planned to hold another celebration at home in the UK at a later date for their friends who couldn't attend their Indian wedding.
Shrien organized their dream honeymoon, Anni had no idea where they were jetting off to. On November 7 2010, the newlyweds took off. First, they landed in Kruger National Park in South Africa where they stayed for a few nights. On November 12 2010, they arrived in Cape Town and shortly after landing, Shrien flagged down a taxi to take them to the Cape Grace hotel, a five-star luxury resort. The driver of this taxi was Zola Tongo.
November 13 2010, the couple had kept using Tongo as their tour guide. He took the newlyweds into Gugulethu where they ate at a restaurant called Surfside Restaurant. When they were finished, Tongo drove the couple in his VW Sharan back to the hotel and this is where the tragic events began.
Anni Dewani found dead
At around 7.50am on November 14 2010, Anni Dewani was found dead in the back of Tongo's VW Sharan. The cause of death appeared to be a single gunshot wound to her neck. The bullet had passed through her hand and into her neck, severing an artery.
Investigators also noted that Anni's Giorgio Armani watch, BlackBerry mobile phone, her handbag and a white-gold and diamond bracelet had been stolen.
The Crime Description
After the couple had finished eating at the restaurant, Tongo was supposed to drive them back to their hotel. But Shrien and Anni apparently asked Tongo to show them the "real and raw" side surrounding Cape Town. Tongo decides that he knows exactly where to take them and he drives them to a township called Gugulethu. This is not a safe part of South Africa, in fact a lot of murders happen here.
As Tongo pulled off the highway, he was sat at an intersection waiting to turn when two men appeared, holding guns. They started banging on the car windows and they ended up ejecting Tongo out of the driver's seat. One of the hijackers takes his place and he starts driving with Anni and Shrien in the back, along with the other gunman.
The car drove along for roughly 20 minutes. The hijackers were telling the couple that they weren't going to hurt them; they only wanted the car. The couple would be let go separately but unharmed. Shrien was robbed of his wallet, money, mobile, and designer watch. He was the first to be forced out, and the car carried on with Anni still in the back seat. The total of the items stolen in this robbery was around  $6000.
When Zola Tongo was forced out, he immediately went to the police station to report the hijacking. Similarly, when Shrien was let go, he started knocking on the doors of the houses he was dropped off near, begging someone to let him call the police so they could rescue his wife. The police arrived not long after Shrien made that call and drove him around to see if he could find Anni. They had no luck so they picked up Zola and dropped the two men back off at the Cape Grace hotel. It was at this point that Anni's parents were notified but they were notified by Shrien Dewani's parents, not Shrien himself and not the police.
The next morning, police received a call from a resident to report a VW minivan which had been sitting on the side of the road all night. Law enforcement arrived on scene and that's when they discovered the body of Anni Dewani, lying in the back seat. There was no sign of sexual assault but bruises on her inner thighs indicated that there had been a struggle where Anni had been restrained.
The suspect or Convicted Killer Details
Not much is known about the South African men involved in Anni's murder. Xolile Mngeni and Mziwamadoda Qwabe had a criminal record, not a violent one but their prints were still in the system and this is how police were able to identify Mngeni.
However, a lot is known about Shrien Dewani. There's not a lot of information about his childhood except that his family had also had to flee Uganda for the same reasons as Anni's but they had settled in the UK instead of Sweden. The Dewani family owned a string of nursing homes and they were very successful. Shrien was a chartered accountant; most of his work was managing the family business accounts. He was a British millionaire before the age of 30.
After he was named as a suspect in Anni's murder, his behavior seemed to shift. He held a pizza party the night before her funeral and didn't show an interest in her funeral arrangements. He was also angry that Anni's family had gathered to say goodbye to Anni and he threw letters and flowers left by her family onto the ground. Her family tells a story of when Shrien tried to put bangles on Anni to be buried but the bangles wouldn't go on. Shrien tried to force them on, and when someone asked him to stop, he dropped her hand and stormed out.
Shrien was arrested in the UK before his extradition but he made bail. Shortly after this, rumors surfaced that Shrien was secretly gay and that he had been having secret gay relationships during his time with Anni Dewani. Shrien obviously denied this but then a male sex worker came forward and claimed that he had had sex with Shrien. The sex worker also said that Shrien was active on a website called Gaydar which is used for gay dating.
Investigation Details
When investigators arrived at the scene, there were a few red flags that led them to believe that this was more complicated than a random hijacking. The first thing was that the hijackers had told Shrien that they just wanted the car but if that was the case, why was it left on the side of the road? The second was figuring out why Zola had taken them to Gugulethu in the first place. He claimed that Anni had asked him to take them to the real side of South Africa, but her sister Ami Denborg said that this didn't sound like Anni at all.
But the biggest question was, why did the hijackers take Anni Dewani but let Zola and Shrien go? If it was a random car hijacking, they had plenty of opportunities to let Anni Dewani go with the two men. This didn't make any sense to investigators.
When the minivan was dusted for prints, they were led to 25-year-old Xolile Mngeni who was arrested on November 16. Mngeni confessed to the murder of Anni Dewani almost instantly, as well as giving them the name of the other hijacker who was 27-year-old Mziwamadoda Qwabe. Mngeni claimed that Qwabe was the one who had killed Anni.
Mziwamadoda Qwabe was arrested on November 18 2010. Just like Mngeni, Qwabe confessed straight away, but he implicated a third person; 33-year-old Monde Mbolombo. Mbolombo was a hotel receptionist. He was arrested and gave the police another name, Zola Tongo, the taxi driver for the Dewani's. Mbolombo claimed that Tongo had come to him and asked if he knew of a hitman Tongo could hire. He gave Tongo the names of Mngeni and Qwabe.
Zola Tongo was then arrested and this completes the four suspects that were involved in the conspiracy to murder. But Tongo once again confused investigators by claiming that Shrien Dewani had organized the hit on his new wife. He claimed that when he dropped off the couple at the hotel for the first time, Anni had gone inside to check in and Shrien had stayed outside to speak to Tongo. At this point, he asked Tongo if he knew anyone who could take care of his wife. He said he wanted it to look like a random carjacking and that he would pay around 15,000 rand which is roughly $2000 to every person who is involved. Tonga said he knew some people who would be willing so he set about contacting them all. Once the tragic murder of Anni had been done, Tonga claimed that Shrien met with him a couple of days later to pay him for the hit. There's CCTV to back up Tonga's version of events.
Police also discovered that in her last texts to friends and family, Anni was saying that she wasn't happy with Shrien, she hated him and she felt like she had made a mistake in marrying him. Shrien was also changing his statement to police a lot as well as giving differing versions of events to Anni's family.
Trial
On December 7 2010, Zola Tongo entered into a plea deal where he only received 18 years in prison in exchange for his testimony against Shrien. This deal allowed the South African police to arrest Shrien and extradite him from the UK. Mziwamadoda Qwabe also entered a similar plea deal and Monde Mbolombo was granted immunity from prosecution in exchange for his truthful testimony against Shrien Dewani.
Xolile Mngeni pleaded not guilty, arguing that his confession had been gained through methods of torture. His trial was delayed and it was later revealed that this was because of surgery to remove a brain tumour. Ultimately, it was found that it was Mngeni who had killed Anni Dewani, despite previous evidence stating that that wasn't possible.
In March 2011, a judge ruled that Shrien Dewani should be extradited from the UK back to South Africa to face murder charges. After a long legal battle, he landed on April 7 2014 but his trial didn't begin until October 6 2014. During his trial, the four other men seemed to contradict their original confessions and each other. The murder-for-hire story fell apart.
Verdict
Monde Mbolombo was never prosecuted for his role in this crime.
Zola Tongo was charged with armed robbery, kidnapping and murder and was sentenced to 18 years in prison on November 7 2010.
Mziwamadoda Qwabe was sentenced to 25 years in prison and he will be eligible for release in 2027.
Xolile Mngeni pleaded not guilty and on November 12 2010, he was convicted of murder and sentenced to life in prison. In July 2014, a medical parole application was submitted for Mngeni on the grounds that he was terminally ill with a brain tumor, This application was denied and Mngeni died in prison on October 18 2014.
On November 24 2014, Shrien Dewani was acquitted of the charges surrounding his wife's murder because the judge wouldn't accept the testimony of three convicted men.
Frequently Asked Questions
Where is Shrien Dewani today?
Shrien keeps out of the media as much as possible but in 2020, 10 years after the murder of his wife, he was seen leaving his £3.5m home in London. He refused to comment to the press who had gathered and sped off in a taxi.
Is Shrien Dewani married now?
Shrien Dewani isn't married. However, he has since come out as bisexual and is in a new relationship with a male Brazilian photographer.