These days, true crime is all around us. From podcasts and TV series to podcasts and books, true crime is practically everywhere. However, true literary crime has powerful stories that grip us, unlike any true crime genre. So what are the best books on serial killers?

That's why we have rounded up a list of some of the best books about serial killers where some of them even contain real-life story events. So, let's get into it.
1. The Devil in the White City
Author: Erik Larson
This book intertwines the real story of a cunning serial killer and the 1893 World's Fair. Combining meticulous research with incredible storytelling, the author of this true tale allows you to experience the thrills of the best fiction and all the wonder of newly discovered history.
This book will entail you with its nail-biting descriptions of deception, evil human nature, and the excitement of people preparing for the very first World's Fair. The Devil in the White City is a non-fiction book, but it feels like fiction as the author explains the true story of HH Holmes like a novel.
HH Holmes was a notorious serial killer who committed 27 murders, but interestingly he was convicted of only one. The book only presents the story of that one murder case fascinatingly, and if you like the true crime genre, you'll love Devil in the White City.
2. The Monster of Florence
Author: Douglas Preston (with Mario Spezi)
The Monster of Florence is a chilling book in which the New York Times bestselling author of Monkey God and Lost City and co-author of Child's Pendergast series tells a chilling true crime story. It's about one of the most notorious serial killers of Italy that Douglas Preston discovered after moving to Florence.
However, Preston becomes the focus of the police investigation as he tries to search for the truth behind the shocking story of the murderer. It's one of the best serial killer books that offers a true story of bizarre vendetta, mutilation, and murder.
3. American Predator
Author: Maureen Callahan
Maureen Callahan is a journalist who first learned about Israel Keyes back in 2012. He was an American serial killer who remained undetected for over a decade. In American Predator, Maureen Callahan uncovers the true story of Israel Keyes and how the FBI caught him.
4. The  Good Nurse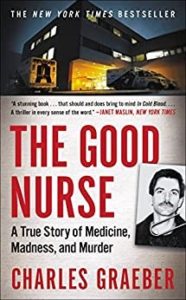 Author: Charles Graeber
This book is about Charlie Cullen, who was a husband, a best friend, and even a father, but far as American History goes, he was also a prolific serial killer. He was arrested back in December 2003 for killing more than 300 patients. After reading this book, you'll never be able to look at hospitals and medicines the same way again.
5. The Family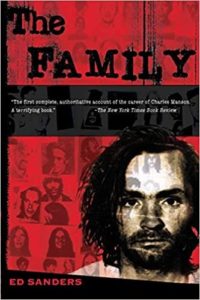 Author: Ed Sanders
The Family is a true crime classic that presents the story of a couple of bloody evenings where nine people were murdered by Charles Manson and his companions. It is regarded as one of the most haunting events in American History, and the book covers these horrifying serial killer stories from all angles.
6. In Cold Blood
Author: Truman Capote
In Cold Blood is a masterpiece of literary nonfiction and is regarded as one of the best serial killer books. In this nonfiction, the author Truman Capote tells the stories of the murders of 4 clutter family members.
This event took place back in 1959, and you'll find all the details about the absolute brutality of the murderers. Truman Capote also gave many one-on-one interviews about the true story of the people who committed this genuinely heinous crime.
7. My Friend Dahmer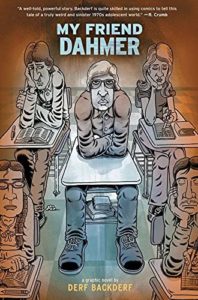 Author: Derf Backderf
This book is about a young serial killer who first tries to settle in a high school. He seems like a lovely boy until he starts his killing spree because of mental illness. There is also a movie based on this book that you can watch. However, the details you'll find while reading is not there in the film.
8. Chasing the Devil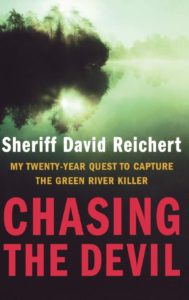 Author: Sheriff David Reichert
This book is no less than a masterpiece as the author, Sheriff David, devoted his eight years to capture all the details of the Green River Killer. This monstrous serial killer murdered 49 people, and Sheriff tried to catch him, but the case remained unsolved for a long time. Even after capturing the killer, it took 11 years to prove that the serial killer was guilty.
9. Helter Skelter
Author: Vincent Bugliosi
If you're an American, you might already have heard the name – Charles Manson. He was not only a criminal mastermind that murdered seven people, but he was also a cult leader from California. Vincent Bugliosi, the author of this book was Charles Manson's attorney, and he explains his chilling story in chronological order, from statements of witnesses and paper trails to physical evidence.
10. I'll Be Gone in the Dark
Author: Michelle McNamara
The fact that the subject of this book is caught recently, along with the tragic death of the writer, makes "I'll Be Gone in the Dark" a catastrophic yet compelling read. The author of this book died unexpectedly while working on this ground-breaking study into the Golden State Killer.
Spending many hours surrounded by this kind of horror ultimately wears on the human body and mind, yet Michelle's valiant efforts aided in the killer's identification and final capture. Unfortunately, she did not survive to see him apprehended, but via this book, you can watch her journey and experiences, as well as grasp the horror that Golden State Killer instilled.
11. Midnight in Mexico
Author: Alfredo Corchado
It's one of the best true crime novels ever written, and it will take you into the heart of Mexico. The author is convinced that the corrupt government and the drug cartels would be brought to justice one day.
In this book, you'll learn how Alfredo Corchado risks his own life and refuse to stop reporting against the murderous trade of corrupt politicians and drug dealers. If you like TV serials like Narcos, you'll love this novel that presents the brave quest of one man.
12. Vulgar Favors
Author: Maureen Orth
Gianni Versace, the founder of "Versace" company, was killed by serial killer Andrew Cunanan in his Miami Beach mansion back in 1997. However, several months before the murder of Gianni Versace, Maureen Orth, an award-winning writer, was working on the story about Andrew Cunanan for Vanity Fair.
Vulgar Favors presents the whole narrative of Andrew Cunanan, his unknowing victims, and the moneyed milieu in which they died.
13. Home Sweet Murder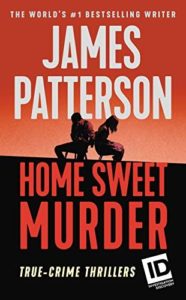 Author: James Patterson
Home Sweet Murder is a collection of James Patterson that combines two true-crime thrillers into one. The book starts with a peaceful evening where a couple is enjoying a Sunday dinner, but then they're suddenly interrupted by an SEC (Securities and Exchange Commission) agent.
By the end of the every that started peacefully, two people had been brutally tortured, stabbed, and shot. Then a determined detective promises to uncover the mystery to find the serial killer.
14. Zodiac
Author: Robert Graysmith
In 1969, Robert Graysmith was one of the San Francisco Chronicle staff members when the tenacious reporter became obsessed with the idea of seeing the hooded killer brought to justice.
Graysmith reveals hundreds of previously undisclosed facts about Zodiac's eleven-month reign of fear in this compelling tale. The book also contains the text from the killer's letters.
15. And Then There Were None
Author: Agatha Christie
The list of the best serial killers is incomplete without mentioning this book. It's 100% fiction and doesn't contain any real-life story, but still, it's one of the best books you can read in this genre.
The "And Then There Were None" presents the story of 10 strangers stuck on an island when they start to die one by one. This book takes you to the crime scene and allows you to play detective, which is always a fascinating ride.
16. The Last Victim
Author: Jason Moss
The Last Victim starts with a college course assignment, but within no time, it escalates into a dangerous obsession. Jason Moss, an 18-year-old honour student, penned a letter to 4 guys with a criminal history, including John Wayne Gacy, Richard Ramirez, Charles Manson, and Charles Manson.
However, John Wayne Gacy invites Jason Moss on a trip he couldn't refuse. Frightening, shocking, and riveting, this book is a raw and revealing look that explains the dark side of serial killers incredibly.
17. Nobody's Women
Author: Steve Miller
Nobody's Women is written by an investigative journalist, Steve Miller. It's about a registered sexual offender who murdered women and lived with their dead bodies. The women were mainly junkies or prostitutes, and the writer shared their stories and all the circumstances that surrounded their unthinkable deaths.
18. Death in the Air
Author: Kate Winkler Dawson
After World War II, battling London began to breathe again when another tragedy hit. Despite engulfing the town in a serial murderer haze, unseen crooks roamed the streets and kidnapped victims. Forgotten females were disappearing, and they all had one thing in common.
They all had fulfilled a calm guy who had avoided a murder prosecution. Simultaneously, a presumably innocent guy was led to the gallows. Death in the Air, brimming with sorrow, is an intriguing depiction of London's anguish and fortitude.
19. Black Klansman
Author: Ron Stallworth
In the entire Colorado Springs Police Department, Ron Stallworth was the first and the only black detective for a long time. He was determined to pull off one of the bravest crime investigations in the history of the United States.
He received a phone call from the Ku Klux Klan asking whether or not he wanted to join the clan's cause. The detective answered yes and started investigating all of the clan's subsequent phone conversations.
During their research, they prevent cross burnings, expose major white supremacists, and even become friends with David Duke (grand wizard).
This incredible story of the Black Klansman was made into an Oscar Award-winning film, and it is sure to astonish and encourage the readers.
20. Judas
Author: Astrid Holleeder
Astrid Holleeder is actually in hiding as a consequence of writing this book. His brother, Willem, is undoubtedly one of the most notorious criminals involved in Heineken's chairman and CEO kidnapping.
The book explains how Willem controlled the family for decades and threatened to kill if anyone betrayed him. The writer showed courage and gave enough evidence that put him in prison for life. This book is an accurate account of the criminal underground that's deeply personal and astonishing.
21. My Dark Places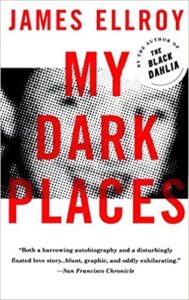 Author: James Ellroy
The author James Ellroy, was only ten years old in 1958 when his mother was murdered in Los Angeles. That's why My Dark Places is a genuinely personal true-crime book. Rather than delving into the psyche of a specific serial murderer, "My Dark Places" offers an uncompromising look into crime fiction.
Unfortunately, the killer of the author's mother was never found. Still, the book reveals everything James Ellroy learned from his mother's murder as he teamed up with a policeman to uncover the icy case.
22. The Stranger Beside Me
Author: Ann Rule
If you don't already know, Ann Rule has written about 1,000 actual crime books. However, the best one so far is The Stranger Beside Me. It's a nonfiction book about Ted Bundy, a frightful mass murderer.
Ted Bundy killed about 30 young women in 4 years, and the Stranger Beside Me is an authoritative biography of that serial killer.
23. Angel of Darkness
Author: Dennis McDougal
Randy Kraft was a sexually active, brilliant, and devoted person. He was a man who conducted the century's most heinous murder spree. Kraft, also known as the Scorecard Killer, was known for writing down his victims' names and placing their remains near motorways.
He killed roughly 67 individuals in all. This frightening story is an educative and well-written view inside the twisted mind of a living being.
Best Books on Serial Killers

If you're an avid book reader and like to read books on the true crime genre, these books are going to fascinate you. You can find all of these in an audio and soft format easily that you can listen to on the go or read on your e-book reader, respectively.