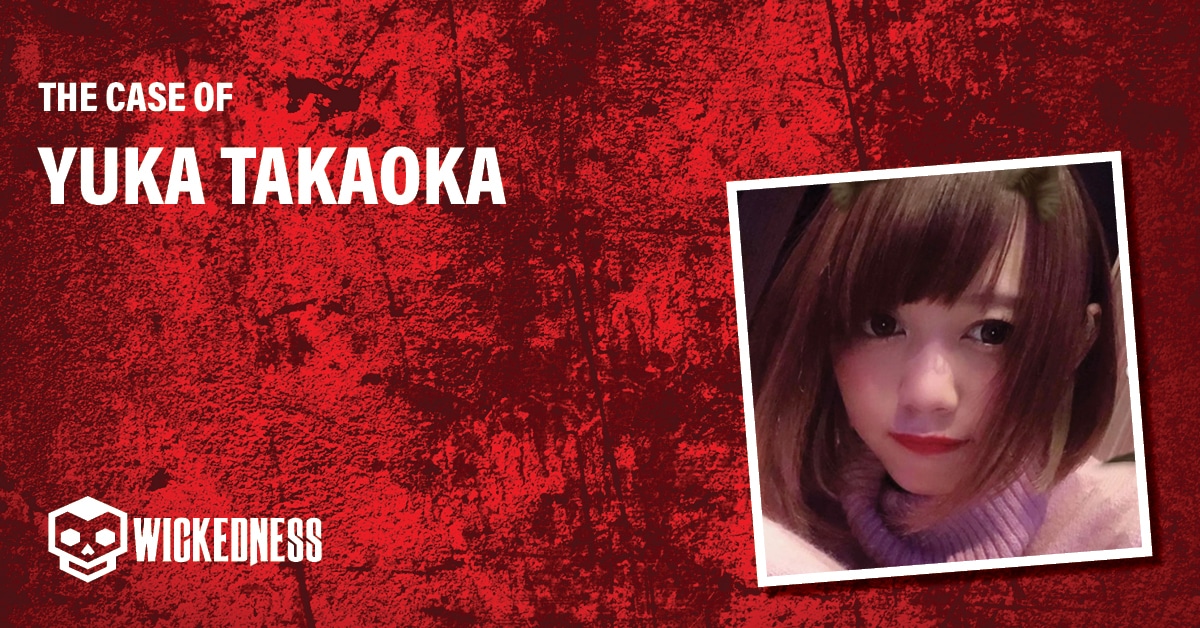 Victim Date of Birth
Info Box
Incident Location
Tokyo, Japan
Date of Conviction
Info Box
Body Discovered Date
Info Box
Yuka Takaoka stubbed her boyfriend out of love. Anime fans across the globe support her violent romantic act.
Who is "yandere waifu"? 
Yuka Takaoka was born in Tokio, Japan. Her date of birth is January 28, 1998. She was a typical member of the anime community. On Instagram and TikTok, you can find countless images of her anime characters. Yuka had shown great interest in "yandere." She was trying to live like "yandere" – in real life and cosplay this anime character. Yuka had a job as a hostess manager of a so-called "girl bar" in real life. After an attempt on her boyfriend's life, she gained massive popularity on the Internet. 
What is in the beginning?
It was the middle of May 2019. Yuka Takaoka got a job as a hostess manager. In other words, it was a nightclub, "Tokimeki binbim." After a few months, in October, Yuka met her boyfriend, Pheonix Luna. He was a bad host in the nightclub located in Kabukicho red-light district. To help Pheonix increase his sales, Yuka had rented him out for an entire month. This deal could help her to become higher as a host. They got it. They had happy times. Yuka and Pheonix had enough well-paid jobs, success in work, and days and nights in love. Sometime later, Yuka lost her job.
After a long winter, they decided to push their relationship to the next level. The couple chose to live together. They found a lovely fifth-floor apartment in Shinjuku and began to live together on May 20. The first few days of their living seemed to go well. One day Pheonix promised Yuka that he would help her clean up. She waited for the promise for three hours, but Pheonix came home after work and went straight to the bathroom. Even though Yuka was waiting for him, he ran himself a bath. Seeing all this, she took the phone he had left behind and began to look through it.
On the phone, she saw many photos of her boyfriend with women. That was part of his job as a bartender – he served them privately. However, she found one photo was different. Maybe she thought the woman next to him was posing too provocatively. Perhaps she was jealous of Pheonix. Perhaps life without money to live turned her to commit a crime. We do not know what was inside her head. In the meantime, Pheonix went to sleep. Yuka took a kitchen knife and strolled into the bedroom. The sound of her footsteps mingled with her breath.
Crime and punishment
She plunged the knife into his stomach as deep as she could. She did it twice. Then Yuka decided to kill herself but changed her mind at the last moment. Pheonix recovered from the shock of pain and went downstairs to the lobby. A bloody knife was sticking out of his stomach. He called the police to come. Yuki came with him wearing a black blazer and slippers. She indifferently took the mobile phone and called one of her friends. In addition, she lit a cigarette while sitting on the blood-smeared floor.
It was 4:00 PM when the police arrived. The crime scene looked like this: Yuka was sitting in bloodied clothes in a pool of Mr. Luna's blood. Her hands and legs were covered in blood. Pheonix screwed up behind her, and he was shirtless. There were bloody footprints on the stairs. Also, there were many bloodstains on the walls and lockers. Yuka indifferently smoked and ignored the appeal of the police. She did not notice police working around her. Yuka continued talking on the phone. She even did not mention the photographer who took a picture of the couple. Phoenix lay on the floor with an open stomach and was close to death.
The photo of the bloody scene made Yuka famous. News footage taken in the police cab circled the Internet, and she became an icon. In the pictures, she looks calm and even smiles, looking out from behind big black glasses. When the police asked her about her motive for killing her boyfriend and did not help him survive, Yuka replied: "Since I loved him so much, I just couldn't help it."
A trial took place on December 3, 2019. Yuka Takaoka was found guilty of attempted murder. She received three years and six months in jail. In addition, she was ordered to pay Pheonix Luna 5 Million Yen ($45,000). She said that the sentence was very light. She will be released in 2023.
Few words about Pheonix
Pheonix was taken to a local hospital. He lost a lot of blood and was close to death. He only had a 20% chance of surviving. However, he recovered. After two months, he continued to work as a hostess in a "Fusion By Youth" nightclub.
Pheonix Luna was born in 1999 in a big family. He has seven brothers and sisters. His parents divorced, and he was brought up in a Tochigi Prefecture boarding school from an early age. After graduating from middle school, he decided to enter the construction industry. However, he dropped out for personal reasons and found himself on the brink of poverty. Due to lack of money, he could become homeless. Like many other low-income people, Pheonix got a job as a hostess. His job was to sell alcohol to women. Usually, he sold large quantities of alcohol. In a nightclub, he found a new family. When he was in the hospital, colleagues visited him regularly. They helped him to recover.
Pheonix Luna returned to the hostess's business. He chose not to hide the history of Yuka, and he considered that this could be useful for his hostess rating. He reveals a crime story in his resume. Indeed, his hostess rating had risen from fourth place to third.
Public reaction
It seems that society had to become fury and condemn it. Despite her indifference and coldness to the crime, society's reaction differed. This crime made Yuka an internet star. She gained fans around the world. Many anime fans began to imitate her style. One of the reasons for its popularity is rooted in the idea that she is a real embodiment character in anime – "yandere." Cute yandere is a schoolgirl who, in pursuit of love, turns to homicidal violence. Yuka's Instagram gained more than 70,000 followers. Her fans find this crime beautiful, and it seems typical of violent romantic love. A fundraising account has been created. $3,840 was raised to pay off her debts. Finally, fans of the "Yandere Simulator" game asked to create a character named Yuka Takaoka. 
FAQ:
Who is Yuka Takaoka? 
A Japanese hostess who gained massive popularity after attempting to murder her boyfriend.
Is Pheonix Luna still alive?
Yes, he is.