The case of
Ying Ying Zhang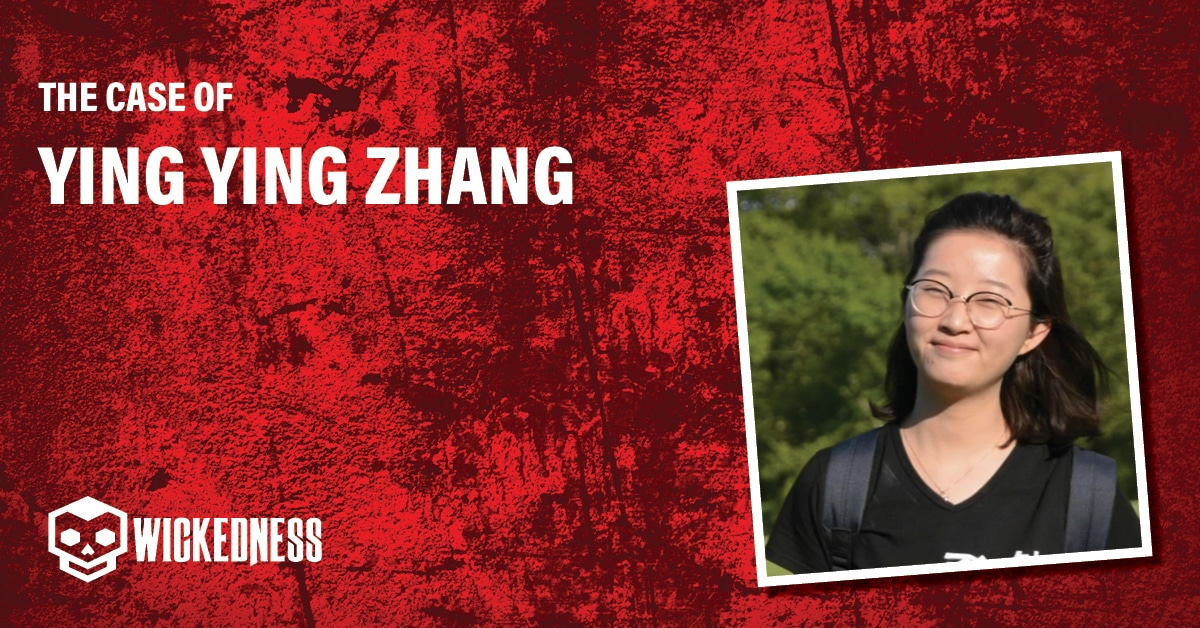 Victim Date of Birth
Info Box
Incident Location
Urbana, Champaign County, Illinois, USA
Date of Conviction
Info Box
Body Discovered Date
Info Box
Ying Ying Zhang, Her Name Means "A Twinkle Of Light," But Her Light Was Taken Away; who Was Yingying Zhang?
Born on December 21, 1990, in Nanping, Fujian Province, Ying Ying Zhang was a Chinese student at the University Of Illinois. Growing up, she had a loving family; Her mother, Lifeng Ye, her father, Ronggao Zhang, and her brother Zhengyang Zhang.  She had high academic aspirations and musical talent. She graduated from Sun Yat-Sen University at the top of her class and received her second degree from Peking University in 2006.
Zhang was in the united states as a visiting scholar to perform research on crop productivity and photosynthesis. She studied at the University Of Illinois in Urbana-Champaign and considered entering a doctoral program there. Her stay in the US was supposed to be a whole year, and then she planned to marry her boyfriend Xiaolin Hou back in china.
But her plans were interrupted…
Just Seconds Away From Catching The Bus That Would Probably Save Her Life
Ying Ying Zhang arrived in the USA in April 2017; while studying at the University Of Illinois, she found an apartment and needed to sign a contract. She headed out of the campus to meet with the agent and sign the lease, but Zhang was running late. She texted the agent and informed him about it.
Yingying needed two buses to get to the apartment, but after getting off the first bus, she was across the street from her station and missed her next bus. Frustrated, Ying Ying Zhang starts to walk and makes it to the next bus stop, where she waits. During that time, a black Saturn Astra drives past Ying Ying, then turns around and stops near her. As shown in the surveillance footage, Zhang gets in the car… and vanishes.
The leasing agent tries to contact Yingying, but she does not answer, and back at the university, her friends are becoming increasingly concerned. They knew where she was going and when she was supposed to be back, but Yingying was nowhere to be found. At 9:24 p.m, an associate professor calls 911 – he reports Ying Ying Zhang as missing.
Yingying Zhang will never be seen again, as she was kidnapped and murdered brutally. But even her remains are still missing. Brendt Christensen claimed to dismember her and divide her remains and personal belongings into three separate garbage bags, which he threw in a dumpster outside his apartment building, making restoring her remains nearly impossible. They are believed to be buried under several layers of garbage in a private landfill in Vermilion County, Illinois. If an operation to find them took place, it would require government oversight, massive resources, and the landfill owners' permission. Even so, there's still no certainty of success.
The Crime
On June 9, 2017, Brendt Christensen took 26-year-old Zhang into his car. He drove to his apartment and brought Yingying to his bedroom, where he raped, choked, and stabbed her. He then moved her to the bathroom, beating her with a baseball bat and decapitating her.
It was later revealed that on the very same day, at around 9:30 a.m, Brendt tried to kidnap Emily Hogan, a graduate student. Brendt posed as an undercover police officer but did not manage to fool Emily, as she refused to get in his car. Brendt drove off, and Emily called 911 to report the strange encounter. She also posted a warning on Facebook describing the case. If only it had reached Ying Ying…
"He Killed Her. He Murdered Her. He Covered Up His Crime" – Eugene Miller, Assitant US Attorney
So who is Brendt? And what could have led him to perform such atrocious actions?
Brendt Christensen was 25 at the time, living in Champaign. In the past, Brendt was a Ph.D. student at the University Of Illinois; his major was physics. Brendt was married to Michelle Zortman. They were in an open marriage, and Brendt had a girlfriend. Brendt had no history of crime, but he did have an unlawful aspiration – he wanted to be a serial killer.
In 2017, he even mentioned he had homicidal thoughts in a counseling session, but he never went to his second session like he was asked to.
The Investigation
The University Of Illinois Police Department and the Urbana Police Department worked alongside the FBI to try and find Yingying. They tried everything, including a public message asking for help or information from anyone who might have seen or heard something. Later on, they even offered a reward to anyone who would present information leading to the whereabouts of Yingying; Initially, the reward proposed was 10,000$. When it didn't work, they increased it to 40,000$, and eventually to 50,000$, but still, nothing.
Looking through the surveillance footage, police identified the car as a black Saturn Astra. Even though it is a relatively common car, police were fixated on a man named Brendt Christensen. Something about him just seemed suspicious.
The police examined Brendt Christensen's car and found the same sunroof and a similarly cracked hubcap as the car in the surveillance video.
Following this lead, law enforcement issued a search warrant on the car. Inside it, they noticed one of the doors was recently wiped clean, while the rest of the vehicle was not. Later on, law enforcement could even track Brendt and Yingying's cell phones. Brendt was taken into questioning and admitted to giving an Asian woman a ride. But that was it, he said. Brendt stated that he just gave her a ride, and dropped her off, which was the end of it.
But the police didn't buy it and put Brendt under surveillance. Soon, more disturbing evidence began showing up…The police seized Brendt's phone and computer, where they found that he had an abduction fetish and was a member of FetLife, a community website for various fetishes. Besides that, the police found more suspicious activity on Brendt's devices, including disturbing sexual photos and unusual Google searches.
Still under surveillance, 20 days after Yingying's disappearance, Brendt takes his girlfriend, Terra Bullis, to Ying Ying Zhang's memorial walk. Little did he know that Terra was wearing a listening device given to her by the FBI. During that walk, Brendt admitted to abducting and killing Ying Ying and even bragged about his past killings, saying that Zhang was his 13th victim and that the only serial killer who could compare to him was Ted Bundy. However, those claims were later disproven.
Brendt Christensen was arrested the next day.
The Trial
On July 12, 2017, Brendt was charged with abduction; he denied everything but had to wait in prison until his trial could begin. During his two years in jail waiting for his trial, Brendt changed his mind and decided to admit the whole thing. He even wrote a suicide note, which correctional officers found. Brendt was isolated on suicide watch for several months.
In June 2019, the trial began, Followed closely by the media and the Chinese government. Brendt had admitted to his crimes, but his defense attorneys tried to ease his sentence by claiming the murder was not pre-planned and that Brendt was in a problematic state, as he was exposed to the BDSM world by his girlfriend Terra; they claimed it had affected his decisions.
Nevertheless, the jury made up their minds…
The Verdict
On July 18, 2019, Brendt Allen Christensen was found guilty. The jury could not unanimously agree to give him the death penalty, so he was sentenced to life in prison without the possibility of parole.
The Zhang family set up a Ying Ying's Fund to help international students and commemorate how Ying Ying loved helping other people.
Frequently Asked Questions
Was Ying Ying Zhang ever found?
Ying Ying Zhang's remains were never found.
Who is Ying Ying Zhang?
Ying Ying Zhang was a visiting scholar studying at the University Of Illinois who was kidnapped and murdered by Brendt Christensen.
Where is Brendt Christensen now?
Brendt Christensen is currently serving his life sentence in McCreary United States Penitentiary.