The case of
Amina Yaser Said and Sarah Yaser Said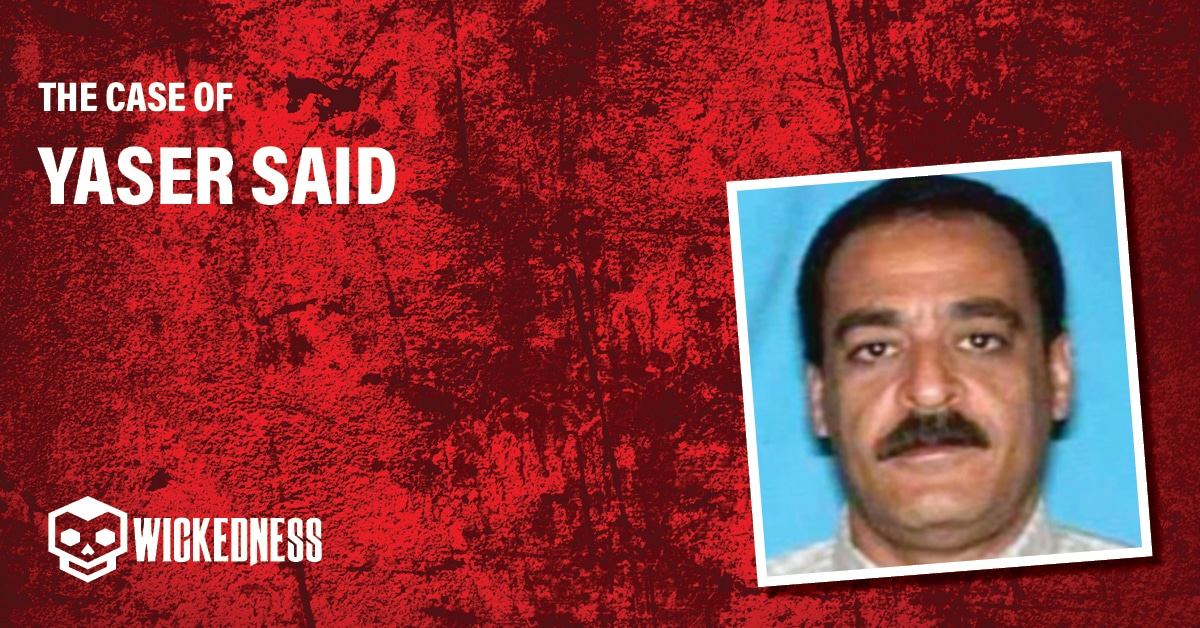 Victim
Amina Yaser Said and Sarah Yaser Said
Victim Date of Birth
Info Box
Incident Location
Irving, Dallas County, Texas
Date of Conviction
Info Box
Body Discovered Date
Info Box
Yaser Said, An Abusive and Controlling Father
Egyptian-born suspect Yaser Abdel Said was born in Sinai, Egypt, came to the U.S. on a student visa in 1983, and later became a permanent resident after gaining citizenship in 1997. He married Patricia Said in February 1987 when he was 30 and she was 15. They had three children together Islam, Amina, and Sarah. 
Yaser Said was very controlling and abusive to his family. According to reports, Patricia alleged that Yaser abused her, and the girls had accused their father of child abuse incidents, including physical and sexual assault. Amina told authorities that he had penetrated her at least once. He would spy on his daughters and record them without them knowing. Amina was afraid of him and, in emails, wrote that she believed her father would kill her. Yaser Said took Amina to Egypt when she was 16 to arrange a marriage with a man much older than her, but Amina rejected the proposal. When 17-year-old Sarah got a job, Yaser Said began videotaping her at work and would punish her if she smiled at the customers too much.
18-year-old Amina Yaser began dating Joseph Moreno, a non-muslim boy she met at her Taekwondo classes. Even though her father was out of the country, she felt anxious when meeting Moreno, imagining that somehow Yaser Said would be watching her. The young couple had a code word that Amina would use if it were safe for them to call or text because she was afraid that her father would kill him. He once beat her after she refused to tell him Moreno's name. Amina made plans to run away with Moreno, get married, and start a new life. Moreno dropped out of high school and worked to save up enough money. Moreno also stated that Yaser had repeatedly threatened to kill Amina, and she knew he meant it. 
In 2007, Amina and Sarah ran away with their mother Patricia to Tulsa, Oklahoma. However, after persistent phone calls, Yaser convinced Patricia to come back home. Sarah reluctantly agreed to return, but Amina refused. She left to stay at a friend's house. Patricia drove to the friend's place and argued with Amina, trying to convince her to go back. Patricia refused to leave and promised that her father would forgive her, and he wanted them to come home. 
Amina's Fears Become Reality
On New Year's Day in 2008, Yaser took Amina and Sarah in his taxi and told them he would take them out to dinner. He drove them to Irving, Texas, where he allegedly shot them to death in the cab. Amina died instantly, but Sarah was able to call 911 before she died. Both had multiple gunshot wounds. Yaser Said's cab was found outside the service entrance of the Omni Mandalay Hotel. 
After the murders, Yaser disappeared. Authorities believed that he had fled back to Egypt, but after alleged sightings of Yaser driving a taxi in New York and New Jersey, the FBI issued a statement suggesting he could be in the area. On December 4, 2014, he was put on the FBI's Ten Most Wanted Fugitives List. 
A maintenance worker at the apartment complex where Yaser's son, Islam Said, lived reported seeing a man matching Yaser's description on August 14, 2017; when detectives showed him a picture of Yaser, the maintenance worker confirmed that it was the man he had seen. That evening, an agent questioned Islam. He refused to cooperate. He then made a call and told the person on the phone that they had a problem. A search warrant was issued. The police noticed that the sliding glass door to the balcony was open. Below they found a flattened bush with broken branches, suggesting someone had jumped off and landed on it. Next to the shrub, they found a pair of eyeglasses and collected them for evidence. They also found several cigarette butts and toothbrushes inside the apartment. The FBI compared the DNA collected from the evidence to the DNA of Amina and Sarah and determined the DNA more than likely came from the girl's biological father. 
Three years later, the police began surveillance on a home in Justin, Texas. Both Islam Said and Yassein Said were seen visiting the house multiple times. When they left the home, the figure of another person could be seen inside. After a week, the FBI obtained a search warrant and, on August 26, 2020, took Yaser into custody without incident. They arrested Islam, Yaser's son, and Yassein Said, Yaser's brother, on the same day. Both were charged with concealing a person from arrest. 
A Family Will Pay for Their Crimes
Yaser Said faces a capital murder charge, making him eligible for the death penalty. He is currently in federal custody and will soon be transferred to Dallas County for a trial on Unlawful Flight to Avoid Prosecution charges. Patricia Said has filed for divorce.  
On January 19, 2021, Yaser's son, 32-year-old Islam Said, pled guilty and was charged with conspiring to harbor a fugitive, harboring a criminal, and conspiracy to obstruct justice. He was given a ten years sentence. 
Yaser's 59-year-old brother, Yassein Abdulfatah Said, claimed that he would never have helped Yaser if he knew what he had done. He was charged with conspiring to harbor a fugitive and harboring a fugitive and was sentenced to 12 years in prison. 
Frequently Asked Questions
What happened to Amina and Sarah Said?
Amina and Sarah were allegedly murdered by their father, Yaser Said, who shot the girls to death inside his taxi cab. Amina died instantly, but Sarah was able to call 911 for help before succumbing to her injuries. 
Where are Amina and Sarah Said buried?
Two hundred family members and friends mourned the loss of Sarah and Amina Said during a Christian service at a funeral home in Dallas. A Muslim service followed, with burial at the Muslim cemetery in Denton, Texas.