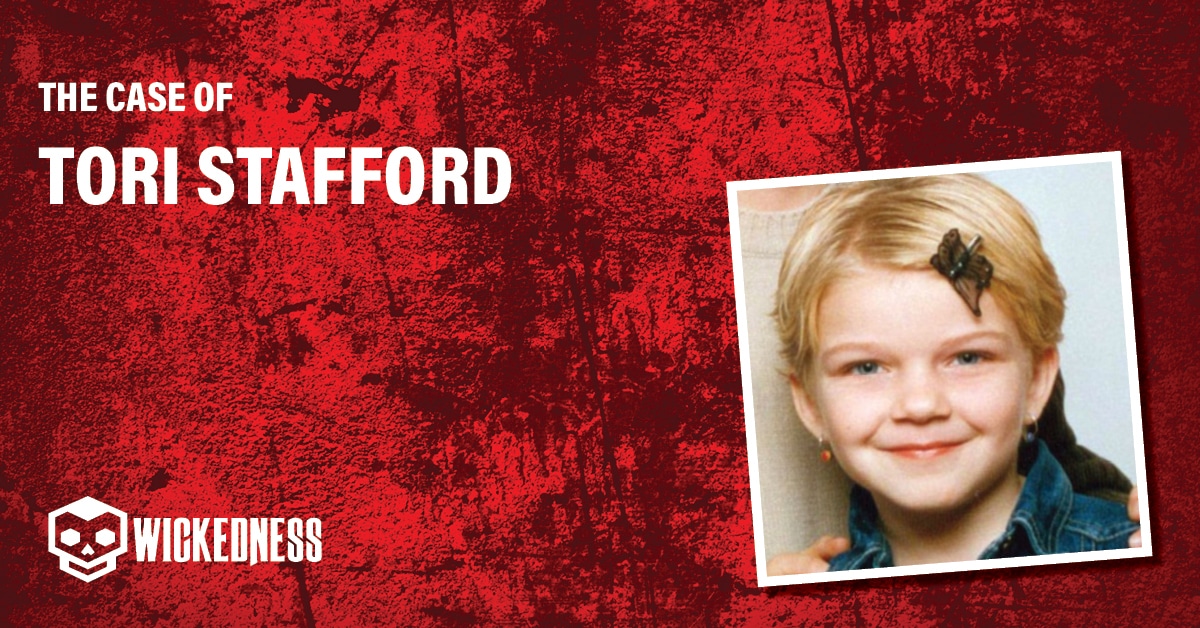 Victim Date of Birth
Info Box
Incident Location
Woodstock, Ontario
Date of Conviction
Info Box
Body Discovered Date
Info Box
A nine-year-old child was raped and killed by a 28 year old boy who planned everything along with an 18-year-old girl. The case was too terrible to even think about. Continue reading to find out how two psychopaths came to be responsible for the death of an innocent Canadian girl.
Who Was Tori Stafford?
Tori Stafford was a Canadian girl born on 15th of July 2000 in Toronto, Canada. The poor girl was kidnapped, raped and killed by Terri-Lynne and McClintic on 8th of April 2009. 
Her remains were discovered in a forested location in rural Ontario three months after she went missing. It was widely reported in the media throughout Canada that she had disappeared, and that the investigation and search that followed were exhaustive.
Tori Stafford used to live with her mother and her ten year old brother. Her parents were no longer together. She had adorned her room with Disney Princesses, Bratz Dolls, and High School Musical Posters the night before she was kidnapped. She had planned to spend the evening with her father, Rodney, and then attend a movie with some of her friends that night.
Tori Stafford's Disappearance 
Just like every other day in Woodstock, Ontario, Tori was walking towards her school on April 8, 2009. However, she was never able to return home. Tori's family began searching for her at 6 p.m., and when they were unable to locate her, she was officially declared missing. 
The detectives examined security camera video from the neighbourhoods around the school and were able to identify a possible lead immediately. An unknown lady was seen going outside the school with Tori just after 3:30 p.m. on the day of her abduction. The same area was also captured with a dark-colored car.
Investigation
Two weeks later, officials issued a composite portrait sketch of the lady taken from the tape, which finally led to the arrests of 18 year old Terri, and 28 year old Michael Rafferty. 
Terri and Michael were both charged with homicide in May 2009. Tori's corpse, on the other hand, had not been discovered despite thorough searches. Even after hours of questioning, Michael maintained that he had nothing to do with Tori's abduction. Terri, on the other hand, opted to cooperate with the police.
Terri's Statements 
According to Terri's testimony, she and Michael had discussed kidnapping children before, and on the morning of April 8, he baited her into following through with the plan. 
Younger girls were more appealing to Michael since they were "easier to influence." As a result, they passed past the school where Terri had run into Tori. She enticed the small girl to the vehicle on the premise of showing her a puppy, and Tori was tricked in seconds. 
She made Tori sit on the backseat of the car, and Michael began driving away. Terri then went to a nearby hardware shop and purchased a claw hammer and some garbage bags, following which they drove to a quiet place near Mount Forest, Ontario, where they camped out. 
Terri said that she got out of the vehicle while Michael was sexually assaulting Tori. His next move was to drape a trash bag over her head and smack her with a hammer. They wrapped the corpse in additional waste bags and hid the body away under the ground before driving away in their car. 
Afterwards, they had their car cleaned. They threw away the hammer which they used to murder Tori and their clothes away. Tori's DNA was subsequently found in Michael's automobile by the investigating officers. Terri decided to accept a plea bargain in exchange for testifying against Michael at his upcoming trial.
The Body Resurfaces
Tori's remains were discovered in an isolated area near Mount Forest, more than three months after she was murdered. She had died after getting hit multiple times on the head. 
Tori's story was also discussed and shown as an episode on a famous television show "Crime Beat" as Tori Stafford: Never Forget. 
Terri was the star witness in Michael's 2012 trial. She testified for the prosecution. However, in an unexpected turn of events, she claimed that she used the hammer to murder Tori. Terri testified that although Michael was the one who planned the whole murder and sexually attacked Tori, she was the one who delivered the hammer blows to Tori's head. 
She said that when she saw Michael raping Tori, it brought back memories of her own childhood. "I went back to the car, and when I saw what was going on, all I saw was myself at that age," she said. "All of the fury, hatred, and rage that I'd built up against myself came gushing out of my body."
Imprisonment 
Terri pled guilty to first-degree murder in April 2010, and she was sentenced to life in prison without the chance of release for 25 years after pleading guilty. 
She later appeared as a witness in Michael's trial. In May 2012, he was convicted guilty of first-degree murder, abduction, and sexual assault, among other charges.
Additional evidence, such as the discovery of child pornography and torture movies on Michael's computer, as well as the fact that he enjoyed choking women during sex, were not mentioned during his trial.
Michael was sentenced to the same term as Terri for first-degree murder. He was sentenced to an extra ten years in prison for each of the offences of abduction and sexual assault, which will be served consecutively. 
During Terri's relocation from jail to a healing lodge in October 2018, there was significant debate. Following pressure from Tori's family and friends, she was sent back to the Edmonton Institute for Women in Alberta, Canada, where she now resides. 
Michael on the other hand was sent to La Macaza Institution, a medium-security prison in the Canadian province of Quebec, in December 2018. 
Following his conviction for the abduction, rape, and murder of Tori, Michael Rafferty a was later accused by a relative for contributing to his own mother's death from behind bars.