The case of
Scott Ponder, 30; Brian Lucas, 29; Chris Sherbert, 26; everly Guy, 52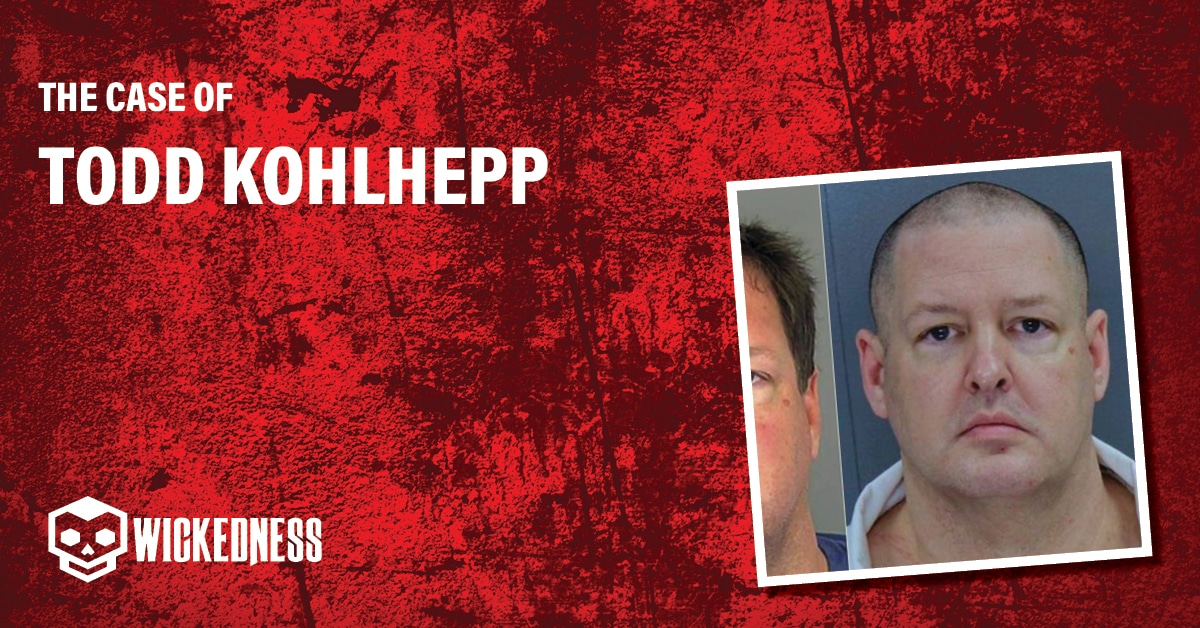 Victim
Scott Ponder, 30; Brian Lucas, 29; Chris Sherbert, 26; everly Guy, 52
Who was Todd Kohlhepp?
Todd Kohlhepp was born on March 7, 1971, in Fort Lauderdale, Florida. His parents were Regina Ann Tague and William Sampsell, they got divorced when Todd was only two years old. Regina kept custody of Todd and re-married a year after. They moved to South Carolina, where Todd grew up.
Todd was described as a problematic kid. He was aggressive toward other children and enjoyed destroying their possessions. Once he stabbed a little girl in the leg just because she wouldn't give him what he wanted. Some other red flags Todd showed was his preoccupation for sexual content and how he displayed cruelty to animals. He shot a dog with a BB gun and also killed a goldfish with Clorox Bleach. When he was nine years old, he started undergoing counselling because his anger issues were making it impossible for him to get along with other kids. Todd spent three and a half months in a Georgia psychiatric hospital.
In 1983, Todd Kohlhepp finally got what he wanted and was sent to live with his biological father. Apparently, his relationship with his stepfather had never been good or healthy. In Arizona, Todd began working several local jobs, and he inherited his father's hobby of collecting weapons and was taught by him to "blow things up and make bombs." These are not the best things to teach a teenager with anger issues, but who understands parents sometimes? Even when there was a bonding between Todd and his dad, their relationship would deteriorate due to his father's absence with several girlfriends. Young Todd started then expressing desires to return to his mother, but she always made excuses not to have him back.
First Conviction
On November 25, 1986, when Todd was only 15 years old, he kidnapped a 14-year-old girl in Tempe, Arizona. Todd threatened her with a 22-caliber revolver, brought her back to his home, tied her up, taped her mouth shut, and raped her. After he was done, he walked her home and threatened to kill her younger siblings if she told anyone about what had happened. The girl spoke out, and Todd was charged with kidnapping, sexual assault, and committing a dangerous crime against children. He pleaded guilty in 1987, and the other charges were dropped. He was sentenced to fifteen years in prison and registered as a sex offender. During his time in jail, he attended and graduated from Central Arizona College with a bachelor's degree in computer science, and he was released in 2001. Todd then moved to South Carolina with his mother.
Victims
Superbike Motorstore Crew
In November 2003, Todd decided to buy a motorcycle in Superbike Motorstore, a motorcycle store in Chesnee. He took it home but after a few days of trying to ride it, he realized it wasn't as easy as he thought. He couldn't get it right so it seemed like a good idea just to give the bike back to the store and ask for a refund. Todd went to the store and explained the situation to the Superbike Motorstore crew. Four people were working there that day:  The owner Scott Ponder, 30; service manager Brian Lucas, 29; mechanic Chris Sherbert, 26; and bookkeeper Beverly Guy, 52, who was Ponder's mother. When they heard Todd Kohlhepp's reasons for returning the bike, they all laughed and made fun of him for not knowing how to ride a motorcycle. They said it was a definite no for his request. Not happy with this outcome, Todd bought in a handgun and murdered the four of them. This remained an unsolved case until 2016 when he confessed.
In 2006, Todd got his real estate license. He built TKA Real Estate, a company with several employees working for him, and became a recognized top-selling Real Estate agent in the Carolina region. He took his time of success to buy many properties, including a 100-Acre property near the community of Moore, in Woodruff. It may seem like Todd Kohlhepp had changed and become a better person but the truth is that during all this time, people that worked with him, including clients, would notice weird behavior coming from him. Co-workers would catch him watching porn at work; clients said he always brought sexual comments to any conversation, and the waitresses from Roebuck, a waffle house, were so disgusted by him they would ask the male cook to serve Todd. One of the waitresses was Meagan Leigh McCraw-Coxie, one of Kohlhepp's victims.
Kala Brown and Charles David Carver
On August 31, 2016, Kala Brown and her boyfriend, Charles David Carver, were supposed to have dinner with a friend, but they never made it. When their house was searched, they found everything as they left it. Their dog, who Kala and Charlie loved very much, had been left inside without any food or water. It seemed like they had just vanished. Police couldn't find any possible lead as to what had happened to them.
On October 2, 2016, things got even stranger when someone started posting on Facebook from Charlie's account. He was saying they were fine and they didn't want to see anyone. Family and friends didn't believe the person making those posts was Charlie. So police continued with their search. It took them another month to find the couple's last location from their cellphone GPS, but finally, in November 2016, they could do it. The results took them to Todd Kohlhepp's property in rural South Carolina. When investigators arrived to Todd's place, the deputy in charge believed she heard some banging coming from somewhere around the property and it continued to get louder as they got closer to a storage container. When they broke the padlocks and opened the door of the storage container, they found Kala Brown with a chain around her neck. She had been there for two months!
When police asked Kala about Charles Carver she said Kohlhepp had shot him to death and buried him in the property. During her captivity in the metal storage container, Brown was raped repeatedly and intimidated into not escaping after having been shown the graves of Todd's other victims.
Investigation
Police investigators got a team to start digging to see if Todd Kohlhepp's claims of having more victims were true. They were able to find three corpses on the property; they found Charlie Carver's body, and they also found Meagan Leigh McCraw-Coxie and Johnny Coxie's remains, a couple that had been missing for over a year. They both had been shot to death.
When interviewing 30-year-old Kala Brown, she told the police that before the incident, she and Charlie had worked cleaning other of Todd's properties, and they have never felt endangered. So when he hired them to clean his 95-Acre property in Woodruff, Spartanburg County, they thought everything would be all right. Once he had killed Charlie and had her captive, Todd kept bragging to Kala about being a serial killer and a mass murderer. He told her he was the one who shot the four people in the motorcycle shop Superbike. He also told her he had killed a high two digits number of people and that his dream was to kill, even more, to make it to three digits eventually.
Another disturbing thing police found while looking into Todd Kohlhepp's computer was that he seemed to be a huge fan of Amazon.com. From 2014 to 2016, he left over 100 Amazon reviews for several Items such as knives, tactical gear, pat locks, all the items he used for his brutal crimes. He left reviews such as "Keep in car for when you have to hide the bodies." – Folding shovel. "Haven't stabbed anyone yet," the knife review says. ¨When I do, it will be with a quality tool like this."  "Solid locks," the review says. "Have five on a shipping container… won't stop them.. but sure will slow them down til they are too old to care." – Master Padlock.
Investigators questioned Todd Kohlhepp, and he confessed to killing Scott Ponder, Brian Lucas, Chris Sherbert, and Beverly Guy. The four staff members of Superbike Motorstore. He was obviously guilty of murdering Charlie David Carver and Meagan Coxie, and Johnny Joe Coxie, her partner. Todd claimed there were many more victims but refused to give more details about it. He even sent a note to The Herald-Journal of Spartanburg County saying the following:
"Yes, there are more than seven." "I tried to tell investigators, and I did tell the FBI, but it was blown off," he continued in his letter to the Herald-Journal. "It's not an addition problem; it's [a] multiplication problem. Leaves the state and leaves the country. Thank you private pilot's license.  At this point, I really don't see a reason to give numbers or locations."
In May 2017, Kohlhepp pleaded guilty to the seven Counts of murder to avoid the death penalty and was sentenced to seven consecutive life sentences in prison, plus 30 years for a kidnapping charge and 30 more years for sexual assault charges.
Todd Kohlhepp showed signs of being a bad person since he was a kid. Everything pointed to him being a potential serial killer. We guess some people are just monsters.