The case of
Teresa Whaley Mayfield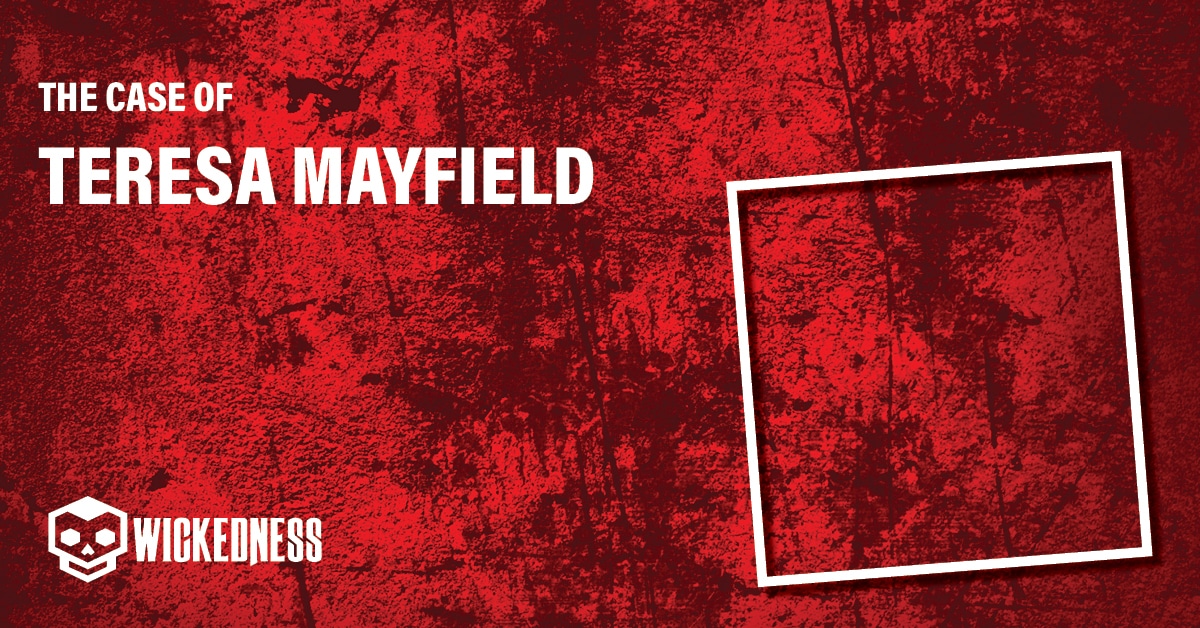 Victim
Teresa Whaley Mayfield
Victim Date of Birth
1962-09-02
Incident Location
Moundville, Hale County, Alabama, USA
Body Location
Unnamed Dirt Road, Moundville, Hale County, Alabama
Date of Conviction
May 2011
Body Discovered Date
2007-06-13
Murderer
Scott Mayfield, Dawn Lavender, Willie Underwood
"She Was An Amazing Mother" – Meet Teresa Mayfield
Born in Tuscaloosa County, Alabama, Teresa Whaley Mayfield, the adored 44-year-old mother, had a seemingly happy life. She had a husband and three lovely kids, a girl, and two boys. She was known around the neighborhood as "The softball mom" because she was so involved in her kids' lives, taking them to their games and supporting their every move. She also supported her husband, whose father was terminally ill at the time; she helped around his house and assisted her husband with every difficulty.
Teresa was always focused on the well-being of her family and had put the kids' needs above hers. This wasn't the case with Scott, however… Scott was unfaithful to Teresa; he cheated on her. And she found out. The couple got divorced, but Teresa was willing to forgive him and re-married Scott. She simply wanted to keep her family unbroken; that was the most important thing for her. Little did she know, her family would be destroyed by the same man she thought would help her keep it intact.
"I Knew In My Heart That Something Was Wrong" – Kelsey Mayfield
It was morning on June 13, 2007, when Teresa Mayfield left her Moundville home to run errands. Her daughter, Kelsey Mayfield, 17 years old at the time, was babysitting her two little brothers. As time passes, Kelsey gets worried; she knows her mother is supposed to be back home by noon, and she cannot reach her over the phone. This was very unusual for Teresa because she always carried her phone.
Kelsey calls her father, Scott, and tells him about her concerns for Teresa. Scott said he hadn't heard from Teresa either and told Kelsey they should notify each other if any of them got hold of Teresa.
But as the night falls, nothing changes. Kelsey is panicking at this point, and Teresa is nowhere to be found. They finally decide to call the police. Scott makes the call and reports Teresa Mayfield missing.
The next day, Kelsey informs Teresa's mother, Reba Whaley. Reba is worried and calls Teresa's sister Ashley Sanford. The entire family is now focused on one thing: finding Teresa Mayfield. They call the Sheriff's office and ask for updates. The Sheriff only had one thing to say; "It's bad."
Teresa Mayfield's body was found inside her silver GMC Yukon, parked on a small dirt road known as a "lover's lane." She was dead. Shot in the head.
Lured To A Secluded Dirt Road – How Was Teresa Whaley Mayfield Killed?
Teresa had the morning of June 13 planned out. She was supposed to go shopping with her friend Dawn Lavender. Before she could make it to the shopping center, she got a call from Dawn saying her car broke down and she needed Teresa to pick her up.
Teresa arrives at the dirt road where Dawn told her to pick her up. Dawn was standing at the side of the road, an 8-round handgun hidden in the back of her pants. Teresa rolls down her window, and when she looks the other way, Dawn pulls out the gun and shoots Teresa in the back of her head.
The blood was splattered all over, and Dawn could still feel Teresa's last few pulses on her neck. Dawn crawled over Teresa's body, shifted the car into drive, released the brakes, and watched the car go downhill into a bush. She took Teresa's phone and escaped the scene. With Teresa's phone, she notified Scott, who paid her 20,000$. The plan was executed.
Scott Said He Loved Her, Dawn Said She Was Her Friend; Meet Those Who Betrayed Teresa
The perfect example of two-faced, cold-blooded killers, Dawn Lavender and Scott Mayfield, were willing to lie, deceive, kill, and steal. Dawn Lavender was Scott's friend who had befriended Teresa through Scott. Teresa never liked hanging out with Dawn, she knew something about her was off, and she was right. Dawn was a cold-blooded killer; she even said so herself. Dawn said, "I had always said I could kill a person before I killed an animal." And although Dawn knew that what she did was wrong, she had no remorse. She stated she was going to lie at the stand and wanted to portray herself as "poor, little, innocent Dawnie," as she phrased it.
Scott was no better; he had several affairs around when Kelsey was born and the time of the murder. As if this wasn't enough, he wanted his wife dead. He tried numerous times to order a hit on her until he offered to pay 20,000$ for Dawn to shoot Teresa. After the murder, he was able to speak at her funeral and say beautiful things about Teresa, as if he wasn't the one causing her death. At the same time, he told people at the funeral that Teresa had killed herself, and some even believed him. Those who did not believe it, however, were the investigators…
The Investigation
When arriving at the crime scene, the investigators could not find any physical evidence, no hair strands, footprints, or fingerprints. Nothing that would indicate the presence of a killer. But sometimes, not finding anything could be helpful because they realize that there was also no gun, which rules out the option of suicide. Also, the driver's window was opened with no signs of struggle, which implied that Teresa willingly opened the window. So now the investigators know two essential things: Teresa was murdered, and it was someone she knew.
They questioned Scott, but he had a solid alibi, and other leads were also drying up. They were stuck. But then a local rumor made its way to investigators. A young man claimed he saw a woman with a handgun around the time and place of the murder. That woman was Dawn Lavender. She was arrested. In custody, Dawn told her cellmate everything, every little detail of the plan and the murder. But her cellmate wasn't the only one listening… She was wearing a listening device given to her by the sheriff's office. The case was ready for trial.
The Trial
Although given a chance, Dawn and Scott chose not to speak at their trial. However, there was someone who took the opportunity to speak out. Teresa's mother, Reba Whaley, said, "You are truly a pure evil person Scott. Look at all the lives you have destroyed".
Due to the unquestionable evidence presented at the trial, the court made an easy decision.
The Verdict
Dawn and Scott were convicted of murder and received two consecutive life sentences. They were also found guilty of conspiracy to commit murder, along with a third man, Willie Underwood, who was hired in the past to murder Teresa but did not follow through.
Frequently Asked Questions
Who is Kimberly Binion?
Kimberly Binion, also known as Dawn Lavender, murdered Teresa Mayfield in June 2007.
Why did Scott Mayfield want his wife dead?
The most common theory is that he ordered the hit on his wife to gain her insurance funds.