The case of
Teresa Fidalgo
Victim Date of Birth
Info Box
Incident Location
Near Sintra, Portugal
Date of Conviction
Info Box
Body Discovered Date
Info Box
A car accident took place back in 1983 near Sentra, a municipality in Portugal and a girl named Teresa Fidalgo died. In July 2003, after 20 years of that incident, footage started circulating the internet that shows three friends in a car going on a dark road at night and they see a young girl standing on the roadside.
Case Details
Victim Name

Teresa Fidalgo

Victim Date of Birth

Unknown

Victim Age

25

Victim Race

Portuguese

Date Reported

1983

Incidence Location

Near Sintra, Portugal

Body Discovered Date

1983

Body Location

Near Sintra, Portugal

Date of Death

1983

How was the Victim

  Killed

Car Accident
Victim and Circumstance
Not much is known about the life of Teresa Fidalgo. What we know is that she was a lovely girl from Portugal who was on a highway in her car near Sintra, Portugal. She had an accident and died in 1983. It is also said that her story was published in newspapers and some local television channels. However, there are no authentic records of the incident on the internet and you can even find Teresa Fidalgo Ghost stories.
Another Accident After Teresa Fidalgo's Death
Another accident took place in 1988 after five years of Teresa's death. A group of three friends, Tania, David, and Tiago were going on the same road where Teresa died. They saw a girl standing on the side of the road asking for a lift.
David was filming their journey already and they stopped the car to give her life. The girl got in and introduced herself to all of them by saying that she is Teresa Fidalgo and this is precisely the spot where she died five years ago.
All of them were stunned and Teresa immediately started screaming. The driver couldn't control the car and they had an accident in which Tania and Tiago died. However, David survived the crash and the camera also continued recording.
Later on, the police went to the site to investigate the accident and they started questioning David. He explained the whole scenario but the body of the fourth person was never found. The police also knew that Teresa died on the same spot five years ago. Some people claim that the police found the recording and confiscated it and it was never made public.
Teresa Fidalgo's Appearance in 2003 Short Video
There is a viral video clip that you can find on the internet showing the same incident that took place in 1988 with David and his friends. Some people say that it's the original video but that's far from the truth.
The video clip that went viral in 2003 was made by David Rebordão who is a renowned Portuguese producer and director. He's also a content creator and likes to write fascinating fictional stories. The name of this viral video is "A Curve" and it's just a mere recreation of the hitchhiker (an urban novel).
Similarities of Teresa Fidalgo's Story with Other Popular Ghost Stories
Interestingly, the story of Teresa Fidalgo is similar to many other popular ghost stories such as Vanishing Hitchhiker. The records of such stories date back to the Japanese Middle Ages. Pedestrians are yet another type of road ghost that appears right in the middle of the road recklessly.
Spirit of Blue Bell Hill is one such example that's about a young girl who also died in a road accident in Kent, England, in 1965. There are hundreds of highway ghost stories similar to Teresa's 1983 accident and most of them are considered to be real.
Teresa Fidalgo Viral Messages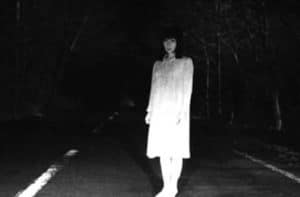 You can also see some Facebook posts, Instagram Stories, and WhatsApp messages about Teresa. One such post says:
"I am Teresa Fidalgo and if you don't share this with 20 other people or posts, I'll haunt you by sleeping with you forever."
Another post says"
"You can search Teresa Fidalgo on Google, a girl ignored it and her mom died within 29 days."
Such messages are just fake. They don't have anything to do with reality and no one can die because of such posts and texts. Yes, you can search "Teresa Fidalgo" or anything else on google and you will find some results. But it certainly doesn't mean that her ghost is real and is trying to control or kill people.
Verdict
Some people believe that the story of Teresa Fidalgo is real because they say that a car accident actually took place in 1983 and a girl with the same name died. After five years, two more people died and the survivor also mentioned the same name involved in the accident.
But still, there are no authentic records that prove these accidents. Teresa may have died but the following stories, especially the messages on the internet, don't make sense and they are far from reality. Interestingly, the date of birth and life history of Teresa is still unknown and it's hard to say whether it's real or fake.
Frequently Asked Questions
Who is Teresa Fidalgo?
It's said that Teresa Fidalgo is the name of the girl who died on a highway near Sintra, Portugal, back in 1983 in a car accident. She is also linked to another car accident that took place in 1988 in which two teenagers died and one survived. The viral video clip that you see on the internet is called "A Curve" created by David Rebordão and it's inspired by Teresa's story.
Is Teresa Fidalgo Real?
Teresa Fidalgo may have died in a car accident back in 1983. There's not much information about this figure and no one even knows about her date of birth and life history. It's said that the news of her accident was published in newspapers in 1983 but there are no records that prove those claims. However, the other stories including social media posts and messages linked to Teresa's accident that involve her ghost are completely fake.
What should you do with Teresa Fidalgo's messages?
The best way to deal with such posts and messages is to use your common sense. A ghost can't use social media to scare teenagers and it certainly can't kill someone if you don't share her messages with other people.