The case of
Suzanne Jane Capper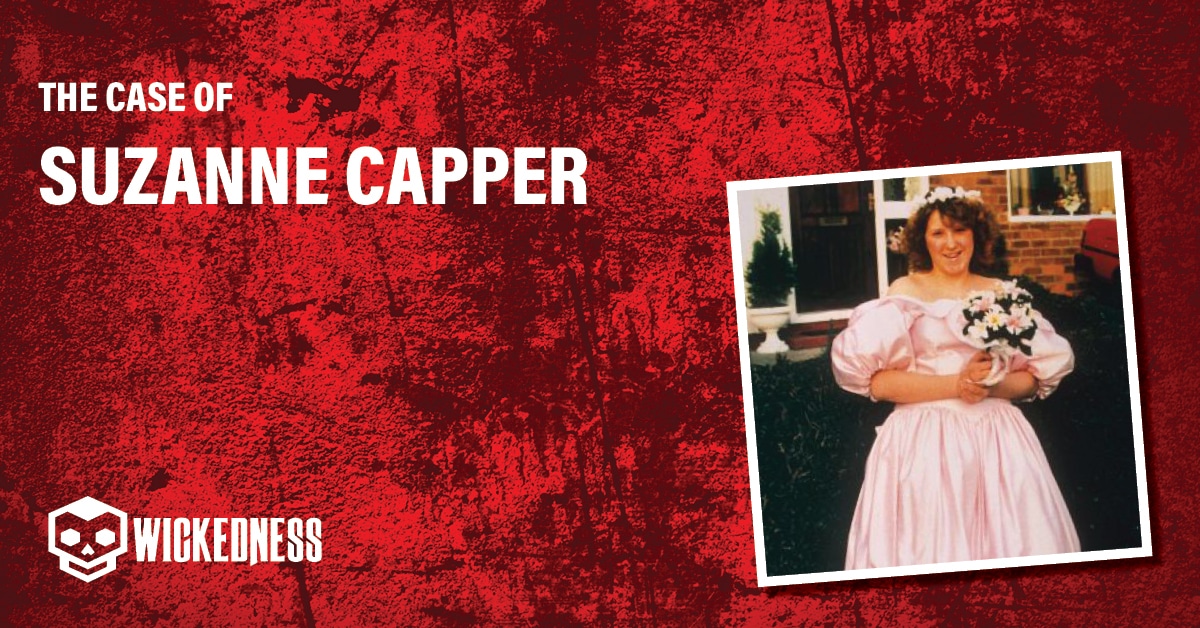 Victim
Suzanne Jane Capper
Victim Date of Birth
Info Box
Incident Location
Greater Manchester, England, UK
Date of Conviction
Info Box
Body Discovered Date
Info Box
Who was Suzanne Capper?
Suzanne Capper was born in 1976 in Manchester, England, to her mother Elizabeth. She had one sibling, an older sister named Michelle Capper.
She didn't have a father figure in her life for a while as her real father didn't want anything to do with her. Elizabeth did eventually remarry and Suzanne and Michelle had stepdad from this point on. Unfortunately, that relationship was volatile and Elizabeth and her new husband fought all the time which created an unhappy atmosphere in the family home. It's fair to say that Suzanne had a pretty bleak existence from a young age.
16-year-old Suzanne Capper has been described as a "high-spirited, well-mannered girl" who would go out of her way to help others. Because of her upbringing, all the teenage girl wanted from life was to be loved. She didn't know what that felt like and she was always searching for that love and approval from others. This is what led to Suzanne finding the group of friends that she thought she could trust but ultimately, they turned on her in the worst way possible.
Suzanne Capper had babysat for 23-year-old Jean Powell since she was 10 years old. Because Suzanne wasn't receiving the love and attention she craved at home, she started spending more and more time at Jean's house.
Jean lived at 97 Langworthy Road, Moston with her three children. This house was regularly used to sell drugs from as well as being involved with the handling of stolen motor vehicles. Five other people were frequent visitors to the house. They were 24-year-old Bernadette McNeilly, Jean Powell's 29-year-old ex-husband Glyn Powell, Bernadette's boyfriend, 16-year-old Anthony Dudson, Jean Powell's 17-year-old brother Clifford Hayes and 27-year-old Jeffrey Leigh.
Michelle Capper lived with Suzanne at Jean's house for a short period of time but quickly moved out once she realized that the people her sister was friends with were evil.
Before the events of this case began, Bernadette and her three children moved in with Powell, despite having her own house two doors down. There was a lot of sexual relations among the adults in the house, with mattresses in every room.
Victim Was Found Dead/Start of The Crime
Suzanne Capper was found on the Compstall Road in Manchester, England. A man by the name of Barry Sutcliffe and two of his colleagues discovered her badly burned body at around 6.10am.
It transpired that four of the six primary attackers had put Suzanne in the back of a Fiat Panda and driven her to some woods on the outskirts of Stockport. The purpose of this trip was to remove Suzanne from the house they'd been keeping her in so they decided to set her alight. When they thought she was dead, they left her alone in the woods.
However, Suzanne Capper wasn't dead and she managed to stagger from these woods to Compstall Road and was found. Barry has said that she had suffered such extensive burns that her hands were like ash and she couldn't bear to be touched as she was in so much pain. Her face was unrecognizable and she could only be identified through a partial fingerprint from her thumb.
Suzanne Capper was able to name her attackers before she arrived at Withington Hospital. Shortly after this, Suzanne slipped into a coma and she died four days later on December 18 1992. She never regained consciousness.
The Crime Description
In November 1992, an outbreak of pubic lice occurred at the house. Jean, Bernadette, Jeffrey, Glyn, Anthony and Clifford all decided that Suzanne was the one to blame as she sometimes slept on a shared mattress. They also thought that she had stolen a pink duffel coat from McNeilly. They came up with a plan to "punish Suzanne.
On December 7th, 1992, the group lured Suzanne back to the house under the pretense that there was a guy there who fancied her. Suzanne still craved love and attention and even though she was starting to realize that this gang wasn't good for her, she couldn't resist.
Once she was inside the house, Suzanne was held down while Glyn shaved her head, pubic area and eyebrows. Suzanne was then made to clean up. A plastic bag was then placed on her head while the group took turns beating her with belt buckles, whips, and ornamental wooden spoons. The beating was so severe that Suzanne Capper's left arm hung limply by her side. She was then locked inside a cupboard.
After a couple of days, the group was angry at Suzanne as her cries of pain and desperation upset the children in the house. They decided to move Suzanne to Bernadette's old house down the road. Here, she was shackled spread-eagled on an upturned bed and socks were stuffed in her mouth to muffle her screams.
Over five days, Suzanne was subjected to a horrendous torture spree. Her two front teeth were pulled out with pliers, and another was broken in half, leaving the nerve exposed. She was burned with cigarettes and injected with methamphetamines. Suzanne was also forced to listen to rave music on maximum volume "high-spirited, well-mannered girl
when each torture session commenced. There was one track, in particular, that was played on repeat, and this was "Hi, I'm Chucky (Wanna Play?)" by 150 Volts.
Suzanne Capper wasn't allowed to use the toilet at any time, so she laid in her own urine and feces. The smell became unbearable so the group decided to place Suzanne in a bath of concentrated disinfectant and a yard brush was used to scrub her skin raw.
It was at this point that 18-year-old David Hill was asked to housesit. He heard shouting and when he went to investigate, he found Suzanne Capper tied to the bed. She asked him to help her but he refused. In later interviews, he claimed that he was too scared of the group and what they would do to him if they found out he had contacted the police.
The group heard that Suzanne's family were going to report her as a missing person. People knew that she spent time at Jean Powell's house so it was only a matter of time before police showed up to question the group. They decided to it was time to get rid of Suzanne.
In the early hours of December 14, 1992, Suzanne was put into the back of a stolen Fiat Panda. She was driven to a remote area near Stockport. In the car was Jean and Glyn Powell, Bernadette McNeilly and Anthony Dudson.
Suzanne was pushed down an embankment, thick with brambles. When she reached the bottom, McNeilly doused Suzanne's body in petrol and set her alight. Jean later said that Suzanne went straight up in flames and she was screaming.
The foursome presumed she was dead and left her there, singing "burn, baby, burn." However, Suzanne managed to survive this attack and she staggered back up the embankment to Compstall Road where Barry Sutcliffe and two colleagues found her.
Suzanne Capper had suffered widespread burns to 80% of her body and her face was unrecognizable. Police managed to speak to Suzanne and get the names of her attackers before she slipped into a coma. Four days later, she died on December 18.
Suspect or Convicted Killer Details
There's very little detail about the group's childhoods or early lives. But it's clear that they were all hardened criminals.
Jean Powell's house was a drug dealer's paradise. Everyone in the local area knew that 97 Langworthy Road was where they needed to go if they wanted to score. Drugs were left on weighing scales, and Jean also had a hand in handling stolen vehicles.
Bernadette McNeilly was addicted to drugs. This doesn't make her a criminal but she knew what was going on in her friend's house. And judging by her behaviour towards Suzanne, she was a very messed-up individual.
Glyn Powell had convictions for being drunk and disorderly, theft and burglary.
Jeffrey Leigh had a conviction for robbing his 86-year-old aunt.
Clifford and Anthony didn't have any convictions but they were only 16 and 17 at the time of Suzanne's murder. They were undeniably on a path of criminality.
Investigation Details
After Suzanne Capper told the police the names of her attackers, police went to 97 Langworthy Road. When they arrived, they were met with a scene of chaos and mess. In the home, they found Suzanne's hair and the teeth pulled from her mouth along with the bloody pliers.
The group all denied involvement to begin with but with the evidence the police had found, they couldn't deny it for long. Anthony Dodson's father urged his son to be truthful with police and he was the first one to crack.
The six individuals were arrested on December 17 1992 and were formally charged with Suzanne's murder on December 23 1992.
Trial
The trial began on November 16 1993 and lasted 22 days. During the trial, each of the six involved tried to blame each other and exonerate themselves. Their testimonies minimized their involvement in the murder of Suzanne Capper.
Verdict
It took jurors just under 10 hours to reach their verdict.
Jean Powell, Bernadette McNeilly and Glyn Powell were convicted of murder, conspiracy to commit grievous bodily harm, and false imprisonment. They received life imprisonment, which in the UK, carries a minimum term of 25 years.
Jeffrey Leigh pleaded guilty to false imprisonment and received a prison sentence of 12 years. He has been released.
Clifford Hayes pleaded guilty to false imprisonment and conspiracy to commit grievous bodily harm. He received a prison sentence of 15 years and he has been released.
Anthony Dudson was found guilty of murder and conspiracy to commit grievous bodily harm. He pleaded guilty to false imprisonment. He has been detained indefinitely, with a minimum tariff of 18 years to be served.
Frequently Asked Questions
Where is Bernadette McNeilly now?
Originally, McNeilly was sent to HM Prison Durham. However, it soon emerged that she had had an affair with a married prison governor. He resigned after their affair was made public and she was moved to HM Prison New Hall.
Is Suzanne Capper still alive?
Unfortunately, Suzanne Capper died four days after she was set alight by the group. Luckily, she managed to stay alive long enough to name her attackers and secure a conviction for the brutal torture she'd endured.