The case of
Sierah Joughin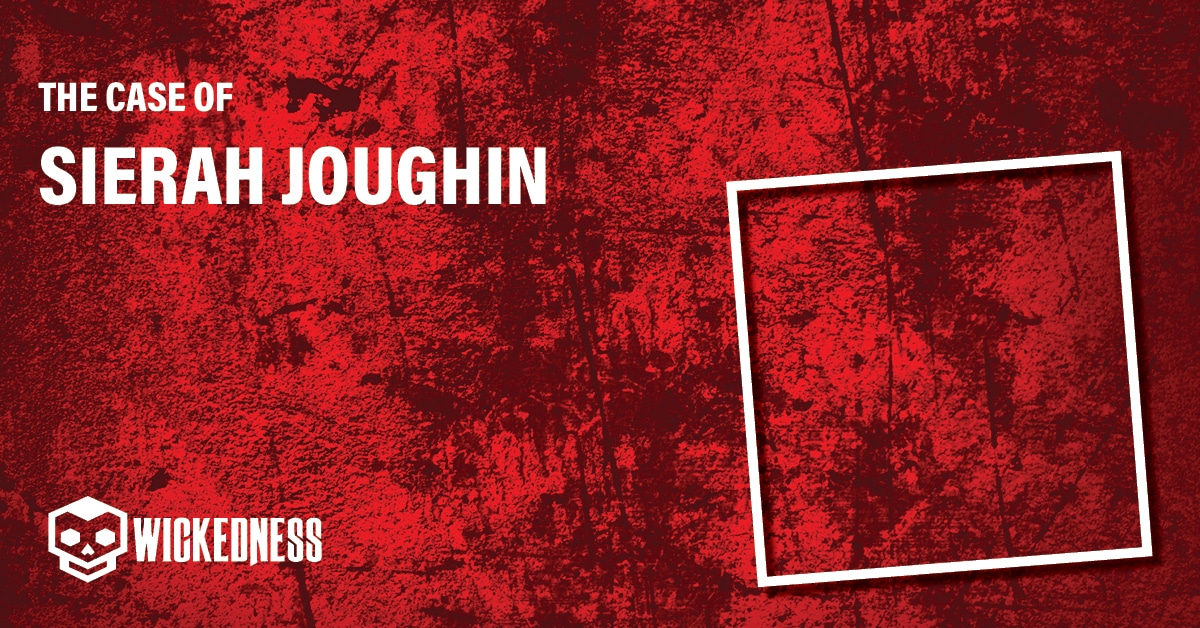 Victim Date of Birth
1996-02-11
Date of Death
Undetermined
Incident Location
County Road 6, Ohio
Body Location
County Road 6, Ohio
Date of Conviction
2010-04-18
Body Discovered Date
2016-07-19
Sierah Joughin: Abducted
It was a perfect summer's night when 20-year-old Sierah Joughin went for a bike ride with her boyfriend along County Road 6. However, that was the last time anyone saw Sierah alive.
Sierah Joughin
On the 11th of February, 1996, Sierah Catherine Joughin was born in Sylvania, Ohio, to parents Sheila Vaculik and Tom Joughin. After graduating from Evergreen High School in 2014, Sierah began studying human resource management at the University of Toledo's Junior College of Business. She also interned at her uncle's metal stamping business.
The Crime Description
On July 19, 2016, in Fulton County, Ohio, Sierah and her boyfriend Josh Kolasinski took advantage of the lovely night and went for a ride. They were riding side by side on country roads. Cornfields surrounded them. Sierah rode her purple bike while Josh rode slowly on his motorcycle alongside her.  Sierah and Josh had been dating since middle school and had discussed getting married, but they were both still so young and didn't see any hurry. Josh uploaded a photo of the two of them riding to Snapchat. In the picture, they were both smiling and having a good time.
Eventually, Sierah tells Josh she is ready to ride home and call it a night. Being the good boyfriend, Josh rides back home with Sierah he had planned to take her the whole way home before heading home himself but Sierah insisted she would be fine to get home by herself. After all, it was still light outside.
Josh left Sierah at around 6:45 pm near the Evergreen high school and rode his motorcycle home.
Josh tried to call Sierah at around 10 pm that night after she hadn't replied to his text messages, but the call went to voice mail. Right away, this felt unusual to Josh, so he kept calling. After having no luck Josh called Sierah's mother at 10.30 pm. She tells Josh she hasn't seen Sierah either. In fact, she never came home after their bike ride.
Right away, Josh and Sierah's family begin looking for her. Finally, between 11 and 11.30 pm that night, after no success, Sierah's mother calls the police to report her missing. The Fulton County sheriff's office immediately hops onto the case and heads out to the fields on county road 6 that night, searching for a sign of Sierah. Around midnight on July 20th, just 5 hours after Josh and Sierah parted ways, a deputy sheriff is driving when he sees something strange. Some corn has been knocked over in one of the fields. He pulls over to check it out closer with his spotlight. When he steps out of his vehicle he is hit with the smell of gasoline, and lying on the ground, he sees some fuses.  As he looks further into the field he notices a pair of sunglasses on the ground. He shines his light further down the corn when his light hits something shiny. It is a reflector attached to a purple bicycle. The bicycle is standing up with its front tires facing out. Police find blood on the handles bar and the bike seat. The bicycle is just half a mile from Sierah's home. Police also find a green sock, a bloody screwdriver, and more blood on the corn around the bike. There was clear evidence that there was a struggle.
It confirmed their worse fears, Sierah was abducted there. All the items discovered in the field get immediately sent to the lab for processing.
The DNA evidence from the sunglasses was discovered to be an unknown male, who the police didn't have in their system. So they broadened there search to all of Fulton county, specifically sex defenders and felons. As they were going through the offender list, one name, in particular, stood out to them, 57-year-old James Worley.
James Worley
James D Worley was born on the 8th of April 1959 in Tacoma, Washington, and graduated high school in 1978 at Evergreen High School. He worked as a farmer in Delta.
James was a previously convicted felon and lived just a few miles away from where police discovered Sierah's bike.
On July 4th, 1990, in a small town in Ohio young woman, Robin Gardner, went out for a ride on her bike.
James struck Robin with his truck knocking her clean off her bike and into a ditch. He then got out of the vehicle, hit her on the head, and placed her in handcuffs. He held a screwdriver to her throat, saying, "I'll kill you if you don't stop screaming," and attempted to force her into the vehicle. Fortunately, Robin was able to escape and was picked up by a passing motorist.
James Worley was arrested and convicted on abduction charges. He was sentenced to 4-10 years in prison, with the possibility of parole. He served three years in prison for the crime before being released early for good behavior.
Investigation Details
Knowing these details about James Worley's past conviction and being unable to look past the similarities, four police officers investigated James on the 21st of July. Police notice marks on his arms and bruises all over his legs. When law enforcement said to James that they are looking for a missing woman, James tells them, " I'm not her killing chicks". But, the police never mentioned anything about a murder.
Police get his consent to search his house. While searching the house, James places himself at the crime location. He claims he was riding in the area when his motorcycle broke down. He said he saw two bicycles in the area, not just one. James D. Worley was telling police details that no one had released yet. There was only one way James could know any of this information. He had to be there.
James becomes agitated as soon as police reach the barn on his property. The dirt on the barn floor has been freshly raked. Police start moving hay bails around and find a green box wrapped in chicken wire. When they open the lid, police find bondage restraints, adult diapers, tube socks, sex toys, latex gloves, lingerie, zip ties, duct tape, and several pairs of women's underwear. One of the pairs of underwear is bloody. Police question James about the stuff in the box. He calls it "girlfriend stuff."
After this James no longer consents to them searching his property so the police take him down to the station for questioning. Investigators released a search warrant, and law enforcement was able to return to James' barn. Hidden behind more hay bails in the barn, police discover a secret room. Restraints are hanging from the walls, and the windows have been spray painted black. Police also find a freezer dug into the ground. Police opened the freezer and were relieved to find it was empty. However, the freezer is lined with carpet and smells like bleach. When they test the freezer, it tests positive for blood. In addition, they find a hunting kit, a ski mask, and a mace in his truck. It was clear they had a serial offender on their hands.
On July 22, three days after Sierah's disappearance, James D. Worley was arrested and charged with one count of abduction. Later that same day, Sierah is found. Sierah was found in a shallow grave just a few miles from James' house. An autopsy was conducted, and it was confirmed Sierah died of asphyxiation from something being shoved in her mouth. It was a three-inch plastic gag that James had used to silence her cries. The autopsy showed no evidence of a sexual assault.
Verdict
James D. Worley was charged with 17 counts altogether, including two accounts of aggravated murder, resulting in the death penalty. James was found guilty and received a death sentence.
James D. Worley will receive the death penalty on May 20th, 2025.
Sheila Vaculik was granted James Worley's dilapidated property in a wrongful death suit after he was found guilty of her 20-year-old daughter's murder. She demolished the farmhouse as part of her healing process.
Frequently asked questions
What did James Worley get sentenced to?
James received a death sentence for the murder of Sierah. He is set to receive the death sentence on May 20th, 2025.
Who was Sierah Joughin?
Sierah Joughin was a 20-year-old Ohio woman studying human resource management at the University of Toledo. She was abducted and murdered while riding her bike along a rural road.