The case of
Sherese A. Walker Bingham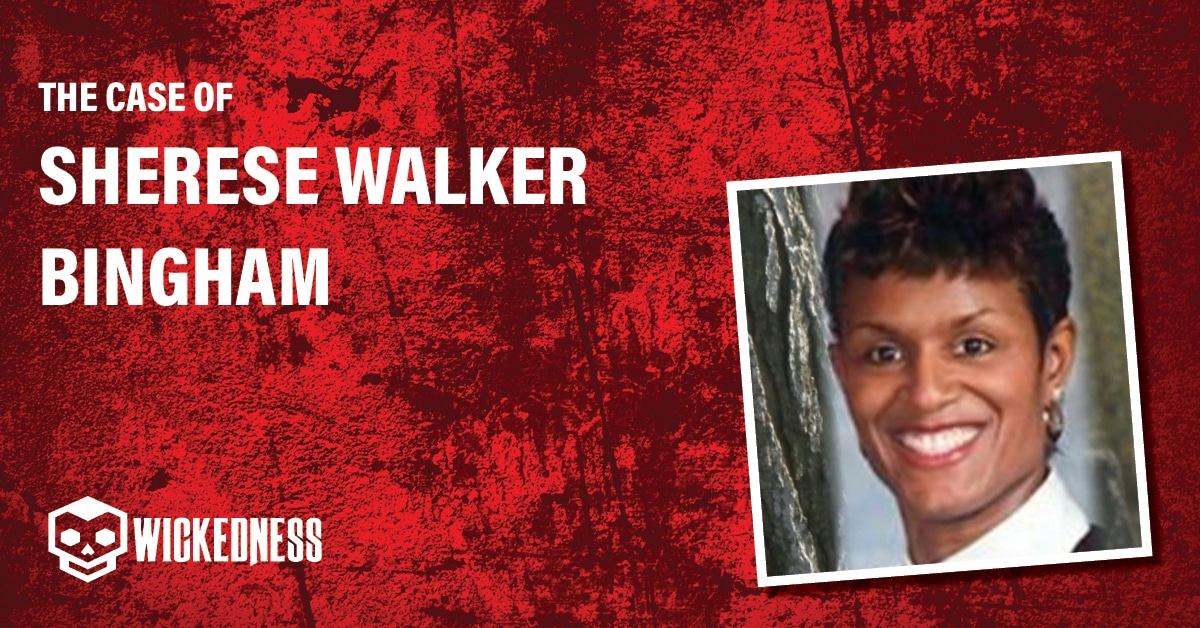 Victim
Sherese A. Walker Bingham
Victim Race
African-American
Victim Date of Birth
1960-12-23
Incident Location
White River Parkway, Indianapolis, USA
Body Location
White River Parkway, Indianapolis, USA
Body Discovered Date
2012-12-12
Who was Sherese Walker Bingham?
Sheres Walker was born on December 23, 1960. Little is known about her childhood, only that she had two brothers. Her nickname was Reesie and her older brother, Keith Walker, said that she just wanted to help people. She looked after her mom when she got sick and she helped out her dad and brother when they needed her. In high school, she was considered popular and athletic. This passion for sport followed her into her adult life and she was also very intellectual, holding several degrees, and she enjoyed being a married career woman.
Throughout her life, she had several jobs. Sherese was employed by RCA for eight years as a grain operator, after that she moved on to Navistar where she worked as a machine operator for 13 years until the plant closed. Seven months before her death, she'd got a job at Pepsi Co. as a machine operator, similar to the role she'd had at Navistar.
In her late 20s, she met a man named Eugene Bingham Jr. and the two married on December 14, 1985. At the time of her death, the couple had been married for 28 years. Even though they had no children, Sherese Bingham was very attached to her German Shepherds, May-Day and Tsunami. Her family have said that from an early age, she had a natural ability to train dogs. At the age of nine or ten, she had a German Shepherd named Cruiser and according to her aunt, Deborah McMurray, that dog could do anything with Sherese.
From the outside, it seemed that they had the perfect marriage together. Her family said that if they'd had problems in their marriage, Sherese kept it to herself. But as they neared 30 years of marriage, the couple started to live separate lives. Eugene had made a room for himself in the basement and this is where he would spend a lot of his time while Sherese occupied the rest of the house.
She was a woman of faith and a member of the New Haven Missionary Baptist Church. She grew close to other members of the congregation but she still kept her life private. In fact, after her death, the church were shocked to find that she had a husband as she had never mentioned him.
Before her death, Sherese had taken out at least three life insurance policies, one being with her employer at Pepsi, with the total equalling around $1 million.
Victim Was Found Dead/Start of The Crime
Sherese Bingham was found by a cyclist who happened to be riding past. She was lying face down on the concrete, in a pool of her own blood. Her handgun and cellphone were found near to Sherese, leading police officers to believe that she had tried to phone for help before her death.
As law enforcement arrived to examine the crime scene, they couldn't get close to her body to check if she was alive. Her two German Shepherds, May-Day and Tsunami, wouldn't let anyone near her, guarding her body with fierce loyalty.
The Crime Description
On the night of December 12, 2012, Sherese told her husband Eugene that she was taking her dogs for a walk. She had three spots nearby that she enjoyed walking in and her husband claims that she didn't tell him which one she was going to. Sherese chose the White River Parkway which was around 15 minutes from their house.
As this case is unsolved, no one really knows what happened to Sherese on that fateful night besides her and her killer. The only thing that's certain is that she has to have known whoever murdered her. Her dogs were so close to Sherese that if a stranger had approached her, they would have attacked without hesitation. Sherese died from a gunshot wound to the chest at close range with her own gun. Her murderer was familiar to her and to her dogs.
Suspect or Convicted Killer Details
Like Sherese, there's little information available for Eugene Bingham Jr. He was born March 14, 1961 but that's all that's really known about his childhood.
After Eugene married Sherese, the two seemed happy with each other. Eugene was a quiet guy who kept to himself. However, Eugene was keeping a secret for half of their marriage. He had been living a double life and was having a 14-year affair with another woman. Sherese's family say that she had recently found out and when she did, she sold her wedding ring to a pawn shop. It was around this time that Eugene moved into the basement of their home.
Despite this, Eugene was still close with May-Day and Tsunami. They would let him walk them, feed them and play with them. Eugene was the only person, besides Sherese, that the two dogs trusted.
Investigation Details
When Indiana State Police arrived at the scene of the crime, they couldn't get close to Sherese to check for signs of life. Her dogs prevented that and unfortunately, they had to be sedated by animal-control officers. Once the dogs were safe, police started examining the crime scene and found that Sherese was dead. They saw that a handgun was close to her and later discovered that this was Sherese's own weapon. She usually carried a gun in a pouch with her for protection but the pouch wasn't with the gun. It was at her house.
Police detectives tested her gun for DNA but they couldn't find any usable prints. However, they did find Eugene Bingham's DNA all over it. They brough him in for questioning and he denied having anything to do with his wife's murder. He explained his DNA by saying that he cleaned her gun all the time. With a lack of evidence that linked Eugene to the crime, the police had no choice but to let him go but he remained a suspect.
As Sherese Bingham's friends and family were questioned, they found out that Sherese rarely took her gun with her when she walked her dogs. She knew that they would protect her if she ever ran into trouble. So she either left the gun at home and it somehow ended up at the crime scene or she took the gun with her which was out of character. This piece of information left police puzzled.
When police found Sherese Bingham's life insurance policies, this gave them motive so Eugene was brought back in. This time, he had a theory for police. He said that Sherese had indeed taken her gun with her and one of the dogs had jumped up at her, causing the gun to go off in a freak accident. While the police didn't believe this theory, they looked into it. There have been instances where this had happened but it just didn't fit this crime.
Eugene agreed to two polygraph tests. The results came back as inconclusive, close to failure. His mistress also agreed to take one and she failed it.
Police also discovered that between December 11 and December 12, Eugene had deleted nine calls from his cellphone.
The little evidence they had, along with the motive, gave police enough to arrest Eugene on murder charges related to his wife.
Trial
A month and a half before Eugene Bingham's trial was due to begin, all charges were dropped as cellphone evidence failed to put him at the scene of the crime. Police still believed that he was the one who killed Sherese but they we having a tough time in making a murder charge stick.
An undercover police officer later said,
"We know we charged the right person, but we just need that little bit more information."
Frequently Asked Questions
Has the murder of Sherese Bingham been solved?
No one has been charged with the cold-blooded murder of Sherese. Her husband, Eugene Bingham Jr. still remains a suspect. Crime Stoppers are still taking tips if anyone has any information.
What were Sherese Walker Bingham's dogs called?
Sherese had two German Shepherds named May-Day and Tsunami.