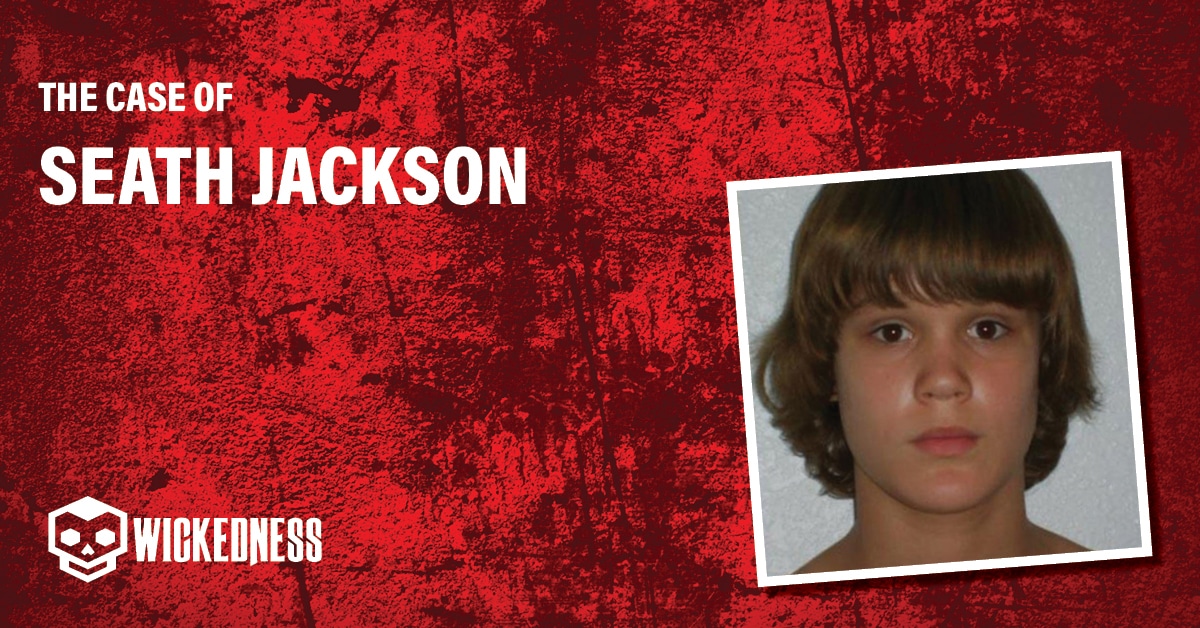 Victim Date of Birth
Info Box
Incident Location
Summerfield, Florida, USA
Date of Conviction
Info Box
Body Discovered Date
Info Box
Who was Seath Jackson?
Seath Tyler Jackson was born February 3rd 1996 to his parents, Scott and Sonia Jackson. Seath was the youngest of three brothers; Scott Jr. and Stephan were his older brothers. They lived in the town of Summerfield, Florida and at the time of his death, Seath was a sophomore at Belleview High School.
Timeline
April 17, 2011:
Seath Jackson was lured to a house in Summerfield, Florida by his ex-girlfriend, Amber Wright.
Once he arrived, he was beaten and shot by a group of teenagers.
His body was dismembered, burned, and thrown into a backyard fire pit.
April 18, 2011:
Jackson's parents reported him missing to the police.
April 20, 2011:
Police received a tip about Jackson's murder and began an investigation.
Authorities found Jackson's remains in the backyard fire pit of the house where he was killed.
April 21, 2011:
Police arrested five teenagers in connection with the murder: Amber Wright, Michael Bargo, Kyle Hooper, Justin Soto, and Charlie Kay Ely.
All suspects were charged with first-degree murder.
June 2013:
Michael Bargo, the alleged ringleader of the group, was found guilty of first-degree murder and sentenced to death.
Amber Wright, Kyle Hooper, Justin Soto, and Charlie Kay Ely were all convicted of first-degree murder and sentenced to life in prison without parole.
December 2014:
Bargo's death sentence was upheld by a Florida appeals court.
December 2016:
Wright, who was 15 at the time of the murder, had her sentence reduced to 25 years in prison after appealing her conviction.
August 2018:
Hooper, who was 17 at the time of the murder, had his sentence reduced to 40 years in prison after appealing his conviction.
So how did this happen?
In December of 2010, Seath met Amber Wright and they began a relationship. The couple dated for around three months. It appeared to be a typical teenage relationship, Seath was in love with Amber and he told friends and family that he wanted to be with her forever. However, when they broke up in March 2011, Seath took this very hard and couldn't seem to get over the split. His parents tried to work through this heartbreak with their son but Seath was adamant; he wanted to be back with Amber.
In interviews, Amber has confirmed the length of their relationship but she admits that it wasn't healthy. She claims that they spent their time trying to make each other jealous and that they were both doing drugs at this time, smoking weed and dabbling in cocaine. It was a toxic relationship which ended when Seath discovered that Amber had cheated on him with 18-year-old Michael Bargo. Allegedly, Seath challenged Michael to a fight, which he accepted, and Seath was the one who came out victorious. Maybe this was the trigger that led to the horrific events of this case.
For around a month, Seath Jackson and Amber Wright engaged in social media fights, calling each other names and posting derogatory statuses. It was around this time that Amber says she started an official relationship with Michael, a fact he denies. However, they both have each other's initials tattooed on their private areas so it seems obvious who is telling the truth here.
One night in April 2011, Amber and Michael were at a friend's house when Michael said,
"We need to kill Seath Jackson. Nobody likes him, we need to kill him."
According to Amber, the people in the house thought Michael was joking but it soon became clear that he was serious. They all agreed with Michael and they soon began devising a plan. It was decided that Amber would lure Seath to Charlie Ely's trailer where he would be beaten and then shot.
On April 17th 2011, Amber Wright sent a text to her ex-boyfriend, Seath Jackson which set the whole plan in motion.
Victim was found dead/start of the crime
Seath Jackson's charred remains were found in several paint buckets at the bottom of a nearby quarry. One of the paint cans had opened as it was being thrown over the side of the cliff so police had to comb the cliffside to collect every piece they could find.
The Crime Description
At 7.58pm on April 17th, Amber sent Seath a text telling him where to meet her. Seath was sceptical and he even sent Amber a text, telling her that if he was jumped, she wouldn't see him again. She reassured him that that wasn't going to happen and Seath met Amber at her friend, Charlie Ely's trailer.
The initial plan was that Justin Soto was supposed to hit Seath over the head with a wooden object when he entered the trailer, Kyle Hooper (Amber's brother) would jump him and then Michael would shoot him. But when Seath entered the living room of that trailer, Justin got cold feet.
Kyle was the one who hit Seath first. He claimed that he was involved because Seath had threatened to burn his house down, with Kyle, Amber, their mom and Michael inside. He wanted Seath to pay for disrespecting his family.
Seath realized what he had walked into and he tried to leave the trailer. Michael shot Seath twice in the back but Seath kept on running. He almost escaped, he made it to the road outside of the trailer before he was caught by Justin and Michael. Justin tackled him to the ground and Michael shot Seath in the back of the head. But Seath was still alive.
Seath was dragged back inside the house and placed into the bathtub to contain the mess that was being created. Mike ordered that Seath be left alive so he knew who was killing him, then Mike ordered Justin and Kyle to clean up the blood in the house.
Meanwhile, in the bathroom, Mike is screaming and Seath and beating him black and blue. Mike realized that Seath still wasn't dead so he shot Seath one more time and this is when Seath died. Bargo decided that he wanted to stuff Seath into a sleeping bag but he'd have to break his kneecaps in order to do so. So that's what he did next. Seath's teeth were also pulled out with pliers at this point and then he was put into a sleeping bag.
Everyone present in the trailer at the time of Seath's murder knew what was going on. They all helped carry Seath's body in the sleeping bag outside where they had started a bonfire in the backyard fire pit. Seath was placed on the fire and the teens sat around, drinking and partying, which Seath was cremated.
The next day, they realized that they needed to dispose of the ashes. Seath's remains were placed into paint buckets and then these buckets were driven to a local quarry where they were tossed over the cliffside.
Suspect or Convicted Killer Details
Amber Wright was born on March 29th 1996.
Kyle Hooper was born on July 19th 1994.
Michael Bargo was born on April 29th 1992.
Justin Soto was born January 4th 1991.
Charlie Ely was born 11th July 1992.
Not much is known about any of their childhoods. The area that these teenagers grew up in was quite disadvantaged and parents didn't always know what their children were up to, whether that was through neglect or because they were working to provide food and a roof for their families. Either way, the teenagers of Summerfield, Florida were left to their own devices.
Amber Wright and Kyle Hooper were siblings. They lived with their mom, Tracey, at the time of the murder.
Amber met Seath in the December of 2010 and she claims that they started up a relationship but it wasn't healthy. A lot of their time was spent trying to make the other one jealous, while being high on drugs such as marijuana and cocaine. The couple eventually broke up in March 2011. Seath seemed to think that Amber was sleeping with Michael Bargo behind his back but Amber has never confirmed this.
Michael Bargo was 18 at the time of Seath's murder. A self-confessed "bad boy", he was tattooed, pierced and was open about the fact that he carried a gun. Michael had been in trouble with the law before the Seath murder and had convictions for offences such as burglary.
Investigation Details
Sonia Jackson, Seath's mom, was concerned when she hadn't heard from her son. He would always call to let them know if he wasn't going to come home. Sonia decided to contact the police and report him as missing.
The next day, Seath's disappearance had made the news. Kyle Hooper was sat at home with Tracey and when he saw Seath on the news, he told Tracey that he knew Seath was dead and that he information about the missing teen. When Tracey heard this, she contacted the police department and brought both Amber and Kyle down to the station.
Police questioned Kyle about the events surrounding Seath's murder. He claimed that Seath had turned up at Charlie Ely's trailer to talk to Amber. Michael didn't like this and shot Seath without anyone knowing what he was planning to do. Amber told police a similar story.
Charlie Ely was brought in next. She corroborated Kyle and Amber's story that Seath came over to talk to Amber. Michael just wanted to scare Seath and no one knew that Michael was planning to kill him.
Something about their stories didn't sound right to police so they sat the three suspects in a room together. None of the teens knew they were being recorded. Predictably, they start talking about the murder plot. Kyle said,
"We didn't kill an innocent kid because this kid was not innocent. He threatened to burn my house and kill my family. And he deserved it."
Upon hearing this police book all three suspects for premediated murder. One of the things that stands out at this point is that Amber doesn't seem to understand the gravity of the situation. She is heard saying,
"I'll be fucking 20 by the time I get out".
She was 15 at the time. Amber seemed to think that because she was a juvenile and she hadn't actually killed Seath, she'd be let off lightly.
The next thing that police need to do is find Michael Bargo. Since disposing of Seath's remains, he had disappeared. It wasn't too long before he was found, almost 40 miles away hiding out at a friend's house. When he's taken in for questioning, he denies knowing why he was arrested and asks for an attorney.
The five teens were all charged with first degree murder.
Trial
Amber Wright, Kyle Hooper, Michael Bargo, Justin Soto and Charlie Ely had separate trials. Even though they were juveniles at the time of the murder, prosecutors decided to try each of the teens as adults. This was because of the calculated nature of the crime. They also took any plea deals off the table. These teens needed to be punished for their crimes in an appropriate way.
Justin Soto pled guilty to his murder charge so his trial didn't go ahead.
Amber, Kyle, Charlie and Michael all pled not guilty. Despite Michael being the one who actually killed Seath, the prosecution claimed that all of the teenagers knew what the plan was and if Amber hadn't text Seath that night and asked him to meet, he'd likely still be alive.
Verdict
Justin Soto was sentenced to life in prison.
Amber Wright was found guilty of first degree murder and she was sentenced to life in prison without the possibility of parole. However, she had a retrial in 2016 where she received a life sentence for the second time but her sentence will be eligible for a review in 40 years.
Kyle Hooper was found guilty of first degree murder and sentenced to life in prison without the possibility of parole.
Charlie Ely was found guilty of first degree murder and sentenced to life in prison without the possibility of parole. She appealed and her sentence was reduced. Charlie Ely only served nine years in prison before she was released June 18th 2020.
Michael Bargo was found guilty of first degree murder and sentenced to death. He became the youngest prisoner on death row at just 19 years old. At his original trial in 2013, a jury voted 10-2 for Bargo to face the death penalty which the judge upheld. But because this wasn't unanimous, the Supreme Court overturned this ruling and there was a retrial. In 2021, a jury voted unanimously for Michael Bargo to be sentenced to death. He remains on Death Row at Union Correctional Institution.
Frequently asked questions
Why was Charlie Ely released?
A federal judge ruled that Ely's counsel at trial was ineffective and she was awarded a retrial. Charlie entered a plea to a lesser charge, second degree murder, which carried a lesser sentence of 10 years. She had already served nine years so she was released.
Where is Amber Wright today?
Amber Wright is still in prison and she won't be up for parole until 2056. She is serving her sentence at the Homestead Correctional Institution in Florida.