The case of
Sarah Evelyn Isobel Payne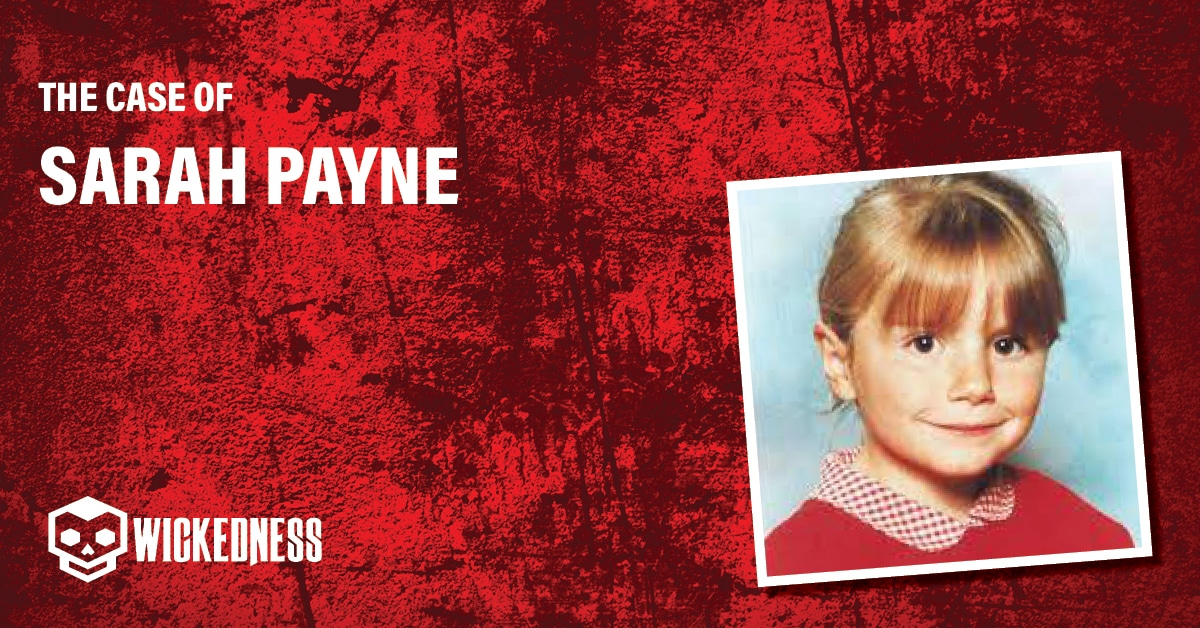 Victim
Sarah Evelyn Isobel Payne
Victim Date of Birth
Info Box
Incident Location
West Sussex County, England
Date of Conviction
Info Box
Body Discovered Date
Info Box
Who Was Sarah Payne?
Sarah Evelyn Isobel Payne was born on October 13, 1991, to Sara Payne, her mother, and Michael Payne, her father. She had three siblings, Luke Payne and Lee Payne, her older brothers, and Charlotte Payne, her younger sister. They all lived together in Hersham, Surrey. They were a happy, loving family. But that all changed after Sarah was murdered.
After Sarah's death, the Payne family has torn apart. Sarah's parents had broken up, and Michael Payne, Sarah's father, was falling into depression; he started drinking until he was eventually found dead in his house due to an alcoholism-related illness.
"Police, please, I've lost my daughter" – Sara Payne
It was a Saturday. Sarah and her family visited her grandparents in their home at Kingston Gorse, West Sussex. The kids were out playing, and their parents were out to meet some friends in the area. Sarah, Lee, Luke, and Charlotte went to the corn field, where they had played many times before. The corn was high above their heads, making it harder to see the surroundings. Sarah unintentionally tripped and fell to the ground. In pain and tired of playing, Sarah wanted to return home. She took a direct route out of the corn field, intending to return home around it. Her brother Lee tried to catch up with her, so he went straight through the field. But when he got out of the field, Sarah was gone.
He looked all around but could not find his sister. He went back home and called his grandparents. Sara and Michael return and find out their daughter is missing. They immediately call the police.
Unfortunately, 17 days later, her body would be found lying naked, half-buried in a field near Pulborough.
In A White Van, Alone, On Her Final Hours – How Was Sarah Killed?
It is difficult to establish precisely what happened to Sarah and how she was murdered by Roy Whiting because when her body was found, she was already quite decomposed.
Pathologist Vesna Djurovic helped shed light on the mystery during the trial when she stated that Sarah had suffered a violent death. She believes Sarah's death was caused by asphyxiation during a "Sexually motivated" attack.
Before delivering Roy his life sentence, Judge Justice Curtis said: "As we all know, you stripped Sarah naked, and you suffocated her and buried her and got rid of her clothes…."
The Predator – Meet Roy William Whiting
Roy Whiting was born on January 26, 1959, in Horsham, West Sussex. He had five siblings, although 3 of them died in infancy. Growing up, he never held a steady job, constantly shifting his careers, and never got any academic certification, although he was a student. In 1986, he married Linda Booker, but they divorced four years later, in close approximation to their son's birth. Roy even had a daughter, which he had outside marriage with a woman who asked to stay anonymous.
41-year-old Whiting had a history of crime; In 1995, Roy was first convicted of abduction and sexual assault after having kidnapped and sexually abused an 8-year-old girl. He spent four years in prison.
Before his release, he was evaluated by a psychiatrist, who said he was likely to re-offend and even kill his next victim. He was released anyway.
Thankfully, he is now serving a life sentence in prison for his crimes.
The Investigation
Quickly after Sara's report, the West Sussex police prioritized the investigation, allocating vast resources to finding the missing child.
Along with community members, West Sussex police had conducted large-scale searches to try and find clues to Sarah's whereabouts. But the real advancements in the case started after Lee Payne's questioning, revealing that right after his sister's disappearance, he saw a large white van with a "scruffy-looking" driver with yellowish teeth looking at him, smiling, waving at him, and then driving away.
That information, along with 24 hours of unsuccessful searching, has made police increasingly worried that Sarah might not just be missing; she might be abducted.
On July 2, only one day after Sarah's disappearance, the police show up at Roy Whiting's flat in Littlehampton. The investigators described him as suspicious and vague. When they asked him about Sarah, he replied that he was at the Funfair at the time of her disappearance.
Meanwhile, the search for Sarah was growing in terms of search party members coming from all around due to the extensive news coverage and resources such as technology, helicopters, additional trained forces, advanced police practices, etc.
During that time, Roy Whiting made a mistake. He tried to steal a car while still being under police surveillance. After a car chase, police accused Roy of dangerous driving. That allowed police to put him behind bars while they investigated. They found a receipt for fuel from Buck Born Garage not far from Coolham; this was enough to disprove Roy's claims of being in the Funfair when Sarah was abducted.
On July 17, a farmer found a little girl's body in his field; police quickly reported it and sent it for forensic tests. The next day they confirmed it was indeed Sarah Payne's body. It was now a murder investigation.
Clues and physical evidence were building up when the police started examining Roy's van, matching the description given by Lee Payne to investigators. In the van, they found strands of hair tested and found to be Sarah's. There were also tiny fibers in the van, matching those found on a shoe on the side of the road by a woman passing by.
The overwhelming evidence collected during the murder investigation had convinced the police that Roy Whiting was behind the awful abduction and murder of Sarah Payne.
The Trial
Following the abduction and murder charges filed on February 6, 2001, Roy Whiting faced a murder trial at Lewes Crown Court on the 14th of November, 2001. Roy pleads not guilty to all charges.
After being presented with several witness statements, including the one from Lee Payne, Sarah Payne's older brother, they were convinced.
The Verdict
On November 24, 2002, Roy Whiting was found guilty of the abduction and murder of eight-year-old Sarah Payne. He was sentenced to life imprisonment. The judge said it was a rare case in which life imprisonment should last for a lifetime.
But it was not all, as a new law emerged in a campaign led by the News Of The World newspaper. The law suggested that more information regarding known sex offenders would be released to the public. The Payne family quickly joined them as leaders for this new law, called "Sarah's Law." Although it was never formally passed as a bill in terms of its original form, a modified scheme of Sarah's Law was introduced in England, allowing parents to inquire about a specific person with whom their child comes in contact.
Frequently Asked Questions
What did Roy Whiting do to Sarah
Roy Whiting kidnapped, sexually assaulted, and eventually killed Sarah Payne.
How did Sarah Payne get kidnapped?
Her killer, Roy Whiting, was apparently waiting close to the corn field on which the kids played.
Has Sarah Payne been found
Sarah Payne's body was found on July 17, 2000, in a field near Pulborough, West Sussex, England.
Where is Roy Whiting now
Following his murder trial, Roy Whiting is serving his life imprisonment sentence in HM Prison in Wakefield.