The case of
Samira Mariette Frasch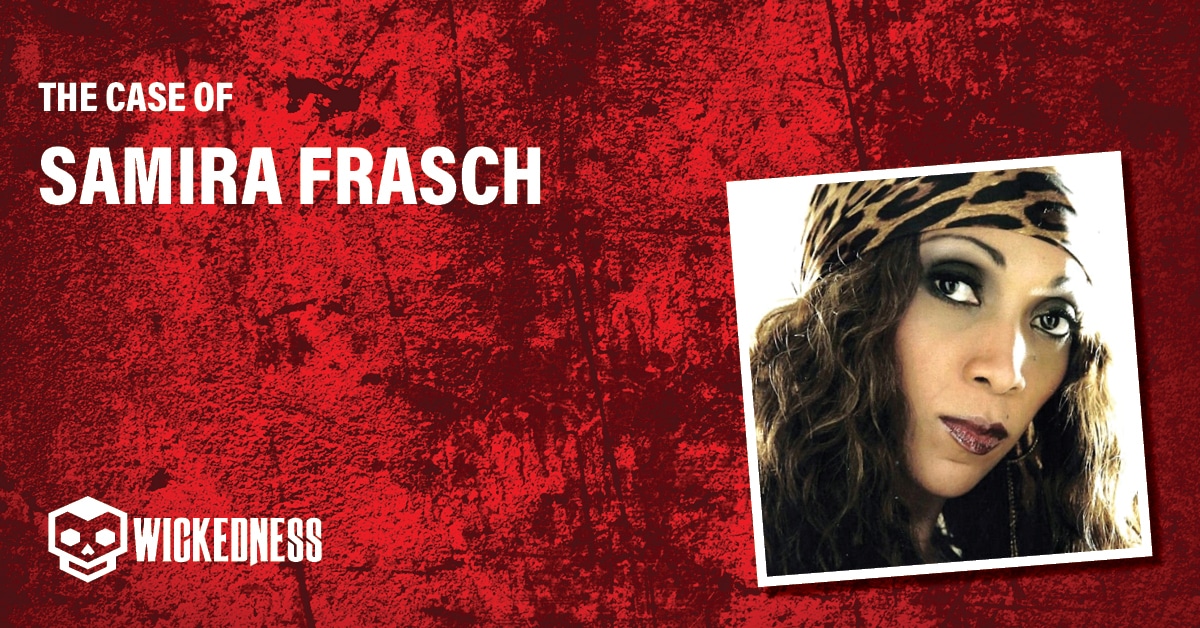 Victim
Samira Mariette Frasch
Victim Date of Birth
Info Box
Incident Location
Victim's home in Golden Eagle, Florida
Date of Conviction
Info Box
Body Discovered Date
Info Box
Samira Frasch murdered by Adam Frasch: The real Story
Samira Mariette Frasch was a retired supermodel that led a glamorous life full of luxury until she was found lifeless in the pool of her own home in Golden Eagle, Florida City. At first, her death looked like an accident, until the investigation proved the contrary.
Samira Frasch's background
Samira Mbotizafy Frasch' was born on December 12, 1975, in Madagascar, to the parents Razafisoa Zafy and Madiolaza Mbotizafy. She moved to Paris, France to pursue a model career, where she met her future husband, Adam Frasch, in 2006.
Adam Frasch meets Samira Frasch at Paris Fashion Week
In the summer of 2006, during "Paris Fashion Week", Samira was introduced to Adam Frash, a famous podiatrist who was going through a divorce from his previous wife, Tracey Ellinor. During the legal process, Samira and Adam maintained a long-distance relationship. Still, once the divorce was finalized, Adam and Samira married in Las Vegas in 2009. 6 months later, the couple formalized their marriage in Madagascar.
After the wedding, Samira Frasch went to live with Adam in Tallahassee, Florida, where they lived an extremely flamboyant life. Adam had a lot of money and a significant net worth from houses in Tallahassee, Thomasville, and all over the Southeast. He also had about 80 cars in his name.
From their marriage, two daughters were born, Hyrah and Skynaah, in 2011 and 2013, respectively. Everything seemed like a fairytale for Samira, but under the surface, their relationship was extremely toxic.
Domestic abuse reports
Claims of domestic violence were made by both sides. Both physical abuse and verbal abuse happened between them. There were even police records of Adam complaining about being a victim of domestic violence. During one of those incidents in August 2013, Samira Frasch allegedly attacked Adam with a statue in the head and tried to run him off the road. She got arrested for a brief period of time, but Adam dropped the charges and she was released. On the other side, Samira claimed that she was a domestic violence victim, and her husband was a perpetrator. That's why their friends called their tumultuous relationship a "love-hate relationship".
Alegged affairs, divorce, and child custody
In 2010, right after they got married, Samira Frasch threatened to divorce Adam because of his infidelity which resulted in fathering a child with another woman. This betrayal caused her to suffer a miscarriage, according to the court documents. In return, Adam made his first domestic violence allegations against Samira. 
In 2011, they reconciled shortly before the birth of their first daughter, Hyrah. In 2013, they welcomed their other daughter, Skynaah. However, their happiness didn't last for long, and in August of the same year, their fights escalated and Samira was briefly arrested for attacking Adam. Adam dropped the charges and she was released.
During their marriage, Adam was unfaithful on multiple occasions, most often with exotic dancers. Samira couldn't tolerate his numerous extramarital relationships and by the end of it, she paid one of Adam's girlfriends to give her a sex tape that showed Adam having sex with said girlfriend. This tape gave Samira enough proof to file for divorce and get temporary sole custody of her children.
Apparently, after filing for divorce, Samira lived in fear of her soon-to-be ex-husband. She was worried Adam would kill her. Soon enough, it will become clear whether she was right… 
Samira Frasch was found dead 
On February 22, 2104, Samira's unconscious body was found in the swimming pool of her home in Golden Eagle. Her handyman Gerald Gardener was the one who found her. He called 911 and soon the police came. Paramedics tried to perform CPR on her for 45 minutes, but without result.
At first glance, Samira's death looked like an accident, because her best friend Jackie Watson said that Samira wasn't a swimmer and could easily drown if she fell into the pool by accident. However, upon closer examination of her body, it was noticed that there were bruises on her face and signs of blunt force trauma to her skull. 
The Main Suspect Was Adam Frasch
Since Gerald Gardener, a man who found Samira's body, refused to remove her body out of the pool and attempt CPR before the police came, he was an initial suspect. He was soon cleared of any suspicion because there was no other evidence pointing at him. 
This made Adam Frasch the main suspect. At the same time when Samira's body was found, Adam Frasch went to Panama City Beach with their two daughters. On the morning of Samira's death, Adam took their daughters and left while Samira was still alive, or so he claimed. 
Murder Investigation Details
Adam also claimed that Samira has drunk two bottles of champagne the night before she was found dead. But, the autopsy couldn't find any alcohol traces in Samira's blood system. A medical examiner that examined Samira's body was certain that her injuries couldn't be caused by an accident since she had injuries on both sides of her head. It was impossible, he said, to fall and bump your head on both sides to acquire the injuries like the ones she had. Under her fingernails, Adam's DNA was found, and there was a large scratch under Adam's eye.
 Surveillance footage showed Adam leaving with their two daughters early in the morning. Later, he appeared on surveillance video from an auto parts store. Since the exact time of Samira's death couldn't be precisely determined, and whether Adam was still at their home when it happened, he couldn't be formally charged with his wife's murder. Instead, he was charged and arrested on child custody charges. 
Adam could not be arrested on murder charges until 10 months after her death. Around that time, allegations of his sex tape resurfaced. Further, it was concluded that Samira Frasch was hit in the head with one of Adam's golf clubs. 
Murder trial and verdict
During a trial, one of the Frasch's cellmates from Leon County jail claimed that Adam confessed to hitting his estranged wife with a golf club in the head, but without planning to actually kill her. 
Adam Frasch and his defense attorney, Clyde Taylor, claimed that Adam Frasch wasn't present at the time of death and that there was no evidence that he could've done it. They brought up again the claim that Samira Frasch has been drinking vigorously the night before her death, and even that the groundkeeper was possibly involved.
Despite their efforts, the verdict was considerably fast, it took 90 minutes for the judge and jury to find Adam Frasch guilty of first-degree murder, and sentenced him to a lifetime in prison. 
Adam Frasch continues to claim he's innocent and that he was convicted without enough proof to lock him down, with the proof against him being inconsistent.
Frequently Asked Questions
When was the body of Samira Frasch found?
Her dead body was found on February 22nd in 2014 by the family's handyman Gerald Gardener.
Where did the handyman find the body of Samira Frasch?
Samira Frasch's body was found on the bottom of a swimming pool at her home in Golden Eagle.
How was Samira Frasch killed?
According to the autopsy report, she was hit with a golf club in the head, then she drowned after being thrown into the pool.
Where is Adam Frasch now?
He is serving a sentence of life in prison at the Leon County Jail. 
Where Are Samira Frasch's Daughters now?
Since their mother is dead and their dad will be in prison for life, their daughters were assigned to Adam's brother and they are now living in Nebraska.