The case of
Ernest Lee Ibarra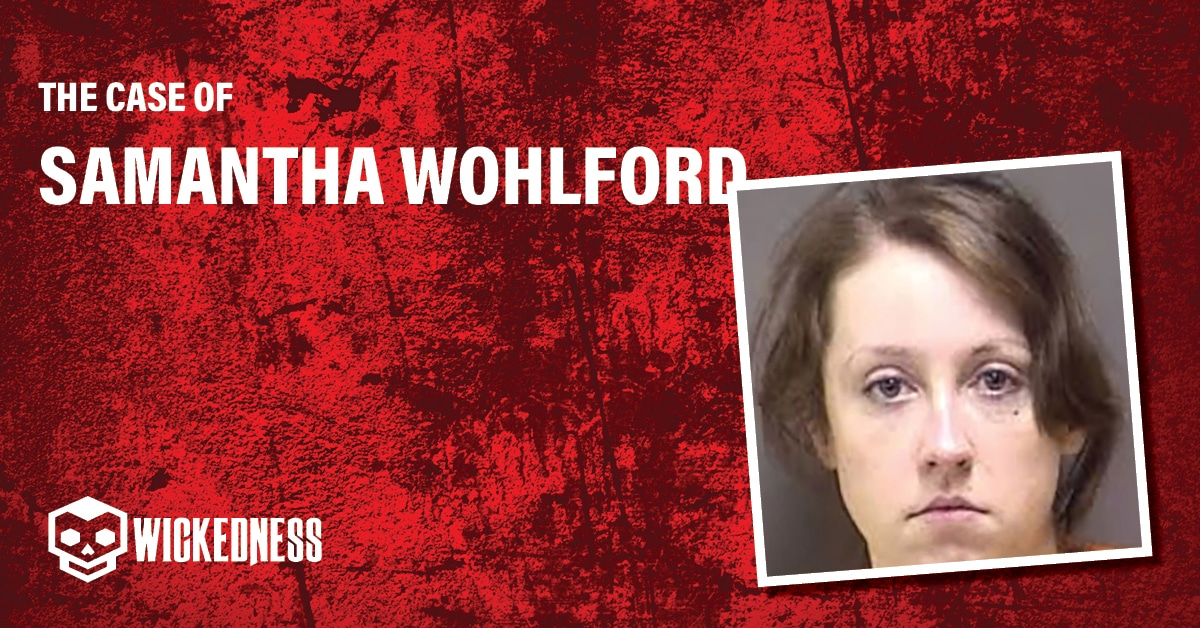 Victim Date of Birth
Info Box
Date of Conviction
Info Box
Body Discovered Date
Info Box
Who is Samantha Wohlford?
Samantha Nicole Wohlford was born on August 28, 1989, in Texas. At the age of 19, when Samantha was in high school, she gave birth to a pair of twins fathered by her high school boyfriend. However, her boyfriend abandoned them, leaving Samantha to raise the children alone.
In 2008 Samantha Wohlford met Ernie Ibarra at a local tattoo shop, and the pair instantly began dating. In 2011 Samantha became pregnant again, producing another set of twins. This time her current boyfriend, Ernie Ibarra, was the father. Then in 2013, at the age of 24, their third child was born. Suddenly the pair had five children to raise. Samantha did not go out to work and took care of the children full-time at home, leaving Ernie with the responsibility of providing for their family of seven. Ernie worked three daily jobs and still struggled to keep up with the expenses. The pair were finding it very difficult. This caused many problems within their marriage. Ernie was working long days and feeling frustrated and exhausted at home. The tenderness and romance he used to show his wife was gone, and Samantha was dissatisfied with this.
Hoping to generate some additional income, Samantha Wohlford started a YouTube channel. On her channel, she shared her passions, personal life, and the struggles of being a young mother of five. However, as Samantha's channel started to grow, she felt like she was starting to go somewhere like she was achieving her dreams of being famous, and she started paying less attention to her kids. This upset Ernie as he would work long days and then come home to discover the children had needs that needed to be attended to.
Ernie and Samantha often fought, especially after an online gaming avatar of his married a female gamer's character. To make amends Samantha and Ernie got married in 2014. However, their marriage wouldn't last long.
Ernest Ibarra Was Kidnapped
It was the morning hours of February 20, 2015, when Samantha Wohlford's mother, Rosie Wohlford, received a frantic phone call from her daughter. Samantha, who was freaking out and crying, told her mother that someone had broken into her home, kidnapped her husband, and now she was tied up.
Rosie was instantly worried for her daughter and drove to Samantha's home. Upon entering the home, Rosie found her daughter upstairs, gagged with her hands tied behind her back and her feet tied. She immediately called the police and untied her daughter.
Officers from the Titus County Sheriff's Department arrived soon after the phone call was placed. Upon searching the home, they noticed that no valuables were taken. The front door was in pieces, and signs of physical struggle were present.
Investigation
During the investigation, Samantha Wohlford was brought in for questioning. She informed Titus County officers that at the time of the attack, she and her husband Ernie were in their bedroom asleep. Samantha told them that one of the attackers held a knife to her throat while another dragged Ernie down the stairs and beat him. According to Samantha, Ernie was then removed from the house while she was bound and gagged. She told officers that the attackers wore masks that covered their entire faces and were dressed in black baggy clothes. There were no distinguishing features.
At 3.20 am, Ernie's phone was traced to Pittsburg, Texas. However, investigators failed to locate him, and the signal went dead soon after.
Police had questions they couldn't find answers to, such as why Samantha Wohlford would call her mother rather than call 911 first herself. Especially since she was tied up and gagged, it would have been much easier to call 911 than to find her mother's number. Police decided to interrogate Samantha again. This time she told the police that she might know who had kidnapped her husband. A man named John Nathan Sanford.
Johnathan Sanford Becomes a Suspect
John was a criminal with a lot of history. Police decided to investigate him immediately. John's girlfriend had just given birth at the time of his arrest, and John was accompanying her in the ward. The arrest was smooth, and John cooperatively explained the process of the crime.
John told police that Samantha had complained about her husband Ernie and how he treated her, so he wanted to teach Ernie a lesson. John called his cousin Jose Ponse who had also been jailed before, and Octavious Rhymes, a cellmate at the time. The three men carried out the kidnapping together. When the police said that the goals should be achieved and that the men could let Ernie go now, John responded with, "Sorry, Ernie is dead." He then told the police that they had taken Ernie into the woods to try and scare him. However, his cousin Jose took it seriously and shot Ernie in the head with one shot.
John led police to a deserted wood where they found Ernie's body, and a gunshot wound to the head caused his death.
Jose and Octavious were also arrested. The police then investigated cell phone records from the three men. They noticed that Samantha had messaged the men, telling them to turn off Ernie's phone quickly.
After being presented with the new evidence from the cell phone records, John confessed that the entire incident was planned by himself and Samantha. So Samantha wasn't an innocent victim but the mastermind of the crime.
Conviction
In April 2016, Jonathan Sanford and Jose Ponse pleaded guilty and were each sentenced to 50 years in prison. In December of that same year, Octavious Rhymes went on trial and was found guilty on all counts, receiving a combined prison sentence of 93 years.
In her September 2017 trial, Samantha Wohlford was found guilty of the murder of her husband, Ernie Ibarra. She was sentenced to 99 years in prison to be served consecutively with a 50-year sentence for abduction. Samantha remains incarcerated at the Carol Young Complex in Dickinson, Texas, Titus County.
Frequently Asked Questions
Q. Who Killed Ernest Lee Ibarra Jr.?
A. On February 20, 2015, Ernest "Ernie" Ibarra was sleeping with his wife in his Mount Pleasant, Texas residence. At around 2 am that morning, three men, later identified as Jose Ponse, Johnathan Sanford, and Octavious Rhymes, came into the residence and began beating Ernie and eventually kidnapped and murdered Ernie.
Q. Where is Samantha Wohlford now?
A. During his interrogation John Sanford confessed that he and Samantha were the masterminds behind the attack. As a result, Samantha received a 50-year sentence for kidnapping and a 99-year prison sentence for murder. She is serving her sentence in Carol Young Complex in Dickinson, Texas.