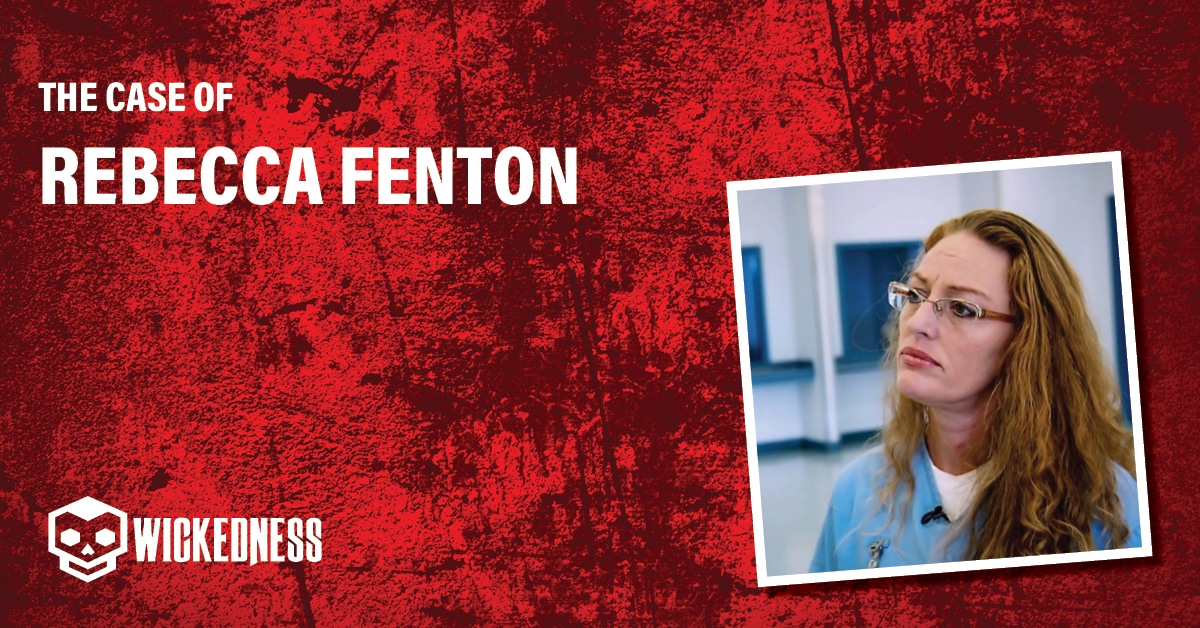 Victim Date of Birth
Info Box
Incident Location
Clearwater, Florida
Date of Conviction
Info Box
Body Discovered Date
Info Box
Larry Fenton was found by his wife Rebecca Fenton, lying on the floor of their house in a pool of blood. If not Rebecca then who?
Larry Fenton
Larry Fenton grew up in the town of Woodbury, New Jersey. He worked as a successful architect before switching careers and becoming a pharmaceutical rep. He made a decent amount of money in the process.
Larry meets Rebecca Thudin at a gym, and they hit it off instantly. They approached the same piece of equipment simultaneously and began talking. Just three months into their relationship Larry proposed to Rebecca, who was in her late 30s, and Larry, in his 50s at the time. The couple married and lived in Clearwater, Florida.
Rebecca Thudin
Rebecca Fenton (Rebecca Thudin) was born in 1967 to a young mother, Karen. Her mother was already an alcoholic. Karen was also using drugs. Eventually, at the age of 2, child protective services noticed something wasn't right, and Rebecca was placed in foster care. Her mother's rights were terminated. Rebecca was eventually adopted. When Rebecca was 30, her birth mother, Karen, found her and called her up. Karen thought Rebecca might be interested in knowing some family medical history. For example, her birth father was diagnosed with bipolar disorder. Rebecca decided to meet Karen, and they got along well and built a relationship. She told her family she was an interior designer and that her job enabled her to travel a lot. But this was just a cover-up. Rebecca was actually an escort. That's why she had so much money, traveled, and seemed to have a glamorous life.
By the time she met Larry, she was no longer working in this field. When Rebecca met Larry, she worked as a nurse's aide, but she had spent several years traveling before that.
Due to Larry's significant income, they were able to buy a nice house, and Rebecca didn't have to work anymore. Larry often spoiled her with nice things. He brought her things she never even thought to ask for. She focused on fitness and being a housewife.
The Crime Description
On February 3rd, 2008, Rebecca Fenton headed out to her home gym in the detached garage. It was SuperBowl Sunday, so the pair had planned to order pizza and watch the game. When she headed out to the garage at around 2 or 3 in the afternoon, Larry watched Tiger Woods and said he would have a nap before the game. Rebecca's workouts were often long, so she was out in the garage for around 2 hours when she heard what she described as someone dropping something off the roof and landing with a thud on the ground. She did have her workout music on pretty loud, so she wasn't entirely sure what she had heard. Rebecca said she stayed out a little longer before heading inside at around 4.30 pm. When Rebecca walked inside the house she found Larry lying on the floor in a pool of blood. The home also looked like it had been ransacked. At first, Rebbecca assumed he had fallen down the stairs and immediately tried to find a pulse but couldn't find a pulse. She ran outside, calling 911. She was crying on the call, saying she didn't know what happened, but she cant find a pulse. The first responders arrived quickly, but it was already too late. Larry was dead. Larry had been shot five times at close range in the back, the arm, and the neck. Due to the shots being in the back and the proximity of his body from the front door, it is believed that Larry was trying to flee when he was gunned down. Due to the mess in the home, this looked like a home robbery gone wrong. However, very little was taken, and the ransacking was in multiple rooms on both house floors. This made police suspicious that it was staged. Larry's jeep was found a block from home containing all the stolen items.
Investigation Details
The only witnesses were two neighbors who heard what they thought were gunshots coming from Larry and Rebecca Fenton's house. One of the neighbors was outside smoking. He said he didn't see anything, no one fleeing the scene. He said the jeep wasn't even there at the time of the shooting. The jeep being gone before the shooting told police that the theft was staged and that this was, in fact, a targeted murder.
During an interview, Rebecca Fenton mentioned that she had touched Larry three times, yet she didn't get any blood on her shoes, hands, or anywhere. However, there was blood everywhere.
Police became suspicious of Rebecca Fenton and searched her car. When searching her car, police found a plastic bag under the passenger seat with a 38-caliber revolver inside. The gun belonged to Larry and had five spent casings inside. The exact number of bullets that were shot inside the house. It was determined that the gun was the murder weapon. There was no forensic evidence found on the gun. Other items like Larry's car keys, his jewelry, and the keys to the gun case were also found inside the plastic bag. Police tested Rebecca for gunshot residue. However, this test came back negative. You can wash the gun residue off your hands, so police believe she might have taken a shower or wearing gloves. They did not have enough evidence to arrest her. But they still expected Rebecca.
When Rebecca was shown the items found in her car, she acted genuinely shocked. There were no cracks in her story. She appeared sincerely confused about how all those things got in her vehicle. Rebecca took and passed three polygraphs.
Investigators found a financial motive for Rebecca. She was to inherit a 1 million dollar life insurance policy in addition to what she would inherit from bank accounts, investments, and the house. However, they later discovered that the couple had a prenup, so she had more to gain financially if she stayed married to Larry.
The case remained unsolved until it was picked up again in 2013 by a cold case unit. Then, finally, an ex-boyfriend of Rebecca came forward with some information. He told police that Rebecca had held a knife to his throat during an argument and threatened to kill him like she killed Larry.
There were questions about his credibility, but other witnesses corroborated his statements. R
Verdict
In November 2015, a jury found Rebecca Thudin guilty of first-degree murder, and a judge sentenced her to life in prison without the possibility of parole. Rebecca was incarcerated at Florida Women's Reception Center in Ocala, Florida. To this day, she repeatedly denies murdering her husband in cold blood and fights for release.
Frequently asked questions
How did Larry Fenton die?
Larry was shot in his back, arm, and neck.
Where is Rebecca Thudin now?
In November 2015, a jury found Rebecca Thudin guilty of first-degree murder. The judge sentenced her to life in prison without the possibility of parole. Rebecca was incarcerated at Florida Women's Reception Center in Ocala, Florida.