The case of
Phoebe Handsjuk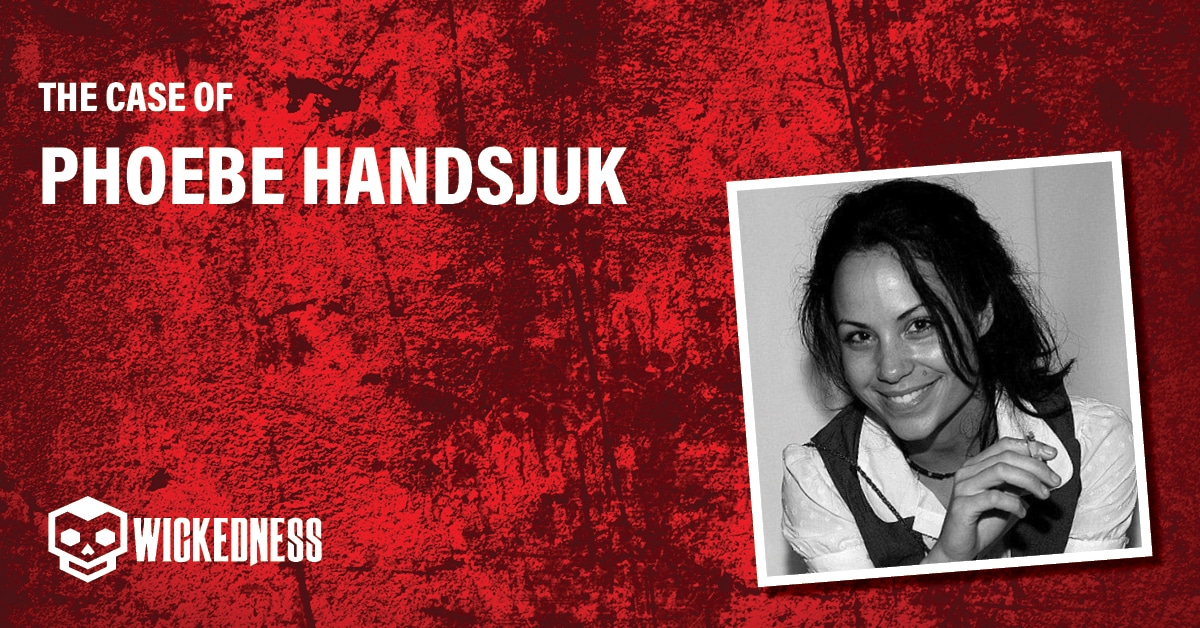 Victim Date of Birth
Info Box
Incident Location
Balancea building on St. Kilda Road in Melbourne
Date of Conviction
Info Box
Body Discovered Date
Info Box
Phoebe Handsjuk
Phoebe Handsjuk was born on May 9, 1986, in Melbourne, Australia.  She was an older sister to two brothers, Tom and Nikolai. Her father Len was a psychiatrist, and they all together formed a happy family in the Richmond suburbs. She's described by her own parents as a wild child with a lot of imagination. She started experimenting with drugs and alcohol when she was very young, going to clubs with her friends all the time.
When Phoebe Handsjuk was a teenager, she was diagnosed with depression and began taking antidepressants. She failed to follow the psychiatrist's advice, though, and was on and off her medication all the time. She was really close to her maternal grandmother Janet, they were good confidants.
Phoebe Handsjuk was very artistic, creative, strong-willed, and had a playful sense of humor. Her parents divorced when she was in her teens. Phoebe had a thing for older men. When she was just sixteen, he dated a 30-year-old teacher. He even moved in with her and her parents at some point. No, We don't know how that was possible either. You would believe it is illegal!
In 2009, when she was 23, Phoebe Handsjuk was working as a receptionist at a celebrity hair salon called Linley Godfrey hair salon in South Yarra. There she met 39-year-old Antony Hampel.  A handsome events promoter, his father was Supreme Court Judge George Hampel, and his stepmother was County Court Judge Felicity Hampel. They started dating, and just after three months, in October 2009, they moved in together to Antony's Balancea Apartment on St. Kilda Road in Melbourne. Love and Luxury, what could go wrong?
After 14 months of a relationship, the couple started having some problems and broke up a couple of times. Phoebe Handsjuk felt like she didn't have a voice. She told her psychiatrist Joanna Young that Anthony wanted her to fit in his world and end of the story. He didn't want her even to add any decor of her own to the apartment. He wanted the space to look like nobody lived there, or so were his commands to the housekeeping lady. The apartment needed to look pristine! Phoebe didn't feel appreciated and often felt like Anthony wanted to make her feel stupid.
In late November 2010, Phoebe Handsjuk and Antony had dinner with a friend couple. Phoebe had promised she wouldn't drink more than two glasses, but this didn't happen, and she started, in Anthony's eyes, oversharing with her friend. Anthony was furious to the point he shut Phoebe down and embarrassed her in front of their friends. They had a screaming argument in the parking garage of the building, and she left. Phoebe then called her friend Brendan and asked him to meet up. He could tell Phoebe had been drinking a bit, but she wasn't drunk at all. They only had one drink together, and during that time, Anthony called her 27 times.
Phoebe ended up throwing her phone across the street. It cracked, but she picked it up. Brendan went home, and Phoebe stayed out. She visited her mother and woke up her stepfather at 3:30 am to talk. Before 4:00am she called her therapist who was very distressed with her drinking situation and her relationship. Right after, Phoebe texted her grandmother Janet telling her "it's all good. I'm good" Phoebe then left her mother's place and went out again.
Early Wednesday morning, at home finally, Phoebe Handsjuk created a chat group and sends the following message: "Hi, family. I'm in bed about to sleep, and when I wake, I will transform into the most incredible human being you've ever seen NOT. I will go to the hospital. It's safer there, and I hear tonight's special is tomato soup. Delicious, nutritious. I love you all very much, but not enough to send you an individual text. Sorry about that. Life is but a dream. XO"
Phoebe Handsjuk's Body Found
On December 2, 2010, Thursday morning, Antony went to work, and Phoebe stayed home. At 11:44 am, Phoebe Handsjuk is captured on CCTV leaving the apartment with her dog for a fire drill. Something or someone had set off the alarms in the building, and everybody had to evacuate. At 6:05, the fire alarm is set off again, which was very weird. That never happened.
Around 7:00 pm, the building manager asked the concierge to go check on the garbage machine because it was about to finish working. When the concierge gets to the rubbish room and tries to open the door, it wouldn't open. After pushing really hard, she could open the door, and all she could see was blood. She steps out of the room to rub her eyes, thinking maybe she was hallucinating or something. She goes back in again, and she realizes a woman is lying on her back in a pool of blood. She loses her mind. She called the manager, and they both called 911.
Shortly after 6:00 pm, Anthony arrived at the apartment. Once in, he noticed Phoebe wasn't there. He saw Phoebe's keys, phone, and purse on the kitchen counter. He then found two wine glasses on the kitchen bench, a broken glass, some blood near Phoebe's computer, and some pictures and notes in the bedroom. For some reason, this wouldn't seem strange for him. Nothing to make him worry.
At 6:51 pm, Phoebe Handsjuk's father called her to tell her he was running late for dinner. It was his birthday and they had made reservations to celebrate together that night. He got no answer, but a couple of minutes later, Anthony called him and told him she wasn't there. He didn't know where she was. So he canceled on Phoebe's dad and ordered takeout from the very same place he was supposed to go with Phoebe. He ordered food for one.
When the delivery guy makes it to Antony's with his food at 8:00 pm, he mentions that everything was crazy in his building, and that police were there because they found a girl deceased. Antony then wondered if that had anything to do with Phoebe. Yes, it was her. Phoebe Handsjuk was dead.
The Crime Description
Police's theory about what happened to Phoebe Handsjuk is that she had somehow ended up on the 12th-floor garbage chute. She either put herself in willingly or somehow fell twelve stories and landed on the first ground garbage compactor. And finally was ¨compacted¨ by a blade that almost completely amputated her foot. A circular blood trace in the room suggested she had been crawling around the room before she died of severe blood loss.
Investigation Details
For some reason, the Melbourne police investigation was very slow or almost inexistent. Phoebe Handsjuk's time of death wasn't even established. Nobody checked if Phoebe was already dead when they found her in the first place. Probably because of the amount of blood around her, but still nobody checked. Police detective's immediate assumption for the case was Phoebe had committed suicide.
The autopsy showed phoebe Handsjuk had 0.16 alcohol in her system, and she had also taken one or two Stilnox -similar to Ambien- pills. As soon as this information reached police hands, they ruled Phoebe Handsjuk's death was a suicide or an accidental death.
Trash Chute Leaves More Questions Than Answers
Now the trash chute It's very similar to a library drop-off. Not just when it comes to the shape but also the size. It's stainless steel, and the measurement are 14 inches by 8 inches. Yes, very tiny. It is a meter from the ground. Phoebe Handsjuk was petite, and it wasn't a question if she fell through the chute or not; that was definite; the question was: How did she get in? Did she do it by herself? When they checked for fingerprints on the chute outside, they found none! Not on the handles, not on the walls, not on the ceilings. Nothing.
So how did Phoebe make it inside the chute without touching anything? Or did someone put her there and clean after? Police didn't even try to replicate the situation to see if somebody could accomplish that type of suicide as smoothly as it seemed it had worked for Phoebe. No. It was Phoebe's uncle who went to the trash company and asked them to build him a replica of the chute -which they happily made and were wondering why the police didn't ask them for the same thing as part of their investigation- He then calls one of Phoebe's friends that had a similar body complexion and the same height as Phoebe.
She put herself up there, yes, but she couldn't have done it without asking Phoebe's uncle for help. It was too damn difficult! And as she was climbing, she touched the wall, leaving fingerprints all over. The fact that police found no fingerprints and were so ok with it…
Phoebe Handsjuk had bruises on her shoulder as if she was trying to brace herself to go down the chute. But to go down it her arms had to have been above her head because her shoulders would have been too wide to go through. So again, did someone push her and make her go through it somehow? She just had a lot of other bruises that didn't match the fall.
Phoebe Handsjuk's jeans had been pulled down to her thighs. There is no way she could have achieved such a difficult task that on its own seemed pretty impossible. And to do all that with her pants down? It doesn't make any sense.
About other important items for investigation, Melbourne police officers asked about the CCTV of the building only three months later after it had already been taped over! They waited the same amount of time to look into Phoebe's computer and when they did her entire email had been wiped clean. Her phone was wiped clean too. In the apartment, they found two glasses of wine that suggested Phoebe had somebody drinking with her. Said glasses were never dusted for fingerprints. How is all this not suspicious?
Phoebe Handsjuk's family filed an appeal, and they were granted another investigation a few years later. It was a long and hard process, but they got to the same conclusion.
Three years after Phoebe Handsjuk died, when they were conducting the second investigation, they looked into the pants the 24-year-old woman was wearing the day she died. They found a paper with a phone number but when they called it was already out of service. It had been three years, after all.
Antony Hampel was never listed as a suspect. The case was closed, and he continued with his life. In June 2018, Anthony's girlfriend at the time, Baillee Schneider, was found dead. She was a model. She was found in her family home with a gold cord around her neck. The investigators quickly ruled it as a suicide. Her parents refused to believe Baillee had killed herself.
Not only because there was no previous behaviour that suggested suicide but there was no obvious place even to hang a rope in their kitchen. How did she hang herself in the kitchen if they found her leaning against some cabinets? When Anthony was interviewed about Bailee, he gave the same answers as he did when he was asked about Phoebe; he just said Baillee was a very troubled girl and even when he tried to help her. She was in bad shape. The objections were heard and Bailee's parents had the case reopened, but still, nobody knows what happened.
Frequently Asked Questions
What is Ambien?
Ambien is a sedative, also called a hypnotic. It affects chemicals in the brain that may be unbalanced in people with sleep problems. Ambien is used to treat insomnia. However, it also has several known side effects, including decreased awareness, hallucinations, changes in behavior, memory problems, sleepwalking, sleeps eating (and cooking), and even sleep driving.