The case of
Patricia Marie Viola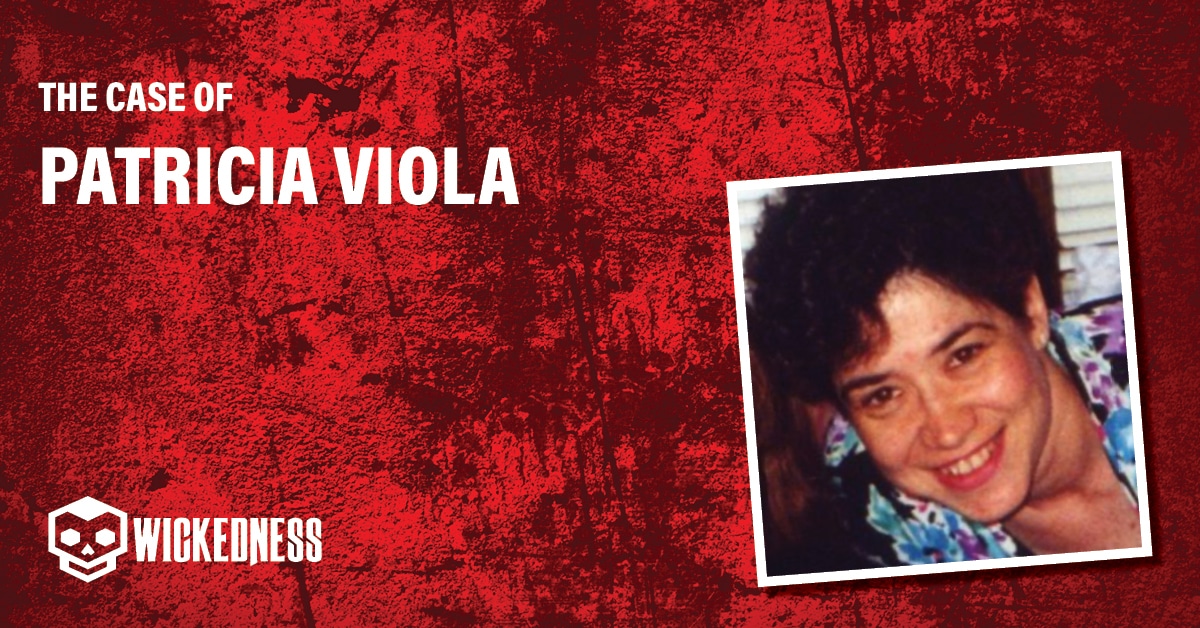 Victim
Patricia Marie Viola
Victim Date of Birth
Info Box
Incident Location
Bogota, New Jersey, USA
Date of Conviction
Info Box
Body Discovered Date
Info Box
Patricia Viola
Patricia Marie Marri Viola was born on August 18, 1958 to Lucille and John Marri. She was married to James Viola since 1986, they had a daughter named Christine and a son named Michael together. The Viola family lived on Chestnut Avenue in Bogota, New Jersey. Patricia suffered from epilepsy since she was 12.
At the time of the events, Patricia was a stay-home mom but also a volunteer at E. Roy Bixby School library.
Patricia Viola's Disappearance
On February 13, 2001, the day started being just another normal one for the Viola family. Patricia's husband, James, left to work, the kids went to school and 42-year-old Patricia Viola, was going to go to the E. Roy Bixby library to do some volunteering work. The library was just a couple of blocks away from home. She left home at 8:30am and by 11:30am she made it back home. Around 12:30pm, Patricia picked up a phone message her mother left her.
Around 4:30pm, when James returned home with gifts for his wife, Valentine's Day was next day so he wanted to surprise Patricia, he actually left work earlier that day just to have time to get those presents. Once he was inside the house, he expected to see Patricia as everyday that time of day. But she wasn't there. The first thing he noticed is that the house alarm was beeping, signal that it had been activated. James then rushes to the keypad and enters the code. Another kind of weird thing he saw in the moment was there back door key on the table. That particular set of keys was always in the back area, closer to the door it opened. He then, out of curiosity goes to check if he can find Patricia's everyday coat and purse. He found her purse, phone, ID and most important of all, her epilepsy medication. This made him very nervous because Patricia had been having pretty bad seizures lately and not taking her medication could be terrible for her. James started feeling uneasy.
Hours go by without any news from Patricia, James calls family and friends to ask them if she had called them or visited that afternoon but nobody knew anything. At 11:58pm, James calls the police and reports his wife missing. Police men were sent immediately to the Viola residence and they file an official report. When people is over 18, police usually waits at least 24 hours before filing a missing person report but since Patricia was in danger without her medications, the Bogota police filed the report that same night.
The Crime Description
What happened to Patricia Viola is still unknown.
Suspect or Convicted Killer Details
There are no suspects related to Patricia Viola's case.
Investigation Details
Police started by checking the house alarm system and confirmed that Viola had left the house at 8:30am, time in which the alarm had been set. They later found the message Patricia's mother had left on the answering machine. In the message, Patricia's mom was letting her know that her security company had called her to ask if everything was ok with her and her husband that morning because the alarm had been activated. Apparently the security company had tried to call James and Patricia first but weren't able to reach them. That motning, the security company sent a police officer to the house to check if everything was ok but with nothing that indicated a crime like an open door or a broken window, police just left.
Bogota police interviewed Patricia's mom and she told them Pat had actually called her back that day after the message. She told her that everything was fine. Patricia sounded completely normal. Another thing they were able to confirm is that the alarm was reset again at 1:11pm. Which indicated that Patricia left the house again at that time.
After asking around to everybody in the area, stopping buses, taxis, etc. Police decided to use tracking dogs thinking that if Patricia had gone somewhere walking the dogs would be able to smell her scent and find her but nothing came out of it. They had no other choice but to take the investigation in a different direction, to a possible suspect.
Police started by questioning James Viola for several hours. They wanted to know every single detail from that day including why he had left work earlier than usual. They also asked him about his marriage and if they had any issues going on. But after many more questions and a polygraph test, investigators were certain he didn't have anything to do with Patricia's disappearance.
From the interview with James, police learned that at the time of the events Patricia was going through a lot of stress. James' sister Donna had been staying with them since December 2000 after a nasty break-up with her husband. The stay was supposed to be for a couple of weeks but it continued until February 2001. This frustrated Pat because Donna would never follow her house rules.
Jame's mom was also sick and since James was the one working every day, Patty was the one who had to take care of her.
Patricia's other frustration was because her more frequent seizures had led to her having her driver's license suspended. Leaving her without the chance of driving a car until new notice.
One day before Patricia went missing; she and her husband attended a party at Patricia's best friend Anette. When Pat was there she asked Anette to talk privately. When they were alone, Pat started crying and telling her that something was very very wrong. Pat said it was too complicated to talk about it. Crying Pat asked Anette to take care of her kids no matter what. This is when she started crying too and they promised they were going to talk later. The weird thing for Anette was that next morning, on February 13, same morning Pat went missing, when Anette called her and asked to meet and talk about what had happened the previous night, Patricia told her she didn't want to talk about it. She brushed it off.
A month after Patricia Viola went missing, police received a phonecall from a man that believed having seen her in an area of Pennsylvania. Since the marriage had a share there, they believed the tip and went looking for Pat but found nothing.
A year after the disappearance, they receive another phone call from a man assuring he had killed Patricia. But when looking closer into his lead, they realized he was just trying to get revenge on his ex. Here is when the case goes cold.
Unknown Remains Are Found in A Different Estate
On July 27, 2002, skeletal remains of a left foot were discovered by a beachgoer on Rockaway Beach off 123rd Street, Queens. The beach was located about 33 miles from Viola's home. It was found alongside the partial remains, a shoe and sock that had washed up on the beach.
DNA samples were taken and the remains were taken in 2005. In 2009, New York sent the DNA sample to the CODIS (Combined DNA Index System) lab in in West Texas.
On September 12, 2012, the remains were positively identified as belonging to Patricia Viola by the New York City Medical Examiner's Office. The cause of death is still unknown.
On February 25, 2013, Patricia Viola was buried in Hackensack Cemetery, New Jersey.
Patricia Viola's case remains open up to this date and it is taken as an homicide investigation. There is a 10000 dollar reward for anyone who comes forward with valuable information about her death.
Frequently Asked Questions
What is the ¨Patricia Viola Law¨?
It's a law established in the estate of New Jersey that bars police from refusing to accept missing person reports and requires them to notify a missing person's family of support services. If the person remains missing after 30 days, the law requires police to attempt to gather DNA samples and insert them into the National databases. The law went into effect in 2008.
What is the ¨gem dealer theory¨ in Patricia's case? 
This theory was talked about by investigators but eventually disregarded. The theory is that Patricia was killed by the people who were responsible for murdering Patricia's neighbor–a gem dealer–and several other people in 1997 as they confused her for a witness. The house where the murders took place is near her house on the same street, and the trial was going on during the time of her disappearance. The suspects for the 1997 murders may have killed her or people associated with them may have killed her.