The case of
Paige Meredith Birgfeld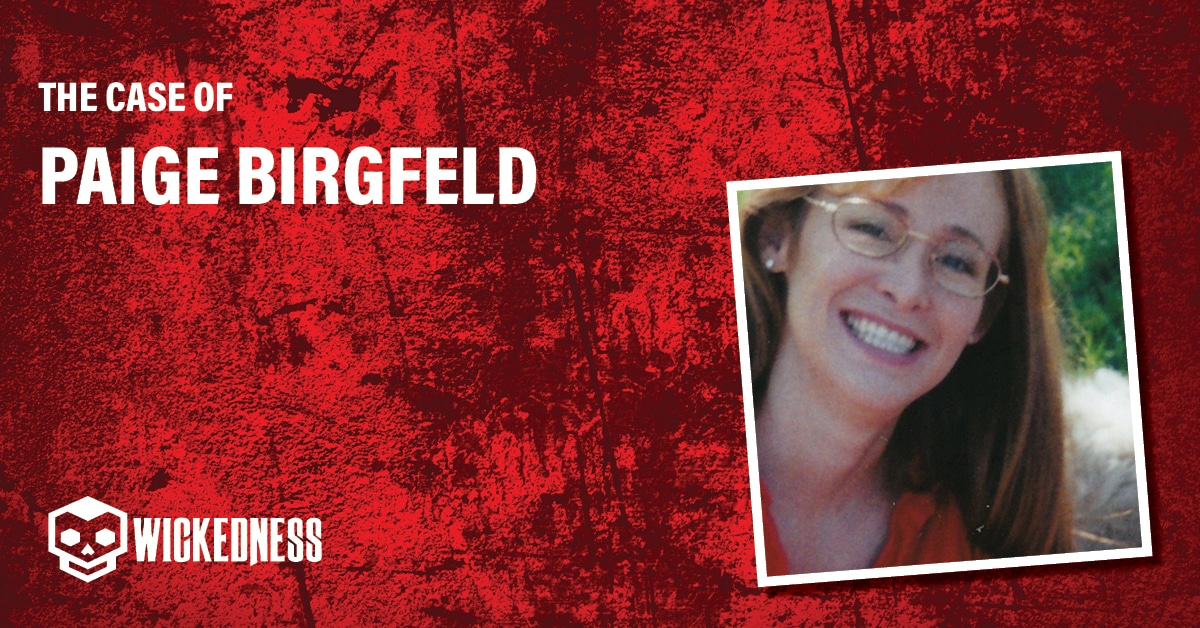 Victim
Paige Meredith Birgfeld
Victim Date of Birth
Info Box
Incident Location
Grand Junction, Mesa County, Colorado
Date of Conviction
Info Box
Body Discovered Date
Info Box
Paige Birgfeld
Paige Meredith Birgfeld was born on April 27, 1973, in Atlanta, Georgia.  Her parents were Suzanne and Frank Birgfeld. Paige was described as an excellent and loving mother of three. Paige Birgfeld had been married twice- The first time she married her high school sweetheart, Ron Beigler who she divorced in 1997 because he didn't want to have kids; and the second she married Rob Dixon, a very wealthy man. The couple had three kids Taft Dixon, Jess Dixon and Trigger Dixon. Together the family had a beautiful life, they were living in a big house, the kids were going to private schools, they just had everything they needed. It was the picture perfect life. This would change eventually when Rob Dixon's business decisions took the family to financial struggle and money went from being a lot to not being enough. Paige had to start working again. She opened a dance school called Baby Slings and also became a start seller for a high-end kitchen supplies company called The Pampered Chef. Paige was beautiful, smart and successful. She was doing just fine supporting her family's expensive life.
Rob Dixon's frustrations started to make him a violent person, once even threatening Paige with killing their own kids. This story had to come to an end; so on 2006, Paige filed for divorce. Rob left to live in Philadelphia and Paige remained at her house in Grand Junction, Colorado. She and her three children were finally at peace. The only problem seemed to be that now Paige was stuck with all the family bills plus a 6000 dollars mortgage. She didn't want to move out of the big house they were living in; her kids were already settled there. Housing, schooling, food, bills, it was a lot for a single mother but somehow Paige seemed to be ready to handle everything.
Paige Birgfeld's double life
Around June 2007, Paige Birgfeld started seeing her ex-husband Ron Beigler again; they had a date on Thursday, June 28, at a rest stop in Eagle, a halfway point between their two homes. Paige Birgfeld and Ron had a picnic until around 7:00pm. They had a wonderful time. At about 9.00pm Paige called Ron to tell him she was almost home, she just needed to meet with a client first and she'd call him when being home. But Paige didn't call Ron again that night. He tried to call her next day and two days after to her cell phone but it would go straight to voicemail. On Saturday, June 30, Ron called Paige's home number and the nanny picked up. She said Paige hadn't returned home on Thursday night. There is even a voicemail recording from an upset Jess Dixon, calling her mother and telling her how dissapointed she was because Paige promised she was going to be back home before 9 but she wasn't there yet. Everybody who knew Paige, mostly her father Frank Beigler, knew Paige wouldn't just leave her kids alone like that. Paige adored her kids and was a devoted mother. They called the police; she was now a missing person.
Colorado police were very interested in Ron, since he was the last person to see Paige the night of the 28th. They interviewed him about their date and Ron told them the whole story with details. When police searched Paige's phone records and found it was true she called him on her way home, they left Ron aside. Grand Junction police was also interested in questioning Paige's second ex-husband Rob Dixon, since he had a history of violence. But Rob had an alibi and witnesses that confirmed he was in Philadelphia the day Paige Birgfeld disappeared. Police were left with nothing.
A few days after the search for Paige Birgfeld began; police received a phone call reporting a car on fire. It was Paige's car and it was found about two miles from her house. It looked like somebody had started a fire inside. The car's driver seat was pushed back, which meant that somebody bigger than Paige had driven it. Inside the car they found a day planner with several pages ripped out, some business cards and picnic stuff. Apparently whoever started the fire in Paige's car did it to hide their trace and they were successful at it, police found nothing that could incriminate anyone. They only had a tracking dog following Paige's scent to a business that was pretty much across where the car was found but police didn't make any sense of it.
They were only lucky when looking into Paige's personal computer. Everybody was surprised with what was found… Paige had a secret life. Yes, she was a loving responsible mother of three and she was also working as an escort. In her Escort service webpage called Models.Inc, Paige worked under the name Carrie and she offered to meet her clients anywhere and anytime, her availability was 24/7. Paige Birgfeld was charging 2000 dollars for an hour of services to unknown men and she seemed to be very good at it, she had a lot of clients. This would be very valuable information for the police, now they had more possible suspects to question.
Making sense of Paige's cell phone records, Investigators learned about a man who called Paige several times during that past weeks and the day she disappeared. This man's name was Lester Ralph Jones. He was taken in for questioning about his whereabouts on the night of June 28 and he explained he had just stayed home that night. Lester had no witnesses though since his wife was out of town that weekend. When looking a bit into Lester's steps the day of Paige's disappearance, police found footage of him buying a disposable phone at Walmart. This is the same phone Lester used to call Paige several times on Thursday June 28. Another thing that made sense in that moment was the tracking dog following Paige's scent to a nearby business: Lester worked there! This was very suspicious indeed. But after interrogating Jones for many hours, He just repeated that he didn't see or hurt Paige in any way. There's no crime without a body, so police just had to let him walk without any charges.
Grand Junction police had no new evidence. The case of missing Paige was going colder and colder every day. It would take five years for Paige's body to be found. The remains were discovered by a hiker on March, 2012 about 30 miles from Grand Junction, in Delta County, Colorado. Dental records matched Paige Birgfeld's.
The Crime Description
Paige's cause of death couldn't be determined by the investigators. Her remains only showed she had a fractured cheekbone and there was duct tape around what used to be her face. For what they could examine, it seemed like Paige had been tight up and beaten to death. They arrested Lester Jones under the charges of kidnapping and first-degree murder of a 34 year old mother, Paige Birgfeld.
Lester Jones
Lester Jones was 56 years old at the time of Paige's disappearance and he had a history of violence.  He had a criminal record being charged with assault two times for beating his ex-wife and he had served three years of jail time. Lester met Paige through her Escort business.
Investigation Details
The only evidence police had from Lester Jones was circumstantial. They knew he was one of the last people who contacted Paige on June 28, 2007. They also had the video of him buying the disposable phone at Walmart. This phone had been used to call Paige 5 times and nobody else but Paige. Another thing that was significant was the fact that back in 2007, when tracking dogs were used to smell Paige's car, said dogs led to a business close to where the car was located. Lester Jones worked in that place. Paige's car was found on July 1 at 10:00pm just down the road from Lester Jones' home. His wife told the police that on July 1, around 9:00pm, Lester had told her he was going out because he had to work. It would be about an hour later that police found Paige's car on fire.
When searching Jones' deposit, police found women's underwear, sex workers phone numbers, male wigs and two scales from ¨The Pampered Chef¨ Company, same one Paige worked for.
Trial
Lester Jones was taken to trial on 2014, his defence attorney said it wasn't clear without a reasonable doubt that Lester had killed Paige, there was no direct evidence. The Jury declared a mistrial.
A second murder trial would take place in 2016.
Verdict
65 Year old Lester Ralph Jones was found guilty of First-degree murder, Second degree-murder and second-degree Kidnapping. He was sentenced to life in prison without parole.
Frequently asked questions
Why did Lester Jones kill Paige Birgfeld? 
Since Lester keeps denying he killed Paige, the reason for killing her is unknown.
What was Paige Birgfeld cause of death?
When Paige Birgfeld's remains were found they were only bones. So examiners could not find a cause of death. They could tell she had severe fractured cheek bones and duct tape over her jaw and head. Paige was probably beaten to death.