The case of
Mollie Judith Olgin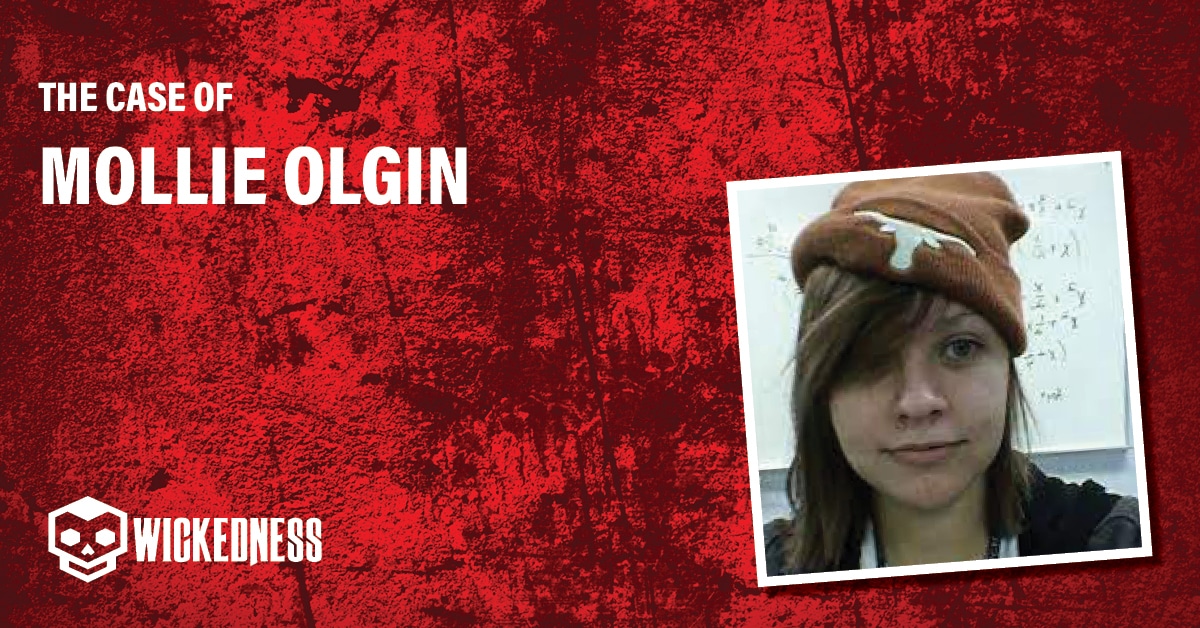 Victim
Mollie Judith Olgin
Victim Date of Birth
Info Box
Incident Location
Violet Andrews Park in Portland, Texas
Date of Conviction
Info Box
Body Discovered Date
Info Box
Mollie Olgin – Same-Sex Teen Couple Brutally Assaulted
Mollie Olgin just started college life and dreamed about becoming a psychologist one day. She was intelligent, funny, and kind. There was no reason why would anyone want to hurt her, and yet, she was brutally assaulted and murdered while taking a walk with her girlfriend, Mary Kristene Chapa.
Mollie Olgin – Lesbian Teen Shot In A Hate Crime?
Mollie Olgin was born on May 12, 1993 to parents Mario Olgin and Maryel Olgin. She had two sisters, Megan Olgin and Madison Olgin. Mollie was openly homosexual, and she had the support of her friends and family. She dated  Mary Kristene "Kris" Chapa, who was 18 at the time. The two dated for several months and enjoyed their young love. However, all of their hopes and dreams were shattered on the night of June 22, 2012.
Two Bodies Were Found
On the morning of June 23, 2012, birdwatchers at the Violet Andrews Park in Portland, Texas noticed two bodies lying in knee-high grass. The Portland Police Department officers arrived and saw that the bodies in question were 19-year-old Mollie Olgin and 18-year-old Mary Kristene Chapa. Both girls were sexually assaulted and shot in head, execution-style. Sadly, Mollie Olgin was already dead, and Mary Kristene Chapa was unconscious.
The Crime Description
On the evening of June 22, 2012, Mollie Olgin and Mary Kristene Chapa were on a date. They took a walk by a windy bluff in a quiet waterside park and stood there for a while. A man walked by them and returned only a few moments later, carrying a gun.
The man ordered them to walk down the bluff and blindfold themselves once they get down there. He proceeded to sexually assault them and then shot them execution-style.
The suspect or Convicted Killer Details
Little is known about David Malcolm Strickland, apart from that he was 27 years old at the time of the assaults and murder, and that he was married to Laura Strickland. He was arrested for this crime 2 years after it happened, along with his wife Laura, who was arrested for tampering with evidence.
Investigation Details
Kristene Chapa miraculously managed to recover from the attack. At first, she was paralyzed from the bullet wound, but slowly she managed to regain control over her body. She helped the police to make the sketch of the attacker and proved to be very helpful during the rest of the investigation. The case received massive media coverage and the public was outraged, suspecting the crime was fueled by homophobia since the two girls were a lesbian couple.
However, despite her help and nationwide outrage, it took the police two years to find out who did it. The father of Kristene Chapa received an anonymous letter accusing a man from Layton, Utah of the assault on two girls and murder of Mollie Olgin. The same man's home was burglarized before the letter was sent, and he had a strong alibi for the evening when the crime happened.
The person who burglarized his home was his former friend, David Strickland. Also, the man noticed that the photo of him that was included in the letter, was taken by Strickland's wife, Laura. Layton police already collected the evidence against Strickland while investigating the burglary. Among the evidence, they found two guns, ammunition, a suppressor, gloves, a backpack with condoms, flex handcuffs, bolt cutters, a knife, and other items.
The Layton police turned over these items to the investigators working on the Mollie Olgin case. Strickland's gun was matched to the bullet fragments found on the crime scene. A draft of the letter to the Shapa family was found on his computer, and this was a key piece of evidence that linked Strickland to the crime. By using GPS, the police officers discovered that David Strickland's cell phone was near the Chapa home when they received the letter. Also, D. Strickland inserted himself early during the original investigation, as he was seen at the crime scene only a few days after the murder, and he even talked to the investigators.
This was enough to finally arrest David and his wife. He was charged with capital murder, aggravated sexual assault, and aggravated assault, and his wife was charged with tampering with evidence. David Strickland wasn't charged with a hate crime, because the investigators couldn't find the evidence that he targeted Mollie and Kristene due to their sexual orientation.
Trial
Shortly before the trial, George Koumbis, the husband of one of the defense witnesses was murdered in the gun store he owned. Apparently, it was a robbery gone wrong. The witnesses confirmed that David Strickland was present at the crime scene while investigators were still collecting the evidence. He showed an unusual interest and asked creepy questions.
Verdict
On September 28, 2016, San Patricio County jury found David M. Strickland guilty of capital murder and aggravated sexual assault. Although it was expected that he will receive the death penalty, he was sentenced to life imprisonment.
New Evidence Resurfaced
In 2018, thanks to the new developments in forensics, a strand of pubic hair found on Mollie Olgin's body was used for DNA identification. However, it didn't match David Strickland, instead, it matched Dylan Spellman. He was the initial suspect in the original investigation, but couldn't be arrested due to lack of evidence. Also, a cigarette butt and energy drink can were also found at the crime scene, and they contained Spellman's DNA. He was staying that night at his father's friend's house, just down the street. Eyewitnesses confirmed that they saw Spellman at Violet Andrews Park before and after the crime.
Dylan Spellman was also charged with a robbery in Nevada. According to the case file, Dylan and his accomplices referred to each other by numbers. That was similar to how their attacker referred to Kristene and Mollie, "Girl One and Girl Two".
In February 2019, Cynthia Orr, Strickland's defense attorney appealed his sentence, arguing that another's man DNA was found on the victim's body, proving that her client was innocent. His defense lawyers argued that he was sentenced because of circumstantial evidence. They also claimed that the jury was misled about the bullet casings from Strickland's guns since they weren't tested properly and didn't actually prove that David shot at Mollie Olgin and Kristen Chapa.
However, the 13th Court of Appeals denied his appeal. Strickland remains in prison for the murder and sexual assault. Dylan Spellman was in prison because of the armed robbery but got released in 2015, and little is known about his current whereabouts.
Civil Suit Against Stricklands and Taft Pharmacy
In 2017, Kristene Mary Chapa filed a civil lawsuit against David Strickland, his father Larry Joe Strickland, and his company Taft Pharmacy. The lawsuit claimed that Larry Joe Strickland and his company facilitated and encouraged David's vile acts. Kristene was represented by Anthony Buzbee, of the Houston-based Buzbee Law Firm, and demanded $500 million as compensation for her injuries.
After a while, Kristene dropped charges against Larry Strickland and his company. The trial is set for August 2022, after being postponed on several occasions.
Frequently asked questions
What Happened To Mollie Olgin And Mary Chapa?
The women Mollie Olgin and Kristine Chapa had been sexually assaulted and shot in the head around midnight while they were on a date at Violet Andrews Park.
What Items Were Found In David Strickland's Car?
Layton Police investigating the burglary had discovered evidence in Strickland's car including two guns, ammunition, a suppressor, gloves, and a backpack containing condoms, flex handcuffs, bolt cutters, a knife, and other items.
What Did The DNA Evidence Show?
In 2018, advances in testing technology allowed for DNA identification of hair found on Mollie Olgin's body. The hair matched Dylan Spellman, the initial suspect in the case.
Where Is Kristene Mary Chapa Today?
After barely surviving the attack, Kristene Chapa had to learn again how to talk, walk, and use her hands. She suffered from brain injury and partial vision loss. Today, she struggles with PTSD and anxiety but continues to fight. She even enrolled in college classes and wrote a book about her experience.