The case of
William McGuire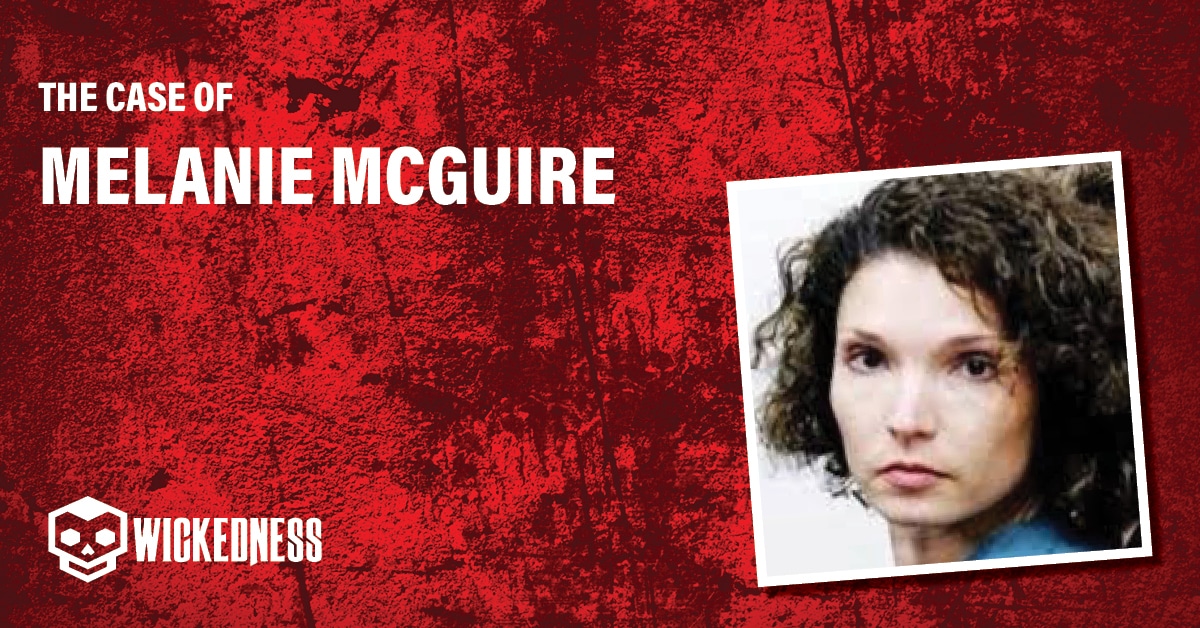 Victim Date of Birth
1964-09-21
Incident Location
New Jersey
Body Location
Chesapeake Bay, Maryland
Body Discovered Date
May 5, May 11 and May 16, 2004
Murderer
Melanie Lyn McGuire
Who is Melanie McGuire?
Melanie Lynn Slate was born on October 8, 1972. In Ridgewood, New Jersey, to Bob and Wendy Slate. Her childhood was rather rough, with her father leaving the family home in her infancy and moving all the way to California, only to die four years later of liver cancer.
Her mother ended up moving to her parent's home.  She later started having an affair with her boss Michael who was married. A year into the affair, he started bringing his son Michael Jr. with him. Michael tried to make the kid's play days an excuse to see Linda; the kids would spend hours alone while their parents did ¨their thing¨.
In 1978, at the age of 6, Melanie McGuire, her mother and her grandparents moved into a very nice apartment complex in. Although she was in a public school she has been described as a model student who had to do minimum work to get high grades. She had a photographic memory and a natural academic ability.
Linda and Michael's affair progressed and he ended up splitting from his wife. He got custody of Michael Jr. and the two of them moved in with Linda and Melanie. Michael would eventually describe Melanie as a mama's girl due to her problems facing his strict rules. He found himself having problems with her just because he wanted to  ¨win¨ the arguments. Melanie would always find a way to manipulate the situations though. If Michael said ¨no¨ to anything Melanie asked him, she get her mother Linda to say ¨Yes¨. So Michael would find himself in the awkward situation of maybe having an argument with Linda herself if he didn't let Melanie McGuire¨win¨.
In 1982, when Melanie McGuire was 10, her mother became pregnant of Michael's baby to a son named Christopher. The family used to have great weekends together in Atlantic city; Michael had a manager role in a big company, so it wasn't a problem for him to take the family there. He was such an experience gambler; him and Linda would spend hours and hours in the casino while Melanie and Michel Jr. were alone trying to distract each other with pull time, movies, etc. Michael's gambling habit wasn't negative for the family though, he wasn't losing family money, he was actually getting them luxury hotel invites, limousines and other really nice treats.
Melanie McGuire started growing up and becoming a woman. She was beautiful and self-confident. It didn't matter where she went, she was always turning heads. When she was 18 years old, she went to Aruba on a trip and lost her virginity to a 19 year old boy.
She started to gamble in Atlantic City also and frequent bars. When she was in high school she was known to have many boyfriends.  She was getting a lot of gifts, dinners and sex of course. She once told Michael Jr. that she was dating not one but two of her teachers that were married.
On top of achieving school goals in high school, Melanie McGuire had a part time job as a cashier. She was a busy girl. But her ability to do great academically and at work wasn't the same with people. She really struggled to get along with other girls. Maybe because she loved to gossip and talk bad behind people's backs, whether she liked them or not. At the end of her high school career, Melanie achieved a lot. National honor society, Treasurer at Spanish club, theater experience, School Chorus member and graduated in the top five percent of her class.
After graduating high school, Melanie McGuire enrolled at Rutgers University. She continued being an overachiever and always getting first places in her classes, she also continued having a lot of boyfriends. Always getting what she wanted. Michael Jr. thought Melanie was too selfish, manipulative and quick to anger  to ever truly be in love. In the spring of 1994, at the age of just 24, she graduated from university and got her bachelor's degree in Statictics and Psychology. She decided she wanted to be a nurse though. So that would be her next line of study.
In the summer of 1994, she met William McGuire while eating lobster in a popular sea food chain restaurant. At that moment she had been dating somebody else for about a year but within days of meeting William, she left her boyfriend. She wanted William.
William "Bill" McGuire
William was born on September 21, 1964. He was the youngest of three to Bill and Wiyh McGuire. His father worked for the New York Times and his mother stayed at home to look after the home and the children. They were a blue collar family living in the Bronx. Similar to Melanie's upbringing, William's parents divorced when he was just four years old in 1968. His middle sister would accuse his father Bill of molesting her.
Over the curse of the next few years, his mother would re-marry and divorce again but never really settling down. William went to a strict catholic school in Sparta, New Jersey. A school that made sure god's mandates was incorporated into each subject. They wanted to build the student's desire to live by the faith.
Different from Melanie McGuire, William really struggled with school academic challenges but he always had friends. He had natural born leadership. At the age of 15, he ran away from home to his older sister's Cindy house and she became a mother figure. Life was looking more stable for him but sadly wouldn't last long.
Just after William's 16's birthday. He took his newly purchased vehicle and crashed it. His sister kicked him up after a huge fight. He then went to live with his other sister Nancy but she couldn't take him so he went to live with one of his best friend's family. William graduated in June 16, 1982 and unlike Melanie had no honorable mentions in the year book.
In December, 1982, William joined the US Navy, He was enlisted for four years and he loved his life as a sailor, he eventually became a data assistant technician and soon was promoted to a supervisor. One of William's friends got married and told him how much more money the Naval Marriage benefits were giving him. He was making double the money. William decided then to secretly marry Marcy Potsky in October 1986. They got the benefits but soon started having problems since William didn't love his wife.
In 1990 William left the navy and enrolled in Rockers University to study pharmacy. In 1992, Williams left Marcy and moved into a town home with two roommates. He studied hard and started working nights at restaurants. In 1994, he met Melanie McGuire. They shared a sarcastic sense of humor and a lust for life; they were perfect for each other.
The Perfect Couple
Melanie Joined the E. Gregory Nursing school and William changed his career path from pharmacy to getting a bachelor's in management at the New Jersey Institute of Technology. They made a promise that once the two of them graduated; they would get married.
In 1997, William proposed to Melanie and she said yes. She then got off her birth control pills and started taking fertility drugs. The wedding date was set for June 1999 and near February Melanie got pregnant. She had a miscarriage and Williams expressed his disinterest in having any children but Mel thought different. She wanted a kid so she started taking the fertility drugs again, she got the pills from the fertility clinic she was working at. Melanie was pregnant again by April.
In June 1999, the couple filed from bankruptcy and not because they were actually broke but instead they had found out about a loophole in the US Bankruptcy laws. It was all strategic. On June 6, they got married. People who attended the event said how emotionless Melanie looked that day.
At some point, during her second pregnancy, Melanie McGuire started having an affair with Brad Miller, her boss in the fertility clinic she was working at. She was 38 weeks pregnant and about to have her maternity leave. It all started with oral sex in his office and would just escalate after she got back to work.
In 2004, Melanie and William both had stable jobs and were making good money. They were now looking to expand and buy a house. They ended up choosing a beautiful 500,000 dollar house in a quite community. Melanie was excited by the idea of having a new home but not so much about having to share it with her husband! Probably because of the affair she'd been having since 2002 with Dr. Brad Miller. He was married too. Melanie McGuire wanted to leave William but she didn't want to go through the hustle of a divorce.
Gruesome Murder
In the weeks before the horrible events that would end with William McGuire's life, Melanie started asking coworkers and friends how much it would cost her to divorce her husband. From between April 11 to April 26 of 2004, she conducted internet searched for things such as undetectable poisons, estate gun laws, instant poison, gun laws in Pennsylvania, toxic insulin levels, how to commit suicide, fatal insulin doses, pesticide as poison, insulin as poison, morphine poisoning, sedatives, tranquilizers.
On April 26, Melanie bought a hand gun and ammunition made for target shooting. That day she also called Brad Miller 18 times, the time spent was over 100 minutes. That same night she searched for sedative Chloral hydrate effect. When Chloral hydrate is mixed with alcohol it can cause major drowsiness. In fact, it was used in the past as a drug.
On Wednesday April 28, 2004, at 2:00pm William and Melanie McGuire finally signed the papers for their new home. After everything was done, around 5:50pm, William called his friends to let them know how happy he was about the purchase. Melanie called Brad Miller and told him about the house, he immediately told her she should be ripping those papers apart . He didn't understand how she was buying a house with the man she planned to leave.
Shortly after 6:00pm, the house seller called William but he didn't pick up. Nobody else ever heard from William after 6:00pm that day.
According to Melanie McGuire, that afternoon they had a horrible argument in front of one of the kids. She claims William was particularly violent and she feared for her safety. She took her son to the bathroom and locked the door. William then stormed out of the home and said she was the reason her kids would never see their father again. He then left to, probably, Atlantic City, to never be seen again.
On April 29, 2004, Melanie got the kids ready for day care and asked them to be silent, she didn't want to disturb their father who was ¨sleeping¨ on the couch. She dropped them off at approximately 8:30am. She then called work to say she would be absent that day and called Brad after to ask him for a false prescription for Xanax. She filed a restraining order against William next day and even started getting rid of his things in the next few days. She claimed that his violent husband had left her for good.
On May 5, 2004, a couple of fishermen and their children noticed a dark green Kenneth Cole suitcase floating in the waters of the Chesapeake Bay. They opened it — and found a man's dismembered legs, cut off at the knee.
On May 11, another green suitcase was discovered containing a torso and a head. On May 16, a third suitcase containing a man's thighs and pelvis was found. The victim had been shot multiple times.
The police were able to quickly identify the dismembered man. After they released a sketch to the public, one of Bill McGuire's friends soon came forward.
Police Investigation
Once police had identified the body parts, they called Melanie McGuire to give her the terrible news. She seemed to be heartbroken when they did.
As a regular procedure, police interviewed Melanie about William's whereabouts for the past days. She told them about the horrible argument they'd had on April 26. She claimed William had pushed her against the wall during the fight, and tried to choke her with a dryer sheet. She said that after the altercation William left and that was the last time she had seen him. Melanie Lyn McGuire told police investigators she believed he had gone to Atlantic city because he was a gambling addict.
Surprise surprise! When police went to Atlantic City they found William's car. The 2002 Nissan Maxima was parked in the Flamingo Motel. They asked Melanie if she had parked the car there, she denied it but later claimed that she had gone to Atlantic City and moved the car to "mess" with him.
She explained that after their fight she was sure he would go to the casino so as an act of vengeance she she drove around until she found his car and then moved it as a prank. If what she was saying was true, it didn't make sense why she later would try to have the 90-cent EZ Pass toll charges, which proved she'd gone to Atlantic City, removed from her account. Inside of Bill's car they police found a bottle of Chloral hydrate, two syringes, and a prescription for Chloral hydrate.
When looking deeper into Melanie McGuire's life, Police learned that Melanie had been having a long-term affair with a co-worker named Dr Bradley Miller. This would give her motive to want to get rid of her husband. They also discovered she had recently bought .38 caliber handgun with wadcutter bullets, same type of murder weapon and bullets the killer had used on William McGuire.
The plastic garbage bags that contained Bill's body parts and the bags that contained Bill's clothes, which Melanie had given away to a friend, were demonstrated by forensic experts to be manufactured on the same assembly line within hours of one another. Similarly, a medical grade towel found with Bill's body matched those stocked at the clinic Melanie worked in.
The luggage that the body was found in, a matching three piece set of Kenneth Cole suitcases, Melanie admitted that they did own the set of three. Together with this, police was able to look into Melanie McGuire's internet searches about murder, sedatives, chloral hydrate, gun laws, suicide, etc.
The Theory
Police's theory is that William wanted to celebrate the home purchase by drinking wine around 6:00pm. Melanie McGuire took the chance to slip enough Chloral hydrate which was also red in color into his drink to knock him out.
In the morning of April 29, Brad called Melanie around 5:00am  but she didn't answer. She was too busy making things look like William had disappeared. She grabbed William's phone and tried to send an email to his boss telling him he woulnd't be able to make it to work but she mixed up the email and it was never sent.
The theory continues with Melanie shooting her husband in the head. Then to make sure he was truly dead, she fired to his abdomen just below his ribs, two more shots were fired into his chest. Once William was dead she needed to dispose of the body. She took his body to the second floor bathroom and she created the perfect environment to dismember her husband.
The body parts were put into trash bags and secured with blue tape before being kept on ice to stop the decomposition. She then proceeded to clean. She cleaned so well no evidence was found in the whole residence. One part she forgot about was the soles of her shoes. Apparently they had transferred parts of Williams remains to the Nissan Maxima she drove.
Trial and Verdict
Even though everything investigators had on Melanie McGuire's murder charge was circumstantial evidence, they arrested her and charged her with first-degree murder on June 5, 2005.Assistant Attorney General Patricia Prezioso and Deputy Attorney General Christopher Romanyshyn prosecuted the case. Patty Prezioso argumented in Superior Court that even when there was no direct evidence for the case, everything pointed to Melanie McGuire.
Dubbed the "Suitcase Killer," Melanie was found guilty and sentenced to life in prison on July 19, 2007, at the age of 34. She must serve more than 63 years before she is eligible for parole.
On September 20, 2011, the New Jersey Supreme Court declined to hear her further appeal. On April 29, 2014, McGuire filed a motion for post-conviction relief, alleging ineffective assistance of counsel and newly discovered evidence on the murder charge.
On September 25, 2014, McGuire appeared in court with her new defense attorney Lois DeJulio, a public defender, to try to get a hearing that could overturn her 2007 murder conviction, on the grounds that her previous legal representation by Joe Tacopina was inadequate or ineffective. The request was subsequently denied.
Up to this date, Melanie McGuire swears she's innocent and that her husband was probably killed over his gambling debts.
Adaptation
In 2022, Lifetime did a movie called Suitcase Killer: The Melanie McGuire Story as part of its "Ripped from the Headlines" feature films. The film stars Candice King as Melanie McGuire, Michael Roark as William McGuire, Jackson Hurst as Bradley Miller, and Wendie Malick as Patricia Prezioso.