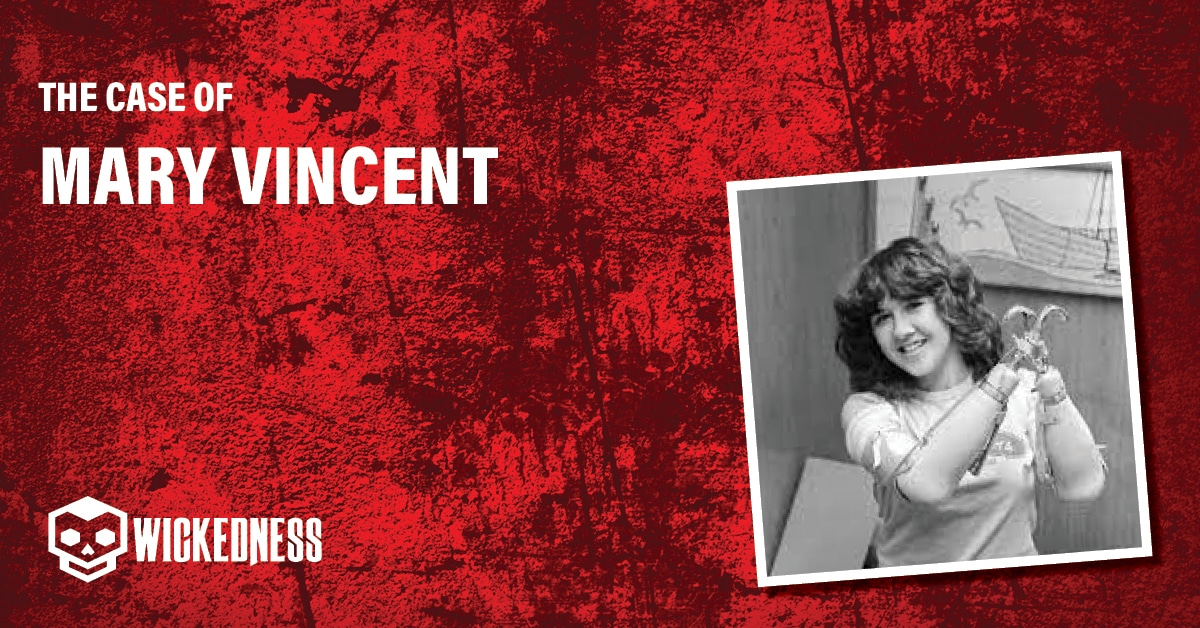 Victim Date of Birth
Info Box
Date of Conviction
Info Box
Body Discovered Date
Info Box
Who was Mary Vincent?
Mary Vincent was born in 1963. She was one of seven children and lived with her parents in Las Vegas.
In 1978, Mary Vincent's parents were going through a horrible divorce and Mary just wanted to escape from all that stressful environment and dedicate to her dancing career, she wanted to go to Los Angeles. She already had good experience dancing professionally she had danced frontstage in Las Vegas before, she had also gone to Australia, Hawaii.
On September 29, 1978, 15-year-old Mary Vincent decided to run away from home. She would spent some time as a homeless, living in the streets and sometimes spending nights inside unlocked cars. Mary hot a bit exhausted of this living and decided she was going to visit her grandfather in Berkley, California. After spending some time at her grandfather's house, Mary started feeling a bit homesick. She then decided to hitchhike back to her parent's house in Berkley. She had already gone all that way and time hitchhiking so what could happen, right? She waited for her grandfather to go out, grabbed her backpack and snicked out.
Start of the Crime
Mary Vincent was able to hitchhike from Los Angeles to Modesto California. But she needed another drive to take her further south. So she stood on the side of the highway with a sign that said ¨Going south¨ waiting for a driver to stop; she wasn't the only hitchhiker that day, there were a couple of young guys with her heading to the same direction. The three of them were holding their signs and giving people the thumbs up to see who was kind enough to help them.
At some point, a light blue van stopped a few meters ahead of the group. The guys stayed and Mary approached the driver who had already rolled his window down. The man inside was Lawrence Singleton and when Mary asked him to please give the three of them a ride, he said he could only take her. Now, this was weird because he obviously had the space to take more people so Mary was confused. She asked him again but gain he said he would only take her or no one. Mary looked at the man, he seemed pretty old. He actually reminded her of her grandfather.
Mary Vincent accepted the offer and asked him to wait for her to get her bag. When she walked back to where the two guys were and told them she was living alone, they immediately told her that didn't sound quite right and could be dangerous. Mary told them that she thought there was something off too but she didn't want to waste more hours waiting for somebody else.
She really wanted to go back home. She also told them that the old man looked pretty harmless so she would be ok. She said good bye and left.
Once in the vehicle, Lauren Singleton introduced himself to Mary. He told her he would take her to Interstate 5 and started driving. From where he picked her up, it should have been a couple of hours drive. Mary was very tired so she asked Lauren if it was ok for her to fall asleep for a bit. Lauren told her it was fine, she could rest all she wanted.
A little while later, she woke up and as soon as she looked through the window she could tell they were going to wrong way. Before confronting him, Mary put her hand under the sit to see if she could find anything to defend herself with. She found a metal stick and with it in her hand, she asked him what was going on, why was he taking her the wrong way?
Lauren seemed confused and apologized, said he got distracted and didn't notice he was going that way. In Mary Vincent's head, she thought they were really far away from where they were supposed to be. How could somebody get that confused? But Lawrence immediately turned around and she put her guard down again.
A little bit later, Lawrence asked Mary if he could stop for a couple of minutes to release himself. She said it was ok. Mary thought he was going to just stop at the side of the road but instead he started driving through an access road that leads to the forest. Mary's read alerts were louder and louder in her head, she figured she was going to have to escape this man. She looked at her shoes and noticed one of her shoelaces was untied. She decided to wait until the car is stopped to do it.
The Crime Description
Lawrence stopped the car, got off and started walking away. Mary got off too and bent over to tie her shoelace but before she can make it something hit her hard in the back of the head. She was left unconscious. It was Lawrence singleton who had hit her with a hammer. Apparently he had hidden it in the side of his sit so Mary didn't notice when he grabbed it.
When Mary came back to her senses, she could see they were still in the forest. Lawrence had tight her down to the band in a way she couldn't move. Minutes later Lawrence hoped in the back of the van with her and started sexually abusing her. Mary started crying and begging him to please stop and let her go. He didn't listen to her and continued the assault for hours.
When he got tired, he went back to the front sit and fell asleep. Mary tried to take the chance to untie herself but the restrains were too tight. She couldn't escape. All she did was just lay there for hours wondering what else was going to happen to her.
At some point in the middle of the night, Lawrence woke up and without saying a word started driving. He drove the van out of the forest, he drove on the main high way for a little while but turned down to another access road that took them away from the main road.
Again they were in the forest in the middle of kind of a big canyon. Lawrence parked the car. Mary started asking him to please set her free, that she wouldn't tell anyone. He pulled her out of the van as Mary kept asking him to please set her free. Lawrence then looked at her and said
¨So you wanna be free? I'll set you free¨
Lawrence walked around her to where his tool box was, he grabbed a hatchet, walked back to Mary. Grabbed her left arm and hit her with the hatched right below the elbow, severing her arm for good. Mary fell backward to the ground and looked down to where her left arm just was; she was in shock. Lawrence then grabbed her by her right wrist and knowing what he was going to do, Mary started screaming and trying to move to stop him, but he starts chopping again.
It took four hard horrible blows for him to severe Mary's right forearm off her body. She was screaming in pain. But all Lawrence could really care about was on Mary's amputated right hand. It was still gripped around Lawrence arm so he started trying to shake it off. Once he was able to do it, he realized all the screaming had stopped. Mary was lying in a pool of her own blood and probably dying.
Lawrence Singleton put his bloody hatchet away and dragged Mary all the way to the edge of a culvert. Culverts are commonly used both as cross-drains to relieve drainage of ditches at the roadside and to pass water under a road at natural drainage and stream crossings. That particular culvert was 30-feet high. Lawrence just pushed Mary's dying body and she fell. He then walked all the way down to her body and dragged her under the culvert so nobody would see her corpse. While he was walking away from her he said ¨You are free now¨.
Lawrence Singleton
Lawrence Bernard "Larry" Singleton  was born on July 28, 1927. He was born in Tampa, Florida and worked as a merchant seaman. Nicknamed the "Mad Chopper" in media accounts after the rape and mutilation of Mary Vincent.
Mary Vincent's Decision to Live
After Lawrence left and 15-year-old Mary Vincent should have been dead but no, she was miraculously alive. Not only her two arms had been chopped and she was losing a lot of blood but she had broken four ribs after falling from the cliff. She was still alive  but thinking what am I to do now? What if he's still there? At some point Mary started feeling exhausted, like she was about to fall asleep and a part of her wanted to let go.
She was about to close her eyes when the thoughts of Lawrence doing this to somebody else invaded her mind. Mary thought she needed to survive and tell the world what a monster Lawrence Singleton was so he wouldn't be able to hurt anybody else like he did with her. This felt like fuel coming into Mary's body and she decided she was going to live. She needed to stop the blood loss so she dug the nobs of her arms into the dirt and attempted to pack the wounds with dirt and mud.
Afterwards she put her arms up to prevent them from losing more blood. So with her mutilated arms over her head, Mary somehow made it up to the main road. She was naked and covered in blood.
Mary Vincent started running on the main road and she very soon saw a car. Probably for that driver what he or she was witnessing was too shocking because they didn't stop. Mary ended up running three miles before she could get picked up by a young couple who, after getting over their own shock, took her to the hospital.
When in the hospital, Mary didn't want to waste any time so instead of resting like the doctors suggested, she wanted to give police as many details as she could about the monster who had done that to her. Police were able to put together Mary's details description and came up with a very good composite sketch for investigators.
The sketch was released in the media and one of Lawrence Singleton's neighbors saw it. They immediately turned him in. He was arrested.
Trial and Verdict
In March 1979, a San Diego jury convicted Singleton of kidnapping, mayhem, attempted murder, forcible rape, sodomy, and forced oral copulation. He was sentenced to 14 years in prison. It was, at that time, the maximum sentence he could be given. The judge handling the case said that he would have put Singleton away for life if it was up to him.
Mary Vincent's testimony was crucial for these results, of course. So after the sentence was dictated and everything was over, Mary was leaving the courthouse and she had to pass by Lawrence. In the few seconds she walked by him, he turned and told her
¨I will finish the job even if it takes me the rest of my life¨
Mary also won a civil judgment against Lawrence and was awarded $2.56 million, but did not receive the payment due to Lawrence's unemployment and inability to pay.
In 1987, only eight years after being in prison, Lawrence Singleton was paroled to Contra Costa County. Town after town refused to allow him to settle there and he finally served out his parole in a trailer on the grounds of San Quentin prison. Singleton moved to Florida shortly after that.
For Mary, who had now become a wife, she had two sons and had started using prosthetic arms; this was terrible news. It didn't matter if Lawrence was 3000 miles away, she was still afraid he would come and ¨finish the job.¨ But he would remain silent for years.
In the late 1990s, Mary moved to Orange County after dealing with a divorce and post-traumatic stress. She got a job clerking in the local district attorney's office, where she eventually met investigator Tom Wilson, whom she later re-married. Stable in her new job and marriage, she became more outgoing and formed the Mary Vincent Foundation to help victims of traumatic crime.
Singleton returned to his native Florida after his release. In 1990, he was twice convicted of theft. He served a 60-day sentence for stealing a $10 disposable camera in spring 1990 and in the winter received a two-year prison term for stealing a $3 hat. Before his sentencing for the latter crime, he described himself to the judge as "a confused, muddleheaded old man".
In the spring of 1997, a neighbor called police to report Lawrence Singleton assaulting a woman in his home in Sulphur Springs, Florida. When police responded, they found the dead body of Roxanne Hayes; she had been stabbed multiple times in the upper body, Roxanne Hayes was a 31-year-old prostitue and mother of three.
Mary Vincent traveled from California to Tampa to appear at Singleton's sentencing. During her testimony, she described Singleton's attack and the toll the ordeal had taken on her. The judge sentenced Singleton to death. Singleton died in 2001 of cancer in a prison hospital at the North Florida Reception Center in Starke, Florida.
Survivor Mary Vincent
Nowadays, Mary Vincent works with chalk pastels to create "powerfully upbeat women" like "female action figures". She also draws family and individual portraits on commission. Her customized prosthetics are also self-creations, including a custom prosthetic for bowling. Recently, according to friends, she got divorced and moved back up to Washington, settling in the Seattle area.