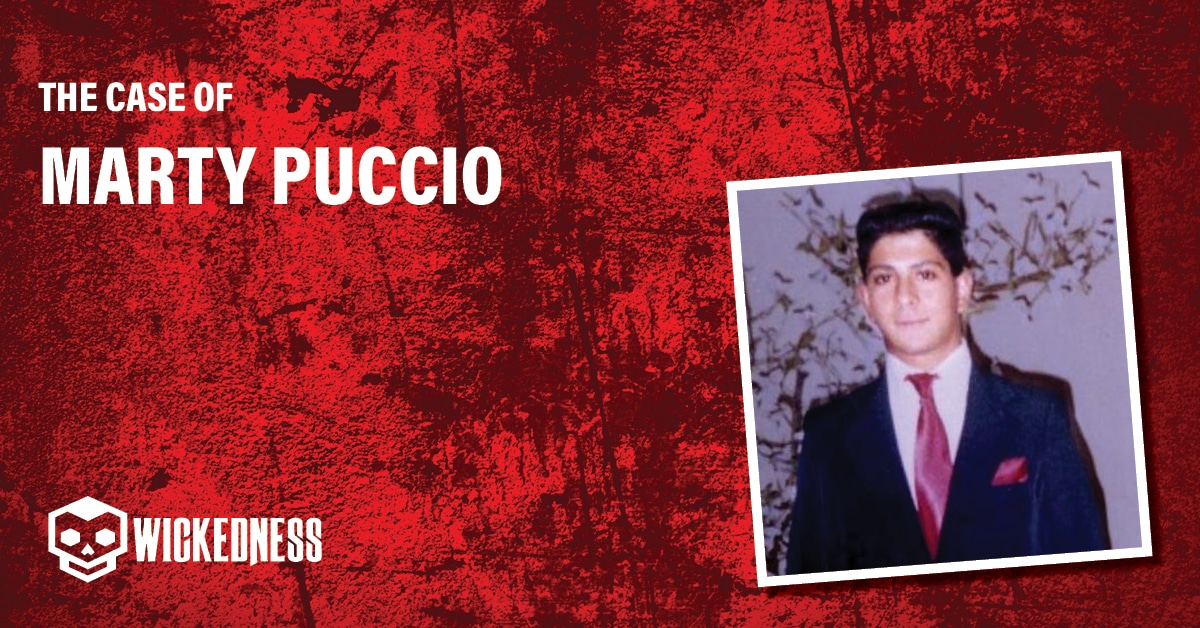 Victim Date of Birth
1973-03-21
Incident Location
Weston, Florida
Body Location
Weston, Florida
Date of Conviction
1995-08-03
Murderer
Marty Puccio, Derek Kaufman, Donald Semenec, Derek Dzvirko, Lisa Connelly, Alice "Ali" Willis, and  Heather Swallers.
Who is Marty Puccio?
Martin Joseph Puccio, Jr , usually referred to as Marty, was born on March 21, 1973, in Brooklyn, New York, and was raised in Hollywood, Florida. He lived on the same block as Bobby Kent, and the pair became best friends from early childhood. However, Marty's parents became wary of the friendship in their teenage years. They noticed Marty would return from hanging out with Bobby bleeding and covered in bruises. Aware that Bobby was bullying him, Marty's parents asked him to stay away from the abusive boy. But unfortunately, this did not happen.
 The Lead-Up to The Brutal Murder
In early 1993 at the age of 20, Marty was dating Lisa Connelly. Lisa was 18 years old and was pregnant with Marty's child. However, there was one problem, Lisa could not stand Marty's best friend, Bobby. Bobby would bully Lisa, calling her a whale due to her weight, and he treated Marty poorly. To try to distract Bobby so he would leave her and Marty alone, Lisa set him up with her friend Alice Willis who went by the nickname Ali. Alice Willis was 17 years old and had a baby from another relationship. Ali and Bobby only had a relationship for a few weeks before she called it off. She claimed that Bobby Kent was physically abusive and moved back home with her parents to Palm Bay in Florida.
After Lisa had learned that Ali had broken up with Bobby, she decided something more serious had to be done to get him to leave her and Marty alone. Bobby Kent had victimized several people. Instead of going to the authorities or telling their parents, they ended the abuse by killing him and recruited four more people to assist in the brutal crime.
On July 13, Lisa called Alice and told her that if she didn't move back from Palm Bay to be with Bobby Kent, he would murder her and smother her baby. It is unknown if Bobby actually said this or if Lisa made it up to get her back. Ali returned along with two friends, 17-year-old Donald Semenec, her current boyfriend, and 18-year-old Heather Swallers.
Lisa Connelly contacted Derek Kaufman. He was an alleged 20-year-old hitman. Derek Kaufman, along with Lisa's cousin Derek Dzvirko met up with the five and decided to discuss a plan to murder Bobby.
The Murder of Bobby Kent
On July 14, 1993, everyone gathered at Marty's house. They told Bobby they wanted to go drag racing with him, and he agreed. At around 11.30 pm, they picked Bobby up from his home and took him to an open construction site. Alice Willis, Bobby Kent, Donald Semenec, and Heather Swaller were in one car. Everyone else was in another. The group had two knives, a lead pipe, and an aluminum baseball bat. Derek Kaufamn hid in the back of one of the cars so Bobby wouldn't even know he was there. Donald snuck up behind Bobby and stabbed him in the neck with a knife. Marty ran up to him and shoved a knife into his stomach. Marty continued to stab him and slash his throat. Finally, Derek Kaufman hit him in the head with a baseball bat, which was the wound that delivered the final blow. They rolled Bobby Kent's body to the marsh's edge, where they hoped the allegators would consume his corpse and destroy all evidence. The group also threw the weapons into the water.
Finding Boby Kent
Four days later, a decomposed body was found. Inside the pocket of the body was a driver's license identifying the body as Bobby Kent's. The scene was very brutal. There were trails of blood everywhere and evidence that Bobby had put up a fight. The cause of the death was several stab wounds. There was a stab wound to the heart, but there were also stab wounds in his neck, stomach, shoulder, and back of his neck. Blunt force trauma was also found on his head, and he had a fractured neck. The stab wounds were also a number of different depths and sizes, indicating more attackers and several murder weapons.
The medical examiner was able to use the presence of maggots to estimate when Bobby had died. The maggots lead them to believe he had passed four days before his body was found.
Lisa Broke Confessed to The Murder
Lisa Connelly confessed the murder to her mom. Her mom then called Derek Dzvirko's mom, her sister. Derek Dzvirko was told to turn himself in, which he did. He then led the police to where Bobby was. The whole group was arrested on July 18th. They all gave the same motive to the police, saying Bobby was a bully.
Trial
During the trial for Bobby Kent's murder, the perpetrators gave testimonies of the torment that Bobby had caused them. Marty spoke of the bullying and physical abuse he received from Bobby, and two of the girls stated that he had sexually assaulted them. No evidence was ever presented to support these testimonies.
Conviction
All 7 of the attackers plead not guilty to the murder of Bobby Kent. Not one of the seven perpetrators showed any sign of remorse at trial.
Although the first to stand trial, Marty Puccio was the last to be sentenced. Marty was found guilty of the murder of Bobby Kent, and on August 3, 1995, he received the death penalty. He was sentenced to death in the electric chair for first-degree murder. It was determined that he was the person who inflicted the most significant wounds. This sentence was reduced to life in prison with the possibility for parole after 25 years in 1997 after it was argued that his punishment was a lot harsher than the others, and he was no more involved. Marty Puccio is serving his time at the Desoto Annex in Arcadia.
Frequently Asked Questions
Q. Who murdered Bobby Kent?
A. Marty Puccio, Derek Kaufman, Donald Semenec, Derek Dzvirko, Lisa Connelly, Alice "Ali" Willis, and  Heather Swallers.
Q. What sentence did the other six people involved in Bobby Kent's death receive?
A. Derek Kaufman was sentenced to life plus 30 years. Donald Semenec was sentenced to life plus 15 years. Derek Dzvirko was charged with second-degree murder and was sentenced to seven years. Lisa Connelly, the mastermind of the murder, was sentenced to life plus five years. This sentence was later reduced to nine years on appeal. Alice Willis was charged with second-degree murder and sentenced to 40 years on May 31, 1995. That sentence was later reduced on appeal to 17 years for the murder charge and 15 years for the conspiracy. Alice "Ali" Willis was released on the 16th of September, 2001, after serving just over six years. Heather Swallers was charged with second-degree murder and sentenced to seven years. However, Heather Swallers testified against others and provided the court with evidence. As a result, she got a light sentence and was released on the 14th of February, 1998, after serving almost three years, making her the first to be released from custody.