The case of
Maddie Clifton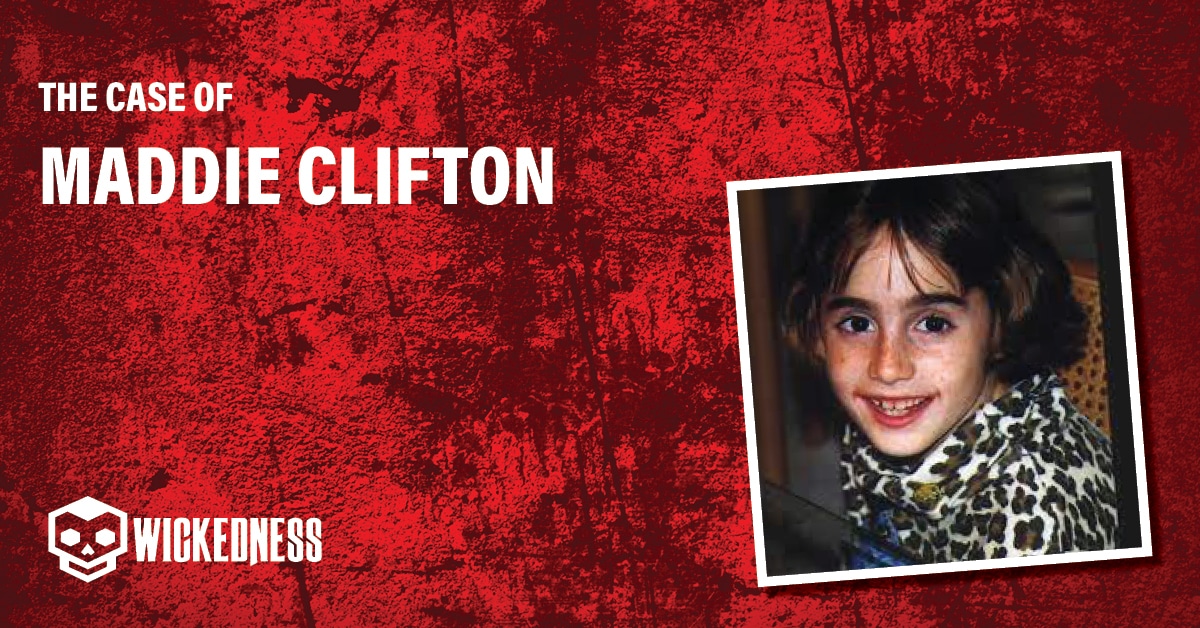 Victim Date of Birth
Info Box
Incident Location
Jacksonville, Florida
Date of Conviction
Info Box
Body Discovered Date
Info Box
Maddie Clifton, A Little Girl Murdered By Her 14-Year-Old Neighbor
Maddie Clifton was only 8 years old when she was bludgeoned and stabbed to death. While the whole town searched for her, her killer slept right above her body…
A Disappearance of Maddie Clifton
Maddie Clifton was a happy 8-year-old girl, living with her parents Steve and Sheila Clifton, and older sister Jessie Clifton. She grew up in Jacksonville, Florida, and lived a normal life until November 3, 1998, when she disappeared without a trace.
Search Parties Where Assembled To Look For Maddie
For seven days, the whole town was looking for 8-Year-Old Maddie Clifton non-stop. There were search parties, volunteers, police, newspapers, and even the National Guard involved. Hundreds of flyers were distributed, every street was searched, and even the sewers were checked, but there was no trace of Maddie until one mother made a gruesome discovery.
The Discovery Of Maddie Clifton's Body And Arrest
On November 10, 1998, Melissa Missy Phillips, a neighbor of the Clifton family, was cleaning her teenage son Joshua's bedroom when she noticed his waterbed leaking. However, when she looked for a source of the leak, Melissa Phillips found a dead body stuffed between the mattress and the bed frame. The bludgeoned body belonged to Maddie Clifton
Police went immediately to the school Joshua Earl Patrick Phillips attended. He was arrested on the spot and taken to the police station, where this 14-year-old boy described the brutal murder in detail.
The Details Of The Brutal Crime
According to Joshua's confession, he and Maddie were playing baseball when the ball accidentally hit her in the eye. The little girl began crying, and Joshua brought her inside his home to calm her down. Failing to do so, he hit her with the bat which left her unconscious.
Scared of his father's reaction, he hid the still alive Maddie under the mattress of his water bed. Once his parents came back home, he took a utility knife and repeatedly stabbed her until she was dead. He covered the body with the mattress and proceeded to sleep right above it for seven days.
Was Joshua Phillips' Difficult Childhood The Main Cause Of The Crime?
Joshua Josh Phillips was the only child of Melissa and Steve Phillips, born on March 17, 1984. Steve was an alcoholic and a drug addict who frequently abused his wife and son. He didn't allow his son to bring any other kids to their home, especially little girls.
Apart from the history of violence in his household, Joshua was a well-adjusted and popular middle school student. No one suspected him to be connected to Maddie's disappearance, and he even joined the search parties looking for her.
Investigation Details
At first, police suspected Maddie of being kidnapped. Hundreds of volunteers organized non-stop search parties that looked all over the town. The town was swarmed with news reporters waiting for any news. However, the investigation didn't have many traces until seven days later, when Joshua's mother found the body.
Once the victim's body was found, there was no uncertainty about who committed this shocking crime. Joshua Phillips confessed everything and he was sent to be trialed as an adult, because of the horrid nature of his crime.
Trial
The trial began on July 6, 1999. Because of the notoriety that this case has gained, the trial was moved out of Jacksonville. No witnesses were called by Joshua's attorneys. His defense was based on claims that the crime was an accident that escalated because of panic, which was caused by years of abuse.
Joshua Phillips wasn't allowed to testify. His defense attorney tried to introduce Joshua's brain scans which showed lesions on the frontal lobes, which could cause panic and impaired judgment. The prosecution tried to discuss the evidence of Joshua watching pornography on his computer. Both attempts were ruled inadmissible by the judge.
In another hearing in 2019, it was revealed that the motive for Maddie's murder was more sinister than previously thought. Maddie's body was found dressed in only a T-shirt and socks. According to Assistant State Attorney Bernie de la Rionda, Joshua Phillips was obsessed with Jessie Clifton. It was also revealed that Joshua watched violent pornography, possibly with underage girls.
Verdict
On August 26, 1999, Joshua Phillips was sentenced to life imprisonment without the possibility of parole. He qualified for resentencing under a U.S. Supreme Court decision that found a juvenile life sentence without the possibility of parole to be unconstitutional. However, in 2017 his sentence of life imprisonment was upheld.
Life In Prison
Josh Phillips completed his General Educational Development in prison and later took the college classes through correspondence. He works as a paralegal in prison, assisting other inmates with their appeals. He is also a member of a musical band and participates in Christian services.
Frequently asked questions
What Happened To Maddie Clifton?
She was stabbed to death by Joshua Phillips and her body was hidden in his bed for 7 days.
Is Joshua Phillips Still In Prison?
He was charged with first-degree murder and sentenced to life behind bars without the possibility of parole.
What Happened In 2017?
The U.S. Supreme Court has ruled that children should not qualify for mandatory life sentences. Joshua Phillips was 14 at the time of his crime, and his defense team hoped to use this to overturn his life sentence.
However, the 1st District Court of Appeal ruled that Joshua's life sentence didn't violate the U.S. or state constitution because judges could still individually sentence juveniles to life under special circumstances. The brutality of his crime was special enough to prevent his life sentence from being overturned, and he still stays in prison indefinitely.
Where is Maddie Clifton's Family Now?
Sheila and Steve Clifton divorced after 25 years of marriage. Maddie's sister, Jessie Clifton spent years in therapy in order to deal with the devastating murder of her sister.