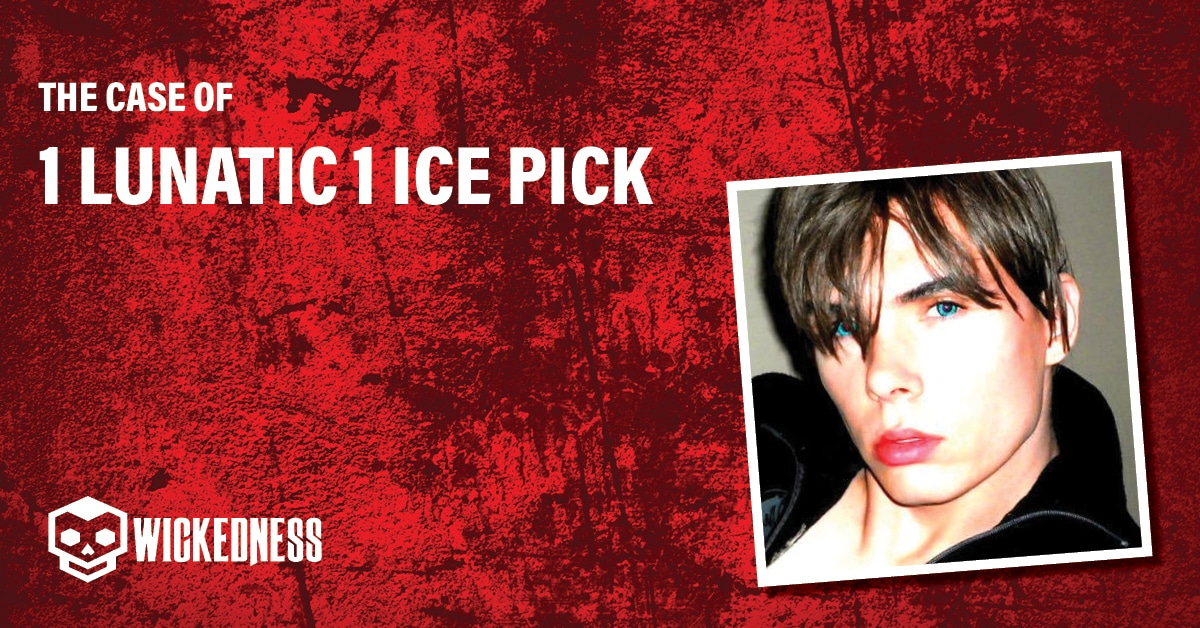 Victim Date of Birth
Info Box
Incident Location
Montreal, Canada
Date of Conviction
Info Box
Body Discovered Date
Info Box
Luka Magnotta: aspiring porn actor and murderer
Luka Ricco Magnotta was born on July 24, 1982, in Ontario, Canada. His birth name is Eric Clinton Newman. However, he was also known by other names, such as Vladimir Romanov and Vladimir Radulov.
In 2003 he worked as a stripper for a while and also as a prostitute. His goal was to break into the adult film industry as a porn actor. He made several appearances in low-budget films as a gay porn star, however, none were successful.
He was arrested several times for fraud, sexual assault and theft. On several occasions he was linked to a murderer, however, he denied it in an interview with the Toronto Sun.
Luka Rocco Magnotta was known before the murder for making videos where he is seen torturing and killing cats in a very cruel way, which he uploaded to the deep web. Several internet users and animal protection organizations tried to track him down and bring him to the authorities.
During the trial, defense lawyers argued that Magnotta suffered from paranoid schizophrenia, however, Magnotta himself later stated that he had no mental disorder, nor any diagnosis of schizophrenia, but his lawyers forced him to say so.
Luka is presumed to suffer from histrionic personality disorders, borderline signs and is narcissistic by nature. His motivations may have been his desire to be famous and to attract attention through horrific crimes that he left on disturbing videos.
Lin Jun: a young student from China
Lin Jun, also known as Justin Lin, was born on December 30, 1978 in China and was a student at Concordia University in Canada where he was majoring in Engineering and Computer Science.
The 33-year-old student came to Monreal in 2011 to study. His family and friends describe him as a shy and reserved young man. Lin Jun was gay, but not openly, so his family pressured him on several occasions to marry a girl he had been dating in order to hide his homosexuality, but the relationship did not last.
Upon arriving in Montreal, Lin Jun began working part-time at a store in the city, while also attending his university classes. Both his friends and co-workers described him as a hard-working young man who managed to balance his duties at the store, his university classes and even his French classes.
Chinese student Lin Jun, was last seen on May 24, 2012 and his friends reported that they received a message from him at 9 pm. Lin Jun's boss, meanwhile, became suspicious when the 33-year-old international student failed to show up for work the next day.
In view of Lin Jun's failure to go to work, nor to his classes, his friends went to the apartment where he lived on May 27 without finding him. On May 29, 2012, he was formally reported missing to the police.
Lin Jun's disappearance and the horrifying discovery
Lin Jun was last seen on May 24, 2012 and despite visits from her friends to the apartment where she lived, no one was found, neither Lin Jun nor her roommates.
His disappearance was reported on May 29, 2012 and on the same day several discoveries were made.
On May 25, 2012, the janitor found a suitcase next to the trash behind the apartment building where Lin Jun lived. However, he did not think much of it, as there was a lot of garbage around.
Four days later, he went back to dump the garbage and found that the suitcase was still in the same place. The janitor went there every day and it was unusual for someone to leave a suitcase like that in the trash, so his curiosity led him to approach it and open it.
When he moved it, he realized that some worms were coming out of it and that it had a foul smell. When he opened it, he realized that inside it was the torso of a person with no limbs and no head.
On May 29, 2012, the janitor called 911 at 10 a.m. to report his terrible find. The police arrived on the scene to check the suitcase and closed off the area around where it was found.
They checked all the garbage bags around, where they found blood-stained sheets, a poster of the movie Casablanca and a driver's license in the name of Luka Rocco Magnotta, Lin Jun's roommate. Minutes later they found some bags with human limbs, but without the hands and feet. They also found an ice pick and a saw.
The police immediately began questioning other tenants in the building asking if they knew Luka Magnotta. He had indeed moved into the building 4 months earlier and had left the rent payment until June 1. The police entered the apartment and it was completely empty, however, they noticed a very strong smell of chemicals.
Everything seemed to indicate that the victim was indeed Luka Magnotta.
Investigation Details
At 11 a.m. on May 29, 2012, a package was delivered to the Conservative Party of Canada headquarters that emitted a foul odor. Inside the box was a left human foot with a note.
Later, police received a call informing them that another similar package had been received at the Liberal Party of Canada headquarters, but this one contained a human hand.
On May 30, 2012, police obtained a permit to search the apartment thoroughly and found several bloodstains in the bedroom, living room and bathroom.
They also requested the visual records from the building's video cameras. After looking for hours at the camera videos in the trash area, they were able to see a man who for more than an hour on May 25, 2012, carried several bags of trash at approximately 4 a.m. They were able to see the man's body in the trash area.
The police were also able to track the box deliveries and were able to trace the location of a pharmacy, from where mail deliveries were also being made. Upon requesting the security camera videos, they noticed a young man with a box similar to the one they received at the political party headquarters; it was the same man they saw in the building's security videos.
This is how Luka Rocco Magnotta, who was initially believed to be the victim, turned out to be the murder suspect.
Crime
Days after identifying Luka Magnotta in the videos, the police received important information. People who had been following Luka for two years on the internet notified police about an 11-minute video that was uploaded to the deep web on May 25, 2012, the same day the suitcase was found in the trash.
The video showed a naked man tied to a bed while another man in a black hoodie was fondling him. However, it was possible to see that the tied man had several wounds on his body.
The hooded man is then seen stabbing him several times with an ice pick. Later he takes a kitchen knife to tear his skin and then cut off his head. He then cuts off his limbs and then separates his hands and feet.
After having dismembered his victim, the man in the hood begins to have sex with the lifeless body of the man tied to the bed. During the video, music plays in the background, and a poster of the movie Casablanca can be seen on the wall.
The grisly scene also showed the man with a knife and fork cutting the victim's flesh and then feeding it to a dog. Later in the video, the hooded man is seen playing with the victim's head in a bathtub.
Thanks to the video, they were able to identify that it was the same apartment as Luka Magnotta. After reviewing the rest of the building's security videos, the police found a recording where Luka Magnotta is seen entering the building with Lin Jun on May 24, 2012, at 10 pm.
Lin Jun was wearing the same shirt worn by the man who threw the trash in the other video they saw. At 6 a.m. on May 25, 2012, Luka Magnotta is seen wearing the shirt Lin Jun was wearing, which is how they discovered that Luka had murdered Lin Jun that early morning.
In the security videos, Luka Magnotta is seen entering and leaving the building several times without Lin Jun's company. By 8:00 a.m. on May 25, 2012, Luka entered the building with the same suitcase that the janitor found, it was there where he put Lin Jun's torso and then proceeded to throw away the human remains and send his hand and foot to the match venues in Canada.
Jun Lin's relatives confirmed his identity after viewing videos from the building's security cameras.
The persecution and arrest of Luka Magnotta
The same day on the morning of May 25, 2012, Luka Rocco Magnotta took a trip to France and by May 31, police used the ID they found in the trash to alert authorities.
Luka Magnotta became one of the most wanted criminals by all authorities, including Interpol. Luka Magnotta's photo was shown in the media all over the country and was all over the news stories.
Police checked airport cameras to track him down. They discovered that upon arrival in France he stayed in a hotel, however, upon arrival he was not found. It was later learned that a friend had received him at his home without knowing he was on the run from justice.
Detectives followed leads and realized that they had taken a train from France to Berlin. They found him on June 4, 2012 at an internet cafe on the internet, after an employee recognized him after seeing his face on the news. That day the police arrested him and Luka turned himself in without a problem.
A day after his arrest, on June 5, St. George's School of Montreal received a box with Lin Juan's right foot and an elementary school reported receiving another box with a human hand.
Investigations revealed that Luka Rocco Magnotta was previously wanted by Interpol for other crimes. He was extradited to Canada on June 18, 2012 and in the interrogation room he appeared very frightened.
Magnotta gave the police several versions of events. One of them was that he worked for men and offered his intimate services on internet sites, stating that one of his clients forced him to commit the murder.
In another version, he told psychiatrists that he killed Lin Juan because the voices in his head asked him to. He also said that his victim worked for the government and that is why he sent their body parts to the headquarters of political parties.
Once during his interrogations, he blamed one of his clients named Manny Lopez, who forced him to commit the crime.
When the case came to light, a large internet community made the police aware that Luka had in previous years uploaded videos of him killing cats. These videos were uploaded to the deep web and many internet users reported it to the police, however, they ignored it.
Since the police did not take action, the same users were able to discover that Luka Magnotta had several fake profiles on social networks and called himself by other names.
Trial
Luka Rocco Magnotta's trial began on June 19, 2012. Although he admitted to committing all the crimes, he pleaded not guilty due to lack of capacity to comprehend. He asked the court for a trial with jurors.
On July 1, 2012 Lin Jun's head was found in a lake in Montreal. This is how the police were able to piece together all of the victim's body parts.
During the investigation, authorities revealed that Luka Magnotta's real name was Eric Clinton Newman.
Verdict
The trial lasted 12 weeks and so it was that in December 2014, 32-year-old Luka Rocco Magnotta was found guilty of first-degree murder, dismemberment and cannibalism. He was sentenced to life in prison.
Today he is known as the Canadian Killer and is one of the most brutal murder cases known in the world.
Frequently asked questions
Who is Luka Magnotta?
Luka Magnotta is a convicted murderer, sentenced to life imprisonment for the murder and dismemberment of a Chinese student in 2012.
Where is Luka Magnotta now?
He is serving his life sentence in Quebec, Canada.
Is the documentary Don't F**k With Cats: On the Hunt for an Internet Killer inspired by the story of Luka Magnotta?
Yes, the documentary is based on the crimes committed by Luka Magnotta and how he was found by the police.