The case of
Lindsay Buziak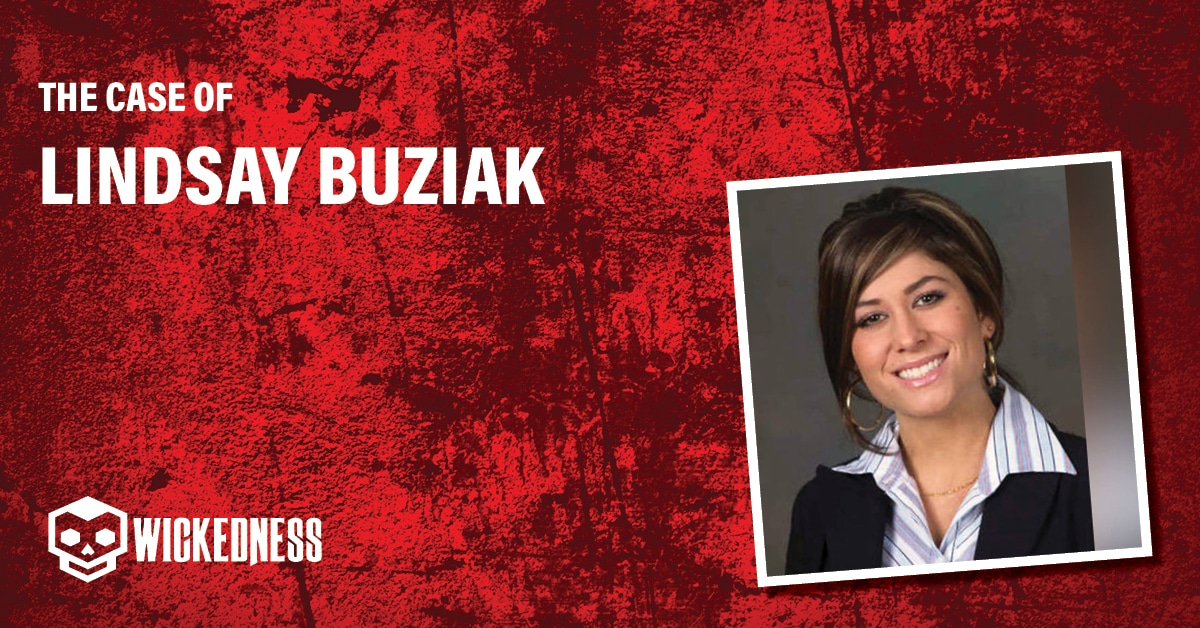 Victim Date of Birth
Info Box
Incident Location
Victoria, Canada
Date of Conviction
Info Box
Body Discovered Date
Info Box
Who was Lindsay Buziak?
In 2008, 24-year-old Lindsay Buziak is an ambitious real estate agent at Victoria Realtor, located in Victoria, British Columbia, Canada. Described as popular and happy by those close to her, Lindsey was living out her dreams. She was dating a man named Jason Zailo who was also a successful real estate agent.
Lindsay Buziak Receives a Strange Call
Lindsay Buziak receives a call on her personal cell phone. On the other line is a woman who tells Lindsay that she and her husband are looking for a home in the area and had a budget of $1 million. This call feels strange to Lindsay from the get-go as she is a junior employee and big jobs didn't usually just fall into her lap. She asked the woman where she had gotten the number and was told that a former client of Lindsay's had given it to them. Later, Lindsay would be unable to reach the former client who had supposedly referred her.
Lindsay would describe to her boyfriend, Zailo, how the woman's behavior had seemed off. The woman sounded as if she were faking a foreign, possibly Spanish accent. While any one of these things may not have been a problem individually, all combined they made Lindsay suspicious enough to consider not taking the job. She would even discuss the call with her father, Jeff Buziak.
Ultimately, it was Zailo who convinced Lindsay to take the job. He felt that the commission Lindsay would get was too large to give up, and to reassure her, he offered to wait outside of the property just in case.
Enoucraged, Lindsay found a suitable property and called the number back to make the appointment, which was scheduled for 5:30 p.m. on Saturday, February 2nd, 2008. In her notes, she refers to her client as "million-dollar house."
Lindsay Buziak's Day leading up to her Murder
February 2nd, 2008 found Lindsay like any other. She and Zailo ate a late lunch at a restaurant and left soon after their ticket was paid at 4:24 p.m. Both left in separate cars but had plans to be at the property at the same time. However, Zailo is held up while picking up a colleague and exchanged text messages with Lindsay to let her know he would be there, but that it would be later than expected.
Buziak arrives at the house on the Saanich Cul-De-Sac, which is located on a street with only four other homes. There, she waited for her client who she expected to come alone. Despite this, it was a couple who arrived at the home. Witnesses say they saw Buziak shake hands with the clients before entering the home.
At approximately 5:40, Zailo and his colleague arrive at the home and wait outside the home. There, they see a figure move through the glass on the front door. Not wanting to make the couple uncomfortable, Zailo pulls onto a neighboring street. After 10 minutes, he texts to ask Lindsay if she was okay–this text went unanswered.
After another 10 minutes, Zailo drives back to the house. Starting to worry, Zailo approached the home and finds that the front door is locked. Through the glass, he can see Buziak's shoes but no one answers his repeated knocks and rings on the doorbell. At this point, Zailo calls 911. While on the call, the colleague Zailo brought finds a hole in the fence that leads to the backyard, and there, finds the patio door wide open. Zailo lets the Saanich police know that he's going in, and hangs up.
Lindsay Buziak's Blood Soaking the Floor
The house is quiet when they enter and no one answers their calls. Upstairs, in the master bedroom, Zailo finds Lindsay laying in a pool of blood. While the colleague calls 911 again, Zailo attempts to give Lindsay CPR. The Saanich police arrive shortly thereafter, as they had already been on the way from Zailo's initial call before entering the home. Lindsay Buziak is pronounced dead at the crime scene, and the cause is listed as, "blood loss."
Professional Killers
Zailo and his colleague are taken into custody but are thereafter cleared of suspicion and released. Witnesses saw the couple who entered the home with Lindsay Buziak and described them as caucasian. The woman was believed to be in her late 30s to early 40s with short blonde hair and a notably patterned dress. The man was described as over 6ft tall with "possibly brown hair" and a classy jacket that possibly fell beneath the waist.
It would later be discovered that the phone used to contact Lindsay Buziak was a burner; a prepaid phone under the fake name "Paulo Rodriquez" and was only ever used to contact Lindsay. The initial point at which Zailo saw the suspects through the front door, it's believed that the murder had already been committed and the suspects were preparing to leave when Zailo's car was noticed. The suspects then left through the back Patio door.
There was a complete lack of fingerprints or DNA evidence; not a single piece of evidence seemed to be left behind. This fact lead Saanich police to believe that this was no crime of passion, but instead, the killers were likely professionals and that the murder was paid hit by someone known to and with a personal grudge against Lindsay. To law enforcement, this crime looked like the perfect murder.
Another Strange Call?
Later that same year, a close friend of Lindsay's, Nikki, would claim that she received a call in the middle of the night from an unknown number. The caller, she said, had a strange accent which reminded her of what Lindsay had said about her murderer. Nikki called the number back "20 or 30 times," and finally, someone answered. It was Shirley Zailo, the mother of Jason Zailo. Nikki said that Shirley claimed to have been attempting to call a different Nikki, and had no idea how her number ended up in her phone instead. They did not know each other.
Shirley Zailo denies this call ever occurred, and it's never been confirmed by police whether this call was ever followed up on.
To this day, the person responsible for hiring the apparent hit has not been charged. Lindsay's case remains an unsolved murder.
If you have any information regarding Lindsay's murder, or any additional leads, please contact CRIME STOPPERS or Lindsay's father Jeff Buziak: [email protected]  
Frequently Asked Questions
Q: Who is Shirley Zailo?
A: Shirley Zailo is the mother of Jason Zailo, Lindsay Buziak's boyfriend.
Q: Who was Lindsay Buziak?
A: Lindsay Buziak was an up-and-coming real estate agent who was stabbed to death at the showing of a house.