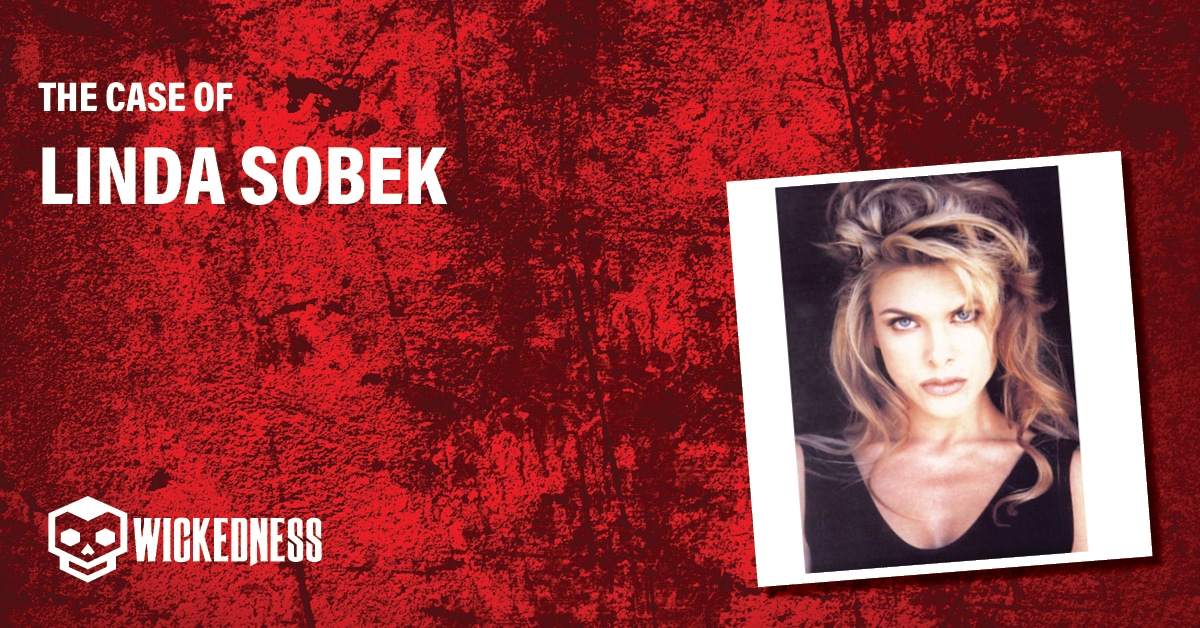 Victim Date of Birth
Info Box
Incident Location
Los Angeles
Date of Conviction
Info Box
Body Discovered Date
Info Box
Read below to find out how one of the most gorgeous model and actress was accidently murdered in the city of Los Angeles. 
Who Was Linda Sobek?


Linda Sobek was a stunning five-foot-four-inch blonde actress and model whose career was just getting started when she vanished without a trace. 
The 27 year old actress was scheduled to appear in the FOX sitcom "Married…With Children" which she hoped would serve as a springboard for the acting career she had always dreamed of, but she was unable to make it to her costume fitting on time.
She started working as a model after she graduated from Cerritos Community College. Her five-year tenure as a Los Angeles Raiderette cheerleader (during which she was voted Raiderette of the Year during her third year) helped her cover her bills in the meantime. 
Linda Sobek was not tall enough to be a high-end fashion model. She was only five-feet four-inches tall, but her attractive appearance and her curvy size-three figure earned her "body-model" work, which included swimwear layouts, calendars, car magazines, catalogues, beer posters, and advertisements for Frederick's of Hollywood.
Linda's Disappearance 
On November 16, 1995, Linda called her mother to tell her she was running late for a photo session and she promised her that she'll call her back to discuss weekend plans at the Sobek family home. There was no trace of Linda after that call. 
Linda Sobek was most renowned for her dependability, which she had in addition to her natural beauty and effervescent attitude. Consequently, when she failed to contact Elaine (her mother) that evening, she got worried right away. 
She had a nervous evening and decided to call Brooke Morales, one of Linda's closest friends, to ask if she knows where Linda is. Brooke made some calls and got to know that Linda had failed to appear for many appointments that had been set for later in the day on November 16, including a costume fitting for the television programme "Married With Children,". 
After getting to know about Linda's disappearance from work, Brook and Elaine decided to contact police. 
Evidence 
The authorities tried getting some information from her roommates in The Hermosa Beach House, but unfortunately they had no clue about Linda. Noone including her friends, roommates, family or the staff from her daytime photoshoot knew where she was. 
On Saturday, 18th November,1995 (two days after Linda went missing) Brooke and Linda's roommates reached out to television and other media outlets to ask for their assistance in getting the news of Linda's abduction out in the public. 
It was a news broadcast that aired on Sunday that proved to be the breaking point in the investigation. On Saturday, the same day Brooke was attempting to get Linda's news out into the public, a road-crew member in the Angeles National Forest found an unexpected item in a garbage can. He discovered a stockpile of Linda's images, a date book, and a receipt for the leasing of a Lexus 450 vehicle. 
He took the photographs and the other found stuff home with him, completely disregarding them, until he heard a news story on Sunday and realised that the attractive girl depicted on the television was the same pretty lady featured in the images he had found earlier that day. 
He notified the police, and told them how he found the date book and Lexus receipt in a garbage bin. The name Charles Rathbun was printed on the receipt.
Who was Charles Rathbun? 
Charles Rathbun was a 38-year-old freelance photographer who was born in Ohio and resided in Hollywood. He was well regarded as an exceptional and dependable professional photographer. 
Unbelievably, when the news of Linda's disappearance came out, Rathbun immediately called police and informed them that he had seen Linda that Thursday morning at a Denny's restaurant in Torrance, where they had discussed her modelling portfolio and how she might make improvements in it. 
Rathbun claimed that they both had appointments later and thus, they went on their own ways. After searching the area, police arrived at the Denny's restaurant, where they discovered Linda's vehicle but Linda wasn't there.
Linda's Murder 
Having evidence related to Charles, the investigating authorities decided to question Rathbun again on Wednesday, November 22. However, when they arrived at his house, they saw something very unexpected. 
Charles, being drunk, was threatening to kill himself with a gun. The authorities also came across a slightly wounded female companion who was present in Charle's house at the time police arrived there. 
The very next moment, Rathbun was taken into custody where he confessed that he accidentally killed Linda Sobek. He stated that he was shooting Linda for promotional photographs of the new Lexus in a dry lake bed in the Mojave Desert when the incident occurred. 
He hit and killed her accidentally when he was trying to teach her how to do "doughnuts," which are high-speed 360-degree turns, while she was standing outside the vehicle observing him.
Linda's dead body was eventually transported to the Angeles National Forest, where Rathbun stated he buried her in less than two feet of ground after driving a few hours with her body in his car.
Charle's Trial 
The trial of Charles Rathbun, who had been charged with murder, commenced in the fall of 1996. In the meantime, he changed the whole story again. 
He said that he had bet Linda $60 that she would not be able to consume the remaining vodka in the bottle. Linda tried to win the bet and consumed the whole bottle. She got drunk after a few minutes and started seducing him. 
He said that even though he didn't hit Linda with the Lexus, he came close enough to her to make her fall and hit her head. Then he helped her into the back of the car, where she bled on the seat. 
Then, Rathbun says, she threatened him and started kicking the inside of the car. To stop her, Charles tried to grab her foot and pin her down on the seat. According to Charles, Linda struggled for about 30 seconds before she got calm. Charles continued to hold her down and thought that she was pretending to be dead. 
He put her down on the dry lake bed and tried to revive her. When all her efforts failed, he put her back inside the car and tied her ankles with an ace bandage.
Where's Charles Rathbun Now?
Following a five-week trial, Charles Rathbun was found guilty of first-degree murder in the death of Linda Sobek on Friday, November 1, 1996, and was sentenced to life in prison without the possibility of release on Monday, December 16, 1996. On December 20, 1996, he was admitted to the California Institution for Men in Chino, where he is still a resident.