The case of
Greg de Villers
Date of Death
November 6, 2000
Incident Location
San Diego, California
Date of Conviction
2002-12-12
Body Discovered Date
2006-11-06
Greg de Villers murdered by Kristin Margrethe Rossum, a former toxicologist, was convicted of killing her husband, Greg de Villers, on November 6, 2000, with a deadly dosage of fentanyl which was stolen from her workplace, the medical examiner's office. She is currently incarcerated in a California jail for the rest of her life.
Kristine Rossum
Kristin Margrethe Rossum was the oldest child of Ralph and Constance Rossum. She lived with her parents and two brothers in their family home in Memphis, Tennessee. 
In 1999, the young Kristin enrolled at St. Catherine's School in Richmond. While attending the all-girls school, Rossum started drinking and smoking cigarettes and marijuana. The next year, she started using methamphetamine. 
Two years later, Kristin got sober, moved to California, and enrolled at the University of Redlands. Eventually, a relapse followed. She somehow managed to overcome her addiction and began a relationship with Greg de Villers. She enrolled in San Diego State University and graduated summa cum laude in 1998.
The following year, she started working as a toxicologist at the San Diego County medical examiner's office and got married to Greg de Villers. Very soon, she started having an extramarital affair with Dr. Michael Robertson, her boss at the medical examiner's office.
The Death of Greg de Villers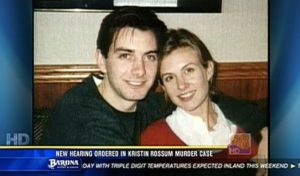 One year after their marriage, Kristin finally told Greg de Villers about her affair and the relapse to methamphetamine. Greg threatened to expose her to the medical examiner if she didn't quit her job. Allegedly, Robertson also knew about the meth habit and learned about the threat just before Kristin's husband, Greg de Villers, was killed.  
On Monday morning, November 6th, Kristin called 911 and told the police that her husband had committed suicide. When the paramedics came, Greg de Villers was lying in their bed, sprinkled with red rose petals. Near his pillow, there was their wedding photo, and the floor was covered in crumpled pages from Kristin's diary. Gregory was unresponsive and was pronounced dead on arrival at the hospital.
Kristin told the police that that evening, Greg de Villers was feeling sick and a little bit groggy from his cold medication. When she got out of the bathroom, she found him lying on the bed dead. Although she claimed it was a suicide, de Ville's family was adamant that he was not suicidal.
The case was unclear, so the police opened an investigation. One of Kirstin's coworkers, Russ Lowe, called the police and informed them that Kristin was having an affair with her manager. San Diego medical examiner fired both Rossum and Robertson and outsourced de Viller's autopsy to an outside Los Angeles lab due to a possible conflict of interest.
Initially, Kristin told the paramedics that Greg had not taken any drugs. Even so, later that night, she told a nurse that Greg de Villers may have overdosed on oxycodone.
Later on, when she was questioned, Kristin told the detectives that her husband was very depressed before he died. Her father claimed that he was deeply distressed and drank heavily on the night he committed suicide.
The official autopsy from Los Angeles County showed that the cause of death was a lethal dose of fentanyl. Toxicology tests showed that his specimens contained extraordinarily high concentrations of fentanyl as well as clonazepam and oxycodone. 
Kristin, through her work as a toxicologist, would have easy access to these drugs. Due to this reason, the police built a case based on toxicological and medical evidence.  Plus, they soon discovered that Kristin called de Viller's employer on the day of his murder and said that he wouldn't come to work. 
Trial and Conviction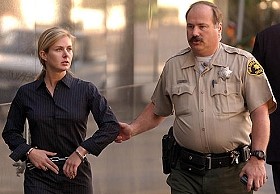 https://murderpedia.org/female.R/r/rossum-kristin.htm
Seven months after de Viller's death, Kristin Rossum was arrested for the murder of her husband. She was charged with murder on June 25, 2001, but her parents paid bail of $1.25 million and got her out on January 4th, 2002.
At the trial, the prosecutor Dan Goldstein stated that she murdered Greg to keep her secrets about meth usage and the affair with Robertson. They said that Kristin staged the bedroom with rose petals, a scene copied from the movie American Beauty. It was safe to assume that Rossum poisoned and killed Greg de Villers. 
Kristin's lawyer argued that Greg was suicidal and that he poisoned himself. The 911 tape was played in court, and it indicated that Rossum administrated CPR to her husband. However, Kristin Rossum's brother-in-law, Jerome de Villers, testified that he was not suicidal and he hated drugs.
Dr. Theodore Stanley testified on behalf of the Prosecution that fentanyl is a potent and fast-acting pain reliever.
The San Diego jury found Kristin Rossum guilty of first-degree murder on November 12th, 2002. One month later, she was sentenced to life in prison. Kristin was denied the possibility of parole and had to pay a fine of $10,000. She was taken to the Central California Women's Facility in Chowchilla, the largest correctional facility in the United States.
Rossum's Popularity
It was obvious that Kristin Rossum killed her husband. She became so popular that she was featured in many episodes of crime documentary series. Many of them were true-crime series such as Oxygen's series "Snapped," "The Investigators," and "Deadly Women". She was also featured in news magazine and 48 Hours.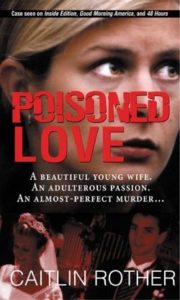 Her crime was also featured in many books, such as Poisoned Love by Caitlin Rother and Deadly American Beauty by John Glatt.
Recent Events
In 2006, the de Villers family filed a lawsuit for wrongful death against Kristin Rossum and San Diego County Office. The family asked for $50 million in punitive damages, but the jury ended up ordering Rossum to pay more than $100 million and San Diego County $1.5 million in punitive damages. 
This amount was awarded because the jurors estimated that Rossum could have made $60 million from selling the rights to her story. The family's lawyer, John Gomez, acknowledged that the family just wanted to make sure that Rossum would not profit from her crime. The punitive damages were later reduced to $10 million by a judge.
The case, which seemed to be closed, took an unexpected twist in September 2010. A three-judge panel of the 9th U.S. Circuit Court of Appeals ruled that Rossum's lawyers should have done their tests and defended the assertation that Kristin poisoned her husband with fentanyl. A hearing was held in San Diego federal court about whether this error in the defense could have affected the outcome of the trial.
The U.S. Court of Appeals withdrew this decision and stated that Rossum's petition was denied under a new Supreme Court precedent.
Dr. Michael Robertson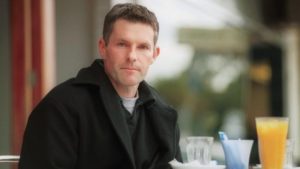 After being fired from the medical examiner's office, Dr. Michael Robertson returned to his home in Brisbane, Queensland, Australia. 
Later on, in 2013, it was discovered that back in 2006, the prosecutors secretly filed a criminal complaint charging Robertson with one count of conspiracy to obstruct justice. If Robertson decides to return to the U.S. or is extradited from the Australian government, he will face up to three years in prison. He is now running a forensic consulting service in Brisbane.