The case of
Kenneth Pinyan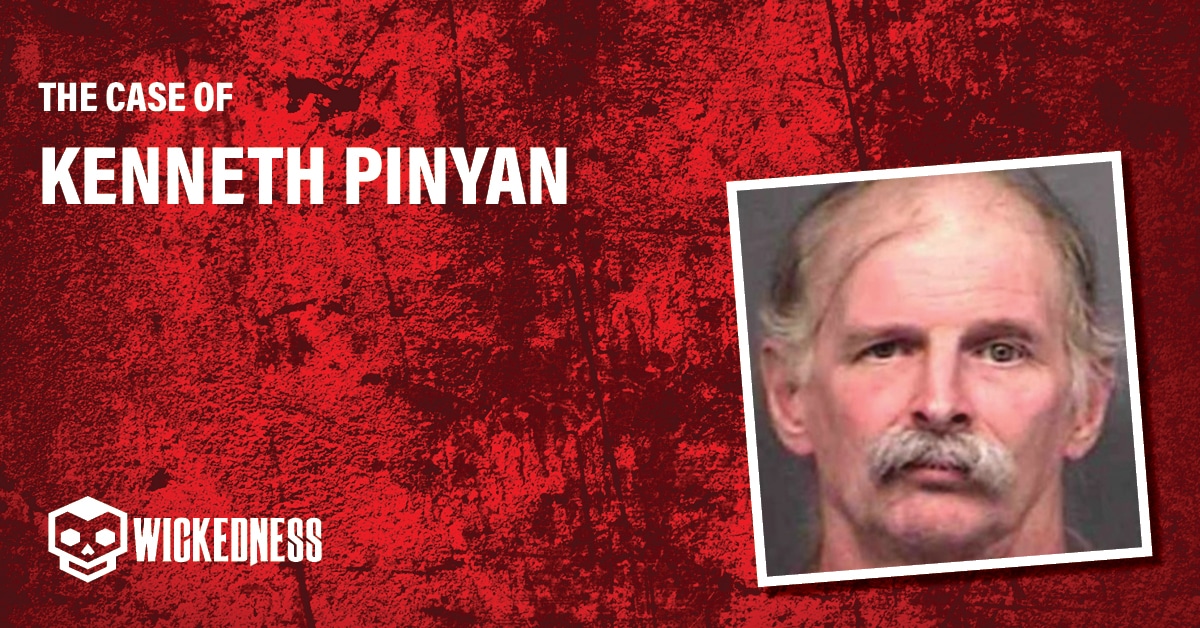 Victim Date of Birth
Info Box
Incident Location
Enumclaw, King County, Washington State, USA
Date of Conviction
Info Box
Body Discovered Date
Info Box
Who is Mr. Hands?
Kenneth Pinyan was an engineer working for Boeing Aircrafts who lived in Gig Harbor, Washington. By day that is… By night Kenneth had a revolting "hobby". Kenneth loved having sexual intercourse with horses. Yes, you read it right. Kenneth was once married and even had children. He was your average guy. But that all changed after he had a motorcycle accident. Kenneth lost the ability to experience many physical sensations. He began looking for thrills. Sexual Thrills. He had started using increasingly large sex toys, constantly looking for a way to enhance his experience. That is until he found his satisfaction with the company of horses. Kenneth had begun to engage in bestiality, and he was not alone. He had even made a series of porn videos under the alias Mr. Hands. Kenneth was all in. He would regularly visit farms to engage in his sexual acts, and even had a cast made to look like the penis of his favorite horse, named Strut.
Although Pinyan was regularly engaging in sexual acts with animals, and even animal pornography, some claim that he was not an actual "Zoophile" – meaning he was not romantically falling in love with the animals with which he had intercourse. Such claims were made by the creator of the documentary film "Zoo" – Charles Mudede Robinson Devor. Nevertheless, Pinyan's actions lead to his demise.
Dropped Off At The Hospital By An Unidentified Man, It Didn't Take Long For The Medical Crew To Realize He Was Dead 
Kenneth had a job, he had a place to live, and he had children. But Kenneth Pinyan was looking for something more. And he wasn't the only one. Online, Kenneth had found a group of people with the same "area of expertise"… They called themselves "Zoos". Over the chat rooms, they had talked all about their shared deviance and had even invited the group members to attend events. The "Zoos" began meeting on a farm in King County, spending their weekends together. During those weekends they filmed each other having sexual contact with horses, and sometimes with other group members. They had then posted those videos online for the whole world to watch. Little did they know one of those videos is going to document the death of Kenneth Pinyan.
July 2, 2005 – The Last Video
It was another night of bestiality for Kenneth Pinyan and 54-year-old James Michael Tait, a truck driver who owns a farm in which the men had engaged in their sickening habit. This night was different. The two, accompanied by a third unidentified man, instead of going to one of the usual bestiality hubs, had snuck into a nearby 40-acre farm on Southeast 444th St. The video started with Tait. They had recorded him having sex with a horse known as "Big Dick". After he was done, it was Pinyan's turn to be filmed with the stallion. During the intercourse, Kenneth sustained severe internal injuries including a perforated colon.
Kenneth Pinyan was taken to Enumclaw Community Hospital by an unidentified man.
The official Medical Examiner's Office released a statement saying Kenneth Pinyan had died of "Acute peritonitis due to perforation of the colon".
The Investigation
In the year 2005, it was not illegal by Washington State's law to engage in bestiality, and yet, law enforcement authorities were determined to unveil the mysteries of this case and shed light on those people who engage in such acts.
It was not very easy for the police to find any of Pinyan's relatives, as they had to use his driver's license to find his acquaintances. Using that information, and the information gathered from Pinyan's contacts, they were finally able to find the 40-acre (16 ha) farm on which it all happened. To their surprise, the farm on which it happened was not Tait's farm and the men had to sneak into that barn to do their deeds. When they arrived at the barn it was becoming clear that although the owner of the farm didn't know they were there, this farm was still a major destination for people from all around who are zoophiles, as they found hundreds of VHS tapes containing many hundreds of hours of hardcore porn footage of people engaging in bestiality and several abused animals. They also found Pinyan's video from the very night he had died.
As mentioned, the group had to infiltrate a farm, which may seem small, but eventually, due to the weak bestiality laws, trespassing was the only thing they could charge James with. It was time to go to trial.
The Trial That Changed Everything
As we have already covered, James Michael Tait was the only one to be sentenced, as the other man who was there that night was never found or seen in the video footage. Initially, it was considered that Tait would be charged with animal abuse, but it was impossible to convict as the prosecutors determined that it is not abuse because the horse was not injured during the process.
When charged with criminal trespass in the first degree, James Michael Tait entered an Alford plea – meaning he accepts the conviction, although still claiming he's not guilty.
This trial was not his last one though. Just a few years after that, Tait has gone right back to his old ways. He moved to a farm in Maury County, Tennesee, and was documented in the barn engaging in bestiality once again.
So why has that trial changed everything? And what sentence did James Recieve?
The Verdict
In 2005 things were rather simple, as the only thing they could convict Tait of was trespassing, his sentence was relatively light. On November 29, 2005, Judge David Christie sentenced James to a suspended one-year sentence, also adding a 300$ fine, one day of community service, and banning James from ever visiting that farm again.
But as I said before, the trial and Pinyan's accidental death changed everything. The extensive news coverage and interest surrounding the case had prompted legislation to ban sex with animals and classify bestiality as a felony punishable by law.
As you can imagine, the second verdict was different. The year was 2010 and James Tait was facing 3 counts of animal cruelty, to which he took the guilty plea, thus placing him on probation.
To this day, some say that the videos from this incident are still online, some even titled "2 guys 1 horse". Although it's hard to forget, we hope these kinds of videos will remain unwatched and unremembered.
Frequently Asked Questions
Who is Kenneth Pinyan?
Kenneth Pinyan was a 45-year-old man who died as a result of having sexual intercourse with a horse.
What did Kenneth's Autopsy say?
The official report states that Kenneth died of acute peritonitis due to perforation of the colon.
Which horse did Kenneth Pinyan have?
Kenneth Pinyan was not the owner of the farm, but he was known to have had anal intercourse with several horses such as "Strut" and "Big Dick".