The case of
Kenia Yulissa Monge
Victim
Kenia Yulissa Monge
Victim Date of Birth
26th Jan 1992
Date Reported
5th April 2011
Date of Death
1st April 2011
Incident Location
Aurora, Colorado, USA
Body Location
Buried in Hampden Memorial Estates Denver, Colorado, US
Body Discovered Date
7th September 2011
Kenia Monge was a teenager from Honduras and she was abducted, sexually assaulted, and killed by Travis Forbes. The murderer also tried to kill another woman, Lydia Tillman, after killing Kenia Monge.
Victim and Circumstance
Kenia Monge was born in Honduras on 26th January 1992. She was the first child of Tony Lee and Maria and interestingly, her mother was just 15 years old when she gave birth to her. Kenia Monge moved to the largest city in the United States with her family when she was 12 years old.
Kenia had a charming personality and quickly made a bunch of friends in the US. She was 19 years old but she didn't have an ID to legally consume alcohol. So, she started using a fake ID with her friends to enter clubs and bars located in downtown Denver.
Kenia Monge disappearance on March 31st, 2011
On 31st March 2011, she went to the 24K lounge with her friends and consumed too much alcohol. She needed air, so she went out of the bar where a stranger, Travis Forbes, gave her a lift.
Forbes saw a young intoxicated girl out in the street and stopped his car to give her life. He was a charming and handsome guy and Kenia got into his car. Kenia's friends got worried when she didn't go back to the lounge and they picked up her belongings including her cellphone and left the bar.
The next morning, Kenia's phone received a mysterious text message that said:
"This is Travis, the person who gave you a lift last night in a white creepy van. Did you reach home safely?"
Kenia's family became worried and reported to the police that she is missing. However, the report of Monge's disappearance was filed after 72 hours. The authorities tracked the message and started their investigation with Travis.
He said that he gave Kenia a lift to drive her home safely but she wanted to buy cigarettes so he stopped the car at Conoco gas station. The gas station was closed and she approached a man named Dan and they started talking in Spanish. Forbes claimed that he left because Dan seemed friendly and he never saw Kenia again after that night.
However, the police found this story a bit strange and searched his van. He agreed, and as the police officers approached his van, they felt an overwhelming smell of bleach.
The Crime Description
Travis made up that story because he was the one who killed Kenia. Instead of giving her a ride home, he took her home and sexually assaulted her because he knew that she is drunk and won't be able to resist. The next morning Kenia became furious and slapped him for what he did.
The killer then strangled her to death and took Kenia's body near Keenesburg, about 40 miles away from Denver.
Convicted Killer: Travis Forbes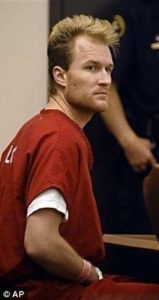 Travis Forbes was a 31-year-old when he killed Kenia. He didn't have a clean record because he broke into 16 different businesses and homes in Fort Collins at the age of 17. He was on probation for committing domestic violence when Kenia disappeared and it was not a good sign for authorities.
Louis Estrada, a Denver police detective said that Forbes was involved in many minor crimes before he killed Kenia. Estrada, along with detective Nash Gurule, was working on Kenia's disappearance and found Forbes' statements very strange.  
Investigation Details
On 5th April 2011, Monica Poole, the owner of a bakery gave CCTV footage of Travis Forbes that was recorded on April 1. It was the same place where he used to sell gluten-free granola bars to earn money. The surveillance footage showed that Forbes was wheeling a cooler. The police inspected the cooler and found one a human cell. However, it wasn't enough to arrest him
The police took Forbes to the Denver Police Station for investigation where he repeated the same old story. He also portrayed himself as a good Samaritan and said that he went to see Kerry Humphrey, his girlfriend after leaving Kenia at Conoco gas station on April 1.
Resultantly, the police let him go and started working on finding Dan who never existed. Meanwhile, Forbes attacked another woman, Lydia Tillman but she survived and also identified him as the criminal.
He left Colorado but he was arrested in Texas when he was driving a stolen car on 4th May 2011. He was sent back to Colorado on 30th June 2011 and he made a deal with the police. He accepted that he killed Kenia and said that he'll tell everything if they don't label him as a sex offender and give him a prison sentence instead of the death penalty. The police agreed and he led them to a small grove of trees to find Monge's remains in Keenesburg on 7th September 2011.
Travis Forbes Trial and Verdict
Travis pleaded guilty on 26th September 2011 to the first-degree murder for killing Kenia Monge. He also confessed to the sex assault on Lydia Tillman was sentenced to life in prison and he will never be able to become eligible for parole.
Frequently Asked Questions
Who is Travis Forbes?
Travis Forbes is responsible for Kenia Monge's murder. Kenia was a teenager who disappeared on 1st April 2011 because she was abducted by Forbes who raped and killed her. He's currently serving his life sentence without the possibility of parole.
Where was Kenia Monge buried?
Kenia Monge was buried in Hampden Memorial Estates Denver, Colorado, US. A memorial service was also held in Aurora at "Glory to Glory Christian Center" on 16th September 2011 to honor Kenia.
Where was Kenia Monge from?
Kenia Monge was born in Honduras on 26th Jan 1992 and when she was 12 years old, she moved to the United States to live with her family. She was only 19 years old when she was raped and murdered