The case of
Kelly Ann Tinyes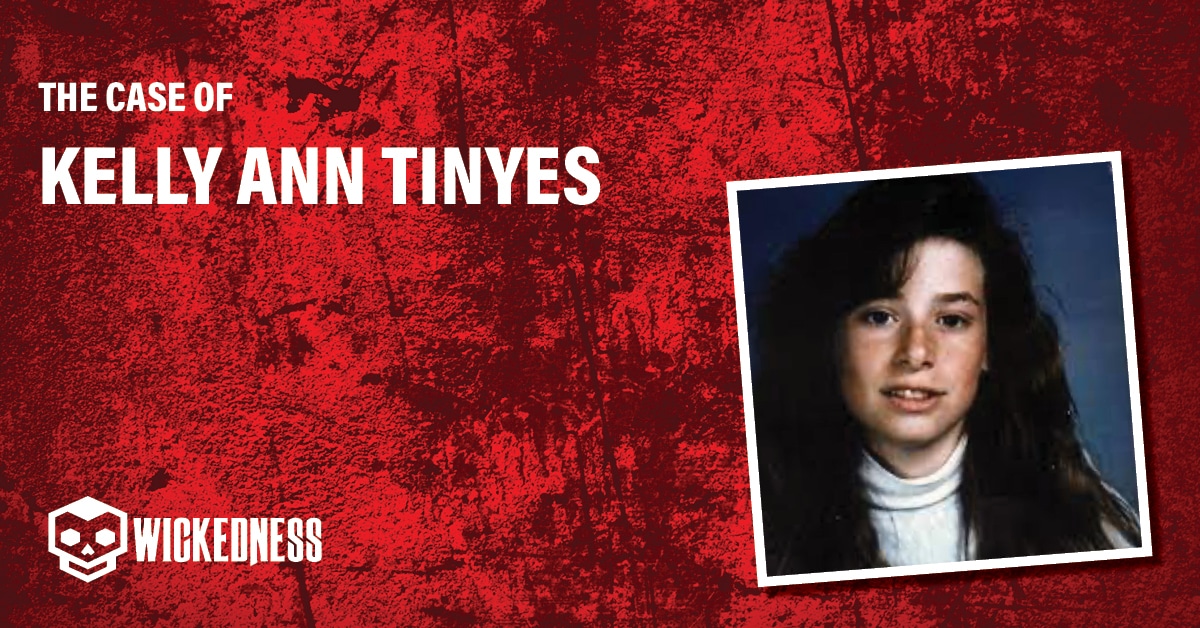 Victim Date of Birth
1975-03-05
Incident Location
Valley Stream, New York
Body Location
Valley Stream, New York
Date of Conviction
1990-04-07
Body Discovered Date
1989-03-04
Kelly Ann Tinyes, a thirteen-year-old Valley Stream girl, was dismembered, strangled, and stabbed. Her remains were discovered in the basement of her next-door neighbor, Robert Golub, a twenty-one-year-old bodybuilder who was prosecuted and convicted of her murder.
About Kelly Ann Tinyes
Kelly Ann Tinyes lived on Horton Road in Valley Stream, New York, with her brother Richard and their parents, Victoria and Richard. She was a cheerful and well-liked girl on the street. Her friends remembered her as a sweet kid who was always there for her friends and stayed away from trouble.
At Hunter Mountain, she loved ice skating and skiing. She was also very outgoing and would embrace anyone as a friend.
It was the kind of street where people knew each other. Families would organize barbecues for the entire neighborhood while the youngsters played together. The place had a wonderful community spirit.
What Happened on Horton Road?
On March 3rd, 1989, Kelly Tinyes, thirteen, was at home with her younger brother, Richard Tinyes, when the house phone started ringing. When Richard answered the phone, the man on the other end of the line introduced himself as "John" and requested to talk with Kelly Ann Tinyes.
Following this phone call, Kelly told Richard that she needed to go to a friend's house and would be back shortly. Kelly, however, never returned.
Richard went to the friend's house, where Kelly informed him that she was going. But the friend told Richard that Kelly had never visited her home on that particular day.
After one of Richard's neighbors reported seeing Kelly enter the home of 22-year-old Robert Golub, Richard knocked on the door of the Golub house. When he didn't get an answer, he returned home and waited for their parents to return.
It was approximately 6 P.M. when Kelly's parents got back from work, and Kelly Ann Tinyes was not there. Her father contacted Kelly's friends and went to a couple of their residences to find out where she would be.
They went to malls and grocery shops, places where she would ordinarily go, but she was nowhere to be seen. Around midnight, they reported her missing to the police.
When Was The Body of Kelly Ann Found?
Investigators would acquire a search warrant for the Golub residence.
When the authorities examined the residence, they discovered that the basement was littered with debris. It was characterized by police as incredibly cluttered, making it impossible to search.
There were clothing, bottles, papers, and bags on the floor. Police had to relocate them to get to a closet. They discovered a sleeping bag with a human foot protruding from inside it.
Kelly's foot was on the ground, and her nude body had been placed inside a sleeping bag in their neighbor's basement. Her clothing was discovered nearby in black attache boxes.
She'd been assaulted, stabbed in the neck and chest with a bayonet from World War I, then choked to death with her bra. She had also been sexually abused.
A day before Kelly Ann Tinyes entered the house, the police discovered that there were four people inside. It was Robert, his brother John J, and two of John J's friends. None of the 4 acknowledged that Kelly ever was in Golub's home. 
Robert Golub in The Ann Tinyes Case
Robert worked out at the gym for up to three hours every day. He was a diligent and determined bodybuilder who was unusually powerful for someone his height, at 5 feet 3 inches.
When questioned by authorities, he stated that he was a member of the National Rifle Association. Robert acknowledged taking illegal steroids for bodybuilding and admitting to shooting a dog in the face with a BB gun because the dog wouldn't stop barking.
But he was confident of one thing. He did not murder Kelly Ann Tinyes. The cops didn't believe him and arrested him for second-degree murder.
Arrest, Prosecution, and Imprisonment
The Golub home was excessively messy, which impacted the murder investigation. This made the forensic analysis of the crime scene quite challenging.
Locals in the region were naturally upset that it took so long for someone to be charged. Given that there were just a few suspects, why hadn't an arrest been made? "They have a body. We know that there were people in the house," one neighbor said. "How come they don't have enough evidence to make an arrest?"
On March 23rd, Robert Golub was arrested and charged with Kelly's murder. He categorically denied any participation in Kelly's death, but it would soon be revealed that detectives had discovered a blood handprint matching Robert's hand at the crime scene.
His brother, John Golub, was suspected of participating in the murder, but he was never prosecuted. During the trial, Golub's lawyer, Salvatore Marinello, questioned the police search, claiming that it was inappropriate and unlawful, as well as the reliability of the DNA evidence.
According to a supervisor at the testing agency Lifecodes Corporation, "the tests on the blood samples were precise, and the chances of the blood belonging to someone other than Robert Golub were 1 in 707 million."
Golub was convicted guilty of second-degree murder on April 7th, 1990, and sentenced to 25 years to life in jail. He tried to appeal the judgment, but it was rejected.
Parole Hearings
"He is simply a terrible guy who will kill again," Vicki Tinyes stated. Kelly's family has petitioned the New York State Parole Board to keep Golub imprisoned.
On November 18th, 2013, he had his first parole hearing, as he was reaching the end of his 25-year minimum period for the murder. On November 25th, he was turned down. The parole board determined that early release would be "incompatible with the welfare of society."
However, in November of 2013, Robert finally accepted some form of guilt for Kelly's death. When Kelly Ann Tinyes suddenly came into the family's house, he admitted to being on steroids and became furious.
He said he collided with Kelly, causing her to tumble down the stairwell, that this knocked her unconscious, and that he then decided to suffocate her. He said that he grew angry when she didn't wake up and began punching her.
"Every day, I am being haunted by the day I killed that girl. I'm simply very, very sorry," he apologized to the parole board after he was denied.
Parole for Golub was rejected in 2013, 2015, 2017, 2019, and 2021.
Civil Suit
Kelly Ann Tinyes' parents sued Robert Golub's parents three months after he was sentenced for her murder.
They thought they bore some responsibility for their daughter's death because they failed to oversee their son in situations where they were aware of his psychological issues and drug usage.
The Tinyes family claimed a total of $602 million in damages.