The case of
Keeley Ann Louise Bunker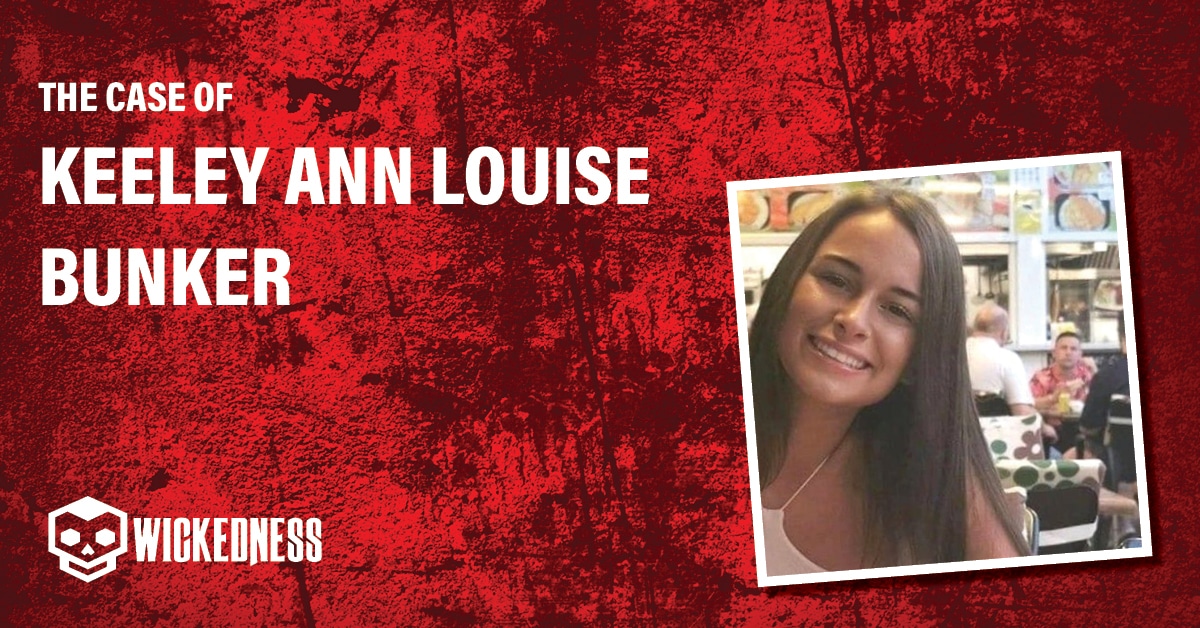 Victim
Keeley Ann Louise Bunker
Victim Date of Birth
Info Box
Incident Location
Staffordshire, England
Date of Conviction
Info Box
Body Discovered Date
Info Box
Keeley Ann Louise Bunker was born on September 7, 1999 in Tamworth, Staffordshire, England.
Who is Keeley Bunker?
Keeley Bunker was born on September 7, 1999 in Tamworth, Staffordshire, England. According to her mother's memories, she was the kindest and most beautiful young lady you may ever meet. Keeley Bunker was friendly, compassionate, and really loved children. On the day of her murder, she had an interview for working with children in a local school. It could be her "dream" job; it was just the beginning of her happy life. 
What happened? 
It was on September 18, 2019. She turned 20 a few days ago. Keeley Bunker was in a great mood. She was full of hope for a new job after the interview in the afternoon. She decided to meet her friends Monique Riggon and Wesley Streete, who lived close to her home. Keeley wanted to celebrate her birthday and went to a rap concert at Birmingham's O2 Institute. After the performance, they called a cab and went to Snobs nightclub in Birmingham. They met more friends in the club and had a couple of drinks. For every drink girls had, Streete had three. They danced a lot and had a good time. As they were living near, they shared a taxi back to Tamworth. 
They arrived at Monique Riggon's house at above 4 AM. Monique offered Keeley to stay overnight so as not to go home in the dark, although it took only 20 minutes to get to Keeley Bunker's house. Keeley Bunker refused because she wanted to sleep in her bed and go to another interview in the morning. Streete offered to get Keeley home. In any case, they had to walk in the same direction. Monique did not worry because Streete had known Keeley for a long time since Junior School and they communicated closely.
Keeley was no longer online; she did not answer phone calls and messages. She did not come to the interview, which she talked about a lot. After lengthy questions from friends and worries, Keeley's dad Christopher turned to Staffordshire police at 5:30 PM about the disappearance of his daughter.
Streete was also interrogated. He said that he escorted her to a telephone box near her house and never saw her again. During the course of the trial, he changed his account several times, at least four times. 
The police met Streete and asked him to show them where exactly they parted ways. He showed the telephone box as the final point of their walking. When the police asked him to show his phone, Streete refused. Launched search party combed Tamworth area. After a few hours, Keeley's uncle gave a horrendous scream after he discovered her dead body hidden in branches. Her body was submerged in a Wiggington Park pond. Her underwear was pulled down. 
The court got Wesley Street charges of rape and murder. He was also arrested.
Few words about Wesley Streete
In court, speaking about his portrait, he admitted that he had problems with reading and writing. Not having a strong desire to study, he left secondary school without qualifications. He was looking for a job and became a packer of an online shop named "Ocado". In addition, he had a scholarship to play football for Lichfield and Tamworth. However, sometime later he left this study, too. 
Streete knew Keeley Bunker for a long time. They graduated from the same Junior School. That is why Monique Riggons did not have any worries about Streete's offer to walk home with Keeley. 
Investigation and trial
As it was said, Streete constantly changed versions of what happened.
At first, he said that they were not in Wigginton park. However, the court provided a video from CCTV showing them entering it. Photos were also provided. You can see that Keeley is trying to get out of the College park there. In addition, footage showed that they were fighting. Streete explained that it was just a game and Keeley Bunker seemed to be "happy".
The jury asked Streete to explain how Keeley Bunker died. He said that he had sex with Keeley Bunker and put his arms on her neck. "She accidentally died". 
Streete maintained his innocence. He said that he did not want to kill her and that he did not force her to engage in a sexual act. Answering the question of the court "why he did not tell anyone about her death", he claimed that he was in a panic and afraid to tell. However, he admitted to drowning her body in a brook and covering Keeley with branches. In addition, he went back a few times to add more branches over the dead body. The jury was strong and did not believe in these versions of events. It seems that Streete calmly went home, and did not call an emergency or police. Just went to bed and slept afterward. 
The trial lasted three weeks. Court hearings have been postponed several times due to the coronavirus. In the meantime, a post-mortem examination was done. It showed that Streete DNA was on Keeley Bunker's body. Also, there were scratch marks on her neck because she was trying to lose the rapist's grip. Finally, criminal experts claimed that death came not in a few minutes, but a few seconds. It confirms the violent nature of death. The conclusion was that Keeley Bunker had been raped and strangled to death.
Verdict
After eight hours of deliberation, the court delivered its verdict. Stafford Crown Court found Wesley Streete guilty. During the trial, several more unsolved crimes were discovered. One of the survivors of the rape went to the police with a statement about the crime. 
A new investigation began, where three more cases of rape were discovered. The victims did not report the hurt, because of the fear of being harassed by the rapist. Counts of rape increased. Two of the victims were minors. All that crimes were committed in the last few years dating back to 2015. Wesleey Streete committed the last sexual assault against the 20-year-old girl. It was four months before Keeley.
According to the statements of one of the victims in Court, he brought her to his home, kissed her, and began to rape her. During the sexual act, Streete tried to kill her, however, she did not allow this to happen. As soon as she heard the sad news about Keeley, she decided to tell someone about what had happened. She realized that she had experienced her grief incorrectly, and felt that she had the power to tell. The other two victims chose not to be identified publicly.
Summing up, Wesley Streete was found guilty as a serial rapist and was sentenced to life with a minimum term of 29 years and 46 days, allowing for time already served.
FAQ:
Who was Keeley Bunker?
20-year-old girl, raped and murdered.
How was Keeley Bunker killed?
Keeley Bunker was strangled to death.