The case of
Katlyn (Katie) Maria Collman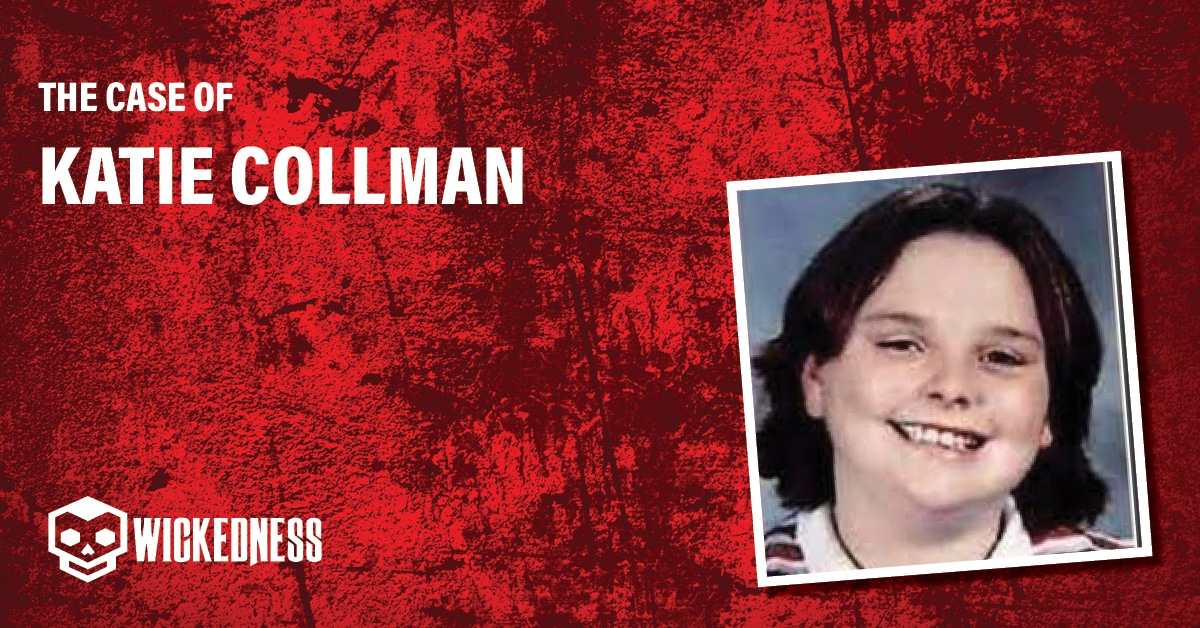 Victim
Katlyn (Katie) Maria Collman
Victim Date of Birth
Info Box
Incident Location
Crothersville, Indiana, USA
Date of Conviction
Info Box
Body Discovered Date
Info Box
After being convicted for the murder of 10-year-old Katie Collman, Stockelman was incarcerated at the same prison as Katie's cousin who inflicted his own punishment upon Stockelman.
Katie Collman
10-year-old Katlyn Collman, who also went by the name of "Katie" Collman, lived with her mother Angela, her father John Neace and she also had an older sister called Jessica. She led a normal life and was a Crothersville Fourth-grader. Friends and family described her as friendly and outgoing, as any 10-year-old girl should be. Katie always had a smile on her face. Her family was very involved in their church and Katie attended extra activities with the church whenever she could, as well as worship on Sundays.
On January 25th 2005, Katie had finished her school day at Crothersville Elementary School and had been taken home by a friend's mom. When she arrived home, she noticed that her mom seemed stressed as she was trying to get dinner ready before John returned from working at a local factory. Katie also noticed that they were out of toilet paper so she offered to run to their local Dollar Store to pick some up for her mom and save her the trip. The store was around a block and a half from her house and this was something that Katie had done many times before so Angela handed her $1.10. It was a cold January day so Katie wrapped up warm and set off. Sadly, this is the last time Angela would see her daughter alive.
When Katie didn't return home, Angela wasn't particularly worried. Katie had a lot of friends, many of who lived along the route to the Dollar Store and Angela thought that Katie had gotten caught up playing with some of them. Angela started calling around, seeing if anyone had seen Katie that evening. When it became apparent that no one had, Angela reported Katie missing to the police at around 7.30 pm that night.
Katie Collman was found dead
The police arrived at Angela and John's home shortly after Katie was reported missing. Crothersville only had a population of around 1500 people and word had spread, locals were already searching for Katie by the time the police got there. Sniffer dogs did pick up her scent but they lost it at the railroad tracks that run through the town. A neighbor came forward with information, saying that Katie had told them that their dog was dead and near the railroad tracks. This is the last known sighting of Katie Collman alive.
Police searched through the night while a helicopter circled the town from above. They found no sign of the 10 year old, there wasn't even an indication that she had been abducted. Because of this, the police didn't issue an amber alert for two days. The amber alert had only recently been introduced to Indiana and it had only been used around 20 times and every time, the child had been returned to their family, safe and well. This gave the police, and Katie's family, some hope.
A local told the police that they had seen Katie being driven away in a truck on the night of her disappearance. They described the truck as a white, Ford F-150 that looked to be around 15 years old but well maintained. They also got a good look at the driver and described him as thin and white, between 18 and 20 years old with short dark hair and a pale complexion.
With this information, a composite sketch was released of this man on January 29th. After this had been made public, Angela and John issued a written statement, pleading with their daughter's abductor to return her. They said:
"Please do not harm her. We ask that you just drop her off anywhere so that she may return to a family and community that loves her very much and misses her dearly."
However, five days after she had gone missing, Katie Collman's body was discovered in a creek near Cypress Lake. This area is around 19 miles from her home in Crothersville.
The Crime Description
Katie's hands were bound behind her back and she was discovered completely submerged in the creek. There was evidence of sexual assault and the cause of death was later determined as drowning. From the crime scene, police determined that Katie had had her hands tied behind her back, raped, and then the killer had placed her in that creek alive with the sole intention of killing her. It didn't appear accidental.
A suspect – Anthony Ray Stockelman
Anthony Ray Stockelman is the man who has been convicted of the molestation and murder of Katie Collman.
At the time of the murder, Stockelman was a married father who didn't live in Crothersville but his mother did. On the day Katie went missing, Stockelman claims that he was helping his mom move house. While everyone was searching for Katie, Anthony says that he was driving his pickup, which was full of his mom's furniture, back home to his rural home in Jackson County. He wanted to get some sleep before reporting to his third-shift job at Valeo Sylvania.
Stockelman only had two misdemeanors on his record at the time of his arrest. One was for battery and another was for underage drinking. He did not have any big charges on his record.
Charles Hickman on the other hand did have a charge on his criminal record that was suspicious and this was for assaulting a young girl.
Investigation Details
Not long after Katie had been discovered, police received a phone call from a 20-year-old Crothersville resident, Charles "Chuckie" Hickman. He confessed that he and another man had murdered Katie Collman and the police immediately arrested him. Chuckie's story was that Katie had witnessed an illegal drug trade and he claimed that he had just wanted to scare her into silence. Both men took Katie to the creek, tied her hands behind her back and she had fallen into the creek on her own and drowned. Chuckie and his friend, Timothy, allegedly panicked and left her there.
However, the police soon noticed that Chuckie's story kept changing. It was the same for the most part but inconsistencies kept cropping up and this was enough for the police to further examine the crime scene for evidence. This is when they found a cigarette butt close to the location of Katie's body. It was tested for DNA evidence and this, along with DNA evidence found on Katie's body, led them to Anthony Ray Stockelman.
When police had the name Anthony Stockelman, they visited his home in Jackson County to question him. They asked if they could examine his pickup truck, which happened to be a white Ford F-150, the same kind that a witness described seeing Katie being driven away in. Stockelman gave them permission to search his truck and the police found no evidence of Katie ever being in that truck. They also gave Anthony a lie detector test which he passed.
At this point, police weren't 100% sure that Anthony was guilty of this crime as the only evidence against him was the DNA on Katie and on the cigarette butt. They decided to examine Katie's body again and this is when they found red fibers on her. These red fibers matched a rug that Anthony's mom had in her house and it was one of the items that he was helping her move that day.
Once the police found these fibers and matched them to his mom's rug, they arrested Anthony Ray Stockelman for the molestation and murder of Katie Collman.
Anthony Ray Stockelman's Trial
Not long after his arrest, Stockelman admitted to the murder of Katie and he took a plea deal to avoid the death penalty. The prosecutor on this case, Stephen Pierson, said that he would be seeking a life sentence without parole if the death penalty was off the table.
Because Stockelman entered his guilty plea, this case did not go to trial. The residents of Crothersville had mixed feelings about this. Many were glad that the details of Katie's murder weren't going to be dragged through court but they also wanted Anthony to face a death sentence for what he had done.
Verdict
On April 17th 2005. Anthony Ray Stockelman was sentenced to life imprisonment, plus an additional 30 years for the molestation of Katie. As he was being led out of court, his wife Tabitha shouted "Why'd you do it Tony?"
However, there was another punishment lying in wait for Tony. Unbeknownst to him, he was incarcerated in the same prison wing as Katie's cousin, 22-year-old Jared Harris who was serving time for a burglary conviction. One night, Harris snuck into Stockelman's cell and closed the door behind him. He gave Anthony a choice; either be stabbed to death or have a tattoo on his forehead. Stockelman chose the tattoo and using a makeshift tattoo gun, Harris inked the words "Katie's Revenge" on his forehead, as a constant reminder to Stockelman and everyone around him of his crime.
Frequently asked questions
What is Katie's Revenge?

These are the words that Jared Harris, Katie Collman's 22-year-old cousin and family friend, tattooed onto Stockelman's forehead once he found that he was in the same prison wing as Stockelman.
What happened to Jared Harris after the tattoo?
When prison guards saw the tattoo and found out who had done it, Jared had an additional seven years added to his sentence. Two prison officials were also fired for making unauthorized copies of a photo of the tattoo and leaking it to the media.