The case of
Katarzyna Zowada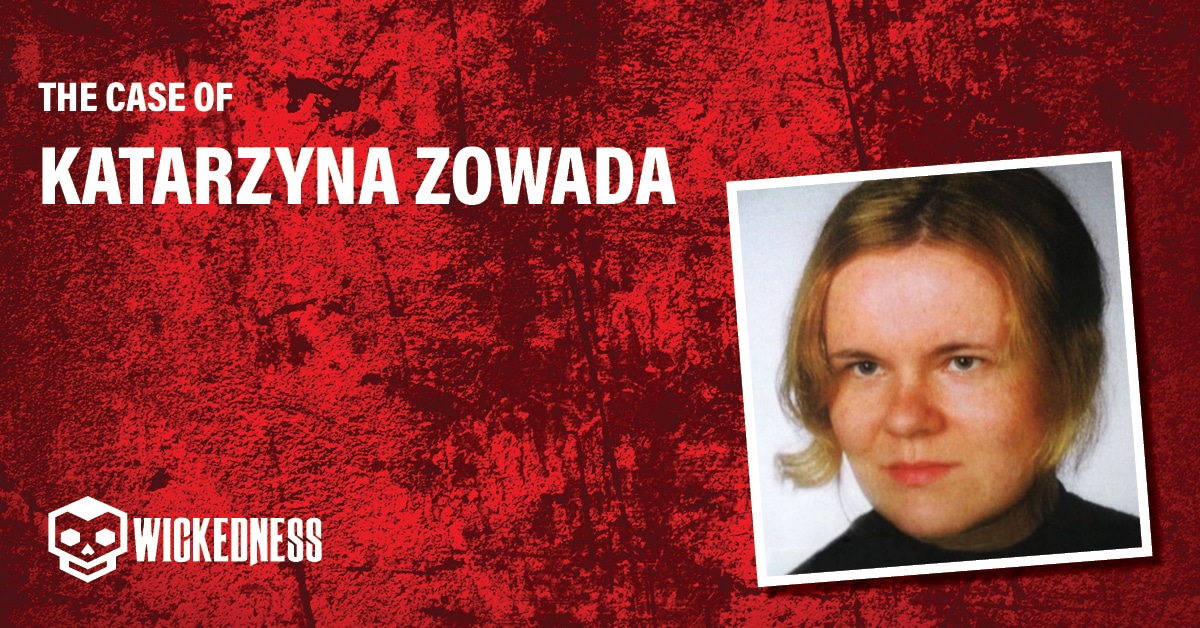 Victim Date of Birth
1975-06-01
Date of Death
Between December 7- 14, 1998
Incident Location
Krakow, Poland
Body Location
Vistula River, Poland
Body Discovered Date
1999-01-16
Who Was Katarzyna Zowada?
Katarzyna, who was twenty-three at the time of her murder, was a young Polish student at Jagiellonian University. As of 1998, she had started studying religion at the school. She had been struggling with depression for a while, which was caused by her father's death a couple of years before.
On November 12, 1998, Zowada planned to meet her mother at a psychiatry clinic to look into treating her depression. But Zowada never showed up that day, and her mother went to the local police station to report her as missing a few hours later. But it would be a while before her mother had any answers, and they weren't good ones.
Zowada Was Later Found, but not All of Her
On January 6, 1999, parts of the 23-year-old student, Zowada, were found in the Vistula River. A tugboat's propeller on the river suddenly became jammed and the crew, assuming that it was just a stray tree branch, went to investigate.
But instead of a tree branch, they found a pale and rubber-like substance wrapper around their propeller. Upon further inspection, they realized it was human skin when they noticed that there was an ear attached to it. DNA tests identified that it belonged to Katarzyna Zowada.
Some other parts of Zowada's body were later found when police combed the river, but not all of it, and most notably missing was her head.
Her Death Had Sadly Been a Painful One
Katarzyna Zowada had apparently been kept in captivity for a while, as there were signs that her right leg (one of the body parts that was found) had been tied to something. During her captivity, it seemed that she had been drugged, and there were signs of torture.
It's estimated that Zowada died between the days of December 7 and December 14. She had been beaten badly before her death and in a way that indicated the killer knew martial arts. But after the beating, she was choked by a chain, and then her neck, armpits, and groin were skinned from her body while she was still alive.
Her official cause of death was blood loss, and there were multiple stab wounds, chop wounds, and lacerations found on the parts of her body that were discovered.
We Now Know The Monster Behind This Was Robert Janczewski
52-year-old Robert Janczewski was a disturbed man. Beaten by his father from a young age, he was known as a sadistic boy and had been caught abusing cats and dogs when he was young.
Janczewski had previously worked at the Institute of Zoology but had been fired after many of the animals he looked after were found killed. He never gave any explanation for what happened to them. But while he did work there, he learned how to peel away mammal skin in the institute's very own lab.
He also displayed suspicious behavior for a very long time before his arrest, including spying on neighbors and visiting Zowada's grave regularly. Later, journal entries were found in his personal journal that described the murder of Zowada.
But it Was Hard to Find Janczewski at First
Initially, the police had no leads in Zowada's murder case. And for a while, it appeared that it would be yet another cold case. But that didn't stop the police from trying to investigate.
One strategy was to investigate unrelated crimes if they even thought the killer could be the same as the one that murdered Zowada. One such case was when a man killed and then scalped his father. The police thoroughly investigated that man for Zowada's murder because skin fetishes are rare. But unfortunately, that lead didn't pan out.
The case was closed for a while, but it was reopened later on, and it was then that the first big breakthrough was made.
Firstly, a model of injuries inflicted on Zowada was made. Then the FBI made a psych profile of the killer and reached out to an expert in forensics and torture, at which time they found out that their killer was skilled in martial arts.
Then on October 4, 2017, the police arrested Janczewski after they received a letter from one of his friends exposing him. The police had focused on him for a while, but this gave them the proof they needed. And when they searched his house, they found Zowada's blood still on his bathroom mirror.
Not Much is Known About the Trial..
Because of how high-profile the case was in Poland, the trial was a closed one. But we do know that it started in September 2019. So as of September 2019, Robert remains in custody while investigators continue to gather evidence. During his time in custody, Robert has made numerous complaints about harassment from prison guards, but investigators found his claims to be unfound.
Robert Janczewski is currently incarcerated for the murder of Katarzyna Zowada.
Frequently Asked Questions
Q: What was Robert Janczewski charged with in the murder of Katarzyna Zowada?
A: Robert Janczewski was charged with aggravated murder with particular cruelty.
Q: Did Robert Janczewski know Katarzyna Zowada?
A: Robert Janczewski insists that he didn't know 23-year-old Katarzyna Zowada before the murder, but he did have a history of harassing women.
Q: Was Katarzyna Zowada sexually assaulted by Robert Janczewski?
A: Yes, it is believed that Robert Janczewski performed sexual acts on Zowada after she was dead.