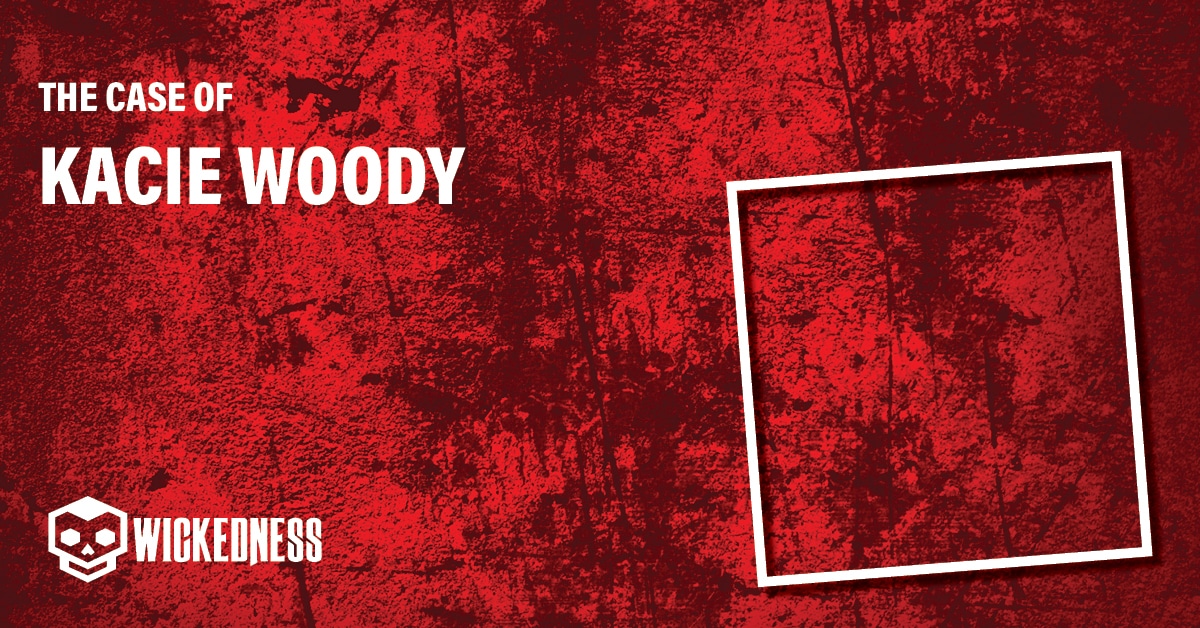 Victim Date of Birth
1989-10-17
Incident Location
Arkansas
Body Discovered Date
2002-12-04
Kacie Woody
Kacie Rene Woody was born in Arkansas on October 17, 1989, to parents Rick Woody and Kirstie Woody. She had two brothers, Austin and Tim.
At the age of 7, on June 19, 1997, Kacie lost her mother to a fatal car crash while the family were on their way home from her brother Tim's baseball game. A horse ran out onto the road colliding with the car, shattering the windshield, and hitting Kristie, sitting in the front passenger seat. Although Rick did suffer broken ribs, the rest of the family in the vehicle survived the attack.
In 2002 Kacie was 13 years of age. She lived with her father and her brother Tim in Faulkner County, Arkansas. Where she attended Greenbrier Middle School. Their family home was in a rural, heavily wooded area, so Rick allowed Kacie to use instant messaging on the computer to talk to her friends.
Eventually, Kacie began to use the chatrooms to make new friends. In the summer of 2002, in a Yahoo Christian teen chat room, Kacie befriended someone claiming to be a 17-year-old boy named David "Dave" Fagen. Dave's profile picture was of an attractive surfer-type young male. He claimed to love the beach and surfing, and he and Kacie bonded quickly and began chatting often.
The disappearance of Kacie Woody
On December 3, 2002, Kacie was home alone after her father and brother went out. Tim was researching at his college's library, and Rick Woody was on duty as a police officer in Greenbrier. Her brother Tim noticed Kacie was first missing at 11.40 pm when he returned home and noticed she wasn't in bed. Tim immediately contacted their father. Who immediately contacted the police. When police arrived at the scene, they found Kacie's shoes were not missing, a common sign of abduction. They also noticed signs of forced entry and signs that a struggle had broken out in the room before Kacie was abducted.
Investigation
A massive investigation was launched involving the FBI to try and locate Kacie Woody. The Arkansas State police, every law enforcement agency in Faulkner County, police dogs, and dozens of volunteers aided the investigation.
Kacie's computer was seized, and students at her middle school were questioned. The investigation began to focus on those Kacie had been talking to online.
Investigators had noticed two notes with male names on them in Kacie's trash can. One of these males was Scott. His computer was tracked from his Yahoo account to his home in Alpharetta. When the FBI visited the property, his mother opened the door, and it was determined Scott had given his true identity online and was at home when Kacie had disappeared. However, there was another name on one of the notes, Dave.
Investigators learned from Kacie's friends that she had been talking to a guy named Dave online, and he was coming to Arkansas from California when she disappeared. They launched a search around the local area for him. Eventually, they found a car parked outside a hotel with California license plates. The car belonged to a man named David Fuller. David Fuller had checked in to the hotel on December 2 and booked his stay for a week. When investigators searched his room, they found David's packed suitcase, a laptop, camouflage clothing, rubber gloves, and a bed that hadn't been slept in.
Upon investigating David Fuller,  police determined that his phone number had made several calls to the Woody household. Police were able to trace him via his internet history and obtain his credit card records. He had rented a silver Dodge Caravan minivan, and his credit card records showed Guardsmart Storage had charged him in Conway. He was now a person of interest in the disappearance of Kacie Woody.
Finding Kacie Woody
Authorities immediately rushed to the storage unit and opened it to find the Dodge caravan. Inside the Dodge caravan was Kacie Woody's body. She was lying lifeless. 13-year-old Kacie Woody had been bound before being killed. It is believed that she was sexually assaulted. An autopsy determined she had died from a bullet wound. A bottle of chloroform and a rag were also found next to her head. Medical examiners could not agree upon an exact time of death for Kacie, but they determined she had been deceased for hours. A medical examiner also concluded that she was likely unconscious from when she was abducted to when she was murdered by the chloroform.
Nearby Kacie lay 47-year-old David Fuller with a bullet wound to his head.
Police had overhead the gunshot David had used to kill himself while they were approaching the storage unit. Authorities had waited over three hours outside the storage unit, hoping David would surrender and send Kacie back safe.
From this tragedy, Kacie's family and friends have set up a foundation called the Kacie Woody Foundation. It aims to make other children aware of the dangers the internet holds.
Frequently Asked Questions
Is David Fuller dead or alive?
David Fuller committed suicide as police approached the storage unit where he had abducted, held, raped, and murdered 13-year-old Kacie Woody. When the police found Kacie's body inside the van in the storage unit, they also found the 47-year-old man's body alongside hers.
What happened to Kacie Woody?
Kacie fell victim to an internet perpetrator who abducted, raped, and murdered her. The man posing as an American teenager, 17-year-old David "Dave" Fagen, was 47-year-old David Leslie Fuller.
What is the Kacie Woody Foundation?
The Kacie Woody Foundation is a foundation started by Kacie's friends and family. It aims to teach children about internet safety and warn them about the dangers of internet predators.
Who killed Kacie Woody?
David Fuller murdered 13-year-old Kacie Woody. Police were able to trace him via his internet history and obtain his credit card history. This led them to the storage unit, which became the crime scene for crime victim Kacie Woody.