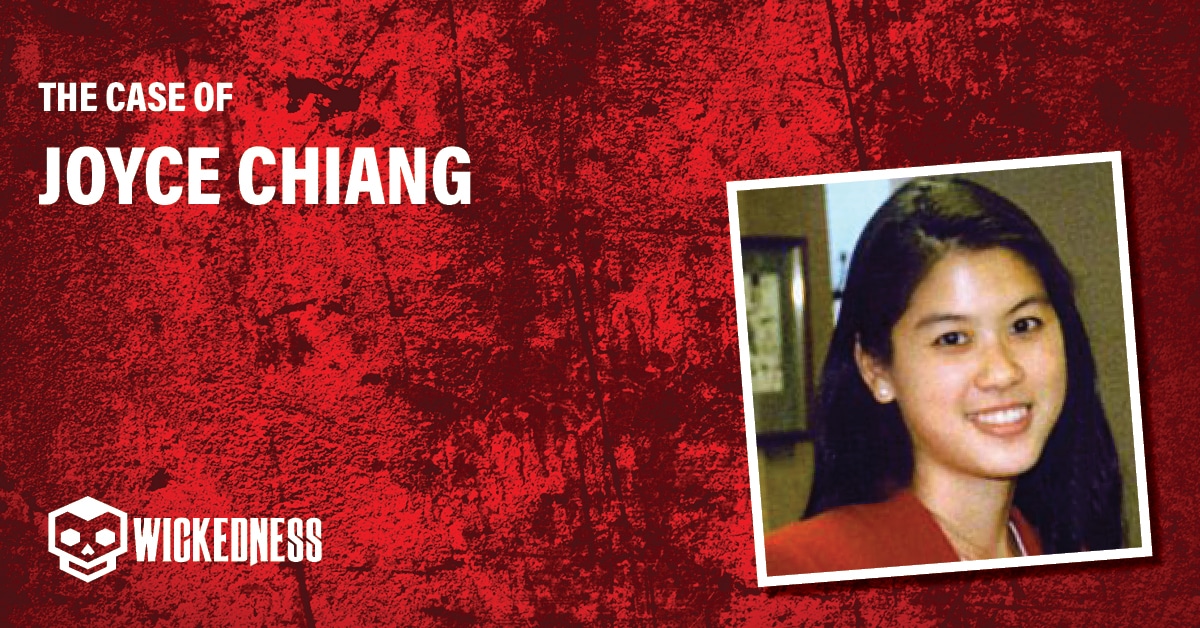 Victim Date of Birth
Info Box
Incident Location
Washington D.C
Date of Conviction
Info Box
Body Discovered Date
Info Box
Who was Joyce Chiang?
Joyce Chiang, born on December 7, 1970, is one of four children and the only daughter of Taiwanese immigrants. She was raised in Chicago and Southern California. Her three brothers are John Chiang, Robert Chiang, and Roger Chiang. Joyce attended Smith College, where in 1992, she was the president of the student government. In 1995, she earned her law degree from Georgetown University's evening program while serving as an immigration advisor for Congressman Howard Berman. After earning her law degree, Joyce worked for the Immigration and Naturalization Service's General Counsel.
The disappearance of Joyce Chiang
On January 9, 1999, 28-year-old Joyce Chiang went to a movie and dinner with some friends. One of Joyce's friends had offered to drive her home that night, and Joyce asked if they could make a quick stop at Starbucks at the intersection of Connecticut Avenue NW and R Street NW. She told her friend that she would walk the four blocks home from the coffee shop, but she never made it to her apartment. Her roommate Roger Chiang, who was also her brother, reported her missing. Joyce worked for the government. As a result, the FBI took the role of leading her investigation.
Finding Joyce Chiang
The next day a couple found Joyce's INS identification car at Anacostia Park. The card was given to the police, who placed the card in the neighborhood lost and found box. At this point, when she failed to return home the previous night, Joyce's brother Roger Chiang assumed she had spent the night at one of her friend's houses, something she often did. However, he eventually started to become worried. By Monday afternoon, he still hadn't seen or heard from his sister, so Roger Chiang phoned her office. That is when he learned that she had not shown up for work and no one had heard from her. The next day, he contacted authorities to report his sister as missing.
On January 21, 1999, nearly two weeks after Joyce was last seen, a search was launched for the missing woman. The investigation began at Anacostia Park along the riverside where her ID card had been earlier discovered. During the search, they found her torn green coat, bank card, gloves, and apartment keys.
Investigators then search the Anacostia River. The river was wide but shallow, with the middle depth no more than 20 feet. Boats, helicopters, and cadaver dogs were also used. During the search, they discovered a body. However, this body did not belong to Joyce. The body, which had been floating in the water for months, was later identified as 25-year-old Ridgley Tyrone Pleasants Jr. The D.C medical examiner ruled his cause of death as drowning, but his case remains a mystery.
On April 1, three months after Joyce Vanished, a canoeist on the Potomac River discovered a poorly decomposed body. The body was lying face down in the rocks, fully clothed. After two weeks, the body was eventually recognized as Joyce'ss through DNA testing. The body was, however, too decomposed to determine a cause of death. Since her cause of death remains unknown, her case was not initially declared a homicide. In fact, it was initially ruled as suicide. However, when a new case became apparent with many similarities, Joyce's case was updated to homicide.
The murder of Chandra Levy
In May of 2001, two years after the disappearance of Joyce Chiang, a second woman, Chandra Levy, vanished. Her skull was later recovered in a remote section of Rock Creek Park. Chandra Levy's death was ruled a homicide but what happened to her remains a mystery.
Five months before Joyce vanished, another woman, 28-year-old Christine Mirzayan, was raped and murdered while walking home from a barbecue. What shocked investigators were the similarities between these three women. They all lived in the Dupont area. They all had dark hair, and they were all roughly the same height.
The deaths of Joyce Chiang, Chandra Levy, and Christine Mirzayan remain a mystery to date.
Verdict
Investigators identified Joyce Chiang's killers as Steve Allen and Neil Joaquin, two D.C area males. It is believed that these men abducted and took Joyce to the Anacostia River, where they had planned to rob her. Investigators then believe that Joyce had attempted to run away from the men and had slipped on ice, ultimately falling into the river where she drowned. One of the men is already serving a life sentence in federal prison; however, the other is believed to be in Guyana, which has no extradition treaty with the United States.
Frequently Asked Question
Q. How are Joyce Chiang and Chandra Levy's cases interlinked?
A. Despite the absence of a romantic scandal or widespread media coverage, the parallels between the two cases are startling. Both women were young, gorgeous, petite brunettes and worked for the same government organization. They also shared the same neighborhood and workplace.
Q. Why is Joyce Chiang's case unsolved?
A. Police were unable to determine her cause of death because of the decay. Her case was deemed to be unsolved but closed after investigators determined there was no indication of foul play. Some investigators put up the theory that she had killed herself.