The case of
Jolee Nicole Callan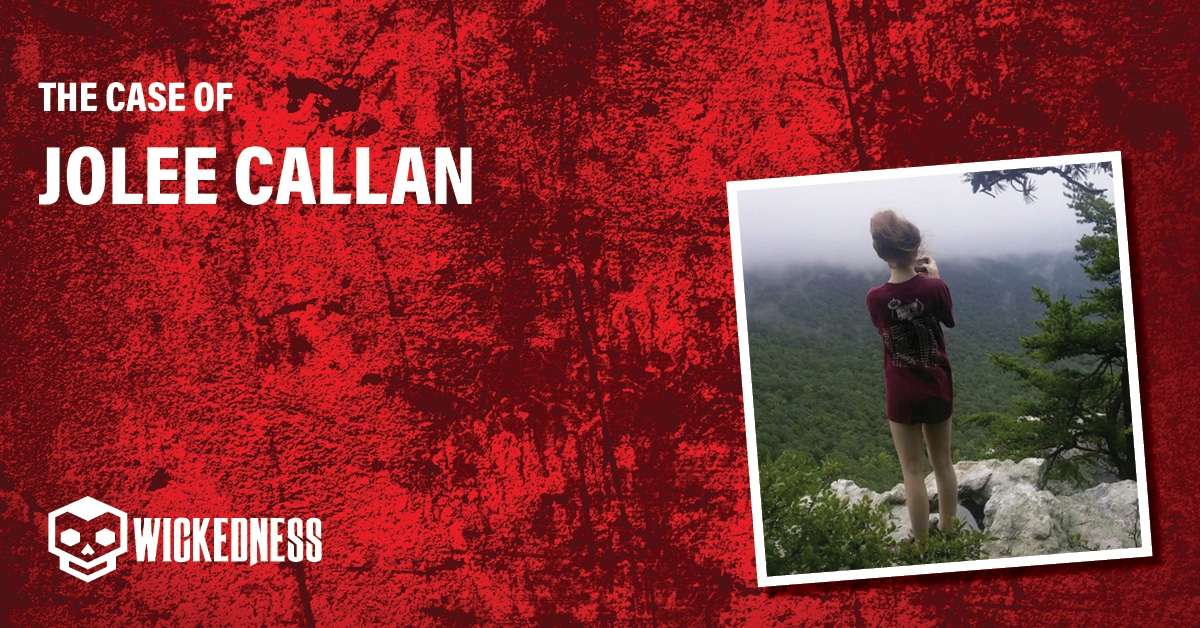 Victim
Jolee Nicole Callan
Victim Date of Birth
1996-12-29
Incident Location
Vincent, Alabama, USA
Body Location
Vincent, Alabama, USA
Date of Conviction
2017-07-13
Body Discovered Date
2015-08-30
Jolee Callan, The ordinary story, ordinary girl, not ordinary ex
Jolee Nicole Callan was born on December 29, 1996. All her ordinary, all-American life took place in Vincent, Alabama. She had nice family and friends. Jolee was known as pretty and smart 10 inches tall sweet girl. Her surroundings considered her popular and that she had a big heart. In school, she studied hard, and her parents were proud of her. Jolee was quiet but loved performing in school plays. In addition, she was a huge animal lover. She had two dogs, a cat, and a horse, which her family kept. Also, everyone noticed her hair, colored in all colors of the rainbow. In the last photo, her hair was colored in punky pink. In 2015 she graduated from Vincent High School. Jolee did not plan her studies in her hometown. She wanted to move away from home and go to college. The whole life opened its doors to Jolee Callan and her hopes.
A year before graduating, she began dating 20-year-old Loren Daniel Brunner. He also was from her hometown. Those who knew the couple said Bunner was toxic and possessive to her. He forced Jolee Callan to communicate only with him and only with his friends. She was popular and had many interests. Jolee had many friends and did not want to hang out only with Loren's friends. They had many disputes and quarrels. Even when he was playing video games with friends, she had to sit next to him. He did not listen to what Jolee wanted, he did not care but Jolee took care of Daniel Bunner. In the beginning, he was quite like Jolee, but 12 months of the relationship seemed to be chaotic. Daniel Bunner became increasingly jealous. His toxicity has only increased over time. She was not allowed to hang out with friends at all. Jolee was only allowed to spend time with him and his friends.
She could not stand his whims. Several times she tried to break up with him, but he said he would commit suicide if she left. It lasted for several months. He blackmailed her emotionally. When she finished school and turned eighteen, she said they were finally splitting up, enough! She was moving away for college. His blackmail no longer stopped her, she became free. He kept calling, writing messages, and begging for a meeting. However, she was adamant. While Bunner tried to call her, she found a new boyfriend.
When he realized that the refusal was final, he stopped the harassment. She did not know that such a decision could be fatal.
Since she had a big heart, Jolee Callan still cared for him. She did not want him to suffer from a break up. She wanted to stay friends. So when he offered to go on a trip, she gladly agreed. She thought it could mend their relationship and calm his emotions. Instead, it ended with Bunner's brutal murder.
Jolee Callan Murder
Two months after they broke up, they established a relationship and he invited her on a hike, which meant the restoration of friendly relations. Before leaving, she wrote to her friend that if something happened to her, you would know with whom she was. This was her last message. On August 30, 2015, Loren picked her up from home. Jolee took her two dogs Kiba to Cheaha with her. She documented their trip and posted a photo on Instagram. These photos were the last in her life. The last four photos aroused no suspicion. It was a good trip to Cheaha State Park in eastern Alabama. It was her favorite time of year, she felt happy and chill.
The pair walked a lot along the Pinhoti Trail and admired the views of the park and Cheaha mountain. After a while, they climbed a rocky cliff, from where a beautiful landscape with mountains and clouds opened up. Here he took a photo of her. She stands and takes a photo of cloudy mountains with her camera. This was the last photo of the popular girl. Loran uploaded all four photos as soon as he took them. After he took the last picture he shot into the head oh her back with 22 Bear Claw. Jolee fell. He turned her face up and shoot in between her eyes. Then he lifted her body and threw her off a 40-foot cliff.
In the evening, he returned to his car and called the police. It was six o'clock in the evening. He calmly reported that he had killed his ex-girlfriend and gave the coordinates of his whereabouts and the location of Jolee's body. He hit the road and waited for the police to arrive. The police quickly arrived and arrested a young man who was covered in blood. Also Jolee's steering wheel was in blood. They took his rifle and went in search of the body. The police searched the area where the body must be. The authorities found Jolee's body at the bottom of the cliff on the Pinhoti Trail.
During the investigation, Bunner said with calm voice that he should have committed suicide after her murder, but did not do so. Later, in court, it was determined that he had no suicidal thoughts or signs of depression. It was not a feature of his character. His family never noticed his attraction to death. He was making plans for the future, friends said. He lured her to the isolated mountains area to kill, he had no other intentions. As it turned out, he did so to absolve himself of responsibility for her murder. At least soften the punishment. When the police asked why he shoot her in between the eyes, he had no response. Moreover, when asked why he fired from behind, he replied: "She didn't want to see it coming." He showed no remorse during the investigation. Nor did he apologize because he thought she could only be with him. If not for him, no one will be with her.
Trial
Under Alabama law, anyone under the age of 21 charged with a crime can apply for juvenile status. Loren received this status because his defense team claimed that he was suffering from a mental illness as well as a mild form of Asperger's syndrome. The status of a youthful offender meant that Lauren was threatened with only a paltry three years in prison. Jolee's family was outraged by this fact. The decision was finally overturned after the just indignation of Jolee's relatives and considerable media attention. When the murder trial began in July 2017, Bunner surprised everyone by changing his guilt.
Emotions escalated due to the resonance of the case, and 20-year-old Loren Daniel Bunner was taken out of court in a bulletproof vest. Loren Bunner was sentenced to 52 years in prison and was ordered to pay $9,255.92 in restitution to the Alabama Crime Victims Commission.
FAQ:
Jolee Nicole Callan was an American high school graduate killed by her ex-boyfriend.